THE SIKH TIMES
sikhtimes.com
Noteworthy News and Analysis from Around the World
In-Depth Coverage of Issues Concerning the Global Sikh Community Including Self-Determination, Democracy, Human Rights, Civil Liberties, Antiracism, Religion, and South Asian Geopolitics
---
Home | News Analysis Archive | Biographies | Book Reviews | Events | Photos | Links | About Us | Contact Us
---



<!BODY OF PAGE STARTS HERE> News and Analysis Archive (More)

- Top -
Gurdwara Narrowly Escapes Arson

By ROBERT AIROLDI

The Daily Review, Fremont, California, Jan. 14, 2003

"Police arrested a 49-year-old man on suspicion of making violent threats and committing a hate crime after he threatened to burn down the Sikh temple. David Criswell of Hayward was arrested about 6:15 p.m. Sunday after a weeklong investigation into the case that began during a road-rage incident Jan. 4, police said. A 23-year-old man told police Criswell followed him to the temple - also known as gurdwara - on Gurdwara Drive that day, and began shouting after the two were involved in a road-rage incident on Mission Boulevard. The man called the 23-year-old 'bin Laden' and yelled 'go back to your own country' before he threatened to burn down the temple, police said. Criswell admitted the offenses and said his anger stemmed from the incident in which he said the 23-year-old cut him off while changing lanes, police said. 'We take these (crimes) very seriously and investigate them thoroughly,' Sgt. Sheila Tajima said."
---


- Top -
Advani: We Feel Ashamed About Gujarat

By AMY WALDMAN

The New York Times, Jan. 12, 2003

"Mr. Advani also waded into the debate, prompted by Hindu-Muslim riots in the state of Gujarat, that has riven India in recent months over its secular character and that seems to have divided the diaspora as well. After Mr. Naipaul's wife, Nadira Naipaul, a Muslim from Pakistan, challenged Mr. Advani to explain the place of Muslims and Christians in India he replied, 'Secularism is so embedded in our thinking there can be no departure from that.' Of the Gujarat riots, which left about 1,000 people, mostly Muslims, dead, he said: 'We feel sad, we feel ashamed, we only say it's an aberration, it must not be repeated. I only say let's have it behind us.' Sixty percent of the Indians in America are from Gujarat. Some at the conference said they were tired of attacks on the state because of the riots. 'It's high time Gujarat and even the center stop apologizing for what happened in Gujarat,' said Suvas G. Desai, a doctor from Lexington, Kentuky."
---


- Top -
Pakistan Contests India's Claim on Gurdwaras

By P.T.I.

The Times of India, Jan. 11, 2003

" 'The maintenance of Sikh Gurudwaras in Pakistan is the responsibility of Pakistan and India has no locus-standi in this matter,' a foreign office statement said."
---


- Top -
Activist Jaggi Singh Calls Suicide Attacks an "Understandable Response"

By JIM WILKES

The Toronto Star, Jan. 11, 2003

" 'Fifteen Palestinian civilians died in just a one-week period before that suicide bombing,' said Singh, who was a leader of anti-globalization protests at the Summit of the Americas in Quebec City in Apr., 2001. 'Over 50 civilians died between the last suicide bombing and this suicide bombing,' he said. 'It's just a completely understandable response, one that I don't necessarily condone. I'm trying to understand the context under which these attacks occur. Bombers are often people who come directly from families who are victims of this occupation. They're in a desperate situation and they want to inflict the same kind of collective punishment on Israelis that Israelis are inflicting on them.' Singh said he went to Israel and Palestinian territory as an observer."
---
" 'His claims (of rough treatment) are totally unfounded,' said Jonathan Peled, an Israeli foreign ministry spokesman. 'But more than that, he is a criminal and a provocateur and he has abused his rights as a prisoner. He was given permission to call a lawyer, but instead he called the media and slandered Israel. All we want is to be rid of him,' Peled said. 'He is a kind of all-purpose troublemaker.' "
---


- Top -
Vedanti Nods Half-Heartedly to Kirtan by Women

By STAFF
If public opinion on the matter isn't already known, one wonders how it will magically be determined now. Neither Badungar nor Vedanti have revealed an actual plan for determining public opinion. Shinder Singh Thandi, a Senior Lecturer in Economics at the Coventry University (U.K.), remarked (Sikh-Diaspora, Yahoo! Groups, Jan. 14. 2003), "My feeling is that when Badungar and Vedanti talk about generating public opinion, this is merely a euphemism for male opinion. Sikh women have been arguing for this equality for ages but nobody has ever taken them seriously."

The Tribune, Patiala, Jan. 10, 2003

"The S.G.P.C. president, Mr. Kirpal Singh Badungar, said today that Akal Takht jathedar Joginder Singh Vedanti had given his approval to allow women to perform kirtan in the Harmandar Sahib, but said a final decision in the matter would be taken after [determining] public opinion on the issue. Addressing a press conference here Mr. Badungar said the S.G.P.C. had an open mind on the issue and would take a decision as per the dictates of the sangat [community]. He also clarified that there was no ban on performing of the kirtan by women in the Harmandar Sahib and that women had not been performing this service due to an unwritten convention which was being practised till now. The S.G.P.C. president said he would not like to express his personal views on the issue as that would amount to influencing any decision on the issue."
---


- Top -
Activist Jaggi Singh Nabbed, Beaten, and Deported by Israeli Police

By JAGGI SINGH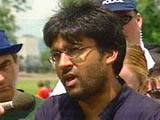 The Electronic Intifada, Toronto, Jan. 10, 2003

"I'd like to particularly thank the members of Solidarity for Palestinian Human Rights (S.P.H.R.) and the No One Is Illegal campaign in Montreal, and the incredible organizers involved with the International Solidarity Movement (I.S.M.) in Palestine. . . . Aron, who was also in plainclothes (in a Nike shirt and jeans), was short, somewhat pudgy, and had stubble on his bald head. It was Aron who actually beat me. He first came up to me and, biting his lips, proceeded to slap my face hard twice (hard enough that my glasses flew off my face). He pulled my hair back hard, and choked my neck with his other hand, all while trying to knee me in the groin (which I deflected with my legs). He spit in my face, literally millimetres away, and told me he'd could kill me if he wanted too. One of the other police officers, who I don't recall, was holding my body as this was happening."
---
"They demanded that I strip, and I again refused. Aron punched me in the stomach, and forced me to stand by grabbing my neck. I'm not sure how long this beating lasted, probably less than a minute, but it seemed longer. In any case, I was crying and shaking (in my underwear by that point, since I decided to comply with the stripsearch), begging for him not to hit me again. The police made me take off my underwear, and grabbing my hair, made me turn around and squat down. Later, the police were jokingly calling me Gandhi, apparently since I never fought back (even if I did, and I had every right to do so, I was outnumbered and simply not prepared to fight back against police). . . . Aron's beating, in retrospect, seemed controlled, done to force me to comply . . . His beating left no visible bruises or marks; it just left me hurt, shaking and scared. At the time, the beating seemed so abrupt and arbitrary, I was afraid it would happen again."
---
"I came here to Palestine like many other people, to volunteer with the International Solidarity Movement, and to write about the situation here, from my perspective as a social justice activist and an alternative journalist (as I've done so before in India and elsewhere). My visit to Palestine is directly connected to the organizing work I'm involved with in Montreal, most specifically with the No One Is Illegal campaign, as well as support for Palestinian solidarity work with S.P.H.R. and a I.S.M.-Montreal group. . . . The I.S.M. continues its anti-Apartheid Wall campaign . . . In Montreal, activists involved with S.P.H.R., I.S.M.-Montreal, Jews Against the Occupation and other groups continue their Palestine solidarity work."
---

- Top -
Rewriting History

EDITORIAL

The Statesman, Jan. 9, 2003

"It is to be hoped that the Prime Minister's brief remarks on 'rewriting history' at a Mumbai function will not restart a sterile debate. Both the right and the left get their knickers in a twist over the issue, forgetting two points. First, the Supreme Court having ruled that secular principles do not mandate a God-free syllabi, the dispute over certain N.C.E.R.T. textbooks is over for now. Second, in so far as getting politics into historiography is concerned, the practice is universal, ancient and inevitable. . . . The atypical point about the B.J.P.'s attempts is not that they are trying it but that they do not have as yet enough intellectual firepower to blaze a trail. . . . This makes the B.J.P.'s attempts look silly and infantile, and the opposition should laugh rather than be upset."
---
"But being politicians, they know another fundamental trend about history writing, politics and eggheads. If a political entity remains in power for long enough, it can attract quality intellectuals for the repackaging jobs. Just as happened in the West with the advent and prolonged ascendancy of the new right, of which Margaret Thatcher was the leading practitioner. For nearly two decades she dominated political discourse, Thatcherism gained intellectual respectability via respectable intellectuals. The B.J.P. has a long way to go politically before its honey pot can attract the industrious bees of academia."
---

- Top -
Photo: Nagar Kirtan

By RAJIV SHARMA

The Tribune, Jan. 9, 2003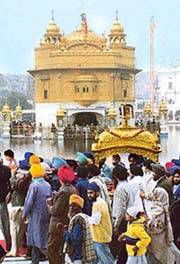 "The palki [palanquin] carrying the Guru Granth Sahib being taken out from Akal Takht for the nagar kirtan [street procession] on the eve of the 337th birth anniversary of Guru Gobind Singh."
---

- Top -
Dosanjh to Receive Pravasi Bharatiya Samman

By STAFF

The Tribune, Jan. 9, 2003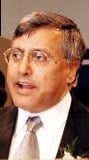 "Former British Columbia [Canada] Premier Ujjal [Singh] Dosanjh, who is one of the 10 persons of Indian origin (P.I.O.) being honoured in New Delhi tomorrow by Prime Minister Atal Behari Vajpayee with the Pravasi Bharatiya Samman [non-resident Indian award], may rejoin politics, but not in the immediate future. Asked for credence in reports that he was being approached by the ruling Federal Liberals, he said: 'Mr. Paul Martin, who may be the next Prime Minister of Canada, is a good friend of mine. We have known each other for a long time. . . . He welcomed dual citizenship, and said that it 'will not only open India's economy by getting more investments from Indians abroad but also save the Indian diaspora from the hassles of getting visas to visit their motherland. It will ensure equal rights to N.R.I.s [non-resident Indians] and make it easier for them to invest and feel secure in India.' "
---

- Top -
Vedanti Forms 11-Member Committee on Nanakshahi Calendar

By P.T.I.

Outlook, Jan. 8, 2003

"Akal Takht jathedar Giani Joginder Singh Vedanti today formed an 11-member committee to give the final nod to an implementation of the Nanakshahi Sikh calendar. Vedanti told newpersons here [Amritsar] the first meeting of the committee would be held on Jan. 16. The members of the committee include Pal Singh Purewal (Canada), Prof. Kirpal Singh (Chandigarh), Dr. Balwan Singh (G.N.D.U., Amritsar), Dr. Jodh Singh (G.N.D.U.), Darshan Singh (Chandigarh), Prof. Gurnam Kaur (Punjabi University, Patiala), Giani Ajit Singh Purewal (Amritsar), Dr. Amarjit Singh (Bhatinda), Bibi Kiranjot Kaur (S.G.P.C.), Principal Swarn Singh Patti (Amritsar), and Prof. Kulwinder Singh (Amritsar). The Sikh calendar issue had led to major differences between the former Akal Takht jathedar Puran Singh and the former S.G.P.C. chief Bibi Jagir Kaur with the former excommunicating the latter, besides many others bigwigs, from the Sikh Panth over the matter."
---

- Top -
Respect for Human Rights Crumbling Under Bush's Leadership

By PAUL KNOX

The Globe and Mail, Jan. 8, 2003

"Respect for rights as a cornerstone of global politics grew steadily in the decades following the Second World War, and accelerated during the 1990s. But many now believe it is crumbling as George W. Bush pursues what he's pleased to call a war on terrorism. The Bush administration asserts the arbitrary power to declare prisoners suspected terrorists, or 'battlefield detainees,' beyond judicial scrutiny. Pentagon researchers seek ways of tracking the electronic footprints of Americans (and anyone else with a bank card). Governments that used to squirm as Washington lectured them about torture and political prisoners now relax. The pressure's off, it seems, if you co-operate with America's global designs."
---
"The columnist Nat Hentoff, still at it after all these years, is battling Attorney-General John Ashcroft's Patriot Act with - pardon the term - a crusader's zeal. He has highlighted more than 15 laws passed by councillors in U.S. cities instructing local staff to monitor the law's implementation and work for its repeal. Grassroots 'Bill of Rights defence committees' have sprung up. True, several of the cities - Madison, Ann Arbor, Berkeley, Santa Fe - are university towns or well-known centres of the counterculture, where you'd expect opposition to the Bush agenda. But conservatives, too, are uncomfortable with the Big Brother drift."
---
"In Dec., a senior Republican, former House majority leader Dick Armey, warned of the 'dangerous seduction' of intrusive law enforcement. Right-wingers are lining up with the American Civil Liberties Union to campaign against the Ashcroft onslaught. Robert A. Levy, a senior fellow at the conservative Cato Institute, wrote recently that his government has failed to show that its sweeping new powers are necessary, or indeed that they will make Americans safer. One of the first cities to stand up to Mr. Bush was Denver. Councillors there voted to urge their police force to refrain from targeting individuals based on their origins or immigration status, or investigate people who aren't suspected of committing crimes."
---

- Top -
K.C.F. Member Killed

By P.T.I.

Outlook, Lucknow, Jan. 8, 2003

"An active member of the Khalistan Commando Force [K.C.F.], Sarvjeet alias Peepull was killed in an encounter with police today, a home department spokesman said here. Sarvjeet was killed in a police encounter in the jungles of gajraula of Pilibhit this morning, the spokesman said adding that he had been arrested under T.A.D.A. in 1992 and was released on bail in 1999. Sarvjeet had became active soon after his release and was wanted in connection with 21 heinous crimes, the spokesman added."
---

- Top -
British Army Recruits at Gurdwara

By STAFF

The Huddersfield Daily Examiner Jan. 8, 2003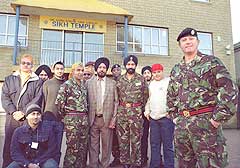 "Army officers offered careers information as part of an ethnic minorities recruitment drive in Huddersfield. A presentation was given on behalf of the British army to worshippers at the Sikh Temple after Sunday prayers. It was organised by Amar Latif, a Muslim, who works for the Focus consultancy, London, on behalf of the army's ethnic minorities recruitment team. Information on the role of the British army and careers in the profession, were given by W.O. [Warrant Officer] Banks and colleagues, several of whom are from ethnic minorities themselves. Anyone who would like a presentation by the army should ring Mr. Latif at 07967 539858."
---

- Top -
Photo: Guru Gobind Singh's Relics

By SONDEEP SHANKAR/SAAB PRESS

Rediff.com Jan. 8, 2003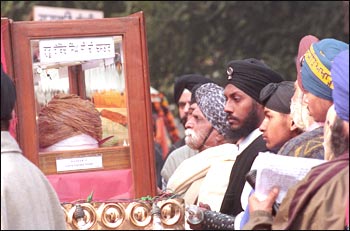 "Relics belonging to Guru Gobind Singh, the tenth Sikh Guru, on display at a procession to mark his birth anniversary in New Delhi. The Indian National Trust for Art and Cultural Heritage (I.N.T.A.C.H.) restored the relics following an initiative from the National Institute of Punjab Studies (N.I.P.S.)."
---

- Top -
Chandigarh Gurdwara Allows Chairs

By ISHWINDER SINGH CHADHA
Ishwinder Singh Chadha is pursuing his M.B.A. at the Indian Institute of Management (I.I.M.), Lucknow, India. Shaheen Kaur Randhawa of Chandigarh further states [Sikh-Diaspora, Yahoo! Groups, Jan. 8, 2003] that the concerned gurdwara is "one of the few non-political religious institutions in Chandigarh." She goes on to confirm that "there are benches in the main gurdwara hall for the elderly and the sick. I haven't seen any in the langar hall though."

Sikh-Diaspora (Yahoo! Groups), Jan. 6, 2003

"The gurudwara where I worship in Chandigarh now has chairs in the main hall for the elderly and the sick. The Dashmesh Patshahi Gurdwara located in Chandigarh's (Punjab, India) Sector 8-B is sensitive to the needs of its handicapped, sick, and elderly sangat. Benches have been placed along the side walls in the main hall where kirtan is performed so that elderly people, who are unable to sit on the floor due to health reasons, may join the sangat. There are no chairs in the langar hall."
---

- Top -
Sirdar Gurtej Singh: Intolerance of Sahaj-dharis Is Unjustified

By GURTEJ SINGH
Sirdar Gurtej Singh was designated "S.G.P.C. National Professor of Sikhism," a distinction shared only by his mentor, the late Sirdar Kapur Singh (I.C.S.). Like his mentor, he is a former officer of the competitive and elite Indian Police Service (I.P.S.) and Indian Administrative Service (I.A.S.), from which, again like his mentor, he parted under mysterious circumstances. He is a post-graduate in history and is the author of Tandav of the Centaur: Sikhs and Indian Secularism and Chakravyuh: The Web of Indian Secularism. In addition, he has co-edited Shahid-Bilas Sant Jarnail Singh. The following are excerpts from his interview with PRABHJOT SINGH.

Sikhe, Jan. 6, 2003

"[I]n India, where the majority of the Sikhs live, the State had an agenda, particularly after 1947. The State thought that perhaps the unity and integrity of India depends on elimination of the minorities. It pursued that agenda to attack Sikh concepts and to make the Sikhs more pliable. . . . [In 1947, Gandhi made] public speeches during prayer meetings. He tried to whip up a particular kind of mentality against the Sikhs, projecting them as violent, uncouth, and working against the integrity of India. The same philosophy was pursued by the Constituent Assembly of India because the Sikhs demanded the rights they had been promised during the years of struggle for decolonization."
---
"When the Sikhs insisted on their rights, they were dubbed as separatists, desiring a Khalsa rule, a Sikh rule, Khalistan - these words were used then for the first time. So, the Sikhs were propagated as very violent, prone to terrorism, etc. The policy envisaged elimination of the Sikh scripture, dissolution of Sikh concepts, dismantling of the Khalsa edifice, attack on the Sikh identity and the concept of amrit [baptization nectar]. So, it was a comprehensive sort of an attack. This is what has been responsible for the growth of these 'gurus' that are now being exported abroad. This also accounts for the growth of so many sants [saints] for which there is no provision in Sikhism. There is no concept of a saint in Sikhism. Everybody is expected to be a saint and a soldier."
---
"There are some kesh-dharis [orthodox Sikhs], those who observe the symbols; they are very intolerant of those who don't. This sort of intolerance is unjustified and this would not have been the Gurus' stance. We should be sympathetic towards those people who are likely to be like us in a few years. Perhaps, they are feeling inhibited for a certain reason. We must try to understand them and help them to achieve clarity of views. There are others who cannot observe the symbols for a peculiar reason known to them. This may be due to peer pressure from society or other reasons; they should understand that the Khalsa ideal is the ideal of Sikhism. That is the discipline that the Guru has proscribed and it cannot be compromised. They must hold it in high esteem and not try to run it down; not try to justify themselves. They must try to look up to the Khalsa and hold hopes of imitating them some day."
---
"We must understand that Sikhism is a non-converting religion. We do not go out to seek conversion; that is the stance of the Sikh doctrine. If that is so, then whatever means we have of letting the world know of our teachings, of what we stand for, is by having the outward form of a Sikh. It is our biggest form of public relations."
---
At the end of the interview, Prabhjot Singh adds, "When asked of his opinion on Sikh academics in the West, he commented that it would perhaps be inappropriate to label them as 'Sikh' academicians. He was quite suspect of the school of thought currently propagated by Hew McLeod and his supporters because it seeks to undermine central Sikh principles. He felt that many of these academics are explicitly or implicitly involved with the Indian State's attempt to destroy Sikh principles and that Sikhs in America would soon have to decide if they truly felt the need to keep these institutions intact. . . . He said . . . Sikhs had been declared extinct more than once during the course of our short history. He felt that as long as there are five amrit-dharis [baptized Sikhs] that can give amrit [baptization nectar], he had no worries at all."
---

- Top -
Should Sahaj-dharis Have the Right to Vote in S.G.P.C. Elections?

By HARDEV SINGH MATTEWAL
Hardev Singh Mattewal is a former advocate general of Punjab, India and the first chairman in the history of the Punjab and Haryana Bar Council to be elected unanimously. Mattewal completed law studies at Punjab University in 1974 and became a senior advocate in 1987.

The Tribune, Jan. 5, 2003

"Of late the question as to whether the sahaj-dhari [orthodox] Sikhs should or should not have the right to vote in S.G.P.C. elections has been agitating the Sikh community. The question has assumed particular importance in view of the [recent] resolutions passed by the S.G.P.C. proposing amendments to the Sikh Gurdwara Act (1925), for limiting the right to vote only to the kes-dhari Sikhs as is the case in the Delhi Sikh Gurdwara Act (1971)."
---
"This is a fundamental question, which has earlier also attracted strong views on both sides and needs to be decided after the widest possible discussion within the community and keeping in mind the interest of the community and the religion. And while doing so, it is important to keep in mind the admonition repeated frequently in Punjab newspapers Khalsa Samachar and Khalsa Advocate in the beginning of this century when similar issues were being debated that the greatest danger to Sikhs are Sikhs themselves and the tendency to forget the creed and message of the Gurus in the rush to control, to fight and to dominate. The Sikh Gurdwara Act (1925) was enacted as a result of sustained efforts and at the cost of tremendous sacrifices made by the community. About 40,000 Sikhs went to jail and 400 lost their lives during the struggle, it was drafted with the consent and support of Akali leaders and was enacted without opposition."
---
"The definition of Sikh as given in the Act (1925) was as follows: 'Sikh means a person who professes the Sikh religion' and in case any question arose as to whether any person is or is not a Sikh, he would be deemed to be a Sikh if he made the following declaration: 'I solemnly affirm that I am a Sikh, that I believe in Guru Granth Sahib, that I believe in the Ten Gurus and that I have no other religion.' A Sikh more than 21 years of age was qualified to be an elector."
---
"However, in 1944, a proviso was added to Section 49 dealing with the qualifications of electors to the following effect: 'Provided that no person shall be registered as an elector who (a) trims or shaves his beard or kes except in the case of sahaj-dhari Sikhs; (b) smokes; (c) takes alcoholic drinks.' By an amendment in 1959, Section 2 (10A), which defines sahaj-dhari Sikh, was inserted: 'sahaj-dhari Sikh is a person: (i) who performs ceremonies according to Sikh rites; (ii) who does not use tobacco or kutha (halal meat) in any form; (iii) who is not a patit; and (iv) who can recite Mul Mantar [the core teachings of Guru Nanak].' "
---
"Now the question is: who is a Sikh? The term Sikh occurs about 100 times in the Guru Granth Sahib. To be a Sikh rests on a commitment to follow gurmat [the teachings of Sikhism] as opposed to manmat [self-interest]. Guru Amar Das says, 'He alone is a Sikh, a friend and a kin, who commits himself to Guru's will.' Guru Gobind Singh says: 'Only those who keep alight the unquenchable torch of truth; and never swerve from thoughts of one God; do not thus believe even by mistake; in fasting, monastic life of worshipping forbears; such may be recognised as true members of the Khalsa' "
---
"Can it be said that only the Amrit-dhari or Khalsa Sikhs are Sikhs, or do kes-dharis and sahaj-dharis also qualify to be Sikhs? One view is that only those who believe in Guru Granth Sahib and have been initiated into the Khalsa by partaking of Amrit and maintain the Rahit [code of conduct] are Sikhs. In A History of the Sikhs, Khushwant Singh writes: 'The sense of belonging to the Sikh community requires both the belief in the teaching of the Adi Granth [Guru Granth Sahib] and the observance of the Khalsa tradition initiated by Guru Gobind Singh and there is no such thing as a clean shaven Sikh, he is simply a Hindu believing in Sikhism.' This seems an extreme view and it excludes both the kes-dharis and sahaj-dharis from the Sikh Panth [community] and is not generally accepted."
---
"The kes-dhari Sikhs are those who have not partaken of amrit [baptization] but believe in Guru Granth Sahib and obey the principal instruction of the Rahit, particularly keeping unshorn hair. They constitute a large percentage of the Sikhs and are accepted as members of the Panth. The main dispute that remains is regarding the sahaj-dhari Sikhs."
---
"Historians have noted that after the founding of the Khalsa, Guru Gobind Singh never forced his new discipline on all Sikhs. Among his most devoted followers were Bhai Nand Lal, Bhai Ghanaiya, Bhai Kirpa Ram, Bhai Lakhan Rai, Bhai Manua Bairagi, and Bhai Hans Raj Bajpayee. Their names are mentioned with respect in Sikh annals. They maintained their identity and position in the Panth as sahaj-dhari Sikhs. In A History of the Sikh People, Gopal Singh writes: 'Thus a distinction was permitted to remain between a Sikh (disciple) and a baptized Singh, and this is how till lately a large body of Sikhs, called sahaj-dharis, though outwardly not conforming to the symbols of the Khalsa, yet accepted the spiritual and social code of the Gurus and remained an inalienable and worthwhile part of the Panth.' "
---
"Bhai Kahan Singh Nabha says 'in contrast to baptized Sikhs, sahaj-dhari is used for those Sikhs who do not adopt the Rahit of kes [unshorn hair], sword and the kachh [breeches], but accept all other precepts and rituals of the Sikh religion. Besides Singhs, all the followers of Guru Nanak are included in the sahaj-dhari group who are co-believers of the Sikh religion.' Bhai Kahan Singh warns that those Singhs who hate the sahaj-dharis are not aware of the Sikh religion. He describes a Sikh thus: 'A follower of Guru Nanak Devji who has embraced the Sikh religion of Satguru Nanak Devji, who believes in the Guru Granth Sahib as his holy book and believes in the ten Gurus as one.' "
---
"The Sikh Rahit Maryada, drawn up by the S.G.P.C. in 1945 after wide consultation in India and abroad, defines a Sikh to be a person whose faith is in one God, the ten Gurus and their teachings and the Adi Granth. In addition he or she must believe in the necessity and importance of amrit and must not adhere to any other religion. It is thus clear that sahaj-dharis are not excluded. Bhai Ardaman Singh in his article One Guru - One Movement writes, 'Sikhs as a whole are also known as the Panth. The Panth includes all sorts of Sikhs whether perfect or imperfect, whether still novice or fully responsible, whether sahaj-dhari or of any other samprada. Anyone who believes in the Guru and gurbani [Guru's writings] and has faith in no one else, cannot be denied to be a Sikh, and therefore, is a member of the Panth.' "
---
"Thus, to now restrict the right to vote to only kes-dhari Sikhs will be going against a long tradition of accepting sahaj-dhari Sikhs as essential members of the Panth. Sahaj-dharis have had the right to vote in elections to the S.G.P.C. since its inception in 1925. The matter needs wide debate and discussion at the Panthic level, the yardstick being the teachings of the ten Gurus enshrined in the Guru Granth Sahib. To conclude, I again quote Kahan Singh Nabha, the venerated Sikh scholar whose warning seems particularly apposite today: 'Those who create animosity and division by mixing up matters of religion, niti (politics) and samaj (society) are bound to suffer both in lok (here on earth) and in parlok (the hereafter). They do not deserve the title of 'human beings' much less the title of 'God's Progeny.' Those who belong to different religions and yet regard themselves as part of one 'nation' earn respect and honour.' "
---

- Top -
Sikh Relics Researched, Documented, and Preserved

By MOHINDER SINGH
Mohinder Singh is currently director of the National Institute of Punjab Studies (Bhai Vir Singh Sahitya Sadan), New Delhi.

National Institute of Punjab Studies (N.I.P.S.), Jan. 4, 2003

"On the occasion of the tercentenary of the Khalsa in 1999 N.I.P.S. took up a research project for locating, cataloging, and photographing relics belonging to the Sikh Gurus and other historic Sikh personalities. During their fieldwork in India, Pakistan, and the U.K., the team led by Dr. Mohinder Singh has been able to locate, catalog, and photograph some rare relics at different places such as the Guru Nanak's chola [cloak] (Dera Baba Nanak) as well as cholas and other relics belonging to Guru Arjan, Guru Har Gobind (Sanga family and Bagrian family at Qila Bagrian), Guru Tegh Bahadur (Bagrian family at Qila Bagrian), and Guru Gobind Singh (Bhai Dalla and Capt. Amarinder Singh of Patiala)."
---
"Additionally, relics belonging to Maharaja Ranjit Singh, Maharani Jindan and Prince Duleep Singh (currently with the descendants of the Fakir brothers at the Fakir Khana Museum, Lahore), and relics preserved at the various takhts [seats of temporal authority], the National Museum, and the National Archives of India, New Delhi, the Victoria & Albert Museum, London, and with the descendants of the Dalhousie family in Scotland have been researched. Most of the photographs have been taken by leading photographer, Sondeep Shankar. The research has been captured in books published by the Institute under the Punjab Heritage Series: The Golden Temple, Anandpur: The City of Bliss, Pilgrimage to Hemkunt, and Maharaja Ranjit Singh. A complete book covering the remaining relics is also being published by the Institute."
---
"The next phase of the Institute's research program involves relic conservation. The cholas and other relics belonging to Guru Gobind Singh and Mata Sahib Kaur, presently preserved with the descendents of Mai Desan, have received special attention. Mai Desan is considered to be a decendant of Baba Adam who was a contemporary and follower of Guru Ram Das. Baba Adam's son and successor, Bhai Bhagtu, continued serving the Guru with complete devotion. Bhai Bhagtu's eldest son, Bhai Gora, had four sons: Bhai Dayal Chand, Bhai Ami Chand, Bhai Kushal Chand, and Bhai Mai Chand, who established independent principalities in the area that later came to be known as the princely state of Kaithal. Some of the descendants of Bhai Gora, popularly known as Bhaike, currently reside in the areas known as Kachi Bhucho and Pacci Bhucho. Bhai Jeevan, the second son of Bhai Bhagtu, is considered to be an ancestor of Mai Desan."
---
"Bhai Sant Das, a descendent of Bhai Jeevan, had four sons: Bhai Fateh Singh, Bhai Ram Singh, Bhai Bhagat Singh, and Bhai Takht Singh. He died leaving one of his two wives, Mai Desan, without a child. In the male-dominated society of those days, Mai Desan's step sons and other members of the household looked down upon her for not bearing a son. In the absence of support from the family, Mai Desan turned spiritual and devoted her life to meditation and service of the Guru and the Panth. According to accounts provided by Bhai Santokh Singh in Gur Partap Suraj Granth and Bhai Vir Singh in Kalgidhar Chamatkar Mai Desan, Mai Desan was a true devotee of Guru Gobind Singh. The accounts relate that when Mai Desan learnt that her ancestor, Bhai Dayal, had not heeded Guru Gobind Singh's advice to get baptized, she desperately wished that she had a son who could undo the wrongs of her ancestor and serve Guru Gobind Singh."
---
"According Bhai Vir Singh's account, all four of Bhai Sant Das' sons went to Damdama Sahib, where the Guru Gobind Singh was camping, and were initiated into the order of the Khalsa by the Guru himself, thereby atoning for their ancestor Bhai Dayal. The brothers also requested the Guru to bless their homes by a personal visit. The Guru is said to have told them that he had an intuition that somebody in their home was always remembering him and longing to meet him [reference to Mai Desan]. During the Guru's visit to Mai Desan's home (Village Chak Fateh Singhwala, District Bhatinda, Malwa region of Punjab), a young child came and sat in the Guru's lap. The elders rebuked the child, but the Guru blessed him. The child was shy by nature and was given the name Sangu (shy). The child was adopted by Mai Desan and came to be known as Brahma Giani Baba Sangu Singh. The present day family of Bhai Jasbir Singh descended from Baba Sangu Singh."
---
"During its visit to the historic Katcha Kotha, where Guru Gobind Singh and Mata Sahib Kaur had stayed, the research team discovered that this is perhaps the only historical site in the Malwa region to have escaped the recent zeal of replacing heritage sites with marble structures. The bed on which the Guru slept, two bedsheets, a wooden piri, shoes belonging to Mata Sahib Kaur, a tawa used for preparing langar, the wooden kharavan [slippers] belonging to Mai Desan, and the bairagan (armrest) belonging to Bhai Sangu Singh were found to be intact with the family. The present custodians are constructing a new building around the original Katcha Kotha, leaving the heritage intact along with earthen pots and fireplaces. Martand Singh, Chairman, Indian National Trust for Art and Cultural Heritage (I.N.T.A.C.H.), U.K., has graciously funded the treatment of the relics at I.N.T.A.C.H.'s Conservation Lab in Lucknow."
---

- Top -
Nandgarh Appointed Jathedar of Takht Damdama Sahib

By CHANDER PARKASH

The Tribune, Jan. 4, 2003

"Mr. Balwant Singh Nandgarh, a confidant of former chief minister Mr. Parkash Singh Badal, who is a member of the S.G.P.C. and resident of Nandgarh village in Bathinda district, was today made jathedar [high priest] of Takht Damdama Sahib (Talwandi Sabo), the fifth takht [seat of temporal authority] of the Sikhs. His installation ceremony will be held on Jan. 6. Information gathered by T.N.S. revealed that the decision to appoint Mr. Nandgarh as jathedar of Takht Damdama Sahib was taken at Raikot today by the S.G.P.C. chief, Prof. Kirpal Singh Badungar. The executive committee of the S.G.P.C. had already cleared his appointment. The post of jathedar of Takht Damdama Sahib fell vacant after Giani Kewal Singh, who was accused in a dowry death case, resigned from the post under pressure from various Sikh religious and social organisations."
---
"Giani Kewal Singh, his son and another relative are facing trial in the court of Additional Sessions Judge, Bathinda, for allegedly killing his daughter-in-law Sharanjit Kaur for dowry. Though the move to appoint Mr. Nandgarh has been on since Giani Kewal Singh resigned, some controversies associated with him, which had also appeared in a section of the press, delayed his appointment. A brother of Mr. Nandgarh was accused in a case involving an attempt to blind a farmer by putting copper sulphate into his eyes. Additionally, Mr. Nandgarh faced allegations pertaining to getting a criminal case registered against his close relative."
---

- Top -
Kelvindar Hopes to Revive Sikh Hockey Tradition

By AFTAR SINGH

The Star, Jan. 4, 2003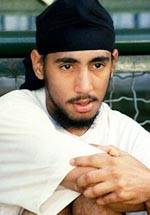 "Hockey in Malaysia was once the forte of the Sikh community and the sight of turbaned players on hockey pitches was a common one. How things have changed. When the Malaysia Hockey Federation named their Under-19 side on Thursday, there was only one Sikh player in the team - forward Kelvindar Singh. And the Kuala Lumpur lad is on cloud nine as he faces his first junior international tournament, the M.H.F. Under-19 boys' invitational hockey tournament which begins tomorrow at the National Hockey Stadium in Bukit Jalil. The Bangsar lad said he was overjoyed to be named in squad and hopes to make a big impression in the tournament. 'This is the first time I have been selected to play in a junior international tournament and I am the only Sikh player in the entire team.' "
---
" 'I also hope to follow in the footsteps of my heroes like former internationals Avtar Singh Gill, Avtar Singh Grewal and Maninderjit Singh and play in the national senior team in the future,' said Kelvindar after a training session in Bukit Jalil yesterday. 'My target is to be considered for the 2004 Junior World Cup qualifiers.' Kelvindar, however, will not be playing his normal forward position and will be moved to midfield instead. 'I will be playing as the centre-half and it definitely will be challenging as I have only played in that position for Royal Military College (R.M.C.) in school tournaments.' In the Malaysia Junior Hockey League (M.J.H.L.) last year, he played as a forward for Malaysia Sports School and scored five goals. 'However, I hope to give my best and become a good centre-half like former international skipper Sarjit Singh,' said Kelvindar."
---
"Besides Kelvindar, the other juniors who will be playing for the first time in the international junior tournament are goalkeeper Mohd. Shah Ahmad Noor and forward S. Selvaraju. The M.H.F. have also entered their national Under-16 squad for the eight-day tournament. The other teams are Junior World Cup champions India, Pakistan and South Korea. The Malaysian Under-19 team will open their campaign tomorrow against Asia Junior Cup champions South Korea."
---

- Top -
Sikh Forum, A.I.S.S.F. Demand Action Against Badal

By P.T.I.

Outlook, Jan. 4, 2003

"Members of the Sikh Forum, Punjab, and the All India Sikh Students Federation (A.I.S.S.F.), Amritsar, today rapped Akal Takht's jathedar [high priest] Giani Joginder Singh Vedanti for adopting double standards and willfully ignoring their complaint against former Punjab Chief Minister Parkash Singh Badal and his wife. In protest against inaction on their complaint against Badal, the forum members performed seva [service] of cleaning utensils at Darbar Sahib's Guru Ram Das Langar in black clothes. Their complaint had demanded action against the S.A.D. president Badal, and his wife, for allegedly violating Sikh maryada [code of conduct] by maintaining chord with Ashutosh, the controversial chief of the Divya Jyoti Jagrati Sansthan (D.J.J.S.)."
---

- Top -
Springfield N.J. Gurdwara Opens Doors

By VANESSA S. HOLT
Puneet Singh Lamba, founder of The Sikh Times, wrote in a letter to the editor (Jan. 3, 2003): "Thank you for an engaging and largely factual article on the American Sikh diaspora. However, it isn't entirely accurate to state that the 'Guru Granth Sahib holy book contains the teachings of the 10 Gurus of the Sikh religion . . .' Although, the Guru Granth Sahib is symbolically representative of all 10 of Sikhism's Gurus, it actually contains the writings of only 6 of the 10 Gurus. Additionally, the Guru Granth Sahib is unique among the world's religious scriptures in its inclusion of the writings of several non-Guru and non-Sikh contributors. Unfortunately, the gurdwara's Web site (http://www.khalsadarbar.org/) also contains a similar oversight: 'A Sikh is a person who believes in one God and the teachings of the ten Gurus, enshrined in the Guru Granth Sahib, the Sikh holy book.' "

Register-News, Jan. 3, 2003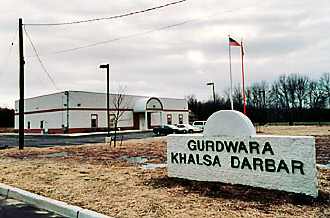 "For the past five years, members of the Khalsa Darbar of South Jersey congregation have gathered in each other's homes or in rented fire halls for religious observances. The 100-plus members finally have a permanent home here at Gurdwara Khalsa Darbar, a Sikh temple located on Old York Road. The opening ceremony took place from Dec. 20-22, with 48 hours of continual prayer and celebration. 'We had a dream to have our own house,' said Rajbhinder Singh Badesha of Burlington Township, president of the Khalsa Darbar congregation. Members have hosted religious services in their own homes and rented space in Burlington Township and Burlington City firehouses while collecting money to build their house of worship. Initially, 28 families each contributed $1,125 to the fund to purchase the 19 acres on which the temple is located."
---
"The first phase of the 7,200-square-foot facility cost $1.1 million to build, and the second phase of construction will consist of the placement of several domes on top of the building. The domes are expected to cost $70,000, he said. The grand opening of the temple began at 11 a.m. Dec. 20. Priests sang prayers continually for 48 hours in two-hour shifts. 'A hundred people stood barefoot in the rain to bring the holy book into the building,' said Mr. Badesha. The Guru Granth Sahib holy book contains the teachings of the 10 Gurus of the Sikh religion and is central to worship services. Close to a thousand guests from around the United States and Canada attended the opening ceremonies throughout the weekend."
---
"The religion of Sikhism is based on the teachings of 10 Gurus who lived in the 15th to 18th centuries, beginning with the founder, Guru Nanak Devji, who lived from 1469-1539. According to the congregation's Web site, www.khalsadarbar.org, the last of the 10 Gurus, Guru Gobind Singh, lived from 1666-1708. Among the central tenets of Sikhism are a belief in one God with whom every individual can have a direct relationship, said Mr. Badesha. Sikhism also teaches the equality of men and women and promotes tolerance among all races and religions. A devout Sikh does not drink alcohol or smoke, said Mr. Badesha. Sikh men do not cut their hair, and wear a turban to cover their heads. Sikh men also carry a saber, or small sword, which sometimes causes confusion with police officers not familiar with the custom, he said."
---
"Over the past 30 years, the Sikh community in the United States has grown as businessmen, doctors and other professionals have immigrated to the country, said Mr. Badesha. Services are held at the gurdwara on Fridays and Sundays. The prayer room within the gurdwara has no pews or chairs, only a soft rug where members can sit and an altar at one end where the holy book is placed during ceremonies. When entering a gurdwara, one must remove one's shoes and cover one's head, he said. Head scarves are provided at the entrance for visitors. 'The main goal is for every Sikh who lives in the area to come to the temple to pray,' Mr. Badesha said. Services are held in the Punjabi language, but everyone is welcome, said Mr. Badesha. Anyone interested in making a contribution in any amount may send it to: Khalsa Darbar of South Jersey, Inc., P.O. Box 1632, Burlington, N.J. 08016."
---

- Top -
Mann Asks Vedanti to Review Langar Edict

By P.T.I.

Outlook, Jan. 3, 2003

"The Shiromani Akali Dal (Amritsar) today asked Akal Takht's jathedar [high priest], Joginder Singh Vedanti, to consider sending a high-powered Sikh delegation to Canada to resolve the langer (community kitchen) controversy which has created a wedge in the Sikh community there. Speaking to reporters here [Amritsar], Shiromani Akali Dal (Amritsar) president Simranjit Singh Mann said when Ranjit Singh was the Akal Takht jathedar, he restricted Sikhs living abroad from consuming langer (community kitchen) in a standing pose through a hukamnama (edict). Canada-based Sikhs are interested in resolving the issue at the earliest, he added. Now the situation demands the intervention of the Akal Takht's jathedar who should review the hukamnama passed by Bhai Ranjit Singh so as to bring the entire Sikh community living abroad onto a single platform, he said."
---

- Top -
Vedanti Speaks Out Against Gender Discrimination

By VARINDER WALIA

The Tribune, Jan. 3, 2003

"Akal Takht's jathedar [high priest] Giani Joginder Singh Vedanti today admitted that disallowing women devotees from participating in seva [service] to clean the sanctum sanctorum of the Golden Temple each morning is against the tenets of Sikhism, which does not preach discrimination on the basis of gender. Talking to The Tribune at his residence here today, jathedar Vedanti said he would try to persuade all concerned to allow women to perform kirtan and other seva inside Harmandar Sahib - privileges that have been denied to women for no stated reason. He claimed that women were not allowed to clean the sanctum sanctorum when the Golden Temple was under the control of mahants [gurdwara custodians prior to the Gurdwara Act of 1925]. After the Gurdwara Reform Movement in 1920s, gender discrimination should have been stopped. Sikhism holds women in high esteem."
---
"Former S.G.P.C. chief, Bibi Jagir Kaur, had announced intentions to provide equity to women devotees by allowing them to perform kirtan and clean the sanctum sanctorum at amrit vela [dawn]. However, once Jagir Kaur laid down office as S.G.P.C. chief, the move did not materialise. Currently, women devotees are not allowed to touch the palki sahib (palanquin) during the procession for carrying the Guru Granth Sahib from the Golden Temple to Akal Takht for sukh assan [retiring] each evening. Jathedar Vedanti, however, was hopeful that his appeal to allow all devotees to participate in all kinds of seva without gender discrimination would be accepted. Mr. Kulwant Singh, a former S.G.P.C. secretary, said women should be allowed to participate in seva inside the Golden Temple."
---

- Top -
Students Strike to Defend Punjabi Language

By STAFF

The Tribune, Jan. 2, 2003

"Punjabi University students belonging to various student organisations today affected a strike in the varsity to protest against the academic council's decision to waive the necessity to take Punjabi as a compulsory subject in the B.Sc. degree program and also abolishing the clause making it mandatory to pass the standard 10 level Punjabi examination to enroll for a Ph.D. degree program in the university. The students, who gathered under the umbrella of the Punjabi University Students Confederation, organised a march on the campus and raised slogans against the management on the issue. Confederation convener Gurnam Singh Virk said the students of the institution would not allow any discrimination against the Punjabi language. A.B.V.P. president Gurjeet Singh Nagra said it was ironic that Punjabi University, only the second university in the world (next to the Hebrew University) established with the aim of propagating a language, was itself working against the cause of the language."
---

- Top -
Anatomy of Terrorism in South Asia

By MUCHKUND DUBEY
Muchkund Dubey is a professor at Jawaharlal Nehru University, New Delhi. A former Foreign Secretary of India, he has served as High Commissioner in Bangladesh and Permanent Representative of India to the U.N.O. in Geneva.

The Hindu, Jan. 2, 2003

"The rise of terrorism in South Asia is associated with some of the adverse effects of globalisation. Globalisation causes economic dislocations leading to the creation of pockets of unemployment, particularly in the informal, small and medium scale industrial sectors. The ensuing frustration, particularly when it is concentrated in particular ethnic, religious or linguistic groups, often fuels the fire of terrorism. . . . Yet another aggravation has been the loss of cultural identities due to the homogenisation associated with globalisation. This has led to the reassertion, as a defence mechanism, of primordial identities, often by violent means. Finally, globalisation is associated with the weakening of the state, the rising salience of realistic as opposed to idealistic paradigms and the consequent decline of social values. These have affected the functioning of democracy and brought about mis-governance - phenomena closely linked to the rise of terrorism in South Asia."
---
"There is now a broad consensus in the international community that direct actions to combat terrorism cannot be postponed until its root causes are eliminated. Therefore, combating terrorism should proceed side by side with actions designed to prevent it. However, counter-terrorism by itself can become a problem. . . . [C]ounter-terrorism creates vested interests in the perpetuation of terrorism, particularly when it serves domestic political purpose. . . . [I]t is very difficult to take effective counter-terrorist measures in the polarised societies of South Asia. There are formidable obstacles to revamping the law and order machinery in a divided society. In these conditions, dealing with the root causes of terrorism may become the pre-condition for ensuring the effectiveness of counter-terrorist measures."
---
"A major task in most of the South Asian countries is to mainstream home-grown terrorist elements into the democratic process. . . . The maintenance of pluralistic societies is an important condition for a containing terrorism in South Asia. What happens to pluralism in one country has implications for preserving pluralism in other countries of the region. South Asian countries, therefore, have a common stake in preserving and strengthening their pluralistic societies. Just as terrorism impacts adversely on bilateral relations, maintenance of good bilateral relations can be an antidote to terrorism. This can enable the countries to better absorb each other's shocks. This can also lead to the development of stakes in each other's stability and prosperity, thus rendering it counter-productive to encourage or perpetrate terrorism in neighbouring countries."
---
"The South Asian countries should not exaggerate terrorist threats from other nations in the region to pursue obscurantist and chauvinistic domestic political agenda. By doing so they divert attention from their problem of domestic terrorism and make it difficult to elicit the cooperation of neighbouring countries, essential for combating both external and domestic terrorism. Economic crisis or a 'failed state' can create conditions for the rise of terrorism. South Asian countries should, therefore, do their best to absorb each other's economic shocks and invest in each other's prosperity. In any event, they should resist the temptation of contributing to the failure of other states. The way South Asian countries deal with domestic terrorism or that affecting their neighbours is often shrouded in secrecy. This creates problems all round. There is, therefore, a need for greater transparency."
---
"South Asian society has historically been characterised by cultural diversity and religious perspectives rooted in tolerance and humanism. Conscious nurturing of these values and distinctive cultural features can go a long way towards making the region inhospitable for terrorism based on religious fundamentalism."
---

- Top -
Jandu Honored

By PAUL ASKEW

Wandsworth Borough Guardian, Jan. 2, 2003

"Wandsworth's unsung heroes were honoured at the Civic Awards ceremony held at the town hall two weeks ago. Six awards were presented by mayor Leslie Mc Donnell at the annual event which pays tribute to individuals who have made an outstanding contribution to the local community. Each of the winners were presented with an inscribed glass from Aspreys at the special reception held at the Civic Suite. Councillor McDonnell said: 'It was a great honour and pleasure to have presented this year's Civic Awards. Each of the winners has shown great commitment and energy in helping local people.' Tejpal Singh Jandu received an award for years of work with the borough's elderly population. In 1994 he formed the Senior Citizens and Elderly Group and he regularly speaks to children from local schools about the Sikh faith."
---

- Top -
Richmond Hill Gurdwara Fire Remembered

By KATHLEEN LOUIS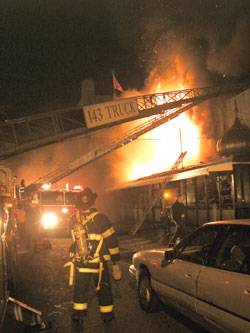 Queens Chronicle, Jan. 2, 2003

"[I]n March, a five-alarm inferno engulfed the northeast's most prominent Sikh gurdwara, which was housed in a former church in Richmond Hill. A visiting priest lost his life in the blaze and some of the group's holy books were lost. It is expected to take at least two years of construction and as much as $10 million before members of the Sikh Cultural Society can replace their gurdwara. However, in the weeks following the tragic blaze, they expanded and renovated a two-story house adjacent to their fire-gutted temple. Worshippers now gather in that building for daily services and meals."
---

- Top -
Vajpayee's Fictional Ideal of Hindutva

EDITORIAL

The Hindu, Jan. 2, 2003

"For all the unexceptionable sentiments, Mr. Vajpayee as Prime Minister has refused to put his own precepts into practice while dealing with the people whom he accuses of projecting Hindutva 'in a narrow, rigid and extremist manner.' It was certainly not the Vajpayee of the Goa musings who went about explaining the actions of those who vandalised churches and other institutions run by Christian missionaries in the Dangs (in Gujarat) or took up Mr. Modi's brief in the course of his campaign in Gujarat recently. . . . The larger question, of course, is that any attempt to find a basis for Indian secularism in any religious tradition is bound to be divisive. Secularism rests firmly on the Constitutional values, particularly of equality and fairness, rather than on any religious text."
---

- Top -
Photo: Happy New Year

By RAJIV SHARMA

The Tribune, Jan. 1, 2003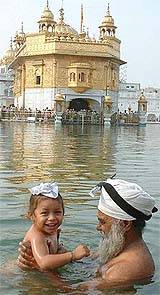 "A kid is given a dip by his grandfather in the sarovar [pool] of the Golden Temple in Amritsar on the first day of the new year."
---

- Top -
S.G.P.C., Akal Takht Defend Hukamnama Tradition

By STAFF
Gurbakhsh Singh Kala Afghana retired in 1981 as inspector of police. In 1984, while he was visiting Canada, India cancelled his passport and confiscated his property. Now based in Canada, the Sikh author's books Biparan Kii Riit Ton Sach Daa Maarag and Bachittar Natak: Gurbani Di Kasvuti Te contend that the Dasam Granth was not entirely authored by Guru Gobind Singh. Renowned Sikh scholar Gurtej Singh, jathedar of Takht Damdama Sahib Giani Kewal Singh, and many others have stoutly defended Kala Afghana's writings. Sikh scholar Giani Bhag Singh Ambalavi had to apologise in the late 1970s for having questioned the validity of the Dasam Granth. Gurbakhsh has questioned the commonly held belief that Guru Tegh Bahadur died for Hindus. He has written, 'the only complaint before the emperor was that Guru Tegh Bahadur was fanning insurgency against the government. Thus those claiming that the Guru sacrificed his life for Hinduism are sullying the principles of Sikhism.'

The Tribune, Dec. 31, 2002

"The S.G.P.C. executive today decided to confront a group of Sikh scholars who have challenged the institution of hukamnama [edicts]. It was disclosed at the meeting that edicts had been issued since the time of Gurus. The executive meeting held under the presidency of Mr. Kirpal Singh Badungar, S.G.P.C. chief, described the move of a section of Sikh scholars as a 'deep rooted' conspiracy which could not be tolerated by the Sikhs. Mr. Badungar urged the Akal Takht jathedar [high priest] to take a serious note of the move of the so-called intellectuals. On the other hand, sources close to Akal Takht jathedar said the institution of the Sikhs was being challenged by those who wanted to preempt the move of the Takht to summon some of them in connection with the alleged blasphemous acts of Mr. Gurbakhsh Singh Kala Afghana, the author of a controversial set of books. The Sikh clergy has already directed Mr. Kala Afghana to appear before Akal Takht on Feb. 10."
---
"Among those who have challenged the institution of hukamnama are Mr. Gurtej Singh, Professor of Sikhism [a title awarded to him by the S.G.P.C. itself], and Mr. Joginder Singh Sawhney [editor of The Spokesman, published from Chandigarh in Punjabi and English] who were directly connected with the publication of Mr. Kala Afghana's controversial books. . . . The S.G.P.C. executive appointed a two-member fact-finding committee comprising Mr. Alwinder Singh Pakhoke, senior vice-president, and Mr. Hardalbir Singh Shah, general secretary, on the activities of Ashutosh. The report would be completed within a month and would be submitted to the Akal Takht jathedar for taking appropriate action. The S.G.P.C. executive also resolved to approach the Central Government for displaying the portraits of great Sikh warriors who had made supreme sacrifices during the freedom struggle."
---

- Top -
Heritage Status Proposed for Amritsar

By STAFF

The Tribune, Dec. 31, 2002

"Even as the 63rd session of the Indian History Congress has passed a unanimous resolution supporting heritage status for Amritsar, Prof. Balwinder Singh, Reader, Guru Ram Dass School of Planning, at Guru Nanak Dev University today presented a detailed paper on the city, on the concluding day here [Amritsar] today. Prof. Balwinder Singh said during the partition holocaust more than 20 per cent of the area within the walled city was burnt and this led to the re-development of the areas around the Golden Temple and the Jallianwala Bagh. In the aftermath of Operation Bluestar and Operation Black Thunder the government had planned to built corridors around the Golden Temple. Under this project, many historic and architecturally important buildings within a radius of 30 metres around the temple complex were demolished. This led to a total destruction of the mini traditional shopping markets popularly known as muniara."
---
"Expressing anguish at the proposed plan of the government to link Golden Temple with the G.T. [Grand Trunk] Road by constructing an overbridge, he said it would destroy the environment of the world famous monument. He pointed out the latest legislation introduced in Punjab, under the Punjab Regional and Town Planning and Development Act of 1995, had also ignored the conservation aspect of the historic city. The government has also failed to check the practice of change of land use from residential to commercial purposes. The problems have multiplied due to the reckless conversion of the land use in and around the Golden Temple. He has also expressed concern over the construction of Mata Ganga Niwas in the Golden Temple complex, which had obstructed the view of the tallest structure, Baba Atal, for pilgrims entering the Golden Temple complex from the northern side."
---

- Top -
Banga: Punjab Was Test Case for Christian Evangelism

By STAFF

The Tribune, Dec. 31, 2002

" 'Punjab was viewed as a test case for the spread of Christianity,' said Prof. Indu Banga, a historian from Panjab University, Chandigarh, at the concluding day of the Indian History Congress held at Guru Nanak Dev University today. In her paper, Urban Social Structure in Colonial Punjab, she said Christian missionaries aggressively propagated their religion in a culturally and religiously 'fragile' environment which presented minimum resistance to change, hence Punjab was a 'test case' for Christianity. After annexation by the British in 1849, the missionaries became active in Punjab and had nearly six different missions of various denominations, including the Anglican Church, the Church of Scotland, the Presbyterian Church and the Methodist Church. This set the tone for cultural change in Punjab. The propagation of Christianity was done through special techniques and methods."
---
"The first missionary school was started in Ludhiana. Later printing presses, dispensaries and relief centres were set up. Their early success in securing converts from among the elite evoked a strong reaction from educated Punjabis in the form of socio-religious associations like the Arya Samaj and the Singh Sabhas. Thus the model set by the missionaries gave an impetus to other communities to identify with their own religion. These religious communities borrowed the blueprint of action from the missionaries. This brought about modernisation among Punjabis. Religious identity became predominant and the British encouraged communal competitiveness which reflected in jobs, medium of language in education, and even politics."
---
"Significantly, the fallout of this process was 'communalisation of consciousness' which meant that communal-categorisation of thinking took place which 'left its legacy' for the post-independence era. Thus to this date, Punjabis relate to all their activities, profession, status and others through the communal spectrum."
---
"Meanwhile, Dr. J.S. Grewal, another historian, said the jathedar [high priest] of Akal Takht was only the conscience-keeper of the community and could issue an edict [only] as per the aspirations of the Panth. Talking to The Tribune after the conclusion of the Congress session he said according to convention, the jathedar of Akal Takht was supposed to enforce the collective decision of the Sikh sangat. He said there were no set rules but the institution of Akal Takht had been running as per the conventions established in the 17th century."
---

- Top -
Afghani Sikhs Decline P.S.G.P.C.'s Kar Seva Offer

By STAFF

The Tribune, Dec. 31, 2002

"In a significant development, Mr. Mopi Muta Faqir, Deputy Transport Minister, Afghanistan, today said the Sikhs in his country had refused to get the kar seva [voluntary work in the context of renovating religious shrines] of their shrines done by the Pakistan Sikh Gurdwara Parbandhak Committee [P.S.G.P.C.]. Mr. Faqir said Afghani Sikhs were of the view that the S.G.P.C. had the sole right to conduct the renovation work of the gurdwaras. It may be mentioned here the S.G.P.C. had taken up the matter of kar seva [for Afghanistan shrines] with the Prime Minister, Mr. Atal Behari Vajpayee."
---

- Top -
Misrepresentation of Sikh History

By ALEX JOHNSON
The following characterization is an example of sacrificing accuracy at the altar of exigency. It is widely accepted that Sikhism is not "completely unrelated to Islam in any form." The Sufi sect of Islam was a significant influence on the milieu in which Sikhism took shape. Also, Sikhs cannot disown the "extremist" ideologies from their recent historical past just because they're inconvenient in the present environment. There is indeed a great need to explain to S.U.V.-driving, biggie-fry-eating, Fox-news-listening Americans that Sikhs aren't Sheiks. However, we must find a way to do so without denying Sikh history.

M.S.N.B.C., Dec. 31, 2002

"Racial and religious profiling became a participant sport, no longer confined to law enforcement. Just ask those Americans who follow the Sikh religion - one completely unrelated to Islam in any form, much less the extremist brand cultivated by the 9/11 hijackers. But Sikh organizations reported hundreds of attacks on their adherents after 9/11, continuing well into 2002 despite a direct appeal from the president for understanding."
---

- Top -
Bawa Honored With O.B.E.

By STAFF
The 65-year-old councillor was given the award for his services to the community. Councillor Bawa is married with seven children and said his family was the focal point of his life. A retired industrial laundry worker, Councillor Bawa lives in Richmond Hill, Oldbury. He has been a councillor for 14 years and has worked in the local community for 35 years.

icBirmingham, Dec. 31, 2002

"A Sandwell borough councillor made an O.B.E. [Order of the British Empire] for services to the community described the award as 'a dream come true.' Babu Singh Bawa (Lab, Oldbury), chairman of the Oldbury Town Committee, said he was surprised and delighted to have been honoured after more than 30 years as a councillor. The citation describes Councillor Bawa as a 'moderate Sikh' who has dedicated himself to improving inter-cultural relations in Sandwell and delivering mutual respect for law and order and respect for the beliefs of others. Councillor Bawa, of Richmond Hill, Oldbury, said: 'To have been supported in such a manner by the people of Sandwell and my colleagues is, for me, the highest accolade and I cannot thank them enough. This award is a dream come true and something that I shall always treasure.' "
---

- Top -
Karan Singh: India Should Restart Talks on Kashmir With Pakistan

By STAFF

The Tribune, Dec. 30, 2002

"Former Union Minister and Rajya Sabha member Karan Singh today advocated the need of opening a dialogue with Pakistan for the solution of the Kashmir issue. 'Kashmir issue cannot be solved by shutting down the bilateral dialogue process with Pakistan and the Indian Government should take initiative to restart the dialogue process which was stalled after the Agra summit,' he told reporters here [Jalandhar]. He said militant groups should also be called for a dialogue as without their involvement, no permanent solution could be achieved."
---

- Top -
Badungar Objects to Dancing Girls at Jor Mela

By STAFF

The Tribune, Dec. 30, 2002

"The S.G.P.C. president [Kirpal Singh Badungar] objected to dancing by girls on the Congress [party] stage during the just concluded Jor Mela [celebrated in the memory of Guru Gobind Singh's two youngest sons who were entombed alive here by the Mughals] at Fatehgarh Sahib [in Sirhind, Punjab]. He alleged, the 'Congress had hurt the sentiments of Sikhs and betrayed the very purpose of the Jor Mela by organising vulgar dances at its stage just to attract more people.' "
---

- Top -
Leveling of the Shivalik Foothills

By VARINDER WALIA

The Tribune, Dec. 30, 2002

"The leveling of the foothills of the Shivalik range has harmed the fauna and flora of the surroundings of Anandpur Sahib. The land mafia, which allegedly has the patronage of government officials and politicians, has levelled several hills and made money by selling the land for residential purpose. The Shivaliks have a great significance as for as the geological history of the subcontinent is concerned. Many parts of the Shivaliks are important fossil sites. Anandpur Sahib, founded by Guru Tegh Bahadur in 1664 A.D. was given the name of 'white city' at the time of the tercentenary celebrations of the birth of the Khalsa Panth. . . . According to residents of the city, most of the hills were levelled at the behest of deras [camps], many of which mushroomed in the vicinity of the city after the leveling. Several hills were levelled during the peak of militancy as militants used them for hiding."
---

- Top -
G.N.D.U. Credentials Questioned

By PRABHJOT SINGH

The Tribune, Dec. 29, 2002

"Recent media criticism that 'historical research has reached the level of plagiarism with the merit of preservation' makes Guru Nanak Dev University [G.N.D.U.] a controversial host for the Indian History Congress starting on Dec. 28. . . . [A]mong critics has been none other than celebrated author, historian and journalist Khushwant Singh [The Tribune, Sep. 14, 2002]."
---

- Top -
Indian Security Forces Thwart I.S.I.'s Attempts to Revive Militancy in Punjab

By STAFF

The Tribune, Dec. 29, 2002

"Mr. [M.S.] Bhullar [Director General of Police (D.G.P.), Punjab] said Pakistan's I.S.I. was trying its best to revive militancy in Punjab and had tried to smuggle militants in the state through Jammu and Kashmir, but strict vigil and determination of security forces had thwarted their designs. Mr. Bhullar told reporters that the police was strictly watching the activities of the surrendered militants belonging to the state. 'We are keeping a watch on their activities so that they are not misled and lured once again by agents of the I.S.I.,' he said. He said no terrorist outfit would be allowed to raise its head once again. Punjab witnessed the worst decade of terrorist violence from the mid-1980s that took several innocent lives."
---

- Top -
De: Historians Ought to Be Daring; Grewal: Non-Violence Dominant in Sikh History

By P.T.I.

Outlook, Dec. 29, 2002

"Contemporary history should be aimed at exposing and challenging the misdeeds of established epicentres of powers both at global as well as national levels, eminent historian Barun De said. Delivering the 'S.C. Mishra Memorial Lecture' of the 63rd Indian History Congress being held at Guru Nanak Dev University [G.N.D.U.] here [Amritsar, Punjab, India], De launched a direct attack on politicians and said 'historians ought to be daring enough to write the misdeeds of political parties or the party in power.' The dependable sources of history writing are not the official archives, but what the people express or narrate in the form of folk traditions, rituals, letters, memoirs, literary works, cinema and theatres, he said. The proceedings of the Congress are being conducted in eight sections devoted to Ancient India, Medieval India, Modern India, History of Countries Other Than India, Punjab History, Archaeology, The Idea of India, and Urban History."
---
"In the panel on Punjab History chaired by Dr. J.S. Grewal, former Vice-Chancellor of Guru Nanak Dev University, the focus was on the formation of Sikh identity and its crisis. It was argued that non-violence was the running thread and dominant creed of all the sikh movements. 'Moderation had its full sway over sikh psyche. Whenever a radical got pitted against a moderate, the moderte dominated,' he said. S.P. Verma of Aligarh Muslim University [A.M.U.] highlighted the symbiotic relationship between 19th century Indian art and the Mughal school of painting while Mariam Dossal of Mumbai, emphasised the need for professional expertise, popular participation and political will so as to ensure that the 'urban boom' may not turn into 'urban doom.' "
---

- Top -
Badungar: Pakistan Misusing Gurdwara Funds

By STAFF
On Apr. 8, 1950, the two prime ministers signed an agreement, which was later given the name Liaquat-Nehru Pact. This pact provided a Bill of Rights for minorities in India and Pakistan. This Bill of Rights was divided into three parts as follows: a) to put to rest the fears of religious minorities on both sides b) to elevate communal peace c) to create an atmosphere in which the two countries could resolve their other differences. Among other things, the Pact assures Sikhs the right to visit their shrines in Pakistan four times a year.

The Tribune, Dec. 29, 2002





"Mr. Kirpal Singh Badungar, President, S.G.P.C. today said that funds collected as offerings at gurdwaras in Pakistan were being used for anti-India and anti-S.G.P.C. propaganda. . . . He pointed out that as per the Nehru Liaquat Ali Pact (1950), the management of gurdwaras in Pakistan should be in the hands of the Sikhs. He said while devotees of all religions were welcome in gurdwaras, the seva [service] of the same should be carried out only by those who knew and followed the Sikh maryada [code of conduct or discipline]. . . . He said that the S.G.P.C. was the parent body of the Sikhs and had control over funds of gurdwaras situated in Punjab, Haryana, Himachal Pradesh and Chandigarh and had religious control over gurdwaras situated the world over."
---

- Top -
Sikh Clergy Not Authorized to Issue Community Directives

By STAFF

The Tribune, Dec. 29, 2002

"By issuing hukamnamas (directive) the jathedars [high priest] of five takhts have of late wielded powers which gurmat [Sikhism, Sikh teachings, Sikh code of conduct or Sikh scriptures] never vested in them. This observation has been made by Mr. Joginder Singh Sawhney [editor of The Spokesman, published from Chandigarh in Punjabi], Mr. Gurtej Singh, General Narinder Singh (retd.), Mr. Rajinder Singh, Mr. Gurdarshan Singh Dhillon and Justice Ajit Singh Bains in a letter addressed to the jathedar of Akal Takht, with copies to all jathedars. They further held that even jathedars elected during sarbat khalsa [meeting of all Sikh parties and groups] never issued any hukamnamas. The practice of using Sikh clergy to issue directives started at the behest of the British."
---
"They asked whether Akali Phula Singh or any of his predecessors ever issued any hukamnama? Were jathedars ever allowed to use rights of Gur Panth before the Badal-Tohra combine appeared on the scene? Does the Sikh Gurdwara Act give jathedars such rights? They held that vak [advice or directive] is taken from Guru Granth Sahib at Darbar Sahib every morning at 6. This should be taken as hukamnama. Referring to the Dec. 23 decisions of the jathedars they asked. How a directive or an order pronounced by head priests of Takhts could be equated with the hukamnama from Guru Granth Sahib? They appealed to the jathedars to restore the right to take decisions to the Sikh congregation. The duties and responsibilities of jathedars should be limited to the enforcement of gurmattas [decision affecting the whole Sikh community] and decisions of the Panth."
---

- Top -
China Playing With Human Rights

EDITORIAL

The Japan Times, Dec. 28, 2002

"China is once again engaging in human rights diplomacy. This week the government in Beijing released dissident Xu Wenli, one of the country's most famous human rights activists. It is tempting to applaud this long-overdue development, but the truth is that Mr. Xu should not have been in jail in the first place. Worse, his release is more proof of China's readiness to use human beings as pawns in its attempts to forge better relations with the United States. This practice must stop. Mr. Xu, now in his late 50s, has spent more than 16 of the last 21 years in prison as a result of his political activities. He was first jailed in 1982 after being convicted of 'counterrevolutionary activities;' in fact, his crime was advocating more political freedom for Chinese and participating in the Democracy Wall movement of 1979."
---
"By one estimate, 3,000 people have been charged with 'state security offenses' - previously known as 'counterrevolutionary activities,' in turn a shorthand for demanding more political freedom - and 90 percent of them have been sent to prison. . . . According to Mr. [Lorne] Cramer [a ranking human rights official at the U.S. State Department], China has also agreed to reissue invitations to the U.N. special rapporteurs on torture, religious freedom and the arbitrary detention working group."
---
"There is concern that Chinese concessions come at a high price. For example, human rights groups worry that Washington was too quick to add the East Turkestan Islamic Movement, a group that wants independence for Xinjiang, one of China's western provinces, to its list of terror organizations. They fear the move will justify Beijing's crackdown on dissents in the province and elsewhere. Only days after Mr. Cramer visited Xinjiang, a local political leader called for an intensified effort against separatists and religious extremists. . . . The government's conditioning of the release upon foreign exile is proof that it is not serious about making progress in this field. Worse, China has a ready supply of dissidents that it can use for leverage when dealing with the West."
---

- Top -
Karta Technologies: Creators Par Excellence

By L.A. LOREK
G.P. Singh received a bachelor's degree in aeronautical engineering from Punjab Engineering College, India in 1974 and M.S. and Ph.D. degrees in mechanical engineering from Drexel University in 1976 and 1979 respectively. Dr. Singh is chairman of the Technology Council of the Greater San Antonio Chamber of Commerce and a member of the organization's board of directors. He is also a member of the Methodist Hospital Ministries' board of directors. Dr. Singh is a member of the mayor's Industry Advisory Group and serves on the advisory councils for the College of Business, University of Texas at San Antonio and the University of the Incarnate Word.

Express-News, Dec. 28, 2002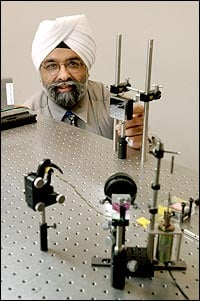 "When the Association of American Railroads wanted a new way to find defects in train tracks, it turned to Karta Technologies Inc. Engineers at Karta developed a special sensor that is mounted on a train and can detect microscopic cracks in the tracks and help prevent derailments. To win the contract, Karta had to beat out a tough competitor - the Massachusetts Institute of Technology [M.I.T.]. In its 16 years in business, Karta has established itself as a leading research and development company for government agencies and businesses. The privately held company had revenues of $50 million this fiscal year, up 100 percent from last year. 'We've put an excellent foundation in place, and we're building a culture in the company that is customer-centric,' said C.E.O. G.P. Singh, who moved to the United States from India in the early 1970s to attend graduate school."
---
"Karta, which in Hindi means creator or doer, has lived up to its name. The company has gone from a one-man operation in Singh's garage to a 330-employee company in a 2-year-old 27,000-square-foot building at 5555 Northwest Parkway. And Karta owns another lot in its business park for future expansion. Singh expects Karta to become a $1 billion company within 10 years. . . . Karta originally focused on developing new nondestructive inspection techniques and products. Its expertise has expanded to include information technology, specialized training systems, health care management support, logistics, engineering and environmental services. Its customers include Kinetic Concepts, H.E. Butt Grocery Co., Frost Bank, Duke Power and the U.S. Department of Defense. . . . This year, the U.S. Small Business Administration awarded Karta the Tibbetts Award for being a 'model of excellence' in high technology. . . . The company has seen 45 percent growth per year for the past five years."
---

- Top -
Spirit of Shaheedi Jor Mela Has Changed From Mourning to Celebration

By JANGVEER SINGH

The Tribune, Dec. 28, 2002

"From a shok sabha [mourning ceremony] to a pleasure haunt with circus dancing girls, swings and temporary liquor ahatas [stall], Shaheedi Jor Mela has come a long way. The town had been razed by Banda Bahadur to avenge the killing of Guru Gobind Singh's sons and the demolished bricks continued to be thrown in a nearby river. The town is now holding an annual mela in which rejoicing, has become the order of the day. . . . The spiritual feeling has been lost and rapid commercialisation has occurred. . . . There is limited space to listen to various katha kirtans [expositions of Sikh scriptures] and dhadi jathas [troop of folk-singers using hand drums] in gurdwaras. This year, there was a circus at the mela site, besides a virtual amusement park, gambling stalls and tents selling and serving countrymade liquor. The wine contractors have put up temporary shelters just outside the radius of 200 metres, inside which liquor sale is banned."
---
"[S.G.P.C. chief Kirpal Singh Badungar countered by relating that] lakhs [100,000] of Sikhs had joined the nagar kirtan [street procession] from the Fatehgarh Sahib gurdwara to the nearby Jyoti Swarup to commemorate the last journey of the Sahibzadas [Guru Gobind Singh's sons] from Fatehgarh Sahib, where they were bricked alive, to Jyoti Swarup, where their last rites were performed."
---

- Top -
Torture Is Not an Option

EDITORIAL

The Washington Post, Dec. 27, 2002

"[S]uddenly, practices that bear a striking resemblance to the old Israeli policy are taking on an American face. That, at least, is the concern induced by an eye-opening story by Washington Post staff writers Dana Priest and Barton Gellman (The Washington Post, Dec. 26). . . . But unlike the Israelis, for whom moderate physical pressure was open public policy, the new tactics - whatever they may be - are being kept secret. . . . These grillings may not be governed by the same rules that cover domestic criminal investigative interrogations. Foreigners detained abroad fighting against the United States are not entitled to the protections of the Bill of Rights, after all."
---
"But there are certain things democracies don't do, even under duress, and torture is high on the list. Some of the alleged tactics, while aggressive, may be legitimate: deceptions, for example, or psychological pressure. Others - bright lights and lengthy interrogations that interfere with sleep - straddle the line between acceptable and unacceptable conduct. Without knowing more about what exactly is happening, it's hard to judge. But beating prisoners is entirely out of bounds."
---

- Top -
Towards a Hindu India; Putting Muslims in Their Place

By SAISURESH SIVASWAMY
Saisuresh Sivaswamy is managing editor of India Abroad and rediff.com

India Abroad, Dec. 27, 2002

"While there is no imminent danger of the saffron flag replacing the tricolor as India's standard, the year gone by has taken the country closer to Hindu-dom. Hindusim's many sterling qualities are well known: its all-inclusive nature; acceptance of all strands of belief and faith; and life's transience, being just a bare few among them. Yet, why doesn't the heart rejoice, the soul leap as it must at every glad tiding? Instead, why does the prospect induce dread and worry? That is probably because the torthbearers of an ancient and glorious faith have distorted its essence in their march towards political power. . . . The point is that the Ram temple issue could only make the B.J.P. the single largest party in terms of seats. Its draw was limited and will never ever power it to a majority in the Lok Sabha [lower house]. In fact, Lord Ram as an election issue had long since entered the realm of diminishing political returns, and . . . the B.J.P. was [looking for a viable issue]."
---
"Which is where Narendra Modi, who has dominated 2002 more than any other Indian political leader, comes in. If L.K. Advani, the original Hindutva man, used Lord Ram as his weapon, the Gujarat chief minister has done away with it. He tells it like it is, and apparently that is what the electorate loves to lap up. Hindutva, he has shown, is not about building the Ram temple in Ayodhya - it will be built anyway. Political Hinduism is about putting the Muslims in their place, and restoring India to its heritage. Put in such bland terms it packs no appeal for the voter. What it needs in the Modi touch. An outrage, then a reaction. Thanks to India being what it is, there is no need manufacture the original outrage, the dailies are full of them anyway, what needs to be managed is only the reaction. From that it is easy to create a publicly identifiable foe, generate fear, assure protection, and reap the Hindu vote. A simple formula, really, and one perfected in 1984 by the Congress."
---

- Top -
Vajpayee's Theatrics

By P.T.I.
Surely, Vajpayee's motivation behind this sort of theatrical display isn't a genuine show of respect for Sikhism. While covering one's head is quite understandable in the presence of the Guru Granth Sahib, Vajpayee is at his residence meeting with a Sikh delegation. One might hope that this is a Freudian admission of guilt toward Sikhs following the utter absence of justice for the 1984 Sikh massacres. However, what is likely is that Vajpayee is merely echoing the R.S.S. claim that Sikhs are Hindus. Also visible is what appears to be a sash similar to one used by Sikhs to hold their kirpans [ceremonial dagger]. Had secularism been the motivation, Vajpayee would equally be seen dressed in Muslim, Christian, and Parsi attire. Incidentally, Vajpayee is also the author of the following "drivel" which Khushwant Singh (The Tribune, Jan. 12, 2002) found to be "appalling." "Goriya, Manali mat jaiyyo / Jaiyo to trishul lay kay jaiyo / Manali mein milengey Khalistani."

The Associated Press, Dec. 27, 2002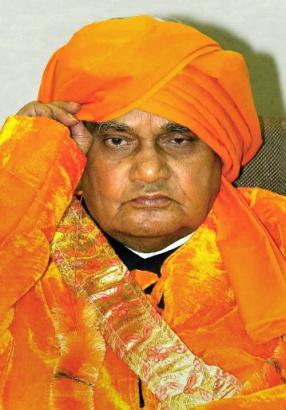 "Indian Prime Minister Atal Behari Vajpayee adjusts his turban at a meeting with a Sikh delegation at his residence in New Delhi, India, Friday, Dec. 27, 2002."
---

- Top -
Taboo on Terrorism Should Be Universal

By NICHOLAS D. KRISTOF
Winner, jointly with wife Sheryl WuDunn, of the 1990 Pulitzer Prize for international reporting for their coverage for The New York Times of the Tiananmen Square democracy movement in China and its bloody supression.

The New York Times, Dec. 27, 2002

"In the next step in the war on terrorism, the United States is likely in the coming months to invade Iraq in ways that will terrorize civilians there. . . . Is it fair to present the war on terrorism as a parable of good vs. evil? Grenville Byford reflected the skeptics' view in an essay in the magazine Foreign Affairs, arguing that moral clarity is more apparent than real and that 'the sooner the rhetoric is retired the better.' Highly nuanced intellectuals tend to poke three kinds of holes in moral clarity:"
---
"[1] Terrorism is in the eyes of the beholder. President Ronald Reagan declared the African National Congress a terrorist group not long before its leader, Nelson Mandela, won the Nobel Peace Prize. Meanwhile he described Jonas Savimbi, who everybody else thought of as a terrorist, as Angola's Abraham Lincoln. Oops. And speaking of national heroes, what about the radicals in the American Revolution who burned the homes of British loyalists? Were they terrorists?"
---
"[2] Wiping out terrorists is sometimes unhelpful. Even if we could agree on what constitutes terrorism, it's often not obvious what we should do about it. Pakistan has done more than Iraq to support terrorism (in Kashmir), but instead of invading Pakistan, Bush has quite sensibly sent aid - for bolstering President Pervez Musharraf is the best hope for ending the violence. Circumstances vary, so sometimes we kill those engaged in terrorism, and sometimes we invite them for state visits."
---
"[3] In crude military terms, terrorism often works. New methods of killing people initially provoke outrage but eventually are often accepted. Henry V used longbows at Agincourt, outraging the French. British red coats marching in neat columns were appalled by sneaky Yankees hiding behind trees. After Guernica, aerial bombing was condemned as barbaric, and in World War II the West condemned Germany's V-1 and V-2 missiles as terror weapons."
---
"Vietcong military theorists predicted something like Qaeda-style urban guerrilla warfare, and there's a risk that it is what the future looks like. All these problems reflect what the British scholar Adam Roberts refers to as 'genuine doubts' about the term terrorism. The Reuters news service normally refuses to describe people as terrorists - outraging those all over the globe who are sure that's what their enemies are. . . . Perhaps it is hopelessly naive to seek to make terrorism a universal taboo; perhaps a nuanced moral clarity is a contradiction in terms. Yet there is a precedent: After World War I, the use of poison gas was delegitimized."
---

- Top -
Nihang Sikh

By DIPAK KUMAR

Reuters, Dec. 27, 2002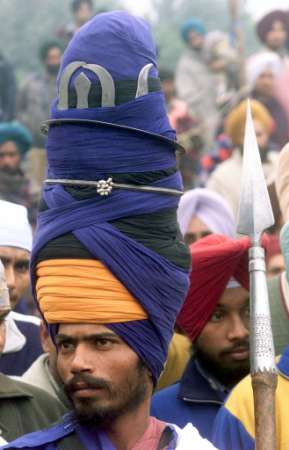 "A Sikh attends a religious procession in Fatehgarh Sahib in the northern Indian state of Punjab, Dec. 27, 2002. The procession was held to remember the two young sons of the tenth Sikh Guru [Guru Gobind Singh], who were buried alive in a wall in 1704 on the orders of the country's then Islamic rulers for refusing to convert to Islam."
---

- Top -
Shame on Reuters

By STAFF
Dr. (Bhai) Harbans Lal, a well-regarded interpreter of Sikh scripture, sent the following words of protest to Reuters on Dec. 29, 2002: "It is a shame that you are so very insensitive to the religious sentiments of the brave Sikh community to have published the derogatory picture-story (below) on Dec. 27, 2002. You might know that Sikhs greatly respect and love their external symbols. Yes, there are apostates in every religion but it is not your role to give them naked publicity and hurt a community's feelings."

Reuters, Dec. 27, 2002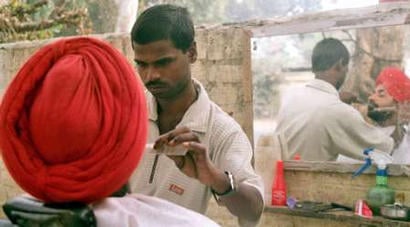 "An Indian Sikh has his beard trimmed by a roadside barber in the city of Amritsar, in the northern Indian state of Punjab, Dec. 27, 2002. The Sikh religion forbids its followers from cutting their hair in their lifetime but some believers do not follow the religion in its strictest form."
---

- Top -
If You Want Peace, Work for Peace

By LARRY SEAQUIST
Larry Seaquist, a former U.S. Navy warship captain and Pentagon strategist, works on peace-building campaigns.

The Christian Science Monitor, Dec. 27, 2002

"Going back to our earliest days, we humans have needed to protect ourselves, not least from each other. Whether defending the mouth of the cave or patrolling the crest of the valley, the warriors of our hunter-gatherer ancestors shielded those assembled around the peaceful family fire. In modern times those warriors became people like me, professional soldiers guarding the borders of family now grown to nation-state. Whether ancient or modern, the core idea of security has been perimeter defense - warrior specialists defending hearth and home. Peace was the result of war, of readiness for war. The work of peace-building was the work of the warrior. 'If you want peace, prepare for war' went one piece of wisdom proven over thousands of years of protecting 'us' from the dangerous 'them' on the other side of the barrier."
---
"Perimeter defense doesn't work any more. No matter how high tech the army, how superior its troops, how massive its firepower, its warriors cannot shelter us from electronic viruses attacking through our home computers, from living viruses spread through the air, from bombs smuggled into our cities. (Indeed, we want to guard against militaries that try to assume those internal security roles.) These days we are all on the front lines; the safety of being a noncombatant, a protected 'civilian,' seems gone forever. Of the new threats to peace, terrorists are the nuclear weapons: tiny groups injecting fear into the heart of our communities. But fearful as they are, terrorists pale in lethality when compared to demagogues. If you want to map the coming year's most deadly conflicts, map the demagogues. If you want to judge your own community's vulnerability, ask whether the politics of us-versus-them is replacing the politics of commonweal."
---
"How do we get back on the peace track? We start by recognizing that peace-building is now the work of communities everywhere, not the army - and especially not the work of the American military alone. Peace is not what happens after the war; peace is the war. . . . To make the mistake of thinking that our military professionals, no matter how skilled and dedicated, will deliver peace through firepower is only to accelerate our civilization's downward slide into an era of profound human violence. A peaceful community is literally a peace-able community. . . . Peace is now principally the work of peace-builders, not warriors. Our new guideline should be, 'If you want peace, work for peace.' "
---

- Top -
C.I.A. Using Brass-Knuckle Tactics Abroad

By DANA PRIEST and BARTON GELLMAN

The Washington Post, Dec. 26, 2002

"Those who refuse to cooperate inside this secret C.I.A. interrogation center are sometimes kept standing or kneeling for hours, in black hoods or spray-painted goggles, according to intelligence specialists familiar with C.I.A. interrogation methods. At times they are held in awkward, painful positions and deprived of sleep with a 24-hour bombardment of lights - subject to what are known as 'stress and duress' techniques. Those who cooperate are rewarded with creature comforts, interrogators whose methods include feigned friendship, respect, cultural sensitivity and, in some cases, money. Some who do not cooperate are turned over - 'rendered,' in official parlance - to foreign intelligence services whose practice of torture has been documented by the U.S. government and human rights organizations. In the multifaceted global war on terrorism waged by the Bush administration, one of the most opaque - yet vital - fronts is the detention and interrogation of terrorism suspects."
---
"The picture that emerges is of a brass-knuckled quest for information, often in concert with allies of dubious human rights reputation, in which the traditional lines between right and wrong, legal and inhumane, are evolving and blurred. While the U.S. government publicly denounces the use of torture, each of the current national security officials interviewed for this article defended the use of violence against captives as just and necessary. They expressed confidence that the American public would back their view. The C.I.A., which has primary responsibility for interrogations, declined to comment."
---
" 'If you don't violate someone's human rights some of the time, you probably aren't doing your job,' said one official who has supervised the capture and transfer of accused terrorists. 'I don't think we want to be promoting a view of zero tolerance on this. That was the whole problem for a long time with the C.I.A.' The off-limits patch of ground at Bagram is one of a number of secret detention centers overseas where U.S. due process does not apply, according to several U.S. and European national security officials, where the C.I.A. undertakes or manages the interrogation of suspected terrorists. Another is Diego Garcia, a somewhat horseshoe-shaped island in the Indian Ocean that the United States leases from Britain."
---
"At a Sep. 26 joint hearing of the House and Senate intelligence committees, Cofer Black, then head of the C.I.A. Counterterrorist Center, spoke cryptically about the agency's new forms of 'operational flexibility' in dealing with suspected terrorists. 'This is a very highly classified area, but I have to say that all you need to know: There was a before 9/11, and there was an after 9/11,' Black said. 'After 9/11 the gloves come off.' According to one official who has been directly involved in rendering captives into foreign hands, the understanding is, 'We don't kick the (expletive) out of them. We send them to other countries so they can kick the (expletive) out of them.' Some countries are known to use mind-altering drugs such as sodium pentathol, said other officials involved in the process."
---
"U.S. government officials, speaking on condition of anonymity, acknowledged that interrogators deprive some captives of sleep, a practice with ambiguous status in international law. The U.N. High Commissioner for Human Rights, the authoritative interpreter of the international Convention Against Torture, has ruled that lengthy interrogation may incidentally and legitimately cost a prisoner sleep. But when employed for the purpose of breaking a prisoner's will, sleep deprivation 'may in some cases constitute torture.' The State Department's annual human rights report routinely denounces sleep deprivation as an interrogation method. . . . U.S. officials who defend the transfers say the prisoners are sent to these third countries not because of their coercive questioning techniques, but because of their cultural affinity with the captives. Besides being illegal, they said, torture produces unreliable information from people who are desperate to stop the pain."
---
"Free from the scrutiny of military lawyers steeped in the international laws of war, the C.I.A. and its intelligence service allies have the leeway to exert physically and psychologically aggressive techniques, said national security officials and U.S. and European intelligence officers. Although no direct evidence of mistreatment of prisoners in U.S. custody has come to light, the prisoners are denied access to lawyers or organizations, such as the Red Cross, that could independently assess their treatment. Even their names are secret."
---
"According to Americans with direct knowledge and others who have witnessed the treatment, captives are often 'softened up' by military police and U.S. Army Special Forces troops who beat them up and confine them in tiny rooms. The alleged terrorists are commonly blindfolded and thrown into walls, bound in painful positions, subjected to loud noises and deprived of sleep. The tone of intimidation and fear is the beginning, they said, of a process of piercing a prisoner's resistance."
---

- Top -
Ex-I.S.I. Chief Claims P.G.P.C. Is Run by Pakistani Intelligence

By U.N.I.

Deepika, Dec. 26, 2002





"A former I.S.I. chief has told an anti-terror court in Pakistan that he ended the control of Amritsar's Shiromani Gurdwara Parbandhak Committee (S.G.P.C.) over Sikh historic shrines in his country in order to let them be administered by his own men. Lt. Gen. (retd.) Javed Nasir told the anti-terror court that with the creation of the Pakistan Gurdwara Parbandhak Committee (P.G.P.C.) the I.S.I. took control of gurdwaras in Pakistan within a year after he became chief of the Evacuee Trust Property Board in order to prevent 'Indian interference' in management of Sikh shrines. His admission came as part of a defamation suit he has filed against Pakistan's leading English daily The News which has accused him of having embezzled billions as Chairman of the Trust which arranges annual Sikh religious functions in that country."
---
"The former I.S.I. chief also claimed he had enjoyed a 'Sikh friendly' reputation, saying the community gave him a 'next-to-Guru' status. He, however, said the news report had damaged his pro-Sikh reputation. The P.G.P.C. replaced the S.G.P.C. in 1999, prompting an Indian ban on Sikh pilgrimage to Pakistan, the cradle of the faith. However, in a token lifting of the ban ahead of Guru Nanak's birth anniversary celebrations, in Nov. this year, the Indian government allowed a batch of Sikh devotees to visit Pakistan on a holy tour."
---

Sikh Activist Calls for a U.N. for Queens, N.Y.

By ALEX DAVIDSON

Fresh Meadows Times, Dec. 26, 2002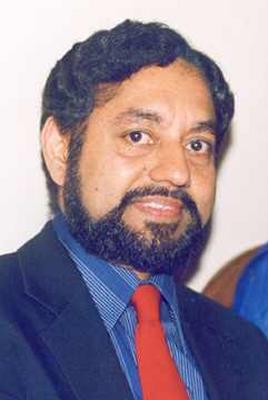 "A longtime borough resident, community activist and former United Nations official is proposing a 'U.N. for Queens' to encourage cultural awareness and help create a unified community among immigrants and non-immigrants in the country's most diverse melting pot. Harbachan Singh, who moved to Queens in 1969 from Malaysia and currently lives in Holliswood, said the events of Sep. 11 inspired him to draft a report that he intends to show to Borough President Helen Marshall and other local elected officials. He said the organization could be called the United American Community of World Origins, or U.A.C.O.W.O."
---
"Singh, [a former chairman of the U.N. Headquarters Committee on Contracts and current member of Community Board 8,] who helped establish the first Sikh temple in the tri-state area at 95-30 118th St. in Richmond Hill with 17 other families in 1971, said the organization would incorporate elected officials, ethnic leaders and borough residents. He said the body would be a forum for all community leaders to meet on a regular basis and talk about the borough's issues and priorities, ultimately helping to integrate the various communities in Queens. Queens is the most ethnically diverse county in the country."
---
"The proposal calls for each cultural community to designate a member to the organization that would be overseen by Marshall. The members would then elect a governing council with between 30 and 50 members, who would be assigned to specific committees dealing with issues within the borough, Singh said. There would also be a commissioner-general, a city employee whose term would parallel the borough president's and would effectively be the agency's managing director, according to the proposal."
---
"Singh, a third-generation Malaysian who received a law degree in England and graduated in 1981 from St. John's University with a master's degree in governments and politics, said he has focused on the relationship between government and its people in his past endeavors. The former U.N. official speaks more than six languages and helped mitigate the conflict in East Timor, now an independent nation but once a site of conflict as a former part of Indonesia. Singh said he wants to maintain his community activism and work directly to benefit Queens."
---

- Top -
China Exiles Yet Another Democracy Activist

By JERRY CRIMMINS

The Associated Press (A.P.), Dec. 24, 2002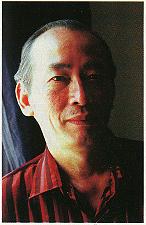 "Xu Wenli, jailed since 1998 on charges of endangering state security, was granted early release from his 13-year sentence and flown out of China on Tuesday, said John Kamm, an American who has played a role in the release of several Chinese prisoners. Xu was arrested in 1998 after trying to set up the opposition China Democracy Party with other activists. The communist government quickly crushed the party and sent dozens of members to prison. The release came a week after U.S. Assistant Secretary of State Lorne Craner said he had appealed to Chinese officials in human rights talks in Beijing to free Xu. Xu, who suffers from hepatitis B, was granted medical parole, Kamm said."
---
"Xu is the first person convicted of endangering state security - a charge that has been used against leading Chinese dissidents - to be released early from prison, Kamm said. Xu's co-founders of the China Democracy Party - Wang Youcai and Qin Yongmin - are still in prison on similar charges, serving terms of 11 and 12 years, respectively. Xu, who is in his late 50s, was first arrested for advocating greater political freedoms during the 1979 Democracy Wall movement. He was imprisoned from 1982 to 1993 on charges of counterrevolution. China has rid itself of other prominent political prisoners by paroling them on health grounds - usually on condition that they go into exile, most often in the United States, where they quickly lose their political effectiveness."
---
"Xu has been the subject of intense U.S. lobbying. His case was mentioned in each of four speeches on human rights given this year by Clark T. Randt, the American ambassador to Beijing. U.S. legislators visiting Beijing have appealed repeatedly for his release. Four Tibetan prisoners who were convicted of similar offenses against state security and also were the subject of American appeals were released earlier this year."
---

- Top -
India Lodges Protest Regarding Upkeep of Sikh Shrines in Pakistan

By STAFF

Sify, Dec. 23, 2002

"India on Monday lodged a strong protest with Pakistan over poor maintenance of Sikh religious shrines of Nankana Sahib, Punja Sahib and others, and demanded proper upkeep of these places of worship. The matter was raised by Arun Kumar, Joint Secretary (P.A.I.) in the Ministry of External Affairs (M.E.A.) with Pakistan Deputy High Commissioner Jalil Abbas Gilani at a meeting held in the South Block here [at the Parliament in New Delhi]. The poor and deplorable condition of the shrines was noticed by members of the Shiromani Gurdwara Parbandhak Committee (S.G.P.C.), who visited Pakistan in Nov. in connection with the Guru Nanak jayanti [memorial], a spokesman of the M.E.A. said."
---

- Top -
I.N.S. Detainees From Northern California Experiencing Severe Human Rights Violations

By NICOLE ODELL

The San Francisco Bay Area Independent Media Center (S.F. I.M.C.), Dec. 23, 2002

"San Francisco based Iranian lawyer, Banafsheh Akhlaghi met with several of the Iranian detainees, whom she is representing, at the San Diego I.N.S. offices today (Dec. 22.) The interviews came after days of the detainees being held in isolation with no opportunities to speak with either Akhlaghi or their families. The detainees reported severe human rights abuses, which were confirmed upon Akhlaghi's visit. Banafsheh Akhlaghi, together with representatives from various human rights activist groups, demonstrated today in protest of the gross violations of the civil liberties of the Iranian I.N.S. detainees, several of whom she is representing. After several hours of protesting as well as the threatening presence of a number of network journalists, Akhlaghi was able to see her clients whom she has been unable to speak with for the last 48 hours."
---
"Upon interviewing them, severe violations of their basic human rights were confirmed, including sleep deprivation, long term exposure to severe cold, inadequate hygenic facilities, along with a number of other shocking mistreatments."
---

- Top -
Vedanti: Will Summon Kala Afghana, Possibly Amarinder Too

By P.T.I.
Gurbakhsh Singh Kala Afghana retired in 1981 as inspector of police. In 1984, while he was visiting Canada, India cancelled his passport and confiscated his property. Now based in Canada, the Sikh author's books Biparan Kii Riit Ton Sach Daa Maarag and Bachittar Natak: Gurbani Di Kasvuti Te contend that the Dasam Granth was not entirely authored by Guru Gobind Singh. Renowned Sikh scholar Gurtej Singh, jathedar of Takht Damdama Sahib Giani Kewal Singh, and many others have stoutly defended Kala Afghana's writings. Sikh scholar Giani Bhag Singh Ambalavi had to apologise in the late 1970s for having questioned the validity of the Dasam Granth. Gurbakhsh has questioned the commonly held belief that Guru Tegh Bahadur died for Hindus. He has written, 'the only complaint before the emperor was that Guru Tegh Bahadur was fanning insurgency against the government. Thus those claiming that the Guru sacrificed his life for Hinduism are sullying the principles of Sikhism.'

Outlook, Dec. 23, 2002

"Akal Takht jathedar Joginder Singh Vedanti today said the issue of summoning Punjab Chief Minister Capt. Amarinder Singh before the Akal Takht for alleged police entry into the Golden Temple complex on the eve of S.G.P.C. poll was under consideration. 'The needful in this regard will be done shortly,' he told reporters after a meeting of the five head priests at the Akal Takht secretariat. Vedanti alleged the Divya Jyoti Jagrati Sansthan [D.J.J.S.] was distorting Sikh scriptures and asked the government to ban its activities. Vedanti said he had sought a detailed list from S.G.P.C. chief Kirpal Singh Badungar regarding the names of S.G.P.C. officials, including some important Sikh personalities, for having alleged links with the D.J.J.S. so that appropriate action could be initiated. Vedanti said the five Sikh head priests resolved to summon noted Punjabi author Gurbakhsh Singh [Kala Afghana] before the Takht for his [controversial] writings on Sikh tenets."
---

- Top -
The Truth About Afghanistan

By ERIC S. MARGOLIS

The Toronto Sun, Dec. 22, 2002

"On the frigid night of Dec. 24, 1979, Soviet airborne forces seized Kabul airport. Elite Alpha Group commandos sped to the presidential palace, burst into the bedroom of Afghan President Hafizullah Amin and gunned him down. Columns of Soviet armour crossed the border and raced south toward Kabul. It took Soviet forces only a few days to occupy Afghanistan. They installed a puppet ruler, Babrak Karmal. Moscow proclaimed it had invaded Afghanistan to 'liberate' it from 'feudalism and Islamic extremism' and 'nests of terrorists [then called 'freedom fighters' in the West] and bandits.' . . . Fast forward to Dec., 2002, and a disturbing sense of deja vu. Western media churn out the same rosy, agitprop stories the Soviets did about liberating Afghanistan, freeing women, educating children. . . . The invaders have changed; the propaganda remains the same."
---
"America's Afghan adventure has gotten off to as poor a start as that of the Soviet Union. The U.S.-installed ruler of Kabul, veteran C.I.A. asset Hamid Karzai, must be protected from his own people by up to 200 U.S. bodyguards. Much of Afghanistan is in chaos, fought over by feuding warlords and drug barons. There are almost daily attacks on U.S. occupation forces. My old mujahedin sources say U.S. casualties and equipment losses in Afghanistan are far higher than Washington is reporting - and are rising. . . . The C.I.A. is trying to assassinate Afghan nationalist leaders opposed to the Karzai regime in Kabul, in particular my old acquaintance Gulbadin Hekmatyar. North of the Hindu Kush mountains, America's Afghan ally, the Tajik-Uzbek Northern Alliance, has long been a proxy of the Russians. . . . Russia now dominates much of northern Afghanistan."
---
"Since the U.S. overthrew the Taliban, opium cultivation has soared from 185 tons a year to 2,700. . . . President George Bush's war on drugs collided with his war on terrorism - and lost. . . . The ongoing cost of Afghan operations is a closely guarded secret. Earlier this year, the cost of stationing 8,000 American troops, backed by warplanes and naval units, was estimated at $5 billion U.S. monthly! The C.I.A. spends millions every month to bribe Pushtun warlords."
---

- Top -
Copelon: Gujarat 2002 Was Genocide, Similar to Nazi Germany

By STAFF
After graduating from Yale Law School, Rhonda Copelon worked for 12 years at the Center for Constitutional Rights in N.Y.C., where she remains a V.P. and volunteer attorney. There she litigated a broad range of civil rights and international human rights cases with a major focus on women's rights. Her most notable cases include the landmark Filartiga decision, which opened the federal courts to international human rights claims, and two United States Supreme Court arguments, which involved the firing of unwed mothers (Drew v. Andrews) and the cut-off of medicaid funds for abortion (Harris v. McRae). In l992, she co-founded the Law School's widely acclaimed International Women's Human Rights Law Clinic (I.W.H.R.). The Clinic has had a profound impact on the recognition of women's human rights in the international, regional and U.S. contexts, particularly in establishing rape and other gender crimes as war crimes and crimes against humanity.
The Sikh massacres of 1984 too have been met with an utter lack of reparation in the nearly two decades since. Further, the organized nature of the brutal crimes has been thoroughly documented. Applying Copelon's heuristics to the Sikh massacres of 1984 leads one to the obvious conclusion: the 1984 Sikh massacres too fall into the realm of genocide.

Indo-Asian News Service (I.A.N.S.), Dec. 21, 2002

"When American legal expert Rhonda Copelon heard how Hindu rightwing leaders in Gujarat had demonised Muslims ahead of polls there, she was reminded of Nazi Germany. 'Hindu leaders created fear in the minds of Hindus by telling them a day would come when their sons would not return home as they would be kidnapped and killed by their Muslim neighbours,' Copelon told I.A.N.S. 'Such fear mongering got them what they wanted - victory,' she said, referring to the Bharatiya Janata Party's (B.J.P.) sweeping election victory in Gujarat this month. Copelon along with a panel of women activists from the U.S., Sri Lanka, Britain and Germany visited the riot-torn state from Dec. 14 to 17, coinciding with the Gujarat polls and its results. They went there at the invitation of the International Initiative for Justice, formed by over a dozen Indian women's groups."
---
" 'The Hindu leaders literally forced Hindus to look at their Muslim neighbours as demons,' she said. 'We were stunned to hear of such speeches at a time when Gujarat was limping back to normalcy.' At least 1,000 people had died in sectarian violence from Feb.-May in Gujarat. 'When there are signs of hate propaganda, organised crime and no hope of redress from the state, it signals to be a genocide. After seeing the mass destruction I think what happened in Gujarat was similar to the suffering caused in Nazi Germany,' she said. . . . The panellists, which also included Indian women activists, called for a 'genocidal alert' in Gujarat, describing the violence that was perpetrated in the state earlier this year."
---
"Nira Yuval-Davis, a professor in gender and ethnic studies at the University of Greenwich in London, who was also part of the panel, said: 'We were all moved to tears on seeing the extent of damage. The Muslims have a feeling of hopelessness.' Summed up Farah Naqvi, a writer and founder of women's group Nirantar: 'We are tired of the legal system. The government should act against perpetrators of the crime, otherwise accept that we are a weak democracy.' "
---

- Top -
Jyoti Randhawa Is Asia's No. 1 Golfer

By IVAN CRASTO
Jyoti Randhawa, who had always dreamt of becoming a soldier in the Indian Army, is the first Indian to have won the Davidoff Tour Order of Merit.

India Abroad, Dec. 20, 2002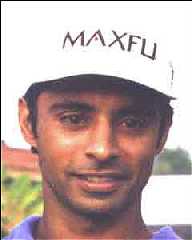 "Golfer Jyoti Randhawa provided a comeback story in the Asian P.G.A.-run Davidoff Tour by winning the Tour Order of Merit title Dec. 8 at the season-ending Volvo Masters of Asia. The Indian ace crowned himself Asia's No. 1 after completing a brilliant season that saw him recover from a motorcycle accident to finish ahead of reigning Merit list champion Thongchai Jaidee of Thailand. . . . Randhawa finished the year with earnings of $266,263 while Thongchai, who needed a top-three finish on the final day of the Volvo Masters of Asia to overtake his Indian opponent, ended with winnings of $242,558."
---

- Top -
China Arrests U.S.-Based Dissident

By LETA HONG FINCHER

Voice of America (V.O.A.), Dec. 20, 2002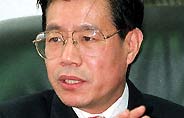 "China has arrested a U.S.-based dissident and charged him with spying and terrorist activities, six months after he and two other Chinese democracy activists disappeared in Vietnam. China's official Xinhua News Agency says that police found Wang Bingzhang, Yue Wu, and Zhang Qi tied up in a temple in the southern province of Guangxi on Jul. 3. In a report released Friday, Xinhua says the three Chinese, who all live abroad, had been kidnapped in Vietnam in late Jun., and a $10m ransom was demanded for their release. The report gives no other details about the purported kidnapping. Human rights campaigners say the three had been meeting secretly with Chinese democracy activists in Vietnam before their disappearance. Xinhua quotes a spokesman for China's Ministry of Public Security as saying that police took Mr. Wang to neighboring Guangdong Province and placed him under house arrest. Mr. Yue and Ms. Zhang were reportedly cleared of all charges, but Xinhua doesn't say where they are now."
---
"The news agency says Mr. Wang, a U.S. resident, was formally arrested on Dec. 5, and is accused of selling Chinese state secrets to a Taiwanese spy group since the early 1980s. The authorities have also accused Mr. Wang of publishing articles on the Internet advocating violence and terrorism. Lu Siqing, a Hong Kong researcher with the Information Center for Human Rights and Democracy, says he is skeptical of the official Chinese report. Mr. Lu believes the three exiled dissidents were kidnapped in Jun. by Chinese security forces along the Vietnam-China border and taken into China. He also disputes charges that Mr. Wang was involved in spying or terrorism."
---
"Mr. Wang is a long-time dissident who went into exile in 1979. He published a pro-democracy magazine in the United States and has been involved with several groups opposing the Chinese government, including the banned China Democracy Party. In 1998, he entered China without permission, and was deported within weeks. Ms. Zhang, who also lives in America, is a leader of a meditation group banned in China. Mr. Yue, a French resident, was a labor leader during the 1989 pro-democracy protests in Beijing's Tiananmen Square."
---

- Top -
Pakistan Plotting to Revive Terrorism in Punjab

By RAJEEV SHARMA

The Tribune, Dec. 20, 2002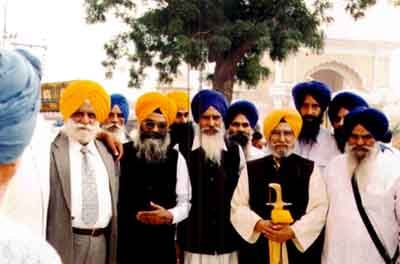 Cocking a snook at India and the international community, Pakistan has stepped up its activities aimed at reviving terrorism in Punjab to widen the arc of its proxy war to balkanise India. According to sources, Pakistan President Pervez Musharraf held a meeting of top I.S.I. officials, including I.S.I. chief Ehsan ul-Haq, last month and directed them to revive militancy in Punjab. The move is in consonance with the signals emanating from there on other fronts like release of Jaish-e-Mohammad founder and chief Masood Azhar from a Pakistani jail and deportation of notorious criminal Anees Ibrahim by the United Arab Emirates (U.A.E.) to Pakistan. U.S.A.'s interest in the Indian subcontinent has waned as the Bush administration's focus has shifted to Iraq. This has further emboldened Islamabad. According to information, I.S.I. officials held a meeting with pro-Khalistani leaders on Nov. 20, 2002 and told them to send volunteers to Pakistan for training.

Sikhs visiting Pakistan on the occasion of the birth anniversary of Guru Nanak Dev on Nov. 19 and prominent Sikh separatist leaders from different parts of the world met at Nankana Sahib in Pakistan and were encouraged to openly talk of the revival of the Khalistan movement with visiting yatris. General Musharraf met overseas pro-Khalistani militants like Dr. Gurmit Singh Aulakh on this issue, the sources said. The I.S.I. chief was present at a meeting last month which was attended by Sikh separatist leaders like Ganga Singh Dhillon of the Nankana Sahib Foundation, Manmohan Singh Bajaj of the World Muslim-Sikh Forum, Amrit Singh Toor (I.S.Y.F.), and Avtar Singh Sanghera of the Babbar Khalsa International. Lt. Gen. Khalid Maqbool (retd.), Governor of Punjab, assured them that Pakistan would provide material and financial help to Sikhs to realise their dream. They were advised to regularly interact with other Indian insurgent groups operating from abroad to chalk out a common strategy.


- Top -
Mother Teresa on Fast-Track to Sainthood

By STAFF

B.B.C., Dec. 20, 2002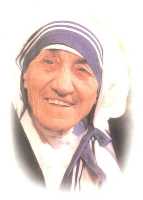 "Mother Teresa appears fast-tracked for sainthood after an announcement Friday that Pope John Paul II has approved a miracle attributed to the late nun's intercession. A Vatican committee approved the miracle earlier this fall, and the Pope formally seconded the finding during a ceremony at the Apostolic Palace Friday. The reported miracle involves a young Indian woman, Monica Besra, who recovered from a stomach tumour after an image of Mother Teresa was placed on the woman's stomach. Doctors consulted by the Vatican judged that the woman's recovery was 'without any medical explanation.' The miracle is a prerequisite for beatification, the penultimate step before canonization, or sainthood. The beatification ceremony is expected to be held next spring."
---
"A second miracle must be verified before Mother Teresa can be elevated to sainthood. John Paul waived the customary five-year waiting period for the process that would have her beatified, then made a saint. One of those who testified in the beatification process was British journalist Christopher Hitchens, author of The Missionary Position: Mother Teresa In Theory and Practice. Hitchens accused Mother Teresa of supporting the wealthy and powerful while preaching resignation to the poor. Mother Teresa died in 1997 at age 87. She won the 1979 Nobel Peace Prize for her work with the poor and sick in the slums of Calcutta."
---

- Top -
Jaggi Singh Enters Palestine to Document Illegal Israeli Occupation

By STAFF
Social activist Jaggi Singh first came to public attention as a result of the Asia Pacific Economic Co-operation (A.P.E.C.) conference held in Vancouver, B.C. in 1997. Singh was grabbed off the campus of the University of British Colombia [U.B.C.] by undercover officers. Born in Toronto to a Punjabi Sikh father and Catholic mother, Singh, who practices neither religion, grew up in the Don Mills and Finch area of the city. His father was a Toronto taxi cab driver who left the family when Singh was a mere child, with Singh's mother raising him. Singh was clearly a precocious person: He scored top grades at elementary school and at St. Michael's College, where he graduated before attending the University of Toronto's prestigious Trinity College on a scholarship. From U. of T., Singh went to study at U.B.C. in 1996. There he became involved in the campaign against Indonesia's illegal 1975 occupation of the country of East Timor. The 30-year-old Singh is presently based in Montreal.

The Toronto Star, Dec. 20, 2002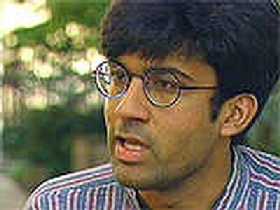 "Canadian activist Jaggi Singh says he has illegally entered the West Bank to observe the Palestinian situation . . . Singh told Montreal radio station C.J.A.D. he had violated an Israeli court ruling to keep him out of the area. . . . Singh plans to write about the Middle Eastern country, particularly alleged human rights abuse by Israel against the Palestinians. He has earned a reputation as a committed protester, from demonstrations against global free trade to this past September's visit by former Israeli prime minister Benjamin Netanyahu to Montreal."
---
"Singh has said he's prepared to face the consequences. An Israeli court ruled earlier this week that Singh could enter the country, but ordered him to stay out of Palestinian territories in the West Bank and Gaza Strip. The ruling came two days after customs officials had refused Singh entry to Israel, citing security concerns. That ruling has prompted local Palestinian supporters to write a letter to [Canadian] Foreign Affairs Minister Bill Graham demanding that Canada intervene to have the court-ordered travel restrictions removed. Solidarity for Palestinian Human Rights believes Canada should have helped Singh by challenging the Israeli court ruling. . . . Foreign Affairs spokesman Reynald Doiron said Canada did all it could for Singh."
---

- Top -
There's No Stopping Unbeaten Sikh Union

By STAFF

Nottingham Evening Post, Dec. 19, 2002

"Sikh Union (Nottingham), who are unbeaten after 11 matches, go into the Christmas break at the top of Division One of the D.T.Z. League. Union's latest success was a 4-1 win over fourth-placed Finchfield at the Forest where Surinder Saini opened the scoring in the first half and restored his side's lead after the visitors converted a penalty corner. More open-play goals from Karamjit Saini and Pritpal Dhanjal completed Union's eighth victory."
---

- Top -
Russia Forces Chechen Refugees Out of Camps and Into the Cold

EDITORIAL

The Washington Post, Dec. 19, 2002

"After the Moscow theater siege by Chechen extremists, optimists in Moscow and Washington suggested that the tragedy might create an opening for a political settlement in Russia's unwinnable war against the republic. Maybe that could still happen, but for now the aftermath has mainly brought a harder line from President Vladimir Putin and more misery to Chechnya's people. According to numerous independent reports, sweeps by Russian military forces in towns and villages, which regularly result in the abduction or disappearance of civilians, have been stepped up. Most chilling, Russian forces have resumed efforts to force thousands of Chechen refugees out of camps in the neighboring republic of Ingushetia, even as winter takes hold in the region. Unless it can be stopped, this cruel operation will produce a humanitarian catastrophe."
---
"One member of Putin's own human rights commission, Lyudmila Alekseyeva, bravely told him to his face this month that official accounts of a voluntary return of the refugees to Chechnya were 'a lie.' The president responded by promising to suspend the operation and set up a commission to study solutions for the refugees. . . . Putin wants to force them out as part of a campaign to restore the appearance of normality to Chechnya. But as much as Moscow would like to pretend otherwise, the war in the province is not over, and most of the refugees prefer the misery of camps to the insecurity of their ruined homeland. Compelling their return would be a clear violation of international law, and a new low in Putin's failing campaign to force Chechnya to accept continued rule by Russia."
---

- Top -
Bill Clinton: America Should Lead, Not Dominate

By BILL CLINTON
Bill Clinton, U.S. president from 1992 to 2000, was the first Democratic president to be awarded a second term in six decades.

The International Herald Tribune, Dec. 19, 2002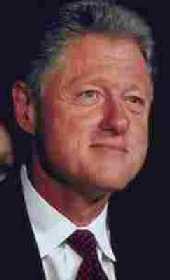 "The United States stands at a unique moment in human history, with its political, economic and military dominance. But within 30 years the Chinese economy could be as big or bigger. The Indian economy could be as well, if they stop fighting with Pakistan and wasting money on armaments. Within 30 years, if the European Union continues to become more united politically and economically, it will in turn grow more influential politically and economically. Then, in an interdependent world, America can lead but not dominate. . . . Americans should be humble enough to remember that there are rarely any final solutions in human affairs. . . . America must support the institutions of global community, beginning with the United Nations. The United Nations is an organization still becoming, still imperfect. We Americans have not always done our part in it, but it is all we have, and now that we live in an interdependent world, it must have our full support in building an integrated global community."
---
"And we must remember the example of General George C. Marshall and the Marshall Plan, of Senator J. William Fulbright and the Fulbright Program, and build a world that has more friends and partners and fewer terrorists. That is the purpose of foreign aid and debt relief, of fighting A.I.D.S. and putting all the world's children in school. We should not be too utopian in our expectations, but always utopian in our values and vision. From the dawn of human society up to the present time, we have been bedeviled by a persistent curse: the compulsion people feel to define the meaning of their lives in positive terms with reference to those who are like them racially, tribally, culturally, religiously, politically, and by negative reference to those who are different. People then feel compelled to oppress those who are different when they are small and powerless enough not to prevent it."
---
"Increasingly wider circles of interdependence, however, have taught people to accept the humanity of those they once degraded. Indeed, the whole course of human history can be seen as a constant struggle to expand the definition of who is 'us' and shrink the definition of who is 'them.' . . . We have no choice but to learn to live together, to choose cooperation over conflict, to give expression to our common humanity by following simple rules: Everyone deserves a chance, everyone has a role to play, we all do better when we work together, we're not as different as we think."
---

- Top -
Clinton: G.O.P. Berate of Lott Hypocritical

By STAFF

Yahoo! News, Dec. 18, 2002

"Former President Clinton says Republicans are hypocritical for berating Senate Republican leader Trent Lott about his insensitive comments on race. 'How can they jump on him when they're out there repressing, trying to run black voters away from the polls and running under the Confederate flag in Georgia and South Carolina?' Clinton said Wednesday in New York. 'I mean, look at their whole record. He just embarrassed them by saying in Washington what they do on the backroads every day.' Lott has been trying to atone for publicly wishing that former segregationist Sen. Strom Thurmond had been elected president in 1948. Lott said his home state of Mississippi voted for Thurmond 'and if the rest of the country had followed our lead, we wouldn't have had all these problems over all these years either.' "
---
"Lott has apologized, but many conservatives have called for him to give up his leadership post. President Bush's aides have said Lott doesn't have to resign, but the White House is not making the case for keeping him in place either. 'I think that the way the Republicans have treated Senator Lott is pretty hypocritical, since right now their policy is, in my view, inimical to everything this country stands for,' Clinton said while attending an event for the European Travel Commission. 'They've tried to suppress black voting, they've ran on the Confederate flag in Georgia and South Carolina. And from top to bottom, the Republicans supported it. So I don't see what they're jumping on Trent Lott about.' Republican National Committee Chairman Marc Racicot called Clinton's comments 'misleading' and 'divisive rhetoric.' 'This is another tired example of Bill Clinton misrepresenting the facts and misleading the American people to gain political advantage,' Racicot said."
---

- Top -
Colorado Company Draws Up Plans to Clean Darbar Sahib Sarovar

By DEEPAK SHARMA

The Associated Press, Dec. 18, 2002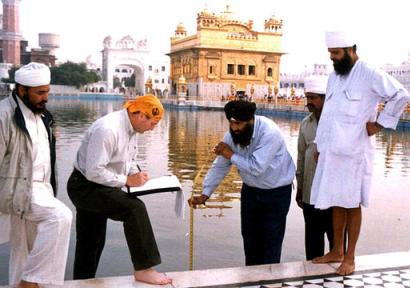 "Temple authorities and an American architectural company have drawn up plans to clean the pool of water surrounding the 420-year-old Golden Temple, the holiest shrine of the Sikh religion. The so-called 'pool of nectar' or 'Sarovar' has become polluted over the centuries from food dropped into it for the fish and from the bathing of devotees before they pray, said Amrik Singh, the priest in charge of the project to clean the pool. The pool has been surveyed by Denver, Colorado-based Ohlson Lavoie Corp., which suggested a water treatment and filtration system to restore the purity of the water. 'We want to clean the waters in the Sarovar so that we can see the bottom of the pool. We are going to use . . . sand filtration, which will not harm the fish or the water,' Douglas G. Whiteaker, a scientist with the company, said last week."
---
"Every day, thousands of devotees and tourists visit the white marble Golden Temple, located in the center of Amritsar, 385 kilometers (240 miles) north of New Delhi. Topped by a majestic gilded dome and surrounded by the Sarovar, the temple houses the Sikh holy book, the Guru Granth Sahib. Temple authorities have agreed to a water treatment plant being set up at the edge of the pool to filter out sediment. It will be built by devotees who provide voluntary labor at the temple, said Jagtar Singh, a religious leader at the temple. In 1835, devotees worked voluntarily for eight years and dug 118 kilometers (75 miles) of canals to bring water from the Ravi River to the Golden Temple to fill the pool. Whiteaker said he was looking at a long-term solution that would be simple to operate."
---

- Top -
U.S. and German Corporations Illegaly Armed Iraq

By DEMOCRACY NOW!

The San Francisco Bay Area Independent Media Center (S.F. I.M.C.), Dec. 18, 2002

"Hewlett Packard, Dupont, Honeywell and other major U.S. corporations, as well as governmental agencies including the Department of Defense and the nation's nuclear labs, all illegally helped Iraq to build its biological, chemical and nuclear weapons programs. On Wednesday, Dec. 18, Geneva-based reporter Andreas Zumach broke the story on the U.S. national listener-sponsored radio and television show 'Democracy Now!' Zumach's Berlin-based paper Die Tageszeitung plans to soon publish a full list of companies and nations who have aided Iraq. The paper first reported on Tuesday that German and U.S. companies had extensive ties to Iraq but didn't list names. Zumach obtained top-secret portions of Iraq's 12,000-page weapons declaration that the U.S. had redacted from the version made available to the non-permanent members of the U.N. Security Council."
---
" 'We have 24 major U.S. companies listed in the report who gave very substantial support especially to the biological weapons program but also to the missile and nuclear weapons program,' Zumach said. 'Pretty much everything was illegal in the case of nuclear and biological weapons. Every form of cooperation and supplies . . . was outlawed in the 1970s.' The list of U.S. corporations listed in Iraq's report include Hewlett Packard, DuPont, Honeywell, Rockwell, Tectronics, Bechtel, International Computer Systems, Unisys, Sperry and T.I. Coating. Zumach also said the U.S. Departments of Energy, Defense, Commerce, and Agriculture quietly helped arm Iraq. U.S. government nuclear weapons laboratories Lawrence Livermore, Los Alamos and Sandia trained traveling Iraqi nuclear scientists and gave non-fissile material for construction of a nuclear bomb."
---
" 'There has never been this kind of comprehensive layout and listing like we have now in the Iraqi report to the Security Council so this is quite new and this is especially new for the U.S. involvement, which has been even more suppressed in the public domain and the U.S. population,' Zumach said. The names of companies were supposed to be top secret. Two weeks ago Iraq provided two copies of its full 12,000-page report, one to the International Atomic Energy Agency in Geneva, and one to the U.N. in New York. Zumach said the U.S. broke an agreement of the Security Council and blackmailed Colombia, which at the time was presiding over the Council, to take possession of the U.N.'s only copy. The U.S. then proceeded to make copies of the report for the other four permanent Security Council nations, Britain, France, Russia and China. Only yesterday did the remaining members of the Security Council receive their copies. By then, all references to foreign companies had been removed."
---
"According to Zumach, only Germany had more business ties to Iraq than the U.S. As many as 80 German companies are also listed in Iraq's report. The paper reported that some German companies continued to do business with Iraq until last year."
---

- Top -
Women Are No Better Off in Post-Taliban Afghanistan

By PAMELA CONSTABLE

The Washington Post, Dec. 18, 2002

"Women caught talking with men on the streets of Herat, a major city in western Afghanistan, risk being seized by special morals police, taken to a hospital, and forced to undergo an exam to determine if they have had sex, according to a report issued yesterday by Human Rights Watch. Under the control of Ismail Khan, the former Islamic militia leader who governs Herat Province, women and girls are living in an atmosphere of official religious restrictions similar to those imposed by the extremist Taliban regime that was toppled by U.S. and Afghan military forces 13 months ago, the New York-based human rights group said. . . . Historically, Herat has been one of Afghanistan's most cultured and modern cities, with a major university, extensive contacts with neighboring Iran, and many women in professional jobs. But under Khan, H.R.W. said in its Nov. report, a 'climate of fear' exists, and Khan is creating a 'closed society' where many Taliban-era restrictions are being revived."
---

- Top -
Journalists Are Under Fire for Telling the Truth

By ROBERT FISK

The Independent, Dec. 18, 2002

"A.B.C. television announced, a little while ago, that it knew all about the killing of four Al Qaeda members by an unmanned 'Predator' plane in Yemen but delayed broadcasting the news for four days 'at the request of the Pentagon.' So now at least we know for whom A.B.C. works. . . . In Canada, the situation is even worse. Canwest, owned by Israel ['Izzy'] Asper, owns over 130 newspapers in Canada, including 14 city dailies and one of the country's largest papers, The National Post. His 'journalists' have attacked colleagues who have deviated from Mr. Asper's pro-Israel editorials."
---
"Mr. Asper [states] that 'in 1917, Britain and the League of Nations declared, with world approval, that a Jewish state would be established in Palestine.' Now hold on a moment. The Balfour Declaration of 1917 did not say that a Jewish state would be established. It said that the British government would 'view with favour the establishment in Palestine of a national home for the Jewish people.' The British refused to use the words 'Jewish state.' This may not matter much to lazy writers like Mr. Aspen. But when it comes to the League of Nations being involved, we really are into mythology. The League of Nations was created after the First World War - had it existed in 1917, it might have stopped the whole war - and Mr. Asper is simply wrong (or, as he might have put it, 'lazy, sloppy or stupid') to suggest it existed in 1917."
---
"Journalists are being attacked for telling the truth, for trying to tell it how it is. American journalists especially. I urge them to read a remarkable new book published by the New York University Press and edited by John Collins and Ross Glover. It's called Collateral Language[: A User's Guide to America's New War] and is, in its own words, intended to expose 'the tyranny of political rhetoric.' "
---

- Top -
Jaggi Singh Is Enjoying Due Process in Israel

By NAOMI GOLD
Letter to the editor.

The Toronto Star, Dec. 16, 2002

"I'd like to give Jaggi Singh something to really complain about [Re: Peace activist refused entry to Israel, Dec. 16, 2002]. In Israel, he enjoys the benefits of due process, the services of a human rights lawyer, and a court system that has awarded him a temporary injunction preventing his immediate deportation. I suggest that Singh attempt to enter Syria, or Iraq, or Egypt, or Saudi Arabia, in order to investigate and report on the considerable human rights abuses that occur every day in those countries."
---
"Right now, Bill Sampson is languishing in a Saudi prison without any of the legal benefits enjoyed by Singh in Israel. But Israel, a country demonized by the likes of Singh, is a democracy. So much so that it has provisions for protecting the rights of people who enter its borders in order to censure it. The countries surrounding Israel are thoroughly undemocratic, yet Singh and his ilk do not make it part of their mandate to visit and investigate them. Why? Because these countries wouldn't tolerate such actions. Singh is a hypocrite and a coward. I challenge him to put his money where his mouth is; I dare him to attempt to visit and conduct a human rights investigation in any of the countries surrounding Israel. He'll learn very quickly what real oppression is like."
---

- Top -
Hey C.S.I.S., Come Get Me

By TAREK FATAH
Letter to the editor. Tarek Fatah, a moderate Muslim, has been involved in political activism for over 35 years and is the host of The Muslim Chronicle, a weekly current affairs program on C.T.S. television. He came to Canada from Pakistan in 1987 and is now a professional technical writer.

The Toronto Star, Dec. 16, 2002

"Kudos to Antonia Zerbisias [Re: Curious silence greets discredited Hezbollah tale, Dec. 13, 2002] for exposing the falsehood that seems to be the basis of declaring Hezbollah a terrorist organization. If I were Lebanese, I wouldn't be voting for a party that co-opts the name of God and supposedly speaks in its name. But having said that, I must admit I have the deepest respect and admiration for any person or group that resists and confronts foreign occupation."
---
"Hezbollah may not be the angel we search for in the Middle East, but it fought with determination and courage to drive out the Israeli occupying army from Lebanon - a task given up by the regular Lebanese army. In doing so, Hezbollah joined the illustrious ranks of others in history that took up arms to drive out foreign occupiers. Whether it was Bhagat Singh, who was hanged by the British in India, or Ho Chi Minh, who drove out the French and Americans from Vietnam; the French resistance, which disrupted German occupation in France, or the Russian partisans, who blew up Nazi supply lines, history will judge all resistance in glowing terms. Sadly, the Liberal government's decision to list Hezbollah as a terrorist organization is an act of cowardice and fuels the fears of many Muslims that powerful lobbying speaks louder than the truth."
---
"I have, for the better part of my life, struggled against religious chauvinism of all types, particularly of the Taliban variety. However, as my act of resistance, I will be donating a dollar to Hezbollah today. If that makes me a terrorist, so be it. Come get me, C.S.I.S. [Canadian Security Intelligence Service]."
---

- Top -
Police Commits Large Majority of Punjab's Human Rights Violations

By P.T.I.

Outlook, Dec. 15, 2002

"Punjab State Human Rights Commission today declared that of the over 80,000 complaints that it receives every year on violation of human rights, 80-85 per cent are against the police. Addressing a state-level Human Rights Day function at village Palahi, acting Chairperson of Punjab State Human Rights Commission N.K. Arora today said the commission mooted the idea of sensitizing the police about human rights."
---
"He stressed that professional, prescribed, and organised inspection and supervision of thanas [police stations] by D.S.P.s, S.S.P.s, and D.I.G.s was the only way to sensitize the police about human rights. Professional inputs should be increased in the functioning of police so that it was perceived and seen as friends of people, he said. Arora said that N.G.O.'s should both interact with police and keep an eye on it. 'Normal policing ended upto S.H.O.-level in police stations and above that, functioning was in the control of senior officers,' he said. Asked in how many cases action was taken against police, Arora replied that between filing of the complaints, taking its cognisance and final findings by the commission, most of the cases were settled outside. 'However, even then action is recommended in about 10 per cent cases,' he said."
---

- Top -
India's Status Quo

By TAVLEEN SINGH

The Indian Express, Dec. 15, 2002





"Modi's attempt to get the Hindus of Gujarat to vote on his pogroms was in my view despicable. Civilized societies are built on certain principles that are self evident, a priority, and not taking a vote on murder and rape has to be one of them. It should never be left to the people to decide if pogroms are a good idea and there is no question in mind that this is what Modi offered - scarcely veiled behind all that talk of pride and nationalism - as his main attraction in the recent campaign. In doing so he succeeded in building a wall of hatred between Hindus and Muslims that Gujarat will continue to pay a very heavy price for."
---
"[T]here was never a policeman in sight when Sikhs were burned alive in trucks and taxis and that the administration of India's capital city collapsed so shamefully that dogs ate the dead in Delhi's streets. The toll at the end of three days was more than 3,000 Sikhs dead (not one Hindu) in Delhi alone. That the violence was carefully organized was clear because the mobs knew exactly which house, shop or factory belonged to a Sikh, knowledge that could only have come from voter lists or administrative records. If the mobs in Ahmedabad and Vadodara worked with similar foreknowledge it was because they had a model to work from."
---
"And, if Modi then used hatred to consolidate the Hindu vote behind the Bharatiya Janata Party he also had a model to work from. Remember, please, that after the 1984 violence Rajiv Gandhi came to power with the largest majority in Indian parliamentary history mainly because he openly espoused the politics of hate. Not only did he justify the massacres of the Sikhs in a speech that was to become famous ('When a big tree falls the earth shakes') but his party ran a series of newspaper advertisements in which Sikhs were depicted as terrorists and enemies of India. The trouble with using inter-communal hatred to win elections is that the price is always too heavy."
---
"In India because we have a strange disdain for history we forget easily. . . . What happened in Gujarat was terrible and Modi is a truly repellent creature to have in Indian public life but please let us not lose perspective and start believing that he is uniquely evil or that the violence we saw in Gujarat signals the end of India. . . . [I]f the Congress Party had not done it all before it could have fought Modi's repugnant politics with aggressive secularism."
---

- Top -
India's Chief Election Commissioner Earns Well-Deserved Accolades

By DEBASHISH MUKERJI

The Week, Dec. 15, 2002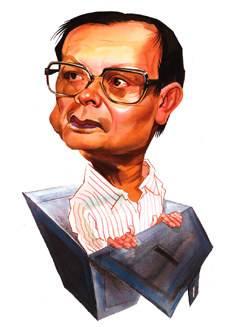 "For a long time he remained in the shadows. Even after he joined the Election Commission, he uttered not one word in public, preferring to let his high-profile colleagues do all the talking. He took over as Chief Election Commissioner [C.E.C.] on Jun. 13, 2001; yet, James Michael Lyngdoh remained an unknown quantity for nearly a year, very different from his flamboyant predecessors, T.N. Seshan and M.S. Gill. Then suddenly, in a space of weeks, he became one of the most talked-about men in the country."
---
"What caused the transformation was, of course, the way Lyngdoh approached the Assembly elections in the country's two most troubled states: Jammu & Kashmir and Gujarat. (Earlier elections in Uttar Pradesh and Punjab had gone by, with him hardly being noticed.) Two crucial Lyngdoh decisions - to hold elections in J&K and postpone them in Gujarat - placed him in the eye of a storm. But he remained seemingly unruffled, impervious to criticism from politicians, eliciting wide admiration from common folk across the country. 'We have received hundreds of letters and e-mails appreciating the C.E.C.'s stand,' said an E.C. official."
---
"Those who have known Lyngdoh, however, are not surprised. A Khasi tribal born in Shillong, Meghalaya, Lyngdoh was a brilliant student. He studied at prestigious institutions, including one stint at the Woodrow Wilson School of Public and International Affairs, Princeton University, and another at the John Kennedy School of Government at Harvard. He is fluent in a number of languages, including French and German. The karate black-belt holder joined the I.A.S. [Indian Administrative Service] in 1961, and was assigned to the Bihar cadre, where he quickly established a reputation for probity and toughness. He is said to have turned down an offer to make him cabinet secretary under Prime Minister H.D. Deve Gowda, as it would have meant superseding T.S.R. Subramanium, who subsequently took over."
---
"As C.E.C., Lyngdoh gave the first hint of his steely potential, his readiness to take on the political establishment if required, when he suggested that the format of nomination papers be changed, so that contestants are required to reveal their assets, educational qualifications and most importantly, whether they had criminal cases pending against them. A storm of protest followed from across the political spectrum but he was unfazed. The politicians, however, hit back: Parliament passed a law which essentially nullified the E.C. order."
---
"Lyngdoh indicated early on that the J&K poll would be different from those in the past. It shocked many when he openly exhorted the security forces not to force people to vote! How on earth would the voting percentage in the Valley reach a respectable figure otherwise? But Lyngdoh had visited the Valley twice and was convinced that a genuine poll was possible. 'The E.C. did a remarkable job during the J&K polls, which we readily acknowledge,' said B.J.P. general secretary Mukhtar Abbas Naqvi."
---
"But the Kashmir chapter did not end with the completion of elections. Soon afterwards, in a rare moment of revelation, Lyngdoh said in a television interview that the National Conference government, in a last-ditch effort to avoid defeat, would have released surrendered militants from jail 'to create mischief,' and diverted the Army to manning roadblocks, but for his personal intervention. A furious Farooq Abdullah, the [former] N.C. chief minister, threatened to sue him for libel, but significantly he has not done so yet."
---
"In Gujarat, however, the B.J.P.'s view of the C.E.C.'s actions has been entirely different. First, Lyngdoh refused to hold elections when the B.J.P. wanted them, insisting that conditions were far from conducive. The B.J.P. clearly wanted to take advantage of the communal polarisation caused by the Mar. riots to capture the consolidated Hindu vote, but Lyngdoh would have none of it. The party went to the Supreme Court against the decision of a C.E.C. it had itself appointed, and was rebuffed!"
---
"Again, when he finally announced polls in Gujarat for Dec. 12, Lyngdoh stirred up a hornets' nest by banning the Vishwa Hindu Parishad's [V.H.P.] yatra in the state, which clearly sought to revive the communal poison of earlier months. This time the B.J.P. took on Lyngdoh with renewed vigour. Even the genteel general secretary Arun Jaitley accused him of 'playing politics.' The V.H.P., less constrained by propriety, went much further: Acharya Dharmendra called him 'a modern day Aurangzeb' while Pravin Togadia accused him of violating the Constitution!"
---

- Top -
The Challenge of Defining Universal Human Rights

By KEN WIWA
Shashi Tharoor earned his Ph.D. at the age of 22 from the Fletcher School of Law & Diplomacy at Tufts University. Since 1978, he has worked for the United Nations which recently appointed him Under-Secretary-General for Communications and Public Information. Tharoor is the author of numerous articles, short stories and commentaries in Indian and Western publications, and the winner of several journalism and literary awards including the Commonwealth Writers' Prize.

The Globe and Mail, Dec. 14, 2002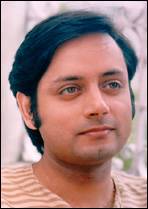 "It was fitting for the cause of universal standards of human rights that earlier this week a Muslim Nigerian woman was presented with the John Humphrey Freedom Award (the prize is named for the Canadian law professor who prepared the first draft of the Universal Declaration of Human Rights). It's tempting to portray Ayesha Imam's award as a tidy end to the messy Miss World saga. But there are still those untidy old questions about whether there really are universal standards of beauty, or of human rights to answer. Like beauty, notions of justice are a minefield of cultural booby traps waiting to blow up in our universal face."
---
"The Indian cultural critic and diplomat Shashi Tharoor once asked whether human rights, as laid out in the international human-rights covenants, ignored the traditions, religions and socio-cultural patterns of the developing world. 'When you stop a man in traditional dress from beating his wife,' he asked, 'are you upholding her human rights or violating his?' Whether or not the question shocks you probably indicates which side of the cultural divide you fall on. Mr. Tharoor posed the question merely to interrogate the assumptions of the Universal Declaration of Human Rights. To its authors and supporters, the U.D.H.R. was and is based on shared human values. But its critics have persuasively argued that the U.D.H.R.'s provisions reflect the ethnocentric biases of the declaration's authors and their times."
---
"The men and woman responsible for the U.D.H.R. in 1948 were mainly members of the United Nations Commission on Human Rights. The chairperson was Eleanor Roosevelt. The rest of the committee consisted of French, Lebanese, Chinese and Canadian males - the last being lawyer John Humphrey, director of the U.N.'s Human Rights Division. While the team could hardly claim to be a representative cross-section of the gender, geographic, religious or political world, almost all 30 articles of the U.D.H.R. seem reasonable, in fact inalienable, to me. But then, my cultural sensibilities being African, male and English, I can hardly claim to be representative of the world, either."
---
"The strongest criticism of the declaration has come from Asian leaders such as Singapore's Lee Kuan Yew and Malaysia's Mahathir Mohamad, who claimed to represent Asian values. These leaders have argued that the declaration asserts the primacy of individual rights over the collective. As Singaporean diplomat and writer Kishore Mahbubani suggests, Asian values include 'attachment to the family as an institution, deference to societal interests, thrift, conservatism in social mores, respect for authority.' These Asian values, it's argued, are responsible for the social discipline that fuelled the economic miracle in that part of the world."
---
"The pragmatist in me sees the logic of this argument. But I can attest to the dangers of giving in to this kind of thinking. When I was an activist in Nigeria, my colleagues and I used to accuse Shell International of a double standard. We would say the oil company's environmental record in Nigeria showed it wasn't aiming as high as it did in Europe and North America. Shell's response was to plead cultural relativism, arguing that adapting to Nigeria prevented it from providing a uniform standard of operation. Clearly, cultural relativism can be a convenient excuse to hide all kinds of injustices. Yet one of the protocols of our struggle against Shell was our insistence that the power of multinationals and globalization was compromising the diversity of life on Earth and flattening out the regional differences that make the world go round. Paradoxically, we'd make our claim through the agency of universal standards of human rights."
---
"We all know by now that globalization makes strange bedfellows. But as Shashi Tharoor has pointed out, 'it is essential to recognize that universality does not presuppose uniformity. . . . Rather, it is enough that they [universal rights] do not fundamentally contradict the ideals and aspirations of any society, and that they reflect our common universal humanity, from which no human being must be excluded.' "
---

- Top -
Democracy Suppressed in Punjab

By STAFF

The Tribune, Dec. 14, 2002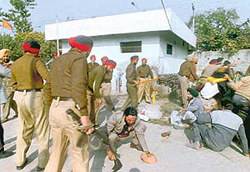 "The local police today lathi-charged [bamboo staff] suspended panchayat secretaries when they tried to take out a procession to the residence of state Chief Minister, Capt Amarinder Singh, after organising a protest meeting at Nehru Garden here. The police swung into action when panchayat secretaries numbering around 500 started coming out of Nehru Garden holding placards with the aim of marching to the residence of the Chief Minister. Around a dozen persons received minor injuries during the lathi-charge. Local police officers did not spare two press photographers covering the lathi-charge, snatching their cameras and slapping them to prevent them from clicking any photograph of the lathi-charge. Earlier, the secretaries during their meeting charged the state government with discrimination, saying their services had been terminated unjustly. The suspended employees have decided to further agitate in the matter."
---

- Top -
A Whole Lott of Silence from President Bush

By DERRICK Z. JACKSON

The Boston Globe, Dec. 13, 2002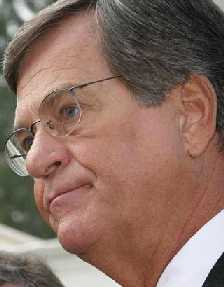 "So far, President Bush is sticking with a Senate majority leader who glorifies white supremacy. A week ago, White House spokesman Ari Fleischer was asked about Trent Lott's recent comment that if Strom Thurmond had won the presidency in 1948 on his segregationist platform, 'we wouldn't have had all these problems over all these years.' All Fleischer could muster then was, 'first of all, I haven't heard that statement before, so in terms of whether it's accurate or not, I'm not in a position to judge. . . . I think this is a day in 2002 to celebrate Senator Thurmond's 100th birthday with pride.' "
---
"Four days later, after Lott's if-I-offended-anyone apology failed to quell criticism, Fleischer was asked by a member of the press, 'Does the president believe that Senator Lott, given this most recent action and given the fact that he published a regular column in a newsletter for years of the Conservative Citizens Council, an openly white supremacist group, is the best person to lead the Republican Party in the United States Senate?' Fleischer's eventual answer was, 'The president has confidence in him as Republican leader, unquestionably.' The next day Fleischer was confronted with the additional fact that Lott made a similar remark about Thurmond in 1980. At a rally, Lott had said if the nation had elected Thurmond in 1948, 'we wouldn't be in the mess we are in today.' To that, Fleischer said, 'Nothing has changed from anything that I've indicated to you yesterday.' "
---
"Yesterday Bush opened his own mouth, barely. He said Lott's comment was wrong. That was it. He left it for Fleischer to continue his pro-Lott mantra, 'The president does not think that Senator Lott should resign.' Bush is about to create a disaster for Republicans who are serious about moving the Republican Party past its stereotyped coziness with racist politics. Bush's problem is that he is not the only person who has unquestioned confidence in Lott. So do Lott's old friends. Lott, for the sake of his personal image, renounced his ties to the Council of Conservative Citizens, a group that he had given speeches before in the early 1990s and said stood for the 'right principles.' But the C.C.C. still loves its good ol' boy Trent. When the head of the C.C.C., Gordon Baum, was asked about Lott's remarks about Thurmond, Baum said, 'God bless Trent Lott.' "
---
"The current C.C.C. Web page has a picture of Lott and the headline 'A Lott of Courage!' It goes on to say: 'Trent Lott calls for the Army to protect U.S. borders against the Illegal Alien Invasion. We need to thank Senator Lott for his Courage and Honesty!' The Web page of the St. Louis C.C.C. says, 'Contact Senator Lott and Thank Him!' Fleischer says nothing has changed about Bush's attitude toward Lott. Nothing has changed about the C.C.C.'s 1948 attitude toward citizens and immigrants of color, Jews, Muslims, and gay and lesbian people. The C.C.C. still prominently features essays that warn of the 'oncoming doom of European America' as 'America's diversity mania has spawned a seething swirl of irreconcilable differences among the races.' The solution for one writer would be a racial partitioning where 'same-sex or same-race schools could be legalized or same-sex marriages banned.' "
---
"The C.C.C. continues to link with other racist Web sites. One linked site posts a 'Bill of Racial Rights.' One article in the bill gives white people the right 'to retain and defend their own lands, free from immigration, or habitation by members of other races, which includes the right to live in all-white neighborhoods and to send their children to all-white schools.' Another gives white people the right to 'entertainment and advertising that is free from mention or depiction of members of other races.' Another gives white people the right to 'place their interests above the interests of any other race or people.' "
---
"That is what Thurmond wanted 52 years ago when he said, 'There's not enough troops in the Army to force the Southern people to break down segregation and admit the Negro race into our theaters, into our swimming pools, into our homes, and into our churches.' That is the political platform Lott praised in 1980, again in the 1990s, and now 2002. Lott has not changed his position, and that means Bush must change his."
---

- Top -
Award-Winning Documentary Explores Sikh Identity

By U.N.I.
My Mother India has already won ten major awards including the Premiers Literary Award for Best Screenwriting, the Jury Prize for Best Australian Documentary from the Film Critics Circle of Australia, the award for Best Australian Documentary from the Real Life on Film Documentary Film Festival and the Australian Teachers of Media Awards for Best Australian Documentary. My Mother India also picked up major awards in the Hawaii International Film Festival, the Melbourne International Film Festival, the Mill Valley International Film Festival in California and the Rhode Island Film Festival in New York. Recently My Mother India became the toast of the Sydney Film Festival when on opening day it picked up the Community Relations Commission Award and the highly prestigious Rouben Mamoullian Award for Best Australian Short Film.

Deepika, Dec. 13, 2002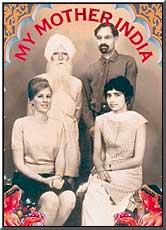 "The 1984 anti-Sikh riots tested India's identity and initiated a debate on it, according to Safina Uberoi, director of the widely-acclaimed award-winning documentary My Mother India, which was screened at the Australian film festival in the capital [New Delhi]. '1984 was a watershed in India's political and social history. It was a year in which many Indians were forced to redefine what it meant to be Indian,' Ms. Uberoi told U.N.I. here. The year proved to be particularly confronting for Patricia Uberoi, an Australian and the protagonist in the documentary, who had chosen to live in India with her husband Jit. My Mother India is Safina's tribute to her mother's (Patricia) journey from Australia to India as well as her own - as the daughter of a fair skinned 'foreigner' in India. It narrates the story of a mixed marriage set against the turbulent backdrop of modern Indian history."
---
"What begins as a quirky and humorous documentary about a multicultural upbringing unfolds into a complex commentary on the social, political and religious events of the anti-Sikh riots which tore Safina's family apart. 'India's identity has always been tested by incidents like the 1984 riots or the more recent Gujarat riots,' Ms. Uberoi noted. In many ways the 1984 riots were presaged by the events of India's partition. 'My father J.P.S. Uberoi was only 12 years old in 1947. The experience of partition left scars on him. Disenchanted with both religion and nationalism, he left India a few years later and spent the next one-and-a-half decade pursuing studies first in England and then in Australia,' she said. J.P.S. Uberoi, a noted sociologist, met Patricia while studying in Canberra and they got married after a whirlwind courtship. In 1966 after the Indo-Pak War, J.P.S. Uberoi, or Jit as he is fondly called, returned to India."
---
" 'Operation Bluestar and the anti-Sikh riots after Indira Gandhi's assassination had a tremendous impact on my father. At a time when several Sikhs were abandoning their identity, he reacted strongly and chose this moment to re-embrace Sikhism,' Ms. Uberoi said. 'The coincidence of political events in Punjab and Delhi and the death of my grandfather forced a profound change in my father who had abandoned his Sikh identity as a teenager.' "
---

- Top -
Not Lott

EDITORIAL

The Boston Globe, Dec. 13, 2002

"President Bush's public scolding yesterday of the Senate minority leader, Trent Lott, was extraordinary for upbraiding a fellow Republican so personally and so pointedly. This, combined with Lott's apologies for racist remarks last week, may be seen by some as atonement enough to close the issue. It is not. If Republican senators think they can elevate a chastened Lott back into the majority leader's office next month without repercussions, they are wrong. . . . Lott's series of apologies may have progressed from the flippant to the heartfelt, but there is no evidence that his core views have changed in past days or years. The record is replete: votes against civil rights bills; a defense of Bob Jones University's ban against mixed-race dating; a long and cozy relationship with the Council of Conservative Citizens and its predecessor, the White Citizens Councils; two public comments - the first in 1980 - expressing a yearning for a Thurmond victory in 1948."
---
"This is not a peripheral issue but the nation's deepest wound - one that still desperately needs healing. The most troubling aspect of the whole episode is that Lott is not an anomaly. Thousands, perhaps millions, of Americans hold similar views. . . . [I]t would be shameful for his Republican colleagues to make him majority leader. It is the second-most-visible job in Washington, a position of honor as well as power. It should not be held by a man with Lott's retrograde views."
---

- Top -
Darbar Sahib's Holy Water Tank to be Purified

By ASIT JOLLY

B.B.C., Dec. 13, 2002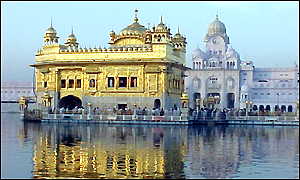 "Waters believed to be holy at Amritsar's Golden Temple in the northern Indian state of Punjab are to be cleaned up using a filtering system. For millions of Sikhs, the pool surrounding the sanctum sanctorum of the temple, Sikhism's holiest shrine, is literally 'nectar of the gods.' For centuries, thousands of devotees visiting the shrine have taken a dip, and many drink the water in the belief it will wash away their sins. The city of Amritsar, which grew around the Golden Temple several centuries ago, also derives its name from the Amrit Sarowar or 'pool of nectar.' Now, hundreds of years after the Sarowar was first filled with water, the custodians of the Golden Temple have decided to bring in American technology to purify the waters."
---
"A religious leader responsible for the maintenance of the Sarowar, Baba Amrik Singh, told the B.B.C. that plans were in place to install a state-of-the-art filtration and water-treatment system to clean every drop of the 31,000 million gallons of water surrounding the temple. According to him, the canal waters supplied to several other nearby shrines will also be similarly treated before being released into the temple tanks. A group of North American engineers recently completed designing the water-treatment system after carrying out a detailed survey of the current water supply and distribution system."
---
"Baba Amrik Singh said the work is expected to be complete within a few months, and following this, the waters of the Sarowar will match American drinking water standards and will be cleaner than that available as bottled mineral water. Although a closely guarded secret, the cost of this venture is expected to be huge. But Baba Amrik Singh is confident that devotees will freely contribute and that there will be no shortage of funds. A large chunk of the costs have already been assured by a family of U.S.-based expatriate Sikhs."
---

- Top -
Senseless Hukamnamas Have Divided Sikh Diaspora

By MAJOR SINGH THIND
Major Singh Thind has been re-elected to the position of Recording Secretary to the Executive Committee of the Khalsa Diwan Society, Vancouver.

Sikh-Diaspora (Yahoo! Groups), Dec. 13, 2002

"The Khalsa Diwan Society, Vancouver, B.C., Canada, with a membership over 65,000, is the largest Sikh organization in the world, outside of India. Elections are held every two years. We have had to face more problems than we deserved due to the langar hukamnama (edict) requiring langar [community meal] to be eaten on the floor as there are hundreds of other Gurdwaras in other countries that allow the of chairs and tables in langar halls. There should no longer be any doubt that this hukamnama was a transparent attempt to gain control of three major Gurdwaras in the lower mainland of British Columbia. A few mischievious minds mislead the innocent Sikh sangat [community] (and succeeded to some degree) to gain control of Gurdwara Sahib's golak [treasury]."
---
"In the 1998 elections we had a voter turnout of roughly 37,000. And in 2000 the voter turnout tumbled to a little over 22,000 voters. Now, two years later, the voter turnout has once again slipped to a little over 18,000. This is a clear indication that the general membership is fed up with all this hukamnama stuff excommunicating the moderate leaders from the Sikh Panth [nation]. The Sikh sangat of British Columbia has spoken loudly several times during the elections to Sikh Gurdwaras at Abbotsford, Surrey, and Vancouver. Why do we need such senseless hukamnamas that have divided the whole community? Families are not talking to each other, brothers, sisters, fathers, and sons, even husbands and wives are not getting along due to this stupid issue. We had no problems when everyone had a choice between sitting on the floor or using chairs. We don't know how long it will take to heal the wounds this hukamnama has created."
---

- Top -
The New Meaning of Left in Israel

By AMIRA HASS

Ha'aretz, Dec. 12, 2002

"People pay attention to the fact that Sharon is speaking of a Palestinian state, not to the fact that this is the castration of a term meant to reflect the principles of the right to self-determination, equality between nations, sovereignty and independent decision-making. And that's the absurdity of our political life - empty talk has turned Sharon into 'a leftist' in the Likud. In other words, we've reached the stage where someone who doesn't explicitly preach expulsion or transfer of the Palestinians out of the country or perpetuation of the military regime over them, is a 'leftist.' "
---
"The essence of the original demand for 'two states' was independence for the Palestinian people. But it was also the ability and desire of the State of Israel to be freed from its inherent urge to control the Palestinians and their future and to continue taking over as much of their available lands as possible. That is the inherent urge that sabotaged our ability to live in the region in peace."
---
"The fear is that the 'leftist' Sharon's energetic statements and the seemingly sharp debate that he is conducting with his party colleagues over a 'Palestinian state' will be enough to give the Labor Party an excuse to rejoin a national unity government and thus lend a hand to perpetuating the bloodshed-ridden conflict with the Palestinians. The fear is that the empty talk will be portrayed as 'a political horizon' that requires the Palestinians, in exchange, to give up their hostile activity. And then it will be possible to claim that the Palestinians, once again, missed an opportunity."
---

- Top -
Bhutte Receives National Award for Social Service

By STAFF

The Tribune, Dec. 12, 2002

"In recognition of his relentless services for the welfare and rehabilitation of leprosy patients, Mr. Prem Singh Bhutte, has been given the National Award (2002), by the Ministry for Social Justice and Empowerment. Mr. Bhutte, working as section officer in the office of Accountant-General (Audit), Punjab, is the founder and president of the Leprosy Mission, Chandigarh and the Leprosy Elimination Society, Mohali. In recognition of his services the Punjab government had also honoured him with State Award (2001) for the welfare of leprosy patients and nominated him as N.G.O. member of the Governing Council of the Punjab State Leprosy Society."
---

- Top -
Putin Concedes Poor Record on Human Rights

By STAFF

Voice of America (V.O.A.), Dec. 10, 2002

"Russian President Vladimir Putin says there is still a wide gap between the law and its implementation when it comes to human rights in Russia. Mr. Putin made the comment during a meeting Tuesday at the Kremlin with members of his human rights commission on International Human Rights Day."
---

- Top -
J&K Human Rights Chief Immolates Himself in Protest

By REUTERS

Indian Express, Dec. 10, 2002

"A human rights activist in Srinagar set himself ablaze on Tuesday to protest against alleged abuses by security forces but police quickly doused the fire and he escaped with minor burns. Witnesses saw Mohammad Ahsan Untoo, chairman of the Kashmiri Human Rights Forum, pour kerosene on himself and set himself on fire on a crowded street. 'Police put out the fire and took Mohammad Ahsan Untoo in custody along with half a dozen supporters,' a police official told Reuters, adding the activist was treated for minor burns. 'He immolated himself to highlight human rights abuses,' a spokesman for the Human Rights Forum said. The protest in the state coincided with the International Human Rights Day."
---
"Later on Tuesday, police said they detained at least two dozen activists belonging to a Kashmiri women's separatist group, Muslim Khawateen Markaz, when they tried to lead a protest near the U.N. military observer's office in Srinagar. The women had planned to hand over a letter about alleged rights abuses, a spokeswoman for the group said. Elsewhere in Srinagar, more than two dozen activists staged a march carrying placards reading: 'Soldiers behave like human beings - promote respect for human rights.' Kashmir's new government which took power last month promising to bring a 'healing touch' ordered an investigation on Monday into the deaths of two people killed last week when security forces fired on protesters in North Kashmir. The demonstration was against alleged security force excesses."
---

- Top -
New Gurdwara To Be Launched in Bakersfield, Kern County, California

By JAMES BURGER

The Bakersfield Californian, Dec. 9, 2002

"There are 10,000 followers of the Sikh faith in Kern County. They have never had their own temple. They've worshiped in converted homes, and buildings that were once businesses, for decades. But that is changing. This morning, hundreds of Sikhs will hold services in rented space at Ridgeview High School. In the early afternoon they will walk down Stine Road to Hosking Road where a new temple, called a gurdwara, is already rising from the dirt. The building will be named after the second of the 10 prophets of the Sikh religion said Manbir Singh, the chairman of the committee organizing the temple construction effort. It will be called Gurdwara Guru Angad Darbar. And it will be a place of refuge and worship for the Sikh community, Singh said. The temple will eventually have room for a kitchen, a worship hall, religious education rooms and a library of sacred texts. It will also offer housing for elderly members of the faith and overnight travelers."
---
"And the temple is already needed. 'The Sikh population in Bakersfield is growing and it is growing in the southwest,' Singh said. 'The existing places of worship are limited - there is no room for expansion.' Immigration from Sikhism's native country of India still continues, and many Sikhs who have lived in Southern California are relocating to Bakersfield, Singh said. About 200 Sikhs worship at Ridgeview High every Sunday and there are worship services in Lamont and on Planz and Wilson roads in Bakersfield. The Ridgeview temple has been planning the temple construction project for about a year and raising money for the effort. The first phase alone will cost $500,000 - all of which will be paid through donations. 'We'll have a temple built by all of us together,' Singh said. 'Poor and rich - everyone is chipping in.' "
---
"The first phase of the construction project will add a 6,000-square-foot main hall, restrooms, priest housing and kitchen. Further phases will add another hall, the library and classrooms. Work on the first phase should be done by Feb. 22. The temple, Singh said, will be a visible symbol of the Sikh religion which, he hopes, will help promote harmony with the community. Bakersfield Sikhs have worked hard to teach their neighbors about their beliefs since hate crimes against Sikhs multiplied after Sep. 11. Mayor Harvey Hall, who has brought Sikh speakers to city functions and prayers to City Council meetings, will be at the gurdwara today to cut the ribbon during the afternoon groundbreaking."
---

- Top -
J&K Human Rights Chief Threatens Suicide

By P.T.I.

The Hindu, Dec. 9, 2002

"Chairman of Jammu and Kashmir Human Rights Forum Mohammad Ahsun Untoo today threatened to immolate himself tomorrow if his demand for setting up of an inquiry commission to probe violence in the past 13 years was not immediately met. 'I will set myself ablaze at Lal Chowk, nerve-centre of the city, on the World Human Rights Day tomorrow if the government fails to fulfill the demand for setting up of an inquiry commission to probe all violent incidents which took place in the state during the past 13 years,' he said. Untoo said though he had announced his threat almost 15 days back, no action had been taken by the state government. He alleged that Chief Minister Mufti Mohammad Sayeed was turning a blind eye to the human rights violations in the state and was trying to divert the attention of the people from the human rights violation by providing ex-gratia relief and government jobs to the victims."
---
"Both the Centre and the state governments would be responsible for his extreme step, he said. He said only C.P.I.(M) M.L.A. Mohammad Yousuf Tarigami made telephone calls to him asking him not to take such an extreme step."
---

- Top -
Laloo: India Can Never Be a Hindu Rashtra

By STAFF

The Hindu, Dec. 9, 2002

"Asserting that India can never be a 'Hindu rashtra [nation]', the Rashtriya Janata Dal [R.J.D.] chief, Laloo Prasad Yadav, today said the country would continue to remain secular despite the threat posed by communal forces. 'India can never be a Hindu rashtra as it is also the land of Sikhs, Muslims and Christians,' he said and asked the voters not to be swayed by the statements of B.J.P. leaders. 'Since when have Modi, Togadia and Singhal become the symbol of Hinduism,' Mr. Yadav asked. Addressing an election rally in support of the Congress here, he said 'the party is preaching Hinduism on the one hand, and on the other it is discriminating against Dalits in Rajasthan and other States.' He accused the Narendra Modi Government of not taking appropriate measures to control the riots which rocked Gujarat after the Godhra carnage."
---

- Top -
The Bible Is At the Core of Western Civilization

By BRIAN BETHUNE

Maclean's, Dec. 9, 2002

"The major Christian traditions - Orthodox, Protestant and Roman Catholic - all incorporate the Jewish Bible, known as the Tanakh, within their Old Testaments. The Tanakh's opening nine books - Genesis, Exodus, Leviticus, Numbers, Deuteronomy, Joshua, Judges, Samuel and Kings - give the history of the Children of Israel. . . . The Hebrew scriptures, known as the Tanakh to Jews and the Old Testament to Christians, are at the heart of both religions. . . . For centuries the King James Bible of 1611 was the English-speaking world's basic text, the book from which people learned to read and think, their major source of images, metaphors and collected wisdom. One of the Bible's deepest implants in the Western mind comes from its self-definition as a work of history."
---
"The exodus from Egypt, the conquest of the Promised Land, even the glorious united monarchy of David and Solomon - all are derided as fiction by revisionist academics known as minimalists. They are hotly denounced by more traditional scholars, often known as maximalists. . . . [M]any devout settlers in the West Bank - the epicentre of the Israeli-Palestinian struggle - assert their right to live in Arab territory on scripture. In Hebron, the Biblical site of the tombs of the patriarchs, some 450 Jews live in a tightly guarded enclave in the midst of 150,000 Arabs."
---
"It's no surprise that the more radical revisionists claim traditional scholarship, in its search for the never-never land of Ancient Israel, consciously or unconsciously acts to validate Israeli claims to Palestinian land and to erase Palestinian history. Nor is it astonishing that opponents should accuse the minimalists of flirting with anti-Semitism. There's no room in this quarrel for academic civility. . . . [W]ell over a millennium of Biblical narrative is drawn from oral sources: epic sagas, folk tales, hymns, poetry, even puns and jokes. Little of it is a reliable guide to what actually happened, and the only confirmation is what excavations provide. . . . Today even maximalists like Dever have given up hope of establishing Abraham, Isaac or Jacob as credible historical figures."
---
"Absence of evidence, runs the well-worn historian's mantra, is not evidence of absence. But what an absence. Decades of searching the Sinai Peninsula for any trace of 40 years of Israelite wandering has turned up nothing, not a skeleton or campsite, from the period in question - even though archaeologists have found far older and sketchier remains in the Sinai. . . . So where did the Israelites come from? For they were surely there, in some form, almost as early as Exodus suggests. That much is known from a two-metre tall stele (an inscribed stone) that the Egyptian Pharaoh Merneptah erected about 1210 B.C.E. to commemorate his military victories in Libya and Canaan. A single line provides the oldest known written evidence of Israel's existence - 'Israel is laid waste, its seed is not.' "
---
"Given the Israelites' indigenous origins, everyone is looking for a way to mark their emergence as a distinct people. But the quest for a set of ethnic markers to identify something that mainly exists in the mind - you are who you think you are - and in the sort of soft tissue, like skin, that doesn't survive 3,000 years in the ground, has a certain potential for absurdity. . . . Some kind of Israel was there by 1200 B.C.E. - that much Pharoah's inscription makes clear - and it was already engaged in the process of self-determination that would later set Jews apart from the rest of the world. Pork avoidance is one marker; another, insufficiently remarked upon, is its very name. There is no scholarly agreement on what the word Israel means. It certainly involves God, and probably also the idea of struggle - 'he who fights with God' is a common translation."
---

- Top -
Upholding Falklands' Self-Determination

By HAROLD BRILEY

MercoPress, Dec. 8, 2002

"No opportunity has been lost during the 20th anniversary year of the Falklands War to remind the British public of the sacrifices made in 1982 and the pledge given to uphold the right of the Islanders to self-determination. This was stated by the former Governor, Sir Rex Hunt, in his address as chairman to the annual general meeting of the Falkland Islands Association [F.I.A.] in London. He told a packed meeting that it had been a quiet year on the political front but very busy on public relations. Media interest in the anniversary was immense. The publicity has been good for the Falkland Islands. All the British Government's statements reaffirmed the pledges made since 1982."
---
"But, Sir Rex sounded a note of caution when he cited Argentine press reports suggesting that during a meeting between Foreign Ministers Jack Straw and Carlos Ruckauf in Nov., Britain and Argentine had agreed to a yearly discussion at ministerial level on bilateral and multilateral subjects. 'If true,' Sir Rex declared, 'we shall need to watch this closely.' Sir Rex thanked London Representative, Miss Sukey Cameron and her staff at the Falkland Islands Government Office, for their help and co-operation during a hectic year. He recalled that in Jun., Miss. Cameron had said freedom was hard won and easily lost, and 'there are still those who would take it from us.' Sir Rex concluded: 'Let us hope that the present Government learns its lesson from Gibraltar.' "
---

- Top -
America's Credibility as Agent of Democracy Tarnished by Its Past Record

By DANIEL SCHORR

National Public Radio (N.P.R.), Dec. 8, 2002

"Before the venerable Council on Foreign Relations [C.F.R.] the other night, Richard Haas, director of the State Department's policy planning staff, delivered what had to be accounted as a major statement of foreign policy. It was to say that while American efforts to promote democracy in the Muslim world have been halting and incomplete in the past, they are now a high priority for the Bush administration. 'Halting' and 'incomplete' are hardly the words for policies that have supported dictatorial regimes in Egypt, Saudi Arabia and Syria, and helped to topple elected governments in Iran, Guatemala, Brazil, Chile and the Dominican Republic to name a few. But Haas quotes President Bush as saying that 'the requirements of freedom apply fully to Africa and Latin America and the entire Islamic world.' The trouble is that in many countries today, America, the great democratizer, is not welcome."
---
"On the day that Ambassador Haas made his speech, the Pew Research Center released a poll indicating that unfavorable views of America have increased in the past two years, and not the least in Muslim countries. The American-led campaign against terrorism is opposed by 79 percent of people in Egypt, 85 percent in Jordan, 56 percent in Lebanon and 58 percent in Turkey. The last helps to explain why the Pentagon is having so much trouble getting Turkish cooperation for an invasion of Iraq. . . . [I]n the Pew poll, significant numbers in 14 countries of Africa, Asia and the Middle East endorse suicide bombing and other forms of violence against civilian targets to defend Islam from its enemies."
---

- Top -
Sikhs Are Distinct From Hindus

By P.T.I.

Outlook, Dec. 7, 2002

"Asserting that Sikhs have a distinct identity, different culture and variant living style, Akal Takht jathedar Gyani Joginder Singh Vedanti today said it was wrong to say that Sikhs were part of the Hindu religion. During his recent visit to U.K., he was asked by 'umpteen number' of Sikhs to clarify on the notion around the world that Sikhs are inseparable part of Hindus, Vedanti told reporters here [in Amritsar]."
---
" 'Sikhs have a distinct identity. By no means could a Sikh be a Hindu. Sikhs sport a turban on their head and professes different religion and customs. Even their marriages are solemnised in an entirely different way than that of the Hindus. So there is no question of Sikhs being part of Hindus,' he said. The matter was also discussed with British Prime Minister Tony Blair, who agreed on the distinct identity of Sikhs, Vedanti said. 'Blair holds Sikhs in high esteem,' he said, adding the British Premier had told him that 'Sikhs are hardworking and have played a significant role in the economic boost of the U.K. Many Sikhs are holding top spots in the U.K. Even some of my personal body guards are Sikhs.' The British government was even contemplating to allow Sikhs to sport a turban and kirpan [ceremonial dagger] while on duty, Vedanti said."
---

- Top -
Badal Versus Amarinder: The Return of Competitive Communalism in Punjab

By PRAVEEN SWAMI

Frontline, Dec. 7, 2002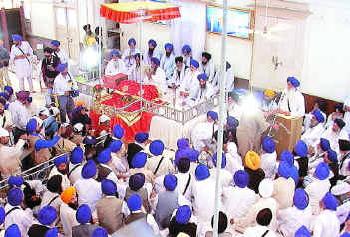 "[Fromer Punjab Chief Minister and Shiromani Akali Dal (S.A.D.) Chief Prakash Singh] Badal and his aides had intended the Jail Bharo agitation [of Nov. 27, 2002] to consolidate the gains the S.A.D. had made in the course of the S.G.P.C. elections. Devastated by the State government's anti-corruption campaign, which has led to the arrest of several top S.A.D. figures and is threatening to close around Badal himself, the party desperately needed an issue with which to regain some of its political legitimacy."
---
"The Congress(I) had thrown its weight behind Akali factions opposed to Badal, hoping to undermine his control of the Sikh religious establishment. In Mar. 1999, Badal had succeeded in deposing his arch rival, Gurcharan Singh Tohra, from the leadership of the S.G.P.C. He had then succeeded in retaining control of the body, although his relationship with the Golden Temple-based theocratic leadership was often strained. The Congress(I) believed that if Badal lost control of the S.G.P.C., he would lose whatever little political influence he retained after the party's defeat in the Assembly elections held earlier this year."
---
"On the face of it, the enterprise seemed possible. Badal's strength in the General House of the S.G.P.C., which elects its President, had been falling steadily over the years. The Tohra faction commanded just 45 of the 176 seats in the 2000 elections, the first held after Tohra was dethroned after a quarter century of reign over the establishment. The next year the number rose to 56. There were signs, too, that all was not well in the Badal camp. At the end of Oct., the party was forced to expel two key figures, Mall Singh Ghuman and Pratap Singh, for siding with anti-S.A.D. forces. Some of the former Chief Minister's lieutenants in the S.G.P.C., like former Minister Succha Singh Langah, were in jail on corruption charges. All that was needed, it seemed, was a little prod to tip over the Badal applecart. Through late Oct., figures opposed to Badal, like Ravi Inder Singh, were telling the Chief Minister that they were willing to do the job for him."
---
"Badal responded to the onslaught with a pre-emptive defensive manoeuvre. By mid-Oct., 88 of his party's representatives in the S.G.P.C. General House had been herded into the former Chief Minister's lavish farmhouse at Balasar, near Sirsa in Haryana. A neighbouring farmhouse, Ekant, was hired to provide additional accommodation to the growing flock of Badal loyalists. Haryana Chief Minister Om Prakash Chautala, the S.A.D.'s ally in the National Democratic Alliance (N.D.A.) and a long-standing friend of the Badal family, pitched in to provide police protection and medical support to the group. Ensconced in air-conditioned comfort, few of the inmates seemed to have any real complaints about their captivity. Nonetheless, the fact remained that the Tohra faction had been stripped of the opportunity to recruit fresh supporters."
---
"Harminder Singh Gill, the head of the far-right All India Sikh Students' Federation (A.I.S.S.F.), fired the first shots of the anti-Badal counteroffensive. On Oct. 29, he petitioned the Sikh Gurdwara Judicial Commission (S.G.J.C.), which is empowered to address complaints against the S.G.P.C., charging several pro-Badal members with having violated the terms of their office. . . . Twelve pro-Badal S.G.P.C. members were suspended by the S.G.J.C. from Nov. 7 onwards, sparking a few legal battles. . . . Badal's candidate for S.G.P.C. President, Kirpal Singh Badungar, was comfortably elected to a second term in office, with 91 votes. His opponent, Vir Singh Madhoke, backed not only by Tohra but other anti-Badal figures like Member of Parliament Simranjit Singh Mann and former S.G.P.C. President Jagdev Singh Talwandi, lost even though the 12 suspended pro-Badal members votes were not counted."
---
"The S.G.P.C. General House's first action after electing Badungar was to pass a motion demanding that the Akal Takht jathedar, Joginder Singh Vedanti, summon the Chief Minister [Congress(I)'s Amarinder Singh] to the Golden Temple for his decision to send in the police, and that he be awarded 'exemplary tankah (punishment).' The disclosure that Badal had himself used the police in the complex has so far staved off that possibility, but sources close to Amarinder Singh say that if it does come to pass, he will obey the Akal Takht. If so, he will become the first senior Punjab Chief Minster to accept the authority of the Akal Takht over temporal affairs. President Zail Singh, in a similar situation, had written to the Takht disowning responsibility for Operation Bluestar, but had not expressly condemned the action in his letter."
---
"Amarinder Singh's . . . alliance with the religious far-right to marginalise the religious centre-right has a particularly disquieting history. During the 1978 S.G.P.C. general elections, the Congress(I) government of Chief Minister Darbara Singh indirectly backed the supporters of the revanchist preacher Jarnail Singh Bhindranwale against the official Akali candidates. Bhindranwale's supporters could win only some nine seats, and his close confidant Amrik Singh was defeated. None the less, the foundations had been laid for a fateful tragedy. Earlier Congress(I) regimes had also played a role in the factional affairs of the S.G.P.C., but in considerably less incendiary circumstances. Chief Minister Partap Singh Kairon had, for example, backed Prem Singh Lalpura as S.G.P.C. President in 1958 to defeat Akali strongman Master Tara Singh."
---
"But the consequences of such interference in religious affairs by political forces was clearly understood - one reason why the Communist Party of India [C.P.I.], which won 21 seats in the S.G.P.C. General House in 1955, subsequently vacated this arena. Indeed, Amarinder Singh's dalliance with the far-right may have set the stage for a cycle of competitive communalism. On Nov. 13, for example, he met the International Human Rights Organisation's [I.H.R.O.] head, Dalbir Singh Gill, to discuss the Sutlej Yamuna Link Canal [S.Y.L.C.] issue. Two weeks earlier Gill had participated in a function at the Golden Temple to honour Beant Singh, one of the guards who assassinated Prime Minister Indira Gandhi."
---
"The new political climate has also encouraged others on the right to take a more aggressive position. Mann, who left the S.H.S.A.D. on Nov. 14, charging Tohra with allying himself with the Congress(I), recently wrote to the Pakistan High Commission in New Delhi asking for that country's help in securing religious freedoms for Sikhs in India. Badal himself has now cast the contours of his future campaign in expressly communal terms."
---
"An ill-thought-out political enterprise threatens to undo the enormous goodwill the Punjab Chief Minister has accumulated in the course of his anti-corruption campaign. In months to come, the social backlash that will most certainly be caused by the State government's aggressive privatisation programme could provide a wider basis to the kind of mobilisation the religious right is seeking to bring about. Amarinder Singh's decision to withdraw free power to farmers has already alienated many in the middle and upper peasantry, the S.A.D.'s core constituency. Punjab will also be subject to enormous fissures as Singh's agenda for transforming the countryside, by moving away from cereal to cash crops, begins to gather pace. The fuel is in place: and too many people seem to be playing with matches."
---

- Top -
Saffron Theatrics

By DIONNE BUNSHA

Frontline, Dec. 7, 2002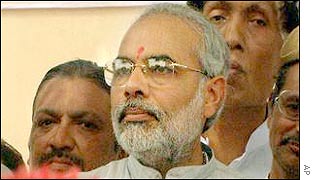 "Despite assurances from Prime Minister Atal Behari Vajpayee that the Godhra incident will not be made an election issue, Chief Minister Narendra Modi has made it the only talking point. And with reason: he has nothing else to talk about. From being one of the most prosperous States, Gujarat has gone downhill in the last five years. Now, all that Modi can do is play on the fear of 'Muslim terrorists.' This, when there is still no conclusive proof of how the Sabarmati Express caught fire. . . . The B.J.P. is also making every attempt to link the Congress(I) to Muslim terrorists. 'The Congress(I) in Kashmir [reference to the new Mufti government] releases terrorists, the B.J.P. in Gujarat crushes them.' . . . Congress(I) leader Hasmukh Patel says: "Gujarat's entire economy was shattered after the communal riots, with a loss of Rupees 25,000 crores [1 crore = 10 million]. People have lost their savings in the cooperative bank scam. After that, who will vote for the B.J.P.?' "
---
"During the recent state-supported communal carnage, Congress(I) strongholds in north and central Gujarat were targeted. . . . The B.J.P. has been trying to erode these Congress(I) bastions, most of which are in the Adivasi-inhabited [tribal] areas of central Gujarat. Although the party started its Hindutva campaign in tribal areas with the Ram Janmabhoomi [Ram's birthplace, i.e. Ayodhya] movement in 1992, the Adivasis remained loyal to the Congress(I). However, during the recent violence, the Sangh Parivar mobilised mobs of Adivasis to attack Muslims. . . . According to Hasmukh Patel, Adivasis participated in the riots because they were told that within those 72 hours, they could loot and the police would not stop them. 'But that was for temporary benefit. They are still part of the Congress(I) fold,' he says."
---
"Both parties have appeased the two most dominant communities in Gujarat - the Patels and the Darbars (both belong to the Other Backward Classes [O.B.C.]). . . . While the B.J.P. has not put up a single Muslim candidate, the Congress(I) has nominated five. . . . The spirit of nepotism is well and truly alive. . . . Muslims comprise half of Godhra town's population. . . . Winning this seat will be a prestige issue for both parties. . . . The B.J.P.'s gory, cynical strategy seems to be working. By creating a fear psychosis among people, it is projecting Modi as the Hindutva hero."
---

- Top -
Top Bodo Separatist Leader Arrested

By SUBIR BHAUMIK
Bodos make up 13% of Assam's population.

B.B.C., Dec. 6, 2002

"Police in India's north-eastern state of Assam say they have arrested one of the state's top separatist leaders. . . . Mr. [Govinda] Basumatary was the general secretary of the outlawed National Democratic Front of Bodoland (N.D.F.B.), the stronger of the two rebel groups representing the Bodo tribe. The Bodos have been fighting for a separate homeland for the last 20 years. . . . The other Bodo rebel group, the Bodoland Liberation Tiger Force (B.L.T.F.) says it is close to a final settlement with the government. But the N.D.F.B. says it plans to continue its fight for independence. In recent weeks, its guerrillas have launched a number of attacks on Indian security forces, as well as members of the rival B.L.T.F. Non-Bodo people living in Bodo-dominated areas have also been targeted, in an attempt to scuttle a possible settlement to the Bodo problem."
---

- Top -
Mass Conversions Defy New Tamil Nadu Law

By JILL McGIVERING

B.B.C., Dec. 6, 2002

"Organisers of a mass religious conversion ceremony in the south Indian state of Tamil Nadu say about 500 new converts have now gathered there and declared themselves new Christians or new Buddhists. Some independent observers suggest a much lower figure. The ceremony was planned to defy a new law banning forced conversions. Late on Thursday evening, police arrested ten people involved in organising the event. . . . Christian leaders involved in organising the ceremony had said they expected about 3,000 people to attend. They claimed police had turned away some groups, telling them the event was now cancelled - although this has not been independently confirmed. . . . Christians, Buddhists and Muslims are small minorities in this state, but the recent conversions of whole low-caste Hindu communities to other religions has alarmed right-wing Hindu organisations."
---
"Many Christians say this law is unconstitutional because it compromises the right to religious freedom. They are also concerned the new law will be used to intimidate religious minorities and could be introduced in more states. Some Hindu leaders accuse evangelical Christians of bribing the poor by offering inducements to convert and see the law as a way of protecting them. Christian leaders insist the conversions are voluntary."
---

- Top -
Sikh Widows Demand C.B.I. Probe Into 1984 Massacres

By P.T.I.

Outlook, Dec. 4, 2002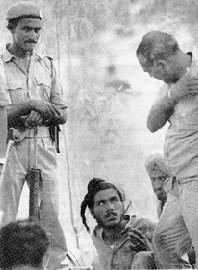 "Widow Jatha [confrontational organization], an organisation of women widowed in the 1984 anti-Sikh riots, today demanded a C.B.I. inquiry into the carnage saying they have lost faith in successive inquiry commissions set up by the government. 'Even after 18 years, not even one culprit has been brought to book,' they alleged and said they would meet Deputy Prime Minister L.K. Advani on December eight and urge him to take urgent measures to punish the guilty and rehabilitate the victims. Addressing a press conference here, Kamlesh Kaur, one of the members of the group alleged that Delhi Development Authority [D.D.A.] had recently served notice on them to pay around Rupees one lakh [100,000] rent in instalments for the houses provided free of cost after the riots."
---
"Blaming the Congress party for orchestrating the violence, the women also challenged party chief Sonia Gandhi's reported claim that the party had never indulged in riot politics in any of the party ruled states. Claiming that the newly formed organisation has no political backing, they also demanded proper rehabilitation, jobs, pension, free housing and free electricity and water for the riot-affected."
---

- Top -
China Censors Democracy Websites

By STAFF

The Guardian, Dec. 4, 2002

"Internet sites containing the words 'democracy,' 'Tibet,' and 'Taiwan' are among those most frequently blocked by the Chinese government, a study of Chinese net access has revealed. Researchers at Harvard Law School's Berkman Centre for Internet and Society said that other blocked sites included those on health, education, news, entertainment, religion and pornography. Ben Edelman, a Berkman researcher, and Jonathan Zittrain, the centre's co-director, found more than 19,000 of the more than 204,000 websites they checked were inaccessible at least some of the time. Amnesty International last month called for the Chinese government to release 33 people being held for using the internet to circulate or download information."
---

- Top -
How America Is Justifying War With Iraq

By ROBERT FISK

The Independent, Dec. 4, 2002

"In North Carolina last month, a woman attending a lecture I was giving asked me when America would go to war in Iraq. I told her to watch the front page of The New York Times and The Washington Post for the first smear campaigns against the U.N. inspectors. And bingo, right on time, the smears have begun. One of the U.N. inspectors, it's now stated - a man appointed at the behest of the State Department - is involved with pornography. Another senior official, we're now told - again appointed at the urging of the State Department - was previously fired from his job as head of a nuclear safety agency. Why, I wonder, did the Americans want these men on the inspection team? So they could trash it later? . . . We knew about his [Saddam's] raping rooms and his executions and his torture when we eagerly supported his invasion of Iran in 1980. So why is it being regurgitated all over again?"
---
"And yet again, the Americans are trying to establish links between Osama bin Laden and Saddam Hussein in a desperate attempt to hitch the 'war on terror' to the war for oil (which is what, of course, the Iraqi 'crisis' is all about). Vice President Cheney has been parroting all the same nonsense about 'terror' leaders and Saddam, even though Bin Laden loathes the Iraqi leader. No one - absolutely no one - has produced the slightest evidence that Saddam had anything to do with the international crimes against humanity of Sep. 11. But still we are forced to listen to this trash. . . . We will presumably use depleted uranium munitions against Iraqi armour - the same depleted uranium that was used 11 years ago in the deserts of southern Iraq, where children are now ravaged by strange and unexplained cancers. And we will not - repeat this one hundred times - we will not mention oil."
---
"In the meantime, Mr. Bush's foreign policy advisers are busy hatching up the conflict of civilisations. Take Kenneth Adelman, who is on the Pentagon's Defence Policy Board. He's been saying that for Mr. Bush to call Islam a peaceful religion 'is an increasingly hard argument to make.' Islam is 'militaristic' in the eyes of Mr. Adelman. 'After all, its founder, Mohammed, was a warrior, not a peace advocate like Jesus.' Then there's Eliot Cohen of the Johns Hopkins School of International Studies, who is also on the Pentagon board. He now argues that the 'enemy' of the United States is not terrorism but 'militant Islam.' Mr. Adelman and Mr. Cohen have not vouchsafed their own religion, but Islam is clearly being targeted. . . . Franklin Graham, son of the same Billy Graham who made those anti-Semitic remarks on the Nixon tapes, has called Islam 'evil.' And Graham, remember, spoke at Bush's inauguration."
---
"[W]e are being prepared for the awful, incredible, unspeakable possibility that the U.N. inspectors will find absolutely no weapons of mass destruction in Iraq. That will leave us with only one conclusion: they were no good at their job."
---

- Top -
E.E.O.C.: Discrimination by Nationality on the Rise

By STAFF

C.N.N., Dec. 3, 2002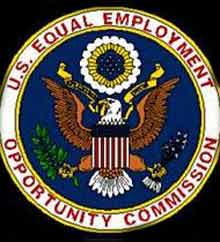 "Complaints of discrimination based on national origin have risen 20 percent over the last eight years, the [U.S.] Equal Employment Opportunity Commission (E.E.O.C.) said Tuesday. The agency attributed the rise to a backlash against Muslims and Middle Easterners after the Sep. 11 attacks; an increase in the numbers of immigrants in the labor force; and other population changes. Sikhs, Asians and Arabs have also felt the backlash effect. 'Most people think about race and gender discrimination - national-origin discrimination doesn't come to mind, but it's having a greater impact on the workplace,' E.E.O.C. spokesman David Grinberg said Tuesday. . . . E.E.O.C. officials said the number of national origin bias charges likely represent only the tip of the iceberg - that a lot of discrimination may be unreported because many fear retaliation or are not aware of the laws. . . . The E.E.O.C. is a federal agency that enforces the anti-discrimination laws in the workplace."
---

- Top -
India's Poor Starve as Wheat Rots

By AMY WALDMAN

The New York Times, Dec. 2, 2002

"Surplus from this year's wheat harvest, bought by the government from farmers, sits moldering in muddy fields here in Punjab State. Some of the previous year's wheat surplus sits untouched, too, and the year's before that, and the year's before that. To the south, in the neighboring state of Rajasthan, villagers ate boiled leaves or discs of bread made from grass seeds in late summer and autumn because they could not afford to buy wheat. One by one, children and adults - as many as 47 in all - wilted away from hunger-related causes, often clutching pained stomachs."
---
"More than two decades after a 'green' revolution made India, the world's second-most-populous country, self-sufficient in grain production, half of India's children are malnourished. About 350 million Indians go to bed hungry every night. Pockets of starvation deaths, like those in the Baran district of Rajasthan, have surfaced regularly in recent years. Yet the government is sitting on wheat surpluses - now at about 53 million metric tons - that would stretch to the moon and back at least twice if all the bags were lined up. Persistent scarcity surrounded by such bounty has become a source of shame for a nation that has taken pride in feeding itself."
---
"The reason, experts and officials agree, is the economics - and particularly the politics - of food in India, a country that has modernized on many fronts but that remains desperately poor. Critics say the central government, led for the last four years by the Hindu nationalist Bharatiya Janata Party, has catered to political allies and powerful farm lobbies in a few key states by buying more and more grain from farmers at higher and higher prices. At the same time, it has been responding to pressure from international lenders by curbing food subsidies to consumers."
---
"The fruits of [the country's] efforts [at self-sufficiency] can be witnessed nowhere more vividly than in Punjab. Today it is India's only state (along, perhaps, with neighboring Haryana, which was carved from Punjab), that derives more than 40 percent of its income from agriculture; until recently it had the highest per capita income in India. It has some of the country's best roads and, with only 2 percent of the country's land, grows 55 percent of its food. . . . Punjab farmers, eager to cash in, are farming so much rice and wheat that they are depleting the state's water and soil, creating a long-term threat to the country's agricultural self-sufficiency."
---
"[W]ith politics, indifference and corruption conspiring to limit the number of those identified as poor, the amount of food being bought from ration shops dropped significantly and stockpiles soared. The problem is compounded by the fact that even many of those classified as poor are unable to buy the subsidized grain because of inaccessible ration shops or dealers who steal the grain for sale on the black market."
---

- Top -
Sikhs Establish New Gurdwara at Kalamazoo, Michigan

By CLAUDIA LINSLEY

Battle Creek Enquirer, Dec. 2, 2002

" '[Having the temple] is very significant,' said Arthur Helweg, a professor of anthropology at Western Michigan University who has studied the Sikh religion for 20 years. 'It is not just a religious center, but a social and cultural center, too.' There are 18 million Sikhs worldwide and more than 250,000 live in the United States. The Southwest Michigan Sikhs began meeting in the mid-1980s, renting facilities from other organizations. After purchasing the Cheshire Street site in Jul. 2001 from the Lexinton Green Church, the Kalamazoo congregation refurbished the new gurdwara and started worshipping there two months ago."
---

- Top -
Israel Is Walking Into bin Laden's Trap

By ROBERT FISK
Robert Fisk is Britain's most highly decorated foreign correspondent. He has received the British International Journalist of the Year award seven times, most recently in 1995 and 1996. His specialty is the Middle East, where he has spent the last twenty-three years.

The Independent, Dec. 1, 2002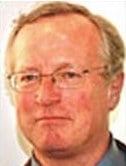 "By responding to Al Qaeda's wicked assault on its civilians, [Israel] is taking on a mighty big opponent. For Mr. bin Laden's men are not the hopeless suiciders that the Palestinians produce from their foetid refugee camps. The Afghanistan-trained men of Mr. bin Laden's legion do not spring from the squalor of Gaza or the occupied masses of the West Bank. They are ruthless, highly motivated, intelligent - just for once, William Safire [of The New York Times] was right when he called them 'vicious warriors' - and they may be more than a match for Israel's third-rate intelligence men. Israel's rabble of an army can kill child stone-throwers with ease. Al Qaeda is a quite different opponent. And if Mr. Sharon wants to take on Mr. bin Laden, he is ensuring that Israel goes to war with its most dangerous enemy in 54 years. Better by far to let the Americans tackle Al Qaeda - and even they don't seem to be all that successful - than bring Israel into the battle."
---
"Now, however, Messrs Bush and Blair will have to watch in silence as Mr. Sharon bludgeons the occupied Palestinians into further submission. Israel is now engaged in our war, on our side, and whatever Israel does will now have the imprimatur of the 'war on terror.' Israel is now on the side of the good guys and if it kills nine children when its air force wants to assassinate a Hamas leader, the White House will not even be able to call it 'heavy-handed.' (Incidentally, it's instructive to note that while the child-killing in Gaza was 'heavy-handed' in the words of Mr. Bush's spokesman, Ari Fleischer, the killing of 12 Israeli soldiers and policemen was described by the same gentleman as a 'heinous crime.')"
---

- Top -
Americans and Saudis Need Each Other

By ERIC S. MARGOLIS
Internationally syndicated foreign affairs columnist and author of the award-winning book War at the Top of the World: The Struggle for Afghanistan, Kashmir, and Tibet.

The Toronto Sun, Dec. 1, 2002




"The Saudis were the main financiers of the Afghan mujahedin who were fighting the Soviet Union in the 1980s, in a secret alliance with the United States. During the same era, the Saudis covertly joined the U.S. in financing Saddam Hussein's war against Iran. Saudi money went to the U.S.-backed Nicaraguan Contras, and to the U.N.I.T.A. forces of Jonas Savimbi in Angola - all 'freedom fighters.' The Saudis also bankrolled small, militant Islamic groups - often with full U.S. backing - provided they stayed far away from the Arabian peninsula. In Afghanistan, Saudi money financed the Taliban, which warred against Afghanistan's communist Northern Alliance, Wahhabi fighters battling pro-Iranian Shia groups, and militant Wahhabi missionaries. Individual Saudis, a few of them princes, and some Saudi religious charities, gave millions of dollars to groups they held to be freedom fighters: notably Hamas and Islamic Jihad in Palestine (branded 'terrorists' by the U.S. and Israel)."
---
"Financial aid to the needy and oppressed is a basic tenet of Islam."
---
"[The Saudis] supply oil to the U.S., Europe and Japan in great quantity, at very low prices. Today, oil sells for $25 U.S. a barrel. Bin Laden asserts the West is robbing Arabia's resources: oil, he insists, should cost $300 a barrel. The Saudis buy huge quantities of advanced U.S. arms they cannot use and mostly keep in storage: $40 billion U.S. from 1993-2000. These purchases keep American military production lines open, reduce costs of U.S. weapons, and employ large numbers of highly paid defence workers in key electoral states. The Saudis keep at east $100 billion U.S. in the American financial system, with big chunks in government debt."
---
"No matter how dismayed Americans are with Saudis - and vice versa - they need each other."
---

- Top -
Chinese Dissident Granted Asylum by U.S.

By MONIQUE CHU
The Jun. 4, 1989 military crackdown ended the Tiananmen Square democracy demonstrations 11 years ago in Beijing. Hundreds died when troops shot their way through the city on the night of June 3-4, 1989 to end seven weeks of peaceful protests.

The Taipei Times, Dec. 1, 2002




"Tang Yuanjun will soon be on his way to New York but the handling of his case was criticized by rights activists because of Taiwan's lack of an asylum law. Chinese dissident Tang Yuanjun departed for New York on Friday after the U.S. agreed to offer him political asylum, the Ministry of Foreign Affairs (M.O.F.A.) said yesterday. 'The American Institute in Taiwan (A.I.T.) has agreed to grant him political asylum,' said M.O.F.A. spokeswoman Katharine Chang. Tang, a 45-year-old automobile technician, told authorities that he paid a fishing boat to bring him close to Tatan islet off Kinmen before swimming to the islet on the morning of Oct. 15."
---
"Tang's identity as a Tiananmen Square dissident was confirmed by other dissidents who were there, such as Wang Dan and Feng Tsung-te, and from photographic evidence, according to human rights lawyer Lin Feng-jeng. Lin, president of the Taiwan Association for Human Rights, visited Tang in Oct. Wang and Feng were student leaders of the Chinese democracy movement that was crushed in Tiananmen Square on Jun. 4, 1989. Records show that Tang was in prison for 12 years for his involvement in the 1989 student demonstrations. After being released, Tang was thrown back in jail for organizing the Chinese Democracy Party."
---

- Top -
Democracy in Egypt?

By CYNTHIA YACOWAR-SWEENEY
Cynthia Yacowar-Sweeney is an associate with the Canadian Institute for Jewish Research (C.I.J.R.) in Montreal.

Arutz Sheva, Dec. 1, 2002

"Ms. Fatma Abdalla, director of the press office for the Embassy of the Arab Republic of Egypt in Ottawa, claims in several Canadian newspapers that denying Egyptian individuals freedom of expression by banning the T.V. series Knight Without a Horse, 'would not be synonymous with the democratic principles that Egyptian society follows.' Exactly what 'democratic principles' is Ms. Abdalla referring to?"
---
"Perhaps the ones that were responsible for expelling the renowned Egyptian playwright Ali Salem from the Union of Egyptian Writers over a year ago for visiting Israel, several times from 1994-1996, and for publishing a book on those visits. Or perhaps the ones that were responsible for imprisoning Egypt's most prominent advocate of democracy and open government, Saad Eddin Ibrahim, last year, sentencing him to seven years in prison for his so-called pro-Israel stance and democratic views. He and his colleagues publicized Egypt's presidential nepotism and corruption and the discrimination against Egypt's Coptic Christian minority. His respected democracy organization, Cairo's Ibn Kaldun Centre, was shut down by the government two years ago and 27 of his colleagues were sentenced to prison terms. He also committed what was perceived in Egypt as the Great Evil: visiting Israel and talking with the Israeli left-wing peace movement. Imagine that."
---
"Knight Without a Horse, the Egyptian dramatization of the anti-Semitic forgery The Protocols of the Elders of Zion, merely infuses the masses with a virulent hatred of Jews. Criticism and open debate are suppressed in Egypt. This only creates the conditions in which Islamist fanaticism and Jew-hatred flourish - conditions that are in violation of the 1979 Israel-Egyptian peace accord, which calls on both sides to prevent incitement against each other. . . . You will never see pro-Israel or pro-American points of view in the Egyptian and Arab press, loaded as it is with vicious anti-Jewish rhetoric. Yet, in a truly democratic country such as Israel, one will find pro-Arab letters to the editor in Israeli publications. If Egypt truly followed democratic principles, then articles such as this one would run in its publications."
---

- Top -
P.M. Refuses S.G.P.C. Permission to Care for Afghanistan's Gurdwaras

By VARINDER WALIA

The Tribune, Nov. 30, 2002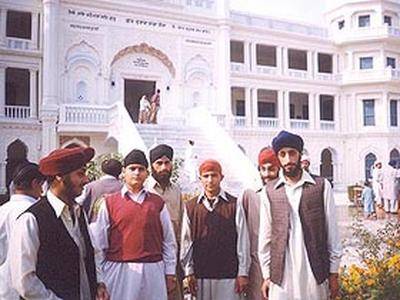 "Historical Sikh shrines in Afghanistan damaged during shelling in the recent past are beyond repair and, hence, will have to be re-constructed, which involves large amounts of money. However, refusal by Prime Minister Atal Behari Vajpayee to send a delegation of the S.G.P.C. to carry out the repair of gurdwaras to Afghanistan has annoyed Sikhs there. Residents of Kabul, who met this correspondent at Nankana Sahib at Lahore during Gurpurb celebrations, said almost all gurdwaras built in memory of Guru Nanak and his son had been destroyed. While the Taliban had destroyed ancient statues of Mahatma Buddha, Sikh shrines had been destroyed in the U.S. attacks."
---
"Mr. Vajpayee's letter, addressed to Mr. Kirpal Singh Badungar, S.G.P.C. chief, reads: 'I understand the compelling desire of the Sikh community to restore and renovate holy Sikh shrines in Afghanistan. However, I think it would be a good idea for the visit of the S.G.P.C. delegation to be deferred to a later date when the security situation, especially in and around Jalalabad and Kandahar, is more conducive.' The historical gurdwaras in Afghanistan are Gurdwara Bhai Nand Lal Goya (Ghazni), Gurdwara Guru Nanak Dev (Jalalabad), Gurdwara Baba Shree Chand (Kabul), Gurdwara Karteparwan (Kabul), Gurdwara Koth Sahib (Kabul), Gurdwara Kotha Sahib (Ghazni), Gurdwara Baba Nanak (Kabul), Gurdwara Guru Har Rai (Kabul), Gurdwara Khalsa Dewan and Chashma Sahib (Sultanpur). Though most Afghan Sikhs who had fled to Pakistan, India and other countries have gone back to their native land, they are unable to re-construct their places of workship."
---
"Mr. Partap Singh and Mr. Nirmal Singh, brothers from Kabul, said there was an urgent need to send a delegation of the S.G.P.C. to carry out a survey of the damaged Sikh shrines so that the rich heritage of the community could be saved. Vice-Chairman of the National Commission for Minorities Tarlochan Singh said he would take up the matter with the Prime Minister, the Deputy Prime Minister and the External Affairs Minister."
---

- Top -
Okra King of California

By KHUSHWANT SINGH

The Tribune, Nov. 30, 2002

"Harbhajan Singh Samra with a farming background and an M.A. degree in economics migrated to California and decided to try his luck producing vegetables for the sizeable Indian, Pakistani and Bangladeshi communities settled there. Luck favoured him. He started with Indian bhindi (okra) in 1991. It was an instant success. He added baigan (aubergine), tinda, gaver, methi, palval and moolee (long white radish). Today his 200-acre farm in Indio (California) has an annual turnover of $12 million. Starting from scratch 11 years ago, he is a millionaire, and known as the Okra King of California."
---
"It was not a windfall; Samra tested different soils, had many setbacks before he was able to produce high-quality vegetables of Indian origin. He now exports his produce to Canada and European countries, where there are Asian communities. He is not resting on his laurels and enjoying his well-earned opulence; he is on to producing Indian fruit on California soil. Next year he plans to plant different varieties of Indian mangoes, ber (zizyphus), jamun and jimikand. He will have to wait a few years before they yield fruit. He can afford to wait and hopefully become a billionaire. He is a family man and lives with his Indian wife and seven-year-old son."
---

- Top -
Govt., L.T.T.E. Political Positions No Longer Incompatible

By K. VENKATARAMANAN

Outlook, Nov. 29, 2002

"Sri Lankan Prime Minister Rani Wickremesinghe today said the positions of the government and Tamil rebels on the framework for a political solution were 'no longer incompatible,' raising hopes of success in ongoing peace talks. Wickremesinghe told Parliament in a special statement that L.T.T.E. leader Velupillai Prabhakaran had declared that his objective was internal self-determination within a united Sri Lanka. . . . Wickremesinghe, whose government revived a dormant peace process after coming to power in Dec. 2001 and has held two sessions of peace talks with the L.T.T.E., saw a 'paradigm shift' in the L.T.T.E.'s position. . . . 'I have always believed that in a process of negotiations as complex and delicate as this, sequence is as important as substance,' he said, replying to critics of the government's step-by-step approach."
---

- Top -
Burmese Rulers Move Slowly on Reform

By SETH MYDANS
Once a soft-spoken scholar living in England, this daughter of Burmese military hero General Aung San and former Burmese ambassador to India Daw Khin Kyi catapulted to prominence as the spokesperson for her country's beleaguered democracy movement. For six years, from 1989 to 1995, Aung San Suu Kyi (pronounced Awng-Sahn-Soo-Chee) was kept in isolation under house arrest for speaking out against the government, which has used torture and forced labor and which refuses to hand over power, even though it lost a national election. In 1991, still under house arrest, Aung San Suu Kyi was awarded the Nobel Peace Prize.

The New York Times, Nov. 29, 2002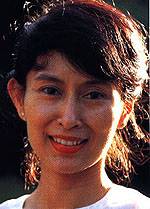 "Six months after releasing the pro-democracy leader Daw Aung San Suu Kyi from house arrest amid a fanfare of promises, Myanmar's military rulers seem to have lost interest in political compromise. They have released only a trickle of political prisoners from among more than 1,000 who are behind bars. And they have dragged their feet on a pledge to open substantive talks with Mrs. Aung San Suu Kyi and her political party, the National League for Democracy. In place of the upbeat words that accompanied the announcement of her release on May 5, government officials have settled back into a familiar refrain: give us time. 'The process is moving forward,' said Lt. Gen. Khin Nyunt, one of the country's top generals. 'But such movement can only occur at a pace with which we are comfortable.' "
---
" 'Since the beginning, we have been reading too much into her release,' said Aung Zaw, the editor of Irrawaddy magazine and a leading figure among Burmese exiles. 'I think it was just part of their regular routine practices, to release her into a larger cage,' he said. 'But I think it was very premature to call it a political milestone.' . . . The United States has led international economic and political sanctions against the military junta, which took power in 1988 and then nullified the results of a parliamentary election in 1990 that was won overwhelmingly by the National League for Democracy."
---

- Top -
Sobha Singh Birth Centenary

By P.T.I.

Outlook, Nov. 29, 2002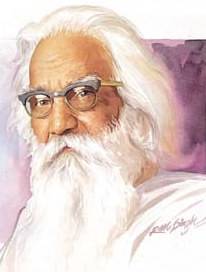 "The year-long birth centenary celebrations of legendary painter and artist Sardar Sobha Singh concluded at his native village, Andretta, near here [Palampur, Himachal Pradesh] today. Union Rural Development Minister Shanta Kumar presided over the concluding function organised by the Sobha Singh Memorial Art Society, Andretta. Recalling his long association with late Sobha Singh, Kumar said Singh immortalised himself by painting portraits of gods, Sikh Gurus and folk heroes. The paintings of Sobha Singh left an indelible impression on the minds of the people and the sleepy village of Andretta had shot into lime-light because of him. He also lauded the role of Sobha Singh Memorial Art Society in keeping the 'flame of art burning.' He also released a book on the life and philosophy of Sobha Singh, titled Soul and Principles, written by Kulwant Singh."
---

- Top -
International Mediation Doesn't Work

By BRAJESH MISHRA
India's National Security Advisor in an interview with Tim Sebastian of BBC World's HARDtalk.

Outlook, Nov. 29, 2002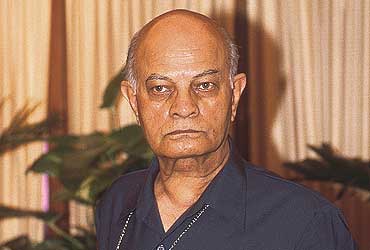 "[T]he Americans have themselves admitted that President Musharraf did not carry out the promises which he made. . . . You are saying that the Americans succeeded, I am saying they did not succeed. . . . We are happy with what Washington and London have done but not happy with the results which have come because we were promised much more. We were told that General Musharraf will have to carry out his promises. Because these promises are to the U.S. and U.K. . . . we have had very bad experience with the international community on dispute settlement. We have the example of the Middle East or west Asia as we call it, for the last 57 years or whatever. . . . [T]here is an agreement between India and Pakistan, signed in Shimla in June 1972, that all matters will be settled bilaterally between the two countries. . . . We don't blame Pakistan for everything. We say you have a state policy of facilitating, instigating terrorism in Jammu and Kashmir and other parts of India."
---
"I quote General Musharraf to you, in 1999 before he took over, he said even if Kashmir is solved, relations with India will not be better."
---

- Top -
Makiya's Fantasy Vision of Post-Saddam Iraq

By EDWARD SAID
Edward Said is university professor of English and comparative literature at Columbia University. Said was born in Jerusalem in 1935 and was for many years America's foremost spokesman for the Palestinian cause. His writings have been translated into 26 languages, including his most influential book, Orientalism (1978), an examination of the way the West perceives the Islamic world. Said was a prominent member of the Palestinian parliament-in-exile for 14 years until he quietly stepped down in 1991. He had broken with Yasir Arafat after decades of support, saying the P.L.O. lacked credibility and moral authority.

Al-Ahram, Nov. 28, 2002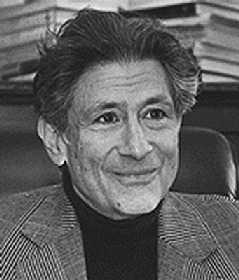 "One [article] that I'd like to discuss in particular is obviously part of a continuing effort by an Iraqi expatriate, Kanan Makiya, to promote himself as the father of what he calls a 'non-Arab' and decentralised post-Baath country. . . . The most complete version of his plans for Iraq after an American invasion that derive from his current employment as a resident employee of the U.S. Department of State, appears in the November 2002 issue of Prospect, a good liberal British monthly to which I subscribe. Makiya begins his 'proposal' by enumerating the extraordinary assumptions behind his arguments, two of which almost by definition are unimaginable. The first is that 'the unseating' of Saddam should not occur after a bombing campaign. Makiya must have been living on Mars to imagine that, in the event of a war, a massive bombing attack would not occur even though every single plan circulated for regime change in Iraq has stated explicitly that Iraq would be bombed mercilessly."
---
"The second assumption is equally imaginative, since Makiya seems to believe against all evidence that the U.S. is committed to democracy and nation-building in Iraq. Why he thinks that Iraq is like Germany and Japan after World War II (both of which were rebuilt because of the Cold War) is beyond me; besides, he doesn't once mention the fact that the U.S. is determined to bring down the Iraqi regime because of the country's oil reserves and because Iraq is an enemy of Israel. So, he starts out by making preposterous assumptions that simply fly in the face of all the evidence."
---
"This, of course, is exactly what the U.S. government likes, that is, to have miscellaneous Arab intellectuals responsible to no constituency who urge the U.S. military on to war while pretending to be bringing 'democracy' to the place in full contradiction of America's real aims and its actual historical practices. Makiya seems not to have heard about ruinous U.S. interventions in Indochina, Afghanistan, Central America, Somalia, Sudan, Lebanon, and the Philippines, or that the U.S. is currently involved militarily with about 80 countries. The grand climax of Makiya's justification for the invasion of Iraq by the United States is his proposal that the new Iraq should be non-Arab. In the end, however, he volunteers that all this is going to be guaranteed 'from the outside,' by the United States. Where this has ever taken place before is not an issue that troubles Makiya, any more than he seems concerned about U.S. unilateralism and needless destructiveness."
---
"Devoid of either compassion or real understanding, he prattles on for Anglo-American audiences who seem satisfied that here at last is an Arab who exhibits the proper respect for their power and civilisation, regardless of what role Britain played in the imperialist partition of the Arab world or what mischief the U.S. dealt the Arabs through its support for Israel and the collective Arab dictatorships."
---

- Top -
L.T.T.E. Could Settle for Autonomy Over Secession

By VELUPILLAI PRABHAKARAN
From a secret jungle base in the north-east of Sri Lanka, V. Prabhakaran heads the Liberation Tigers of Tamil Eelam (L.T.T.E.) for an independent Tamil homeland. He has a reputation as a fearless and ruthless guerrilla leader, and under his leadership, the L.T.T.E., or Tamil Tigers, have become a highly-disciplined and highly-motivated guerrilla force. His organisation shows no sign of being defeated militarily by the Sri Lankan army, even though it is vastly outnumbered. Mr. Prabhakaran is reputed to wear a cyanide capsule around his neck, to be swallowed in the event of his capture. He expects the same dedication from his troops, many of whom the Sri Lankan government says are either women or children. The Tamil Tiger leader seldom gives interviews to journalists, who are in any case restricted by the government from going into areas controlled by his forces. Born Nov. 26, 1954, he said in one of his interviews that he was fascinated by Napoleon and Alexander the Great.

Outlook, Nov. 28, 2002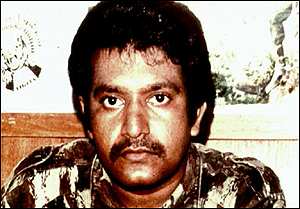 "Our liberation struggle has reached a new historical turning point and entered into a new developmental stage. We are facing a new challenge. We have ceased armed hostilities and are now engaged in a peaceful negotiating process to resolve the ethnic conflict. If a reasonable settlement to the Tamil national question could be realised by peaceful means we will make every endeavour, with honesty and sincerity to pursue that path. Our political objective is to ensure that our people should live in freedom and dignity in their homeland enjoying the right of self-rule."
---
"We have participated in peace negotiations at different places, at different times in different historical circumstances. All previous attempts to a negotiated political settlement ended in fiasco. These failures could only be attributed to the hard-line attitude and deceitful political approaches of previous Sri Lanka governments. Now, the government of Mr. Ranil Wickramasinghe is attempting to resolve the problems of the Tamils with sincerity and courage."
---
"Furthermore, the current cease-fire, built on a strong foundation and the sincere efforts of the international monitoring mission to further stabilise it, has helped to consolidate the peace process. The capable and skilful facilitation by the Norwegians has also contributed to the steady progress of the current peace talks. . . . The objective of our struggle is based on the concept of self-determination as articulated in the U.N. Charter and other instruments. . . . Tamil homeland, Tamil nationality and Tamils' right to self-determination are the fundamentals underlying our political struggle. Tamils constitute themselves as a people, or rather as a national formation since they possess a distinct language, culture and history with a clearly defined homeland and a consciousness of their ethnic identity."
---
"The Tamil people want to live in freedom and dignity in their own lands, in their historically constituted traditional lands without the domination of external forces. We are prepared to consider favourably a political framework that offers substantial regional autonomy and self-government in our homeland on the basis of our right to internal self-determination. But if our people's right to self-determination is denied and our demand for regional self-rule is rejected we have no alternative other than to secede and form an independent state."
---

- Top -
I.S.I. Fuels Negative Khalistan Propaganda

By YUDHVIR RANA

The Times of India, Nov. 28, 2002

"The I.S.I. [Intelligence Services Interagency] of Pakistan gainfully employed a young brigade of Pakistan-born Sikhs and Muslim boys to keep the Khalistan propaganda stirring during the presence of Sikh devotees who thronged various gurdwaras there to celebrate the 533rd birth anniversary of Guru Nanak Dev. However, counter to the usual practice, the I.S.I. has not allowed various pro-Khalistan organisations to display pro-Khalistan banners and make fiery statements against India from Pakistan's gurdwaras. This is presumably to escape condemnation from the international community for supporting terror-oriented secessionist movements."
---
"Photographs procured by T.N.N. [Tribune News Network] expose the I.S.I.'s wicked designs in motivating the younger generation of Pakistan's Sindh-based Sikh nationals and other Muslim boys. Sources accompanying the jatha [confrontational group] from India to Pakistan reported that besides distributing pro-Khalistan stickers among Sikh devotees, especially those who had come from India, free toy guns were distributed at Gurdwara Nankana Sahib. A few well-connected Sikh leaders from western countries took advantage of their influence in the Pakistan government and raised pro-Khalistan slogans on a few occasions but refrained from publicly motivating the visiting Sikh devotees to further the cause of the Khalistan movement."
---
"Sources further stated that an employee of P.S.G.P.C. [Pakistan Sikh Gurdwara Prabhandak Committee], who was present at a stall selling toys and crackers at the Gurdwara, was seen distributing free toy guns to the Sikh youth besides exhorting them to use them against India."
---

- Top -
Kashmir Problem Unresolvable Under Indian Constitution

By MIR WAIZ UMER FAROOQ
Former Hurriyat Conference chairman in an interview with Tim Sebastian of BBC World's HARDtalk.

Outlook, Nov. 28, 2002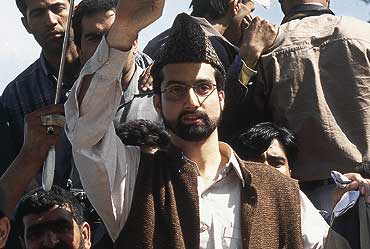 "Kashmir is a dispute, and the government of India, the Indian troops have occupied the land. So we are fighting on a military level, a political level, a diplomatic level. . . . The Kashmir problem has a history, a background. It belongs to the people of Jammu and Kashmir. . . . When innocent people are killed we do renounce terrorism but you have to make a distinction between terrorism and a genuine freedom struggle. . . . [A]fter Sep. 11 maybe perspectives have changed but the realities haven't. The reality in Kashmir is that people are suffering on the ground, people are getting killed everyday and that is because of Indian intransigence. We are ready to work towards peace with the militants, with the Mujahideen provided the government of India comes on to the negotiating table."
---
"[India has] said they are willing to talk under the Indian Constitution. Our problem cannot be resolved under the Indian Constitution. . . . We don't believe elections are going to address the key problem in Kashmir. Kashmir is not an electoral problem. . . . Elections under the Indian constitution are not acceptable. We believe there are two ways to resolve the problem - either through the implementation of the U.N. resolution, or through tripartite dialogue. We are more than willing to talk to the Indian government, we have even gone to the extent of saying that we are ready to talk without any conditions provided they accept the dispute in principle. . . . Let me be very clear about as far as the government of India's position is concerned, their position is that they are willing to talk under the Indian constitution, which is just not acceptable to us. . . . The system is very much in the control of the Indian government."
---
"[Y]ou install P.O.T.A. and then you take it back. You arrest political prisoners and you release them. You tried to convince the world you are giving a concession, but you are not giving any concessions to the people. . . . You cannot have peace by just installing a new government. We have seen it in the past it hasn't worked, it will not work in the future. . . . It's not only about good governance. That is an important factor, good governance, good administration but it's about much more than that. . . . This problem has a human dimension. People are divided, families are divided. More than half of my family is in Azad Kashmir. We want a reunification of Kashmir and then the problem to be addressed."
---
"People talk from a buffer state to an independent state to the Dixon plan . . . They talk about a broader autonomous region of Jammu and Kashmir. We have this committee also in the U.S. called the Kashmir Committee, they have also come up with some proposals. We are saying that we are willing to discuss all these options."
---

- Top -
Pakistan's Tentative Return to Democracy

By R.S. KADIAN
Letter to the editor.

The Washington Post, Nov. 27, 2002

"The Nov. 17 news story regarding the opening of the legislature in Pakistan was sketchy. It did not mention that the opening of parliament already had been delayed twice. Nor did it reveal the unusual circumstances under which Gen. Pervez Musharraf was sworn in as president. The oath was taken at Aiwan-I-Sadar, the presidential palace, and not at the National Assembly Building, where democratically elected representatives of the Pakistani people took the oath of office two hours later. The general bypassed the traditional right of the legislature to formally elect him as the president. Instead, he was sworn in before an audience of high-ranking civilian and military officials, governors and ministers (all unelected), judges of the higher courts, and members of the diplomatic corps. Not a single elected representative of the Pakistani people was invited or present at this hurriedly organized, surreptitious ceremony."
---
"Our key ally in the region continues to be tentative in his commitment toward the restoration of democracy in Pakistan."
---

- Top -
New Govt. in Kashmir Seeks Balance

By MEHBOOBA MUFTI
Vice President of the Jammu and Kashmir People's Democratic Party and daughter of Jammu and Kashmir's newly elected Chief Minister Mufti Mohammed Sayeed in an interview with Tim Sebastian of BBC World's HARDtalk.

Outlook, Nov. 27, 2002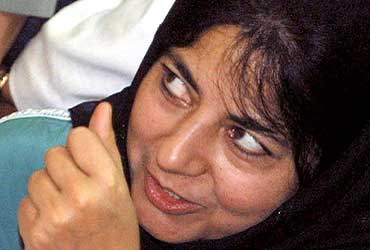 "We are trying to see that there is more accountability among the various forces, state police who are fighting militancy. We are trying to see that people get some kind of respite from the friskings going on, the checkings going on because if you look at the face of the country for the common Kashmiri youth, it's not the same as for the rest of the country. . . . There has to be accountability among forces fighting militancy because there has been a very good election. I think people of the state who have voted us to power are pleased. That is what matters. I think it goes to B.J.P.'s credit that they had such a good election. Their credibility has gone up. . . . [T]hat was the freest and fairest of elections since now in J&K. It is in their interest, in the interest of the nation that they should let the government, which has been elected in Kashmir work according to their own programmes."
---
"It is very unfortunate that there are certain parties or certain people in the Indian government who are trying to make Kashmir a battlefield to win the Gujarat elections. They should not do this because Kashmir is a national issue, it's not like any other state. . . . Our message is that if they cannot help us in the situation, at least don't interfere unnecessarily. There is a very responsible government there in the state of J&K and it would do nothing to jeopardise the security of the people of the state. . . . If you have a problem at your home the neighbour is definitely going to take advantage of that but if you are able to keep your home intact, if you are able to address your problems at your home, the neighbour doesn't have much of a role to play there. . . . If you really want to address the Kashmir problem, then the New Delhi government will have to talk to all shades of opinion. Because talking to the elected representatives only is not going to resolve the problem."
---
"Pakistan definitely has a role to play in Kashmir. But we have a problem inside. If we don't have any combustible material inside, the other person - the neighbour - cannot ignite it. But until we don't address the internal problem, the role of Pakistan will go on increasing. But there is a role, because even if we reach some kind of agreement with our own people you need Pakistan's support at some point. We haven't made any promises which are out of this world. We don't want old men to be offloaded from buses and asked to run for miles from one post to another post, we don't want this crackdown to go on during nights, we don't want such kind of atrocities. . . . If you really want to get rid of violence you have to get to the root of the violence and that root is the alienation of the people. The more we fight that violence the more atrocities take place during the course of that and more alienation takes place."
---

- Top -
Nigeria Stumbles

EDITORIAL

The Toronto Star, Nov. 26, 2002

"President Olusegun Obasanjo brought democracy and hope to Nigeria in 1999 after 15 years of corrupt military rule. That was a remarkable moment. But Nigerians who expected political cohesiveness, clean government and growth to follow, have been sorely disappointed. . . . If anything, the nation's multiple crises have worsened. They were on frightening display this past week as blood was spilled over the Miss World beauty pageant. Africa's most populous, potentially richest country seems to be stumbling backward. The riots set Muslim against Christian, exposed fury with a government that allows half the population of 120 million to live in poverty, and seemed certain to scare off desperately needed foreign investment. The glitzy contest was unwisely slated to be held in the capital Abuja in the Muslim-dominated north. Many Muslims deplored it as a 'parade of nudity.' And a newspaper touched off riots by writing that the Prophet Muhammad would have wanted to marry a contestant."
---
"Some 250 died as churches, mosques and homes were torched. Contestants fled to London for a rescheduled pageant. But not before the world was reminded of Nigeria's fragility. Crime, religious and communal strife have killed 10,000 since 1999. Nigeria is a nation divided roughly in half between Muslims in the north, and Christians and animists in the south. Though it is the world's sixth largest oil exporter, most people live on $1 a day. Their lot hasn't improved in 30 years. Meanwhile, a rapacious 'kleptocracy' of self-serving government and military officials enriches itself by looting oil revenues and demanding kickbacks. There are no simple remedies to these age-old problems, rooted in culture and history."
---
"A third of Nigeria's 36 states have adopted Muslim sharia law since 1999, increasing tensions with Christians and sorely testing the secular federal government. This trend is more than religious conservatism. It reflects grassroots disgust for official corruption and neglect of the public. In the south, evangelical Christianity is rapidly making converts for the same reasons."
---

- Top -
Renowned Sikh Historian Flays Use of Golden Temple to Refer to Darbar Sahib

By PRABHJOT SINGH
W. Hew McLeod is a New Zealander. He took an M.A. from the University of Otago in Dunedin, New Zealand, and Ph.D. (1963-1965) from the School of Oriental and African Studies (S.O.A.S.) in London with a thesis on the life and teachings of Guru Nanak. In 1990 he also received a D.Lit. from the University of London. For nine years he taught in the Punjab; 1958-1963 as a secondary school teacher in Khakar (District Ropar); 1965 to 1969 at the B.U.C. College in Batala. After one year of a Smuts Fellowship at the University of Cambridge, in 1971 he returned to teach history at the University of Otago, where he has remained ever since (now a Professor), although he pays frequent visits to the Punjab. All of his books and most of his published articles concern Sikh history, religion, and society. He is married with four children.

The Tribune, Nov. 26, 2002





" 'Serais [free hostels] are very much part of the Darbar Sahib complex,' avers Prof. W.H. McLeod, a renowned Sikh historian, suggesting that the sanctum sanctorum should be addressed as 'Golden Gurdwara' and not 'Golden Temple.' 'Temple' has a different connotation and those who know only English tend to get confused between a 'gurdwara' and a 'temple.' 'Recently, I reviewed a book on the Golden Temple by Justice Chur Singh of Singapore where I mentioned that 'temple' is not an appropriate word to describe Darbar Sahib. The ideal would be that it should be described as 'Golden Gurdwara' for proper appreciation and understanding of its importance,' said Prof. McLeod during an interaction with The Tribune here this afternoon."
---
"He feels that for all practical purposes, serais are part of the gurdwara and his knowledge of Sikh history says that serais are very much part of the Darbar Sahib complex [a reference to the controversial space between serais and the main complex which is claimed by the Amritsar Municipality and is used by the police and army (when needed) to surround or attack the complex]."
---
"Considered to be one of the most knowledgeable Sikh scholars, Prof. McLeod is credited with writing a number of books on Sikhs and Sikhism besides Sikh diaspora. Interestingly, he is here in connection with the release of his latest book Sikhs of the Khalsa later this week."
---
"Prof. McLeod has given depositions in a number of court cases where he as an independent expert held that the turban and the kirpan were part of Sikhs' religious wear. In the first case, his evidence helped Sikhs in Canada not only gain entry in the Royal Canadian Mounted Police (R.C.M.P.) but also settled a controversy over allowing ex-defence personnel wearing turbans entry into various branches of the Canadian Legion. In the second case, though the plea of a Sikh for carrying a kirpan on board a Canada 3000 aircraft was turned down, Prof. McLeod opined that kirpan was part of the religious wear. Prof. McLeod, accompanied by his wife, Margaret, also plans to visit Amritsar and New Delhi. In the Capital, he would deliver a lecture on Sikhs in New Zealand. In fact, one of his books is about Punjabis in New Zealand where he thinks that in 118 years, the Sikhs have been successful in maintaining their 'separate identity.' "
---
"Talking about the state of Sikh studies worldwide, Prof. McLeod feels that 'comparatively it is a new subject as the work on the Sikh religion started only a few decades ago. In my opinion, the scholars engaged in Sikh studies in any of the universities in Punjab have certain constraints and may not feel as free as scholars overseas. Some of the Sikh chairs are doing well overseas,' he said admitting that in certain cases 'these have been discontinued for lack of support, including financial support from the community.' Prof. McLeod does not agree that Sikh studies have run into any serious controversy or anything. 'It is basically lack of knowledge. It is why Sikhism is not understood well in the outside world, especially the western world.' "
---
" 'Essentially, there are no Sikh chairs outside. These are basically teaching appointments at the level of Associate Professor or Assistant Professor. At some places, including the one headed by Dr. G.S. Mann in the U.S.A., which has good support from the community, they are doing very well. Even Dr. Pashaura Singh (Michighan) is doing O.K. I am not aware as to whether someone has been appointed in place of Dr. Harjot Oberoi at Vancouver after he quit,' said Prof. McLeod. He plans to pen down his autobiography next, with the focus being on his relations with the Sikh community."
---

- Top -
Nigerian Official Urges More Bloodshed

By GLENN McKENZIE

Associated Press, Nov. 26, 2002

"The deputy governor of a largely Islamic state in northern Nigeria has called on Muslims to kill the Nigerian woman who wrote a newspaper article about the Miss World beauty pageant that sparked deadly religious riots. 'Just like the blasphemous Indian writer Salman Rushdie, the blood of Isioma Daniel can be shed,' Zamfara Deputy Governor Mahamoud Shinkafi told a gathering of Muslim groups in the state capital, Gusau, on Monday. . . . Daniel, a Lagos-based fashion writer with ThisDay, reportedly went into hiding after being interrogated by police last week in connection with the article, which suggested Islam's founding prophet Muhammed would have approved of Miss World and might have wanted to marry one of the contestants. Her religion is unknown. The newspaper has issued repeated apologies for the article, saying the offending portions were published by mistake after earlier being deleted by a supervising editor."
---
"Obasanjo's 3-year-old administration has repeatedly stated it will overrule inhumane punishments imposed by Islamic courts, such as recent death-by-stoning sentences against women convicted of having sex outside of wedlock. But the federal government has so far refused to intervene directly in the Shariah legal system, in effect in some of the country's predominantly Muslim northern states. . . . Zamfara was the first of 12 states to adopt Islamic law, or Shariah, after Nigerian military rule gave way to elected government in 1999."
---

- Top -
Dhillon Lauds Amarinder; Criticizes Aulakh, Chauhan, and Badal

By VARINDER WALIA

The Tribune, Nov. 25, 2002

"Capt. Amarinder Singh, Chief Minister [of Punjab], got support from unexpected quarters as a U.S.-based radical Sikh leader, Dr. Ganga Singh Dhillon, President Nankana Sahib Foundation (N.S.F.), praised him for resigning from various posts for the sake of the Sikh Panth in the past. Talking to T.N.S. at Nankana Sahib (Pakistan), Dr. Dhillon said Capt. Amarinder Singh was a 'true maharaja' who knows the aspirations of the masses and had worked accordingly in the past. He said Capt. Amarinder Singh had resigned as member of Parliament and from the primary membership of the Congress in protest against the Operation Bluestar in 1984, then resigned as an agricultural minister from the Barnala government in protest against the police entry into the S.G.P.C. complex. He said even during 'referendum' of the Kandukhera village in Ferozepore district, Capt. Amarinder Singh had camped in the strategic village for many days and had saved Abohar and Fazilka from going to Haryana."
---
"Meanwhile, Dr. Dhillon said he would continue to fight for 'self-determination' of the Sikhs. He, however, criticised Dr. Gurmit Singh Aulakh, president of the self-styled Council for Khalistan, for raising slogans of 'Khalistan' at gurdwara Nankana Sahib while speaking from there. 'I won't allow the Sikh shrines to become centres of politics,' he declared. On the demand for a separate Sikh state, Dr. Dhillon said 'every Sikh who participates in the ardas would definitely support this demand.' Dr. Dhillon said Dr. Jagjit Singh Chauhan had asked him to accompany him to India but he had refused to do so as he was not for 'sale.' On former Chief Minister Mr. Parkash Singh Badal, Dr. Dhillon admitted he (Badal) was his good friend and that was why he was very much perturbed to learn that his ministry had surpassed all limits of corruption."
---

- Top -
Bush Is a Threat to World Peace

By GUNTER GRASS
The Nobel Prize winning writer in an interview with Subhoranjan Dasgupta.

Outlook, Nov. 25, 2002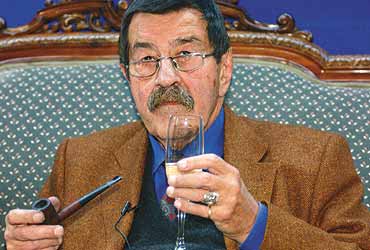 "I regard this man [President George W. Bush] as a danger, a threat to world peace. He reminds me of one of those characters in Shakespeare's historical plays whose only ambition perhaps is to stand before his father, the old and departed king, and say, 'Look, I have completed your task.' He is determined to bring the first Gulf War to its culmination by launching yet another. Bush Jr. is inspired by private, family reasons; he is prompted by hereditary compulsions. The economic interests of the Bush family are also playing a role. The family is deeply involved in the oil business. Political interests and business aspirations, therefore, are finely enmeshed in his war cry against Iraq. The third reason is, of course, the U.S.A.'s status as the only Almighty Superpower in the world. The superpower wants to control and direct the rest of the world but it knows so little about the rest of this world. It knows almost nothing."
---
"This dangerous combination of familial, economic and political interests in this single leader has turned him into a real danger."
---
"Immediately after that terrible onslaught on Sep. 11, I stressed that the source of this assault lies embedded in the rage and hatred of the so-called Third World against the affluent First. Unless and until we eradicate the causes of this deep-seated, justified anger, terrorism will continue. Way back in the '70s, German statesman Willy Brandt drew our attention repeatedly to the horrible inequality scarring the earth, this deep divide between the haves and have-nots. He predicted that if we fail to establish a just new world economic order, violence will erupt."
---
"We in the affluent world have failed repeatedly and deliberately because we have protected our limited interests at the expense of others. This self-centred attitude, this business of enriching oneself is of course a product of neo-liberal theory and practice which refuses to look beyond its nose. It follows that if Bush repeats his Afghanistan experiment in another part of the world, he will be encouraging another new wave of terrorism, he will be sponsoring another generation of terrorists."
---
"After the fall of socialism, capitalism is left without a rival. And in this extraordinary situation it has emerged as an avaricious, above all suicidal force, bent on destroying itself. . . . When a firm announces that it is going to slash 200 jobs, its share value jumps. This is madness. The present form of market-blind capitalism has spawned its own enemy, its own Frankenstein. This system could collapse one day. We don't have an alternative now nor do we know if we'll have one in the near future. In a state of big, depressing vacuum, we may have to experience a new form of fascism, whose face we are not able to envisage now. We can see traces though."
---
"I don't believe in any limitless, hope-resplendent utopia; that is why I will not posit any utopia as antithesis. What I can say is that we have to try and try against the present scheme of things. The stone of Sisyphus has to be rolled up again and again."
---
"I must confess that my first prolonged encounter with Calcutta robbed me of my words. I turned mute. My silence was the reaction of a closeted West European caught in the vortex of Calcutta for the first time. The contrast was so immense, so bewildering between the world I had left behind and the world I entered that my words failed to capture the difference."
---
"Like [Heinrich] Boll, I have always rejected this idea of appearing as the conscience-figure of my people. Tell me, whose burden of conscience could I possibly carry; whose conscience could I endeavour to clear or relieve? As an aware citizen of Germany and as a writer, I associate myself with the trials and travails of my society, with its advance or regress. Based on my experience and political principles, I either support certain happenings and processes or I voice my protest. Whenever there is a major political debate, I take a position. Well, this engagement or, if you prefer that term, activism, I have always practiced. I shall practise this in the future as well. To that extent, I do not encourage or endorse the 'I myself' preoccupation of those creative writers who deliberately distance themselves from their social conditions. But that does not mean that I embody the conscience of someone else. I reject any such representative role."
---

- Top -
Bush Compares Saddam to Hitler

By ERIC S. MARGOLIS

The Toronto Sun, Nov. 24, 2002

"U.S. President George W. Bush delivered a philippic last week at the N.A.T.O. summit in Prague, comparing Saddam Hussein to Adolf Hitler and calling on America's allies to join his crusade against Iraq. . . . Bush's cartoon characterization of Saddam Hussein as a second Hitler plays well in unworldly Peoria and the U.S. Bible Belt, but it produced derision or dismay among sophisticated continental Europeans, many of whom regard the sabre-rattling, imperial-minded Bush administration as more alarming than Iraq or Osama bin Laden."
---

- Top -
Hate-mongers & Co.

By KHUSHWANT SINGH

The Hindustan Times, Nov. 22, 2002

"A country which is proud of its hoary tradition of religious tolerance and is the world's largest democracy has to reckon with forces that threaten to wreck both our past and present as well as demolish our dreams of the future. These forces can be easily identified as the lunatic fringe of the Sangh parivar — the Shiv Sena, the V.H.P., the Bajrang Dal and a crop of new organisations raising suicide squads. No State worth its name should allow private armies to operate on its soil."
---
"You must have noticed that when the likes of Praveen Togadia and Giriraj Kishore criticise the three-man Election Commission (of whom two are Hindus), they single out J.M. Lyngdoh and describe him as 'anti-Hindu' because he is Christian. They link his name to Sonia Gandhi's who, though born a Christian, married a Hindu by Hindu rites and ignored the injunction of the church that children of a mixed Catholic-non-Christian marriage should be brought up as Catholics. Both Sonia's son and daughter were brought up as Hindus. Sonia is a much better Indian than Bal Thackeray, Giriraj Kishore, Togadia or myself. We had no choice but be Indians because we were born in India. She had a choice of remaining Italian and Catholic; she chose to become Indian and Hindu. I want to yell back at these fellows: 'Lyngdoh is not anti-Hindu. He is a civilised gentleman, above communal prejudices. It is people like you who are anti-Hindu because you give Hinduism a bad name.' "
---
"It is also time our home minister took serious notice of the growing menace of private armies patronised by political parties. They are designed to implement political agendas by the use of force and to be used in communal riots. It is the job of the police to enforce law and order and not of armed thugs. And if things go out of hand, then bring in the army which is mercifully still untainted by communal considerations."
---

- Top -
Report on 1984 Sikh Massacres Likely by Mar. 31

By STAFF

The Hindu, Nov. 20, 2002

"Justice Nanavati Commission, probing the 1984 anti-Sikh riots, has completed recording of evidence and is likely to submit its report to the Government by Mar. 31 next year. 'I will soon start writing the report as all necessary evidence relating to the riots have been recorded and the written submissions have been submitted by parties-concerned,' said Justice Nanavati, who is heading the one-man Commission probing into the riots that shook the national capital in the aftermath of Indira Gandhi's assassination."
---
"He said after recording preliminary findings about the nature of lapses against officials and involvement of other persons on appreciation of evidence, they would have to be issued notices under Section 8(b) of the Commission of Inquiry Act so as to give them a chance to defend themselves. After hearing these officials and persons and taking into account their defence, the final report would be written, he added."
---

- Top -
Pro-Khalistan Sloganeering at Nankana Sahib

By VARINDER WALIA

The Tribune, Nov. 20, 2002

"The whereabouts of India's five 'most wanted' Sikh militants are still shrouded in mystery even as leaders of radical outfits thronged the gurdwaras in Pakistan from foreign countries and claimed that they (the most wanted) are 'in high spirits' wherever they are these days. Gajinder Singh, chairman, Dal Khalsa International (D.K.I.), Parmjit Singh Panjwar, chief of the Khalistan Commando Force (K.C.F.), Wadhawa Singh Babbar, Chief of the Babbar Khalsa International, Ranjit Singh Neeta, president Khalistan Zindabad Force, and Bhai Lakhvir Singh Rode, chief of the International Sikh Youth Federation, figured among 20 persons who were declared 'most wanted' by India after the attack on Parliament on Dec. 13 last year. Before the declaration by the Indian government, they [the five most wanted] used to mark their presence in Sikh shrines during the visit of jathas [on the occasion of Guru Nanak's Gurpurab]. However, none of the 'most wanted' militants was spotted."
---
"Mr. Manmohan Singh, a U.K.-based Dal Khalsa leader while talking to T.N.S., feigned ignorance about the whereabouts of five Sikh militant leaders. He, however, claimed that they were not in Pakistan. However, second rung leaders of the above outfits were present in Sikh shrines during the birth anniversary celebrations of Guru Nanak Dev at Gurdwara Nankana Sahib. Radical Sikhs from foreign countries, especially from the United Kingdom and the U.S.A. delivered inflammatory speeches and reiterated their resolve to create a separate Sikh state while speaking from the stage at Nankana Sahib yesterday. Some Sikh leaders from the U.S.A., U.K. and Germany distributed literature, advocating the demand of a separate state for Sikhs. They included Dr. Gurmit Singh Aulakh of the Khalistan Council (U.S.A.), Mr. Manmohan Singh, leader of the Dal Khalsa (U.K.) and Mr. Satnam Singh Babbar, leader of Babbar Khalsa International (Germany). However, Khalistan banners did not appear in any gurdwara."
---

- Top -
Prelude to Indira Gandhi's Emergency

By KHUSHWANT SINGH

Outlook, Nov. 18, 2002

"[Bishan Narain Tandon, joint secretary in Prime Minister Indira Gandhi's office for seven years (1969-76), quoted from his recently published P.M.O. Diary - I: Prelude to the Emergency:] 'I have always held that three qualities are needed to lead the country: character, ability in its broadest sense and tolerance. Unfortunately, the P.M. is deficient in all three. In fact, she is completely lacking in tolerance. As far as ability is concerned, she is very able when it comes to political manipulation. But she has no ability to think seriously and in an organised manner about serious issues.' "
---
" 'I have discussed various issues for hours on end with her. But I have always felt that I am talking to a person with very pedestrian intellect whose concerns are not with the substance but with the form. She is only concerned with the impact on herself and on politics. She is not at all interested in the values which her father had done so much to foster. She is outwardly civilised and decent but she totally lacks cordiality. . . . She does not have the high moral standards expected of the country's leaders.' "
---
"Early in 1975, Mrs. Gandhi's troubles began to mount - not in a single file but in battalions. J.P.'s [Jaya Prakash Narain] call for a total revolution began to gather strength. Morarji Desai became restive, then openly defiant . . . She suspected treachery where there was none. Mrs. Gandhi vented her anger against people who could not hit back. . . . A streak of sadism hitherto unnoticed began to manifest itself."
---
"On Jun. 12, 1975, Justice Jagmohan Sinha of the Allahabad High Court set aside Mrs. Gandhi's election to the Lok Sabha on grounds of corruption and debarred her from contesting polls for six years. She lost her cool. While she consulted lawyers like Gokhale, Nani Palkhiwala and S.S. Ray, she encouraged Sanjay, Dhawan, Bansi Lal and Kishan Chand to organise mass rallies in her favour. To add to her woes, her party lost the elections in Gujarat. In her appeal to the apex court where Palkhiwala appeared for her, all she got from the vacation court judge Krishna Iyer was a stay order depriving her of the right to vote. She didn't want to resign and hoped that the mass rallies her son and his cronies organised would somehow vitiate the judgement."
---
"Mother and son ticked off information and broadcasting minister I.K. Gujral for not publicising the meetings. Sanjay, who little respected constitutional proprieties and understood how people feared the danda, took over the administration in his mother's name. On the night of Jun. 25, 1975, a docile [President] Fakhruddin Ali Ahmed signed the proclamation of Emergency. All leaders of the Opposition, including J.P. and Morarji Desai along with over 10,000 (the figure rose to 30,000) others, were put behind bars."
---
"The mettle of our leaders can be gauged from the fact that not one cabinet minister uttered a squeak in protest: Jagjivan Ram, who had shown signs of dissent, agreed to lead the motion of approval in Parliament, Swaran Singh argued for it like a mofussil lawyer, the Chhatrapati of yesteryears, Y.B. Chavan, lost all his valour. They were like a bunch of eunuchs (no offence meant to our hijda brothers/sisters) willing to dance and clap to any tune. The only ones to prove their manliness were two Parsis - Palkhiwala, who returned his brief, and Fali Nariman, who resigned as Additional Solicitor-General."
---

- Top -
Ayatollah Khomeini's Grandson Joins Iranian Reformist Protesters

By STAFF

Voice of America, Nov. 17, 2002

"The grandson of the late Ayatollah Ruhollah Khomeini, the founder of Iran's Islamic Republic, has joined student protests in Tehran against the death sentence of a university lecturer convicted for insulting Islam. The Iranian news agency says Hojjatoleslam Hassan Khomeini has aligned himself with reformist protesters who have demonstrated almost daily since Iran's hardline judiciary sentenced Hashem Aghajari to death last week. Saturday, the Farsi-language daily Iran newspaper said Hojjatoleslam Khomeini visited the condemned scholar's family a day earlier to express his regret over the sentence. Iran's ruling clerics brought the blasphemy case against Mr. Aghajari, after he questioned clerical rule in the Islamic Republic in a lecture earlier this year. Mr. Aghajari, who lost a leg in the Iran-Iraq war, has so far refused to appeal the verdict."
---
"A court in the western city of Hemdan convicted Mr. Aghajari Nov. 6 and sentenced him to death for saying that Muslims are not 'monkeys' who should blindly follow clerics' teachings. Elsewhere in Tehran, 20 department chiefs at a teacher training university resigned Saturday, saying they no longer feel safe after the sentence given to Mr. Aghajari. The only known counter-demonstration occurred Friday, when about 1,000 people marched outside Tehran University demanding that authorities go through with the Aghajari execution. Earlier in the week, Iran's reformist President Mohammad Khatami said the sentence was inappropriate and should never have been issued. The president has found his efforts to promote democracy blocked by conservatives who control the judiciary, the armed forces and the broadcast media. He has threatened to resign if ruling clerics overturn pending legislation increasing his powers."
---

- Top -
Dr. Hari Krishna: If I Say One More Word on the Operation, I Will Be Murdered

By STAFF
Excerpts from an interview with Dr. Hari Krishna who has cast doubts on the authenticity of police's claim that they shot two terrorists in Ansal Plaza, Hauz Khas, New Delhi.

Outlook, Nov. 18, 2002





"Those men were unarmed when I saw them get out of the car. . . . There has been no pressure on me. Nobody has talked to me or forced me to change my statement. . . . There is no threat to my security. I just don't want all this attention. I never asked the N.H.R.C. [National Human Rights Commission] to give me security cover. Ask them to take it back. . . . I can't say another word on the subject. If I say one more word on the operation, I will be murdered. . . . Let's not lower the morale of the police and security forces. You must appreciate their efforts, fighting the terrorists. Didn't you see what happened on Dec. 13 when the terrorists attacked Parliament? . . . If the police say they are terrorists, they must be."
---

- Top -
Dalits Are Treated Worse Than Animals

By UDIT RAJ
Ever since he floated the All India Confederation of SC/ST Organisations in 1997, Udit Raj has become the most visible Dalit face in the country. The Indian Revenue Service officer's formula of mobilising educated Dalits has been enormously successful. His embracing Buddhism last year and subsequent mass conversion drives have given a major political spin to his movement. The following comments are excerpted from his interview to Outlook.

Outlook, Nov. 18, 2002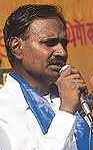 "The basic idea is to liberate people from bondage. Hinduism theoretically justifies discrimination. Dalits are treated worse than animals, dogs, snakes. The Jhajjar lynching was rejoiced by the V.H.P. workers the following day. What's the point in remaining with a religion where an animal is more important than a human being? Through conversions we are sending a message, particularly to outfits like the Bajrang Dal and the V.H.P., that if they continue the way they are they will be destroyed. . . . Conversion to Buddhism has already given a separate political and social identity to the Dalits in Maharashtra. Though politically they might not be united, culturally and socially they are far ahead. They don't feel inferior."
---
"My message to them [Hindu organizations opposing conversions] is, let there be globalisation in ideology. Why are you fearing (conversions)? Why should you protect Hinduism from the winter as if it's an infant? Make your religion stronger. Weaknesses are there within Hinduism. The poor man never sells his god. But he's realising that it's religion which is his greatest curse. Hindu priests are still practising untouchability. But no one is arrested. There is no law for the V.H.P."
---

- Top -
Eighth Sikh Regiment for U.N. Peace Mission

By STAFF

Sify, Nov. 15, 2002

"The Eighth Battalion of the Sikh regiment would be soon taking over from the First Battalion of the Eleventh Gorkha Rifles as the Indian battalion for the United Nations Peace Mission in Lebanon. The Indian Army Contingent earmarked for this duty had a briefing by Lt. Gen. J.B.S. Yadav, Deputy Chief of Army Staff (Training & Coordination), according to a Ministry of Defence release. India has been providing an Infantry Battalion Group and a sizeable number of Headquarters staff personnel in U.N.I.F.I.L. since November 1998."
---
"'India has a glorious tradition in U.N. peacekeeping and has taken part in many a difficult and challenging peacekeeping operations all over the world and performed creditably,' the release issued yesterday said. 'One of the largest contributors to U.N. peacekeeping, India has participated in 36 of the total 55 peacekeeping operations by the U.N. and has contributed a strong force of 65,000 troops over the years. 'Indian Army troops are preferred by most countries for peacekeeping duties due to their professionalism and impartial conduct in mission areas,' it added."
---
"'Recounting the contributions made by the Indian soldiers the release said, 'They have provided the healing touch on behalf of the U.N. to a suffering populace in a conflict zone and brought peace, hope and cheer to the victims of violence.' 'In doing so, many an Indian officers, J.C.O.s and other ranks have made the supreme sacrifice and the roll of honour now reads 108 strengthening the U.N. and international peace and security.' Eight Sikh not only has a checkered history in the wars fought by India in 1965 and 1971 but also more recently participated in Operation Vijay and made invaluable contribution in the capture of strategically important Tiger Hill."
---
"Since its raising in 1963, the battalion has been awarded a Unit Citation, three Vir Chakra medals, 14 Sena Medals and 12 Mentioned-in-Dispatches in various operations."
---

- Top -
Local Sikh Pioneer Will Be Sorely Missed

By KIM BOLAN

The Vancouver Sun, Nov. 14, 2002





"Three months ago, Indar Singh Gill, a Sikh pioneer living in Abbotsford, was giving advice to Prime Minister Jean Chretien about how to unite the country. At 89, he had hoped to travel to Toronto to campaign for Heritage Minister Sheila Copps in the Liberal leadership race. And he expected to be around to see his shake and shingle mill rebuilt in Fort Langley after a fire destroyed it last year. But the vibrant senior who helped preserve an historic Sikh temple that was recently declared a national heritage site passed away suddenly this week, leaving his family devastated. Nash Gill said his father had so much that he still wanted to do despite his advanced age. 'He was just talking to the prime minister on Jul. 31 about how we all have to be united as Canadians. And now he's gone,' Nash Gill said Wednesday. 'He was in great health.' Copps said she called Gill's family to offer her condolences Monday."
---
" 'He will be sorely missed,' said Copps. She most recently saw Gill at the Jul. 31 event to declare the oldest remaining Sikh temple in North America, the Gur Sikh Temple in Abbotsford, a national heritage site. Gill was president of the 91-year-old building for 12 of the years between 1950 and 1980. He donated materials and labour to reroof the building several times, hoping it would one day get the national recognition he thought it deserved. 'I looked after that building like it was one of my children,' Gill told The Vancouver Sun last summer. 'That's why it didn't fall down and is still standing.' Copps said she is glad Gill lived to see the designation, which was attended by thousands. 'But it is a shame that he will not be there to see it restored,' she said. 'He was one of the pioneers in the Sikh community in Canada. I was looking forward to sharing some podiums with him because he was a really inspirational guy.' "
---
"But the B.C. residents could not take their cash to the U.S. because of a law limiting immigrants from carrying more than $500. A Vancouver Sun editor came to their rescue, transporting the money to Nehru's sister. Indar Gill finally settled with his young family in Mission in 1951, opening a fuel business delivering wood and sawdust throughout the Fraser Valley. With the advent of natural gas, he turned back to the lumber industry, buying a Mission sawmill in 1959. Within a year, he rebuilt and modernized the facility, eventually selling lumber to the United States, Britain and Japan. The mill site was needed for a new highway, so Indar Gill was forced to relocate and in 1979 built a shake and shingle mill in Fort Langley."
---
"When that mill burned down last year, the elderly Gill told his son: 'We have to rebuild it.' Up until last week, he was walking around the construction site, talking to the mostly French-Canadian crew about its history. In a memoir about his life in Canada, Gill described his adopted country as the greatest in the world. 'I feel like Canada is everyone's country. It belongs to no one ethnic group. All persons in Canada should be regarded as equal and have equal opportunity for the pursuit of their own happiness,' Gill said. 'By working hard, every person has the chance to have a happy and satisfied life here in Canada.' Funeral services will be held at Abbotsford Pentecostal Assembly at 10 a.m. Saturday, followed by a traditional Sikh service at the Abbotsford Khalsa Diwan Society temple at 2:30 p.m."
---

- Top -
Eidos Settles Hitman Sikh Dispute

By GAMESINDUSTRY.BIZ

The Register, Nov. 13, 2002

"Eidos has released an official statement about the controversy over Hitman 2: Silent Assassin, which came under fire from Sikh groups for allegedly depicting the religions adherents as members of an evil cult. . . . The red-faced company goes on to state that it has learned its lesson from the debacle, and will 'observe and respect cultural, religious and ethical sensitivities in its future products.' "
---

- Top -
The Road to Full Democracy

By BRIAN BEEDHAM
Brian Beedham is Associate Editor of The Economist.

UPI, Nov. 13, 2002

"It is astonishing how little the rest of the world knows about the way Switzerland runs its politics. Even its next-door neighbors in Europe, though vaguely aware that it is a deeply decentralized country, do not really understand the other, more important part of the Swiss system - the part that could turn out to be a model for everybody's 21st century democracy. Americans, always a bit vague about distant places, know even less. So it is excellent that it is an American who has written this uncommonly clear and lively account of Swiss politics. [In his book Direct Democracy in Switzerland] Gregory Fossedal rightly gives a lot of pages to Switzerland's anti-centralism. Even now, though the central government has put on a bit of weight in recent years, it still spends well under half of the taxes paid by the Swiss people; the rest is spent either by the 26 cantons or by the myriad Gemeinden, or communes, the towns and villages which make up the cantons."
---
"The figures reveal a spectacular devolution of power. Those 26 cantons wield almost as much governmental clout as the federal authorities in Bern, where the pay of federal lawmakers is only half of what they get in other European parliaments. And it is the little Gemeinden that decide whether or not you can become a Swiss citizen, that run most of Switzerland's schools, and other such details."
---
"Fascinating as this is, however, devolution is not what matters most. The real driving-force of Swiss politics is the fact that the voters do not vote only once every few years, to choose their "representatives", but whenever enough of them feel they want to override those representatives. Collect a fairly modest number of signatures, and you can take almost any act of parliament to the whole electorate for its acceptance or rejection. Collect rather more, and you can put your own proposed new law to the whole people, whether parliament likes it or not. This is direct democracy. It operates at every level of government. In the canton of Zurich one solitary signature, if a few members of parliament give it a nod, can put a proposal to the people's vote."
---
"The conservatives say decision-making by the whole people is liable to produce laws based on emotion, ignorance or downright prejudice. Fossedal gives a long list of some of the main measures decided by direct vote in the past century and a half. Back in 1866, when there was much anti-Semitism in Europe, the Swiss offered Jewish immigrants full political and religious rights. In the 1960s and 1970s, despite an early attack of the xenophobia that still troubles most of the rest of Europe, they steadily voted against slashing the number of foreign workers in their country. In the post-Cold War 1990s, they resisted the temptation to cut their taxes by weakening or abolishing their armed forces."
---
"In large parts of the world, a huge new middle class is now as well-educated as the people in parliament; it has enough leisure-time to ponder its decisions, and enough money to feel responsible for those decisions; above all, it can reach the needed facts and figures at its computer finger-tips. . . . Representative democracy is a halfway house on the road to full democracy."
---

- Top -
Singh When You're Winning

By STAFF

B.B.C., Nov. 13, 2002

"An amateur football team in Birmingham is proving to be every referee's nightmare - because all the players share the same name. Each member of The Sikh Hunter New Boys boasts the surname Singh - as do the side's joint managers. And while it presents a herculean task for local sports reporters, the common bond seems to be working wonders - with the side six points clear at the top of the Birmingham Amateur Football Alliance."
---
"Mind you, when you can keep the team-talk as simple as 'Boot it upfield to Singh,' that's hardly surprising. Singh, who co-manages the team with namesake Shangara, told the Independent newspaper: 'We have to operate on a nickname basis on the field. You can't go around shouting out surnames. But at least it makes writing the team sheet easy - you just put down one name and then ditto the rest.' Nick insisted it was not just the name factor that boosted team spirit. 'There's a lot of commitment in our team,' he explained. 'Our goalkeeper comes from Sheffield for every match and another member comes from Leicester just to play. They are an excellent bunch of lads.' And they're all Singh-ing from the same team-sheet."
---

- Top -
Badal Retains Hegemony on Sikh Affairs

By U.N.I.

Sify, Nov. 12, 2002

"Parkash Singh Badal's victory in the S.G.P.C. elections today has, in the words of Kirpal Singh Badungar, re-established his hold on Sikh affairs, which are intertwined in the complex religio-political matrix of Akalis in Punjab. The victory, as rightly analysed by Badal, has indeed been a lesson each for Punjab Chief Minister Capt. Amarinder Singh and his Akali associates; Gurcharan Singh Tohra and Ravi Inder Singh, said Badungar, who was reelected today as the Sikh Body's President."
---
"The Congress has always burnt its fingers whenever it tried to meddle with the Sikh affairs in the past. Congress Chief Minister Partap Singh Kairon's attempt to get a leeway in the S.G.P.C. in 1960 had come to a nought when 'Sadh Sangat Board' floated with the help of Akali leader Giani Kartar Singh could win only four seats in the S.G.P.C. general elections. The Congress made another attempt to gain entry into the apex Sikh body in the 1979 elections through the militant Sikh stream led by Sant Jarnail Singh Bhindrawale and Bhai Amrik Singh but the proxy group could win only eight seats in then House of 140 members."
---
"Tohra's candidate polled a respectable 68 votes today, a gain of 12 members over the last year elections, but lost the support of four members of the Simranjit Singh Mann who abstained today. Mann had supported Tohra's candidate last year. The radical M.P. from Sangrur abstained from the elections, saying the victory of either Badal or Tohra candidate would amount to victory of Vajpayee or Sonia's proxies because Mann had dubbed his Akali rivals 'agents of the B.J.P. and Congress.' "
---
"Sikh historian Gurdarshan Singh Dhillon said Badal's victory would ultimately lead to the fall of Amarinder because it is the 'folly of the Chief Minister which has again established Badal as the leader of the Sikhs and of people of Punjab.' 'Amarinder has turned out to be a naive leader,' he added. Gurtej Singh, another Sikh scholar, said the victory has given Badal 'great political mileage' in 'unfortunately' establishing that the Sikhs have yet no alternative to the former Chief Minister whom he accused of having denigrated Sikhs institutions like Akal Takht, the highest religio-temporal seat of the Sikhs, during his regime."
---
"Political analysts said if Amarinder harboured the design to emerge as a Sikh leader to take on Badal to consolidate his Assembly victory through this massive exercise, the endeavour has boomeranged. This would boost opposition to him within his Congress party. Will the Congress high command persist with him till the coming Lok Sabha election? The question is being asked by those Congress leaders who influenced Sonia Gandhi in distancing the party from its Chief Minister's alleged attempt to manipulate and influence the S.G.P.C. polls through Tohra and Ravi Inder."
---

- Top -
Young Sikhs Force Changes to Hitman 2

By STAFF

BBC, Nov. 11, 2002

"A gaming company [Eidos] has agreed to remove scenes from the game Hitman 2: Silent Assassin after Sikhs complained it was racist and offensive. One of the game's levels is set in a temple. Players are asked to shoot the men in turbans because they are terrorists. Sikhs say the scene looks exactly like the inside of the Golden Temple [Darbar Sahib] in Amritsar in India. In 1984, hundreds of Sikhs were massacred there, when Indian troops stormed the temple. The Indian government claimed it was being used to plan military activities."
---
"Harpreet, 15, from Birmingham, has seen the game. He told C.B.B.C.'s Newsround why he found the game offensive. 'This game refers to terrorists in a Gurdwara [place where Sikhs go to pray]. This is disgraceful, because people may think that terrorists wear turbans but they don't,' he said. Many people also think that using a holy place for a game is disrespectful. The makers, Eidos, have now agreed to change the next edition of the game, remove pictures of the scenes from their website and take steps to correct the game where they can. They have also apologised to the Sikh community saying they didn't mean to cause offence."
---

- Top -
Darbar Sahib Among Top Six Places to See

By DEBORAH SHELDON
The top 10 are as follows: Grand Canyon (U.S.), Great Barrier Reef (Australia), Disneyworld (U.S.), South Island (N.Z.), Cape Town (S.A.), Darbar Sahib (Amritsar, India), Las Vegas (U.S.), Sydney (Australia), New York (U.S.), and Taj Mahal (India).

The Daily Mirror, Nov. 10, 2002

"Twenty thousand BBC viewers voted for the chart of places to see before you die. There was no room for home-grown attractions such as Stonehenge, Buckingham Palace, the Tower of London and Edinburgh Castle. Areas of outstanding natural beauty like the Lake District and the Scottish Highlands are also not rated as worthwhile. But Disney World and Las Vegas are both in the top 10. . . . Runner-up to the Grand Canyon in the poll is Australia's Great Barrier Reef off the Queensland coast. Despite the world's natural wonders, the top 10 places are mostly man-made sights. Apart from Las Vegas, they include Sydney, India's shrine to love the Taj Mahal in Agra and the Golden Temple [Darbar Sahib] at Amritsar. And despite the Sep. 11 terror attacks, New York still squeezes into the chart at number nine. America proves the most popular country overall, with nine nominations including Hawaii, Yosemite National Park and San Francisco."
---

- Top -
Sudarshan: Everybody Living in India is Hindu

By STAFF

Sify News, Nov. 10, 2002

"Rashtriya Swayamsevak Sangh (R.S.S.) chief K.S. Sudarshan on Friday said that everybody living in the country is a Hindu, irrespective of caste, community or religion. Addressing the seventh national convention of the Rastriya Sikh Sangat, Sudarshan said, 'Hindu does not symbolises [sic] a religion but the word symbolises a lifestyle and philosophy, therefore, everybody living in Hindustan is Hindu.' Even the Supreme Court had upheld this theory, he added. He said that the region spread from the Himalaya to the Sindhu Sagar was known as Hindustan for several centuries. 'That is why when former Shahi Imam of Delhi Abdullah Bukhari had gone to the holy city of Mecca in 1977-78, the Maulvi of Mecca referred to Bukhari as a Hindu, saying, 'you are Hindu as you have come from Hindustan,' Sudarshan said. He also regretted that allegations were being levelled that the education system in the country was being saffronised."
---

- Top -
The ifs of History

By KHUSHWANT SINGH

The Hindustan Times, Nov. 9, 2002

"People who like reading history must often speculate how often a single error of judgment changed the entire sequence of events. If after the first battle of Tarain, the victorious Prithviraj Chauhan had beheaded Mohammed Ghori - instead of letting him go free - there would have been no second confrontation between the two on the same battlefield in 1192 where Ghori had his Rajput adversary executed."
---
"More decisive was the turn of the tide in the third battle of Panipat on Jan. 6, 1761 between the Maratha confederacy and Ahmed Shah Abdali. The scales were heavily weighed in favour of the Marathas who outnumbered the Afghans ten to one. Their commander was foolish enough to lend an ear to his astrologer who advised him to delay the battle. The Afghans surrounded the Maratha army, cut it off from all food and water supplies, and decimated it."
---
"A big 'if' of history about which I am reminded every year on Nov. 11 took place on that day in 1675. Guru Tegh Bahadur, the ninth Guru of the Sikhs, was executed in Delhi on charges of treason. In those days, there were no proper trials or recording of evidence of witnesses. It was entirely the decision of the Kotwal of Delhi. Tegh Bahadur was a man of peace and a poet of considerable merit. He had acquired an enormous following which made the Mughal administration very uneasy. If the Kotwal had been more sensible, he would have spared the Guru's life. His execution made him the second great martyr of the Sikhs."
---
"His son, Guru Gobind Singh, concluded that when all other means fail, it is righteous to draw the sword. He turned the pacifist Sikhs into the militant fraternity of the Khalsa. They became the most powerful factor in destroying the Mughal rule in Punjab and later setting up a kingdom of their own."
---

- Top -
Prince's Gun Goes for Auction

By STAFF

EDP24, Nov. 9, 2002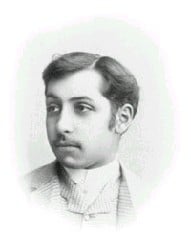 "Frederick Duleep Singh's estate at Elveden, near Thetford, was one of the greatest sporting shoots in the country during the late Victorian and Edwardian eras. He hosted lavish shooting parties there, attended by the aristocracy and some of the finest shots of the day. The Prince of Wales, later Edward VII, was a frequent guest. Now, a souvenir of the period - a custom-built 12-bore shotgun made specially for Prince Duleep Singh - is about to appear at auction in London. The 12-bore sidelock ejector by James Purdey and Sons, one of the blue-chip names in gunmaking, will go under Sotheby's hammer at Olympia, west London, on Dec. 19. It is expected to fetch between £9000 and £12,000 and will be sold with one of his game books for the period 1884-8."
---
"The prince (1868-1926) was the son of the Maharajah Duleep Singh, the last ruler of the Punjab and owner of the world famous Koh-i-noor diamond which is now part of the Crown Jewels. When the British annexed the Punjab at the end of the Second Sikh War in 1849, the maharajah was removed, brought to England and treated like a European prince. He was allowed to retain his title and bought the 17,000-acre Elveden Estate in 1863."
---
"The maharajah was famously the fourth-best shot in England and he proceeded to turn his new acquisition into one of the finest sporting estates in Europe. His two eldest sons, Victor and Frederick, were both excellent shots, inheriting the same level of skill as their father. Frederick, educated at Eton and Cambridge University, went on to serve in both the Suffolk and Norfolk Yeomanry. Elveden was sold in 1893 but he retained his links with the county and finally bought the Ancient House in Thetford in 1921, which was given to the town to be used as a museum. His grave in the estate churchyard and statue in the town have become places of annual pilgrimage for Sikhs."
---

- Top -
Posers for the Police

EDITORIAL

The Hindu, Nov. 9, 2002

"The gunning down of two terrorists [alleged Lashkar-e-Taiba operatives] in New Delhi's Ansal Plaza has been lent a new twist with doubts having been raised about the very nature of the incident. Suggestions that it was not a counter-terror operation but a staged or fake encounter began making the rounds after an eyewitness, Hari Krishna, told the press that the two slain men were unarmed and appeared drugged and unsteady on their feet when the police shot them. Taking cognisance on the basis of the 'disturbing' media reports based on Dr. Krishna's claims and complaints from human rights activists, including the veteran journalist and M.P., Kuldip Nayar, the National Human Rights Commission (N.H.R.C.) has acted quickly to seek an explanation from the Delhi police about what exactly transpired at the Capital's shopping mall."
---
"If anything, it is to make the point that terrorism has to be countered, however while observing certain rules. Unfortunately, the B.J.P. spokesman, Arun Jaitley, has ignored the credibility aspect when he accused human rights activists of discrediting the security agencies by casting doubts on the official version of the Ansal Plaza events. As anyone familiar with the manner in which the law and order machinery operates will vouch, fake encounters are not an uncommon occurrence in this country. . . . The way to defeat doubt is by dissolving it, in this case by disproving the basis on which it is founded. Not by attacking the doubters."
---

- Top -
Jiang Warns Chinese Communist Party: Adapt or Die

By JASPER BECKER

The Independent, Nov. 9, 2002

"China's president, Jiang Zemin, has told the world's last thriving Communist Party to prepare for greater changes ahead, saying it must 'keep pace with the times.' At the opening of the 16th Party Congress in Beijing, Mr. Jiang, 76, the party's general secretary, looked back at his 13 years in power, saying the party had survived the upheavals that brought down the Soviet Communist Party and other revolutionary movements around the world. In a 90-minute speech, Mr. Jiang described how the party could continue in power. He called for political reforms, although he ruled out the possibility that China would follow a Western model of democracy."
---
"Although Mr. Jiang stressed that the party must maintain its iron grip on all areas of the state to guarantee 'social stability,' he dropped vague and tantalising hints that he recognised that the party needed to change the way it ruled. He called for 'developing socialist democracy' saying it was 'essential to expand citizens' participation in political affairs' and necessary to ensure that human rights were respected. 'We should establish and improve an inner-party democratic system,' he urged the rows of handpicked delegates. . . . However, Mr. Jiang also praised the People's Liberation Army, which brought him to power when it quelled the nationwide pro-democracy protests in 1989. 'The party's absolute authority over the army is the eternal soul of the army,' he said. Mr. Jiang outlined a plan to keep the party in absolute power, which consisted of broadening its power base so it would represent all classes while jettisoning Marxism as quickly and as decently as possible."
---

- Top -
1,000 Akali Members Arrested in Punjab

By SATINDER BAINS

The Hindustan Times, Nov. 9, 2002

"Punjab Police have arrested about 1,000 opposition Akali Dal party leaders and workers [Badal loyalists] as a precaution against any violence during the annual elections to the Shiromani Gurdwara Parbandhak Committee (S.G.P.C.), the apex body that administers Sikh shrines. The S.G.P.C. general house will be meeting at Amritsar Nov. 12 to elect a new president and an 11-member executive committee. The S.G.P.C. president's election has acquired political significance for the Akali Dal factions led by former chief minister Parkash Singh Badal and his friend-turned-foe, former S.G.P.C. president Gurcharan Singh Tohra. The Congress party government in Punjab is supporting the Tohra group. . . . The S.G.P.C. is currently controlled by the Badal faction. Tohra, who remained S.G.P.C. president for about 30 years, was ousted by Badal loyalists in 1999 after political differences between two leaders."
---

- Top -
Dhaliwal: Hide Place of Birth on Passports

By SHELDON ALBERTS

The National Post, Nov. 9, 2002

"A senior [Canadian] Liberal Cabinet Minister yesterday suggested Canadians born in Middle Eastern countries remove their place of birth from their passports in order to avoid tighter security measures when crossing into the United States. Herb Dhaliwal [a Canadian of Sikh origin born in Punjab], the Minister of Natural Resources, said the move would help Canadian citizens avoid harassment by U.S. immigration officials who are cracking down on travellers born in five nations - Iraq, Iran, Sudan, Syria and Libya - designated as state sponsors of terrorism. . . . Mr. Dhaliwal's views put him at odds with Bill Graham, the Foreign Affairs Minister, and reveal a growing division within the federal Cabinet over how to deal with U.S. security measures, which have been criticized as discriminatory."
---

- Top -
Free Geelani to Breed Trust in Kashmir

By KHUSHWANT SINGH

The Hindustan Times, Nov. 9, 2002

"Many notable Kashmiris are under detention or on trial under draconian laws. Journalist Iftikhar Geelani has been in Tihar Jail for six months on charges of violating the Official Secrets Act. What the police found on his computer were obsolete data already published in journals on the disposition of Indian troops in Kashmir. By no stretch of imagination could this be construed as 'secret' or 'sensitive.' It was part of Geelani's job, writing for both Indian and Pakistani journals, to store such data for ready reference."
---
"The Press Council has unanimously held that 'information which is displayed on the internet cannot be treated as confidential.' The Delhi Union of Journalists and many Indian papers have written strongly in favour of Geelani. Nothing has been done. The case against him drags on from one hearing to the next while he languishes in jail. Give him his freedom. Our top priority should be to dissipate the clouds of mutual suspicion that have created a feeling of alienation among the Kashmiris. Let us make a new start."
---

- Top -
R.S.S. Chief Hits Out at Sikh Politicians

By STAFF

The Times of India, Nov. 9, 2002

"Rashtriya Swyamsewak Sangh chief K.C. Sudarshan claimed that politicians were disturbing communal harmony in the society. Addressing the inaugural session of the seventh convention of the Rashtriya Sikh Sangat at Shrimuni Intermediate College here [in Kanpur] on Friday, he said that politics had also entered the place of worship and politicians were promoting communal hatred among people to meet their petty political ends. Stating that the functioning of political parties had undergone a sea change with the passage of time, the R.S.S. chief blamed politicians for flaring up communal passions in the country."
---
"Refuting the charge that the B.J.P.-led N.D.A. government was saffronising education, Sudarshan supported changes made in history books. He said, 'Hindu does not refer to an individual or community. It refers to people who live in the country.' The Supreme Court, in its 1994 judgment, had redefined the meaning of Hindu and made it clear that the word did not refer to the Hindu community but to people living in the country, he added. Praising the role of the Sikh community in freedom struggle, Sudarshan said that one would never forget their sacrifices. He also recalled atrocities committed on R.S.S. volunteers in 1948 and said that the Sangh shared the pains of Sikhs who lost their kin during the riots. Earlier, vice-chairman of the National Minority Commission Tarlochan Singh said that Sikhs should make efforts to remain in the mainstream of the nation."
---

- Top -
Musharraf Postpones Return to Democracy

By AHMED RASHID

The Sydney Morning Herald, Nov. 8, 2002

"Pakistan's military regime has abruptly postponed the inaugural meeting of the first parliament since the 1999 coup as an anti-army coalition of parties looked like forming a government. Three years after the military seized power, the country had been expected to return to a semblance of democracy today when the 342-seat National Assembly was scheduled to meet and choose a new prime minister. The military has set no new date for the assembly to meet. On Tuesday night, after President Pervez Musharraf had conferred with his generals, several leading politicians close to the army began to call for a postponement of the assembly. It is believed that the army had asked the politicians to do so in order to avoid a debacle."
---
"The Oct. 11 elections, which most international observers say were rigged by the military regime, produced a hung parliament. The army had tried to create a parliament that was unable to question the army's continued domination of politics. But its scheme has backfired. The assembly broadly divides into the pro-army Pakistan Muslim League (Quaid-e-Azam), or P.M.L.-Q, and its allies and an anti-army coalition. This coalition includes an alliance of six Islamic parties and the secular Pakistan People's Party and another faction of the Pakistan Muslim League led by two former prime ministers, Benazir Bhutto and Nawaz Sharif, who are both in exile. Neither coalition is able to muster a majority."
---
"The army's Interservices Intelligence (I.S.I.) has been trying to give the P.M.L.-Q and its candidate for prime minister - Zafrullah Khan Jamali - a workable majority before the assembly is summoned. The postponement is a result of the I.S.I.'s failure to secure Mr. Jamali a majority. . . . General Musharraf is also in favour of a postponement because the opposition parties are refusing to accept amendments to the constitution that would give the army a permanent and powerful role in the running of the country. At the same time, General Musharraf is under pressure from Washington, which is concerned that the opposition coalition's candidate for prime minister is Maulana Fazlur Rehman, an Islamic fundamentalist. Mr. Rehman is a leader of the Muttahidda Majlis-e-Amal, the six-party Islamic alliance, which won 59 seats in the assembly."
---

- Top -
Separate Miri from Piri

By STAFF

The Tribune, Nov. 8, 2002

"A former jathedar of Akal Takht, Prof. Darshan Singh Ragi, today advocated separating of miri-piri (spiritual-temporal) in Sikhism. Sikhism, he alleged, was being misused by political leaders for the past some time. Prof. Darshan Singh, who was the jathedar of Akal Takht during the peak of militancy in Punjab in 1986-1987, said politics had 'contaminated' Sikhism and hence the two should be segregated to save the Panth. . . . Prof. Darshan Singh said at a press conference here today that all M.L.A.s and M.P.s should be 'banned' from contesting the S.G.P.C. elections. He said despite opposition to his stand on segregating religion from politics, he would pursue his goal unfailingly for elevation of the Panth which was being denigrated in the worst possible manner during S.G.P.C. elections."
---
"He favoured the proposed all-India Sikh gurdwara Act which could bring Takht Hazoor Sahib and Takht Patna Sahib into one fold, but lamented that political monopolisation had created hurdles in the way of the proposal's acceptance."
---

- Top -
Eidos Agrees to Amend All Versions of Hitman 2

CORPORATE STATEMENT

EIDOS, Nov. 8, 2002

"Eidos Plc is pleased to confirm that it has reached an amicable position with the Sikh Coalition in relation to the changing of certain images and references depicting Sikhs within the game Hitman 2:Silent Assassin which is on general release."
---
"Eidos and IO Interactive would like to stress that no offence was intended but would like to apologise to the Sikh community and other persons for any offence taken. Eidos recognises the value of upholding the Company's good corporate citizenship status and strives to observe high standards of ethical behaviour in all its business activities. To that end, the lessons learned from the concerns expressed by the Sikh community will help to ensure that the Company continues to observe and respect cultural, religious and ethical sensitivities in its future products."
---

- Top -
Myanmar Student Sentenced to Jail for Protest

By AYE AYE WIN

The Associated Press, Nov. 7, 2002

"A law student who staged a solo protest to demand the release of political prisoners in Myanmar was sentenced to 14 years in jail under emergency laws imposed by the military government, lawyers said."
---
"Thet Naung Soe, a final-year law student from Yangon, was tried in a special court at the Insein prison where he is being held, the officials said. He was sentenced to two seven-year terms on two separate charges, said a lawyer who did not wish to be named. He said Thet Naung Soe was charged under the all-encompassing emergency laws that can be used to suppress any allegedly political or economic crime. Myanmar's military government strictly controls the judiciary and the media, and trials of political dissidents are held behind closed doors. Verdicts are almost never made public. Thet Naung Soe was arrested on Aug. 18 for protesting in front of Yangon City Hall by holding a red flag on which was printed a fighting peacock, a symbol of the National League for Democracy party of pro-democracy leader Aung San Suu Kyi."
---
"The N.L.D. has been leading a pro-democracy campaign since 1988 when the current group of generals came to power after a bloody crackdown. The junta called elections in 1990 but refused to hand over power to the victorious N.L.D. Another law student, Khin Maung Win, who was arrested the same day as Thet Naung Soe for distributing anti-government leaflets in the university campus is currently facing trial at Insein prison and will be charged soon, the lawyer said. According to [United Nations human rights envoy Paulo] Pinheiro, there are 1,200 to 1,300 political prisoners in the country."
---

- Top -
Power Sharing in China?

By DAVID SHAMBAUGH

The New York Times, Nov. 7, 2002

"One of the principal lessons that China's Communist Party leadership seems to have drawn from the overthrow of Communist parties in Eastern Europe a decade ago is that allowing independent labor unions, autonomous churches and other civic organizations to exist is to create a foundation for organized political opposition. So the party has opted for a mixture of suppression and co-optation of such social groups - a strategy that might work in the short term but is not ultimately sustainable. If the Communist Party is to remain in power without resorting to force, it must develop means of governance that share power with the people and civic organizations."
---

- Top -
Govt. Violating Human Rights, Says A.G.P.

By STAFF

The Assam Tribune, Nov. 7, 2002

"The Asom Gana Parishad (A.G.P.) has accused the State Government of violating human rights while dealing with militants and appealed to the Central Government to initiate meaningful dialogue with all militant outfits of the North-Eastern region for a permanent solution of the problem of militancy. . . . The A.G.P. welcomed the initiative by the Centre for holding talks with the NSCN (I-M) and requested the Centre to initiate similar steps for bringing all the other outfits of the region to the negotiation table. The party also appealed to the militant outfits to come forward for a negotiated settlement of the problem."
---
"Accusing the State Government of violating the human rights while dealing with militants, the A.G.P. referred to the 'gruesome killing' of two U.L.F.A. militants in Guwahati city on Oct. 30. . . . The A.G.P. pointed out that the Director General of Police himself admitted high handedness on the part of police while dealing with the situation. The A.G.P. said that one of the militants killed on Oct. 30, Mitu Baruah, was willing to surrender, but ignoring his plea, the police shot him dead. 'This has raised many a doubt on whether the slain militant, had in his possession, many a vital information nexus between the ruling Congress and the militant outfit and he was killed to prevent leaking of such information,' the A.G.P. said."
---
"The memorandum was signed by A.G.P. president Brindaban Goswami, vice president Dilip Kumar Saikia and general secretary Birendra Prasad Baishya. . . . The A.G.P. pointed out that arrest of the militant, who was willing to surrender, could have led to vital clues regarding the activities of the militant outfits."
---

- Top -
Advani Okays Sikh Jatha's Pak. Visit

By STAFF

The Times of India, Nov. 7, 2002

"Deputy Prime Minister Lal Krishan Advani has granted permission to a Sikh jatha [confrontational group] to visit Nankana Sahib in Pakistan on Nov. 19 to celebrate the Gurpurab [Guru's birthday] of Guru Nanak Dev. This was stated by International Bhai Mardana Yadgari Kirtan Darbar Society president Harpal Singh Bhullar here, on Wednesday afternoon, after receiving a call from former Delhi chief minister Madan Lal Khurana (M.P.). Bhullar said that besides Khurana, minorities commission vice-chairman Trilochan Singh, together called on Advani earlier in the day to urge him to grant permission. The date and number of pilgrims joining the jatha would be announced by Advani on Thursday, he added. Expressing his gratitude to Advani, Bhullar said he had informed Pakistan Gurdwara Parbandhak Committee co-chairman Sham Singh about the permission."
---
"President of Delhi Sikh Gurdwara Management Committee (D.S.G.M.C.) Paramjit Singh Sarna has announced [his intention] to lead a Sikh jatha to Pakistan on the birth anniversary of Guru Nanak Dev even as Shiromani Gurdwara Parbandhak Committee (S.G.P.C.), that claims to be the single largest representative body of Sikhs in the world, is yet to get a green signal from the ministry of home affairs. However, while talking to T.N.N. over the phone on Wednesday, Sarna claimed that the ministry had granted permission to send a Sikh jatha to Pakistan. Sikh pilgrims would cross over to Pakistan from the Wagah land route on Nov. 16. The passports of pilgrimage aspirants would be collected till Nov. 8 which would be then sent for getting visas to the Pak. High Commission, said Sarna, adding that the jatha may include 200 to 500 Sikh devotees."
---
"A few days ago, the Pakistan government had extended invitations to Sikh leaders, including the S.G.P.C. to send Sikh jathas to Pakistan. The S.G.P.C. had written to the Central government for the permission to lead a Sikh jatha to Pakistan but was advised to drop its plans due to the prevailing tension between India and Pakistan."
---
"Notably, after the formation of Pakistan Sikh Gurdwara Parbandhak Committee (P.S.G.P.C.) in 1999, the then president of S.G.P.C. Bibi Jagir Kaur had put a ban on sending jathas to Pakistan to register the committee's protest against the formation of a parallel body in Pakistan to look after the management of gurdwaras in Pakistan which were earlier looked after by the S.G.P.C. only. Her successor Jagdev Singh Talwandi lifted the ban but due to strained relations between the two countries following the Dec. 13 terror attack on Parliament, the Indian government had dropped Samjhauta Express and the Delhi-Lahore bus service between the two countries and also didn't allow Sikh jathas to leave for Pakistan."
---

- Top -
Simranjit Singh Mann in Race for S.G.P.C. Post

By STAFF

The Times of India, Nov. 7, 2002

"The Shiromani Khalsa Panchayat (S.K.P.) has finally approved the name of fire brand Akali leader Simranjit Singh Mann for the post of Shiromani Gurdwara Parbandhak Committee (S.G.P.C.) president though it maintained that the slot should go to a non-political Sikh committed to Panthic cause. Addressing a press conference here on Tuesday, S.K.P. convener Rajinder Singh said that it was opposed to sponsoring Gurcharan Singh Tohra, who during his tenure as S.G.P.C. chief for over two decades, had done precious little for the Panth. 'He (Tohra) had failed to protect the interests of the community,' he added. Also, S.K.P. did not approve the name of Kiranjot Kaur who they said had not given clean administration as S.G.P.C. general secretary."
---
"In fact, the S.K.P. had suggested the names of former Akali Takht jathedar Darshan Singh Ragi, former I.A.S. Gurtej Singh, justice Kuldip Singh, Bhai Jeevan Singh and principal Harbhajan Singh of the Sikh Missionary College without realising that only S.G.P.C. members can be elected to the top slot. Rajinder Singh even suggested the name of Mal Singh Ghuman, who is convener of the 21-member committee making an endeavour to have a consensus candidate for the post of S.G.P.C. president. But when pointed out that he was already in the state vigilance bureau scanner for alleged acts of corruption, Rajinder Singh quickly retracted and finally his choice fell on Simranjit Singh Mann. Rajinder Singh maintained that the new S.G.P.C. chief should be neutral and not a protege of any Akali faction. Besides, he should give an undertaking to clean S.G.P.C., promote the Sikh values and uphold dignity of the Sikh institutions, especially of the Akal Takht."
---
"He said that the S.K.P. would work for non-political, committed and upright candidates in the next S.G.P.C. elections but till then he conceded that it has to be contented with the present lot of the S.G.P.C. members sponsored by the Akali leaders like Tohra, Parkash Singh Badal and others. On the Akali Morcha announced by Badal from Nov. 15, Rajinder Singh said that it was aimed to divert people's attention from the rampant corruption committed during Badal's tenure as chief minister. 'It has nothing to do with Sikhism,' he added, clarifying that the S.K.P. would not support Badal agitation as 'Sikh maryada' had been flouted during his tenure with vengeance."
---

- Top -
Patriot Act Smashes Rights That Have Stood for Centuries

By JULIE LAZZARA

The Athens News, Nov. 7, 2002

"The top A.C.L.U. official in Ohio Tuesday evening in Athens predicted sweeping changes in America's democracy as a result of the U.S.A. Patriot Act of 2001. The Patriot Act is 'the first step in a sweeping restructuring of democracy in the United States,' declared Christine Link, executive director of the Ohio Chapter of the American Civil Liberties Union [A.C.L.U.]. She spoke at a meeting of the Athens-based Appalachian Peace and Justice Network [A.P.J.N.] in O.U.'s Galbreath Chapel. Link's speech was the final event in an A.P.J.N.-sponsored series called "Democracy Requires Dissent," which was designed to address changes in America since 9/11. Link began her speech by outlining the Patriot Act, passed by Congress last Oct. in response to the terrorist attacks on 9/11. The acronym stands for 'Uniting and Strengthening America by Providing Appropriate Tools Required to Intercept and Obstruct Terrorism Act of 2001.' "
---
"Link said that in the days immediately following the attacks, no member of Congress was able to read the entire bill because no hearings were held, and that was mainly due to the fact that the buildings were still closed down after 9/11. At first, since they had not read it, members of Congress were reluctant to sign the bill, she said. As a result of Congress delaying action on the bill, Link recalled, Attorney General John Ashcroft warned them publicly, 'If you don't pass the bill and there is another terrorist attack, the blood will be on your hands, and the president will make sure the American people know it.' Link said that after Ashcroft's statement, Congress quickly passed the Patriot Act, despite the fact that many members of Congress had not read it."
---
"She said that this bill affected many of the rights that people of the United States have been guaranteed for centuries. 'In addition to severely changing protection that typically all citizens of the United States and most immigrants have enjoyed for years, it expansively increases the power of the president and diminishes the power of the courts and Congress,' she said. She added that not only does it give the president 'enormous power,' but it also requires the president to have 'very little oversight by Congress.' According to Link, the Patriot Act is 'the greatest extension of presidential power since Roosevelt's expanded power during World War II.' "
---
"Under the legislation, she explained, the government now has the power to go into people's houses and check their computers without informing them. The government can tap people's phone lines or check their e-mail without having a significant reason to do it, she said. Finally, she said she opposes it because the government can go to any library and acquire records of the books a person took out, and it's illegal for the librarian to inform the person that the F.B.I. was seeking the records. After discussing the Patriot Act, Link talked about the Homeland Security Act of 2002, which she said will merge 22 separate agencies, which is 180,000 governmental employees, into an umbrella organization. This agency will answer directly to the president, without also having to check with Congress. Now that the Republicans have retaken control of the Senate, the Homeland Security Act is expected to pass easily."
---
"Link said that this bill 'creates an unaccountable bureaucracy that is shrouded and totally hidden behind a curtain.' It takes away the Freedom of Information Act from many organizations, she added. This makes it more difficult for organizations such as the A.C.L.U. to get information about things the government is doing, such as 'the random rounding up of innocent foreign nationals.' She said this act also makes people exempt from 'whistle-blowing coverage.' 'Whistle blowing coverage makes it safe for people within government to report crimes by their bosses,' she said. Without that protection, she said, people will be afraid to report any misconduct by their bosses."
---
"For example, after the Patriot Act was passed, she said the government detained 6,000 people based solely on their race or religion. So far, though, she claimed that not a single person was found to be connected to any serious Al Qaeda activities. . . . 'We established over 400 years ago that a trial should be held in the open, and you have the right to meet your accuser and see the evidence against you,' she said. The Patriot Act eliminates that right, she charged. . . . 'People need to remember that democracy is participatory. If you don't exercise it, it crumbles and fades away,' she said."
---

- Top -
Unsung Hero

By SIMON ROGERS

The Guardian, Nov. 6, 2002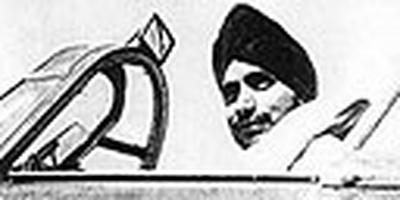 "More than four million men and women from Britain's colonies volunteered for service during the first and second world wars. Thousands died, thousands went missing in action, and many more were wounded or spent years as PoWs. But until now their sacrifice has been largely ignored by the mother country they fought to protect. As the Queen opens memorial gates in their honour today, Simon Rogers talks to [unsung hero Mahinder Singh Pujji]."
---
"Mahinder Singh Pujji is one of the 2.5 million Indians who left their homes during the second world war to fight for a country they regarded as the motherland. Many ended up giving their lives for Britain, but the sacrifice they made barely registered in either Britain or India."
---
"Even in training, Pujji insisted that he be allowed to fly with his turban, unlike many other Sikh flyers - and he is probably the only fighter pilot to have done so. 'I thought I was a very religious man, I shouldn't take off my turban. The British people were so nice and accommodating. They respected that. I had a special strap made to hold my earphones. I used to carry a spare turban with me so I would have one if I got shot down.' "
---
"Pujji almost became a casualty himself several times. On one occasion his badly shot-up Hurricane nearly crashed into the English Channel, and Pujji was advised to ditch in the sea by the 'nice English girls' in the control room. 'But I couldn't swim, you see. I carried on until I saw the white cliffs of Dover and I thought, 'I'll make it.' The aircraft was a total wreck - I was dragged out and I heard voices saying, 'He's still alive, he's still alive.' Because my eyes were closed I couldn't see. The padding of my turban saved me - it was full of blood. I was taken to the hospital but after seven days I was back to flying again.' "
---
"He became one of the few Asian pilots to be awarded a Distinguished Flying Cross."
---
"Eventually, he stopped wearing his turban, partly because it got in the way, partly because he felt different about religion. 'My father said, 'You have lost your religion,' but for me, I wanted to cut off my hair.' "
---
"[H]is enthusiasm for Britain is not quite what it was. 'Now, the man in the street thinks every Indian is illiterate. Once I was driving in town and I had to pick my wife up - it was a double yellow line. And this young policeman started shouting at me, as if I was stupid. Then I saw him across the road with a white driver being very polite. I didn't want to tell him I was an officer - he would have saluted me during the war. This is not the England I knew - but maybe if my story is told, then people will remember us and what we have done.' "
---

- Top -
Trial for Sodhi's Murder Postponed

By STAFF

The Associated Press, Nov. 6, 2002

"The trial of a man accused of killing an Indian immigrant after the 2001 terrorist attacks was postponed three months to let experts evaluate his mental health and give defense attorneys more time to prepare. The murder trial of Frank Silva Roque, 42, was scheduled to start next week. Prosecutors say Roque drove to a gasoline station Sep. 15, 2001, and fatally shot owner Balbir Singh Sodhi, who wore a turban in accordance with his Sikh faith. He may have been mistaken for an Arab, prosecutors say."
---
"Roque's attorney is planning to present a 'guilty but insane' defense and says his client is schizophrenic. Prosecutors are seeking the death penalty, which cannot be applied if a jury decides Roque was insane. If a jury finds he was insane, he could face life in prison, or he could be released when doctors determine he is no longer a threat. The court also gave the defense more time to learn new procedures following a Jun. U.S. Supreme Court decision that juries, not judges, should determine whether the death penalty is warranted."
---

- Top -
Human Rights Hypocrisy

By CINNAMON STILLWELL

ChronWatch, Nov. 6, 2002

"Last week Human Rights Watch finally issued a report calling Palestinian suicide bombings what they are, crimes against humanity, and placing the responsibility for stopping them on Arafat and the Palestinians."
---
"It has become quite obvious that Human Rights groups are not, as they claim, broadminded arbiters of international order. In fact, they have consistently shown a strong bias in support of Third World countries, especially Arab dictatorships, and an equally strong bias against America, and most particularly Israel. Because of this double-standard, the Human Rights Watch report, the only one so far to lay any blame on the Palestinians, is encouraging to those of us long concerned about this unfairness."
---

- Top -
Korean Human Rights in Retreat

EDITORIAL

The Korea Herald, Nov. 6, 2002

"Torture resulting in death used to occur under dictatorial military rulers, but Koreans believed their country had long outgrown that sort of barbarity. So the latest incident, in which interrogators beat a murder suspect to death at nowhere else than a prosecutor's office, is all the more shocking and disheartening. After all, it happened under the human rights government led by a Nobel Peace Prize laureate. President Kim Dae-jung was right in firing his justice minister and top prosecutor, but that should only be a first step."
---

- Top -
Gore Vidal Says Oil Thirst Behind Bush Policies

By ROBERTO BONZIO

Reuters, Nov. 5, 2002

"Controversial U.S. author Gore Vidal said Tuesday President Bush organized last year's invasion of Afghanistan to gain control of nearby oil and natural gas resources rather than to fight terror. . . . Vidal, 77, who has written a series of historical novels as well as numerous books and essays critical of U.S. policies, argued that the invasion of Afghanistan had little to do with hunting Al Qaeda. . . . 'We conquered Afghanistan in order to put in a pipeline,' Vidal said. 'We captured Afghanistan because that is the gateway to Caspian Sea oil.' . . . Vidal, one of contemporary America's harshest critics, was also scathing about the U.S. media, accusing them of misinformation."
---

- Top -
Anti-terror Laws Threaten Human Rights

By STAFF

Reuters, Nov. 5, 2002

"A U.N. special envoy [Hina Jilani, the special representative for U.N. Secretary-General Kofi Annan on human rights defenders] expressed concern on Tuesday that a growing number of countries around the world were adopting post-Sep. 11 anti-terrorism strategies that threatened basic human rights."
---
"The United States, Britain, Australia, Indonesia, Colombia and Guatemala were among the countries that concerned her because of anti-terrorism laws and actions taken after the Sep. 11, 2001 attacks that killed about 3,000 people in the United States, she said. . . . She also singled out Pakistan."
---
"While she understood governments' need to protect their citizens from terror attacks, 'I very firmly believe that the imperatives of security will not be served by violating human rights, and by undermining and derogating the standards that we have already adopted,' she said."
---

- Top -
Islamist Revival in Turkey

By ROBERT FISK

The Independent, Nov. 5, 2002

"To its shame, Turkey has never admitted its genocide against the Armenians in which 1.5 million of its Christian Ottoman citizens were massacred in the First World War. Even in the Second World War, it contrived to levy massive taxes against its non-Muslim population, especially Jews. (Its Israeli ally now forgets all this, joining Turkey in its denial of the Armenian genocide.)"
---
"If the army wants a new E.U. Turkey, free of pointless disputes about headscarves in parliament and alcohol in municipal restaurants (the 'secular' Mr. [Recep] Erdogan [leader of the Justice and Development Party (AKP) with the parliamentary majority resulting from the elections just concluded] banned the latter during his previous incarnation as mayor of Istanbul), it also wants to wash the blood of 30,000 Turkish Kurds off its hands, the death toll in its ferocious war against the Kurdish insurrection in the south-east of the country in the 1990s. Having been spared President Bush's moral outrage for such an atrocity, it also needs to clean up its record after 2,000 'disappearances' of intellectuals, journalists and Kurdish politicians during the same 'cleansing' operations."
---

- Top -
Sikhs Celebrate Diwali

By GURDEV SINGH

Reuters, Nov. 5, 2002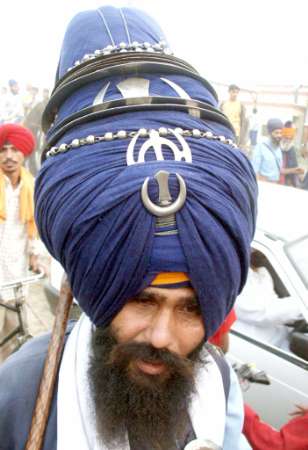 "A [Nihang] Sikh attends a Diwali fair in the northern Indian city of Amritsar, Nov. 5, 2002. Sikhs celebrate Diwali, the Hindu festival of lights, as they believe the faiths' sixth Guru, Sri Guru Hargobind Dev Ji, who was held as a prisoner along with many Hindu kings [at Gwalior Fort], was released from a fort by India's then Islamic rulers [Jahangir] on the occasion of Diwali sometime between 1617 and 1619."
---

- Top -
Hindus and Sikhs Unite for Festival of Lights

By JULISSA McKINNON

The Oakland Tribune, Nov. 5, 2002

"Diwali is the only Indian festival celebrated by both Hindus and Sikhs."
---
"The only major difference between the Sikh and Hindu holiday is the story of Diwali's origin. According to the Ramayana - a sacred Hindu text - Diwali commemorates the homecoming of Ram, the human incarnation of the god Vishnu, after he killed the demon king Ravan. The people of Ayodhya illuminated Ram's kingdom with oil lamps and firecrackers to hail his return."
---
"The Sikh story behind Diwali is different, said Sikh priest Balwinder Singh. He paused during his prayer inside the Hayward gurdwara to explain: For Sikhs, Diwali celebrates the liberation of the sixth Sikh Guru, Hargobind Sahib. According to Sikh teaching, Hargobind and 52 Hindu kings were imprisoned by the Muslim emperor Jahangir, who ruled India in the early 1600s. Diwali celebrates the day the Guru and the kings were freed [sometime between 1617 and 1619], and thousands of Indians lined their roofs with candles and lamps, guiding the Guru home to Amritsar, where the famous Sikh 'Golden Temple' [Darbar Sahib] stands today."
---

- Top -
Sikhs Target Hitman Video Game

By ASHFAQUE SWAPAN

India-West, Nov. 5, 2002

"Sixty-five Sikh organizations in the U.S., Canada and the United Kingdom have mounted a protest against 'Hitman 2: Silent Assassin,' a new video game [from U.K.-based video game maker Eidos] that the groups charge is racist and 'shows a deliberate lack of decency and sensitivity to Sikhs,' reports India-West."
---

- Top -
Sikh Parade Honors Faith in Yuba City

By TOM NADEAU

The Sacramento Bee, Nov. 4, 2002

"More than 30,000 Punjabi-American Sikhs, hailing from Turlock, Antioch, New York and other points, turned out Sunday for the 23rd annual parade marking the establishment of their religion, Yuba City Sikh Temple organizers estimated."
---
"The parade is believed to be the largest single gathering of Sikh faithful on the West Coast, and many of the visitors have been coming to Yuba City for years to take part in the event, which celebrates not only the religion, but the unique culture that surrounds it."
---

- Top -
Significance of the Sikh Turban

By RUCHICA CHAWLA

Appeal-Democrat, Nov. 3, 2002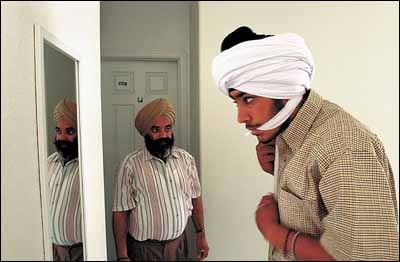 "Jaskaran Singh Johal of Yuba City began his sophomore year this fall at Yuba City High School with one significant change - Johal now wears a bigger turban, a sign of his maturity. 'I will be wearing it daily from now on,' he said. 'When you start getting your facial hair is when you start wearing the bigger turban, because (the turban) looks better with a beard; and it's a sign of entering manhood. 'I wear the turban to keep the tradition going,' he said. The history of the turban worn by most Sikhs dates back to the late 1600s to early 1700s. The turban, made of fine muslin, evolved as a means of managing long hair, which is left uncut as a sign of respect for the God-given form; the turban's color and its shape when tied are a matter of personal preference. The turban is wrapped around the already in-place cloth, over the bun of hair on top of the head."
---
"Surprisingly, Johal says it is the other Indian boys who pick on him for wearing a turban, rather than his non-Indian peers. Johal has not experienced any backlash from the Sep. 11, 2001, attacks, and believes it's because people understand that his religion does not preach violence. Per tradition, Johal's father explained the history, importance and value of the turban at an early age, when Johal began to wear the smaller turban, commonly called the ghutti. There is no special meaning behind the three main sizes of the turban, just common names to differentiate them. The size of the turban depends on the length of the hair, so the older the person, the longer the hair, the bigger the turban. The colors orange, black and blue are more commonly worn to the temple for services. Red turbans are worn at weddings and black ones at funerals. Other than these occasions, any color of the turban can be worn on a daily basis."
---
"The symbolism of wearing a turban ranges from being a symbol of sovereignty, dedication or self-respect to one of courage or piety. Since ancient times, the turban has been of significant importance in Punjab, the birthplace of Sikhism. There was a time when only kings, royalty and those of high stature wore turbans. Two people would trade their turbans to show love or friendship toward each other. Since the time of Guru Nanak, founder of Sikhism, the turban has been an integral part of the Sikh tradition. Historical accounts indicate that all Sikh Gurus wore turbans. The turban today serves as a mark of commitment to the Sikh Gurus and declares that the Sikh wearing a turban is a servant of the Divine Presence."
---

- Top -
Armyman Arrested for Stealing Canon Shell

By PTI

Outlook, Nov. 3, 2002

"Police have arrested an armyman on the charges of stealing a canon shell and passing it on to the militants belonging to Sikh separatist outfit Khalistan Liberation Force, a senior police official said today. Senior Superintendent of Police Naresh Kumar Arora said they arrested Avtar Singh, a resident of Bhattian village in Gurdaspur district who was deployed in the 171 field regiment and had stolen the 25 kg shell from the Army's artillery in 1991-92."
---

- Top -
The Chechen Story

By ERIC S. MARGOLIS

The Toronto Sun, Nov. 3, 2002

"Russia has come under heavy international criticism for using a modified anesthetic, Fentanyl, against the assailants [Chechen fighters who seized 700 hostages in a Moscow theatre]. Yet Russian security forces were right to use an opiate gas in a hostage-taking where the attackers were ready to detonate powerful explosives and kill all 700 captives. Tragically, the operation was badly executed. Worse, security forces refused to tell hospitals what gas they had used. . . . One fascinating reason for trying to keep the gas secret: In 1988, a C-130 carrying President Zia ul-Haq of Pakistan was sabotaged by a still mysterious gas. The aircraft went out of control and crashed, killing Zia - who was primarily responsible for defeating the Soviets in Afghanistan. The Soviet KGB, which often employed chemical weapons, remains the prime suspect in the assassination. The same potent Fentanyl derivative may have been used to quickly render the air crew and passengers unconscious."
---
"There is no excuse for taking civilians hostage. The Moscow outrage was an act of terrorism, as Russia insists. But it was a smaller act of terror within a greater one: Moscow's ongoing war to crush the Chechen independence movement, an inconvenient cause ignored by the outside world. The hostage-taking in Moscow was a desperate act by desperate people without voice or hope. The Chechen, a Muslim people of the Caucasus Mountains, have fiercely battled Russian occupation for 300 years. In hidden genocide during the 1940s, Stalin had thousands of Chechen shot and 500,000 (half the population) sent in cattle cars to frigid Central Asian concentration camps, where 25% died. Survivors of Stalin's gulag filtered back to Chechnya in the 1960s."
---
"When the Soviet Union collapsed in 1991, Chechnya, led by Gen. Jhokar Dudayev, declared independence. While Moscow allowed other republics independence, Chechen were denied freedom because of important oil pipelines that ran through their territory and Kremlin fears other Muslim peoples of the Caucasus would seek independence."
---
"In 1994, Boris Yeltsin ordered an invasion of breakaway Chechnya. Much of the cost of the war was financed by the United States, which sought to support Yeltsin against his domestic political enemies. President Bill Clinton even called Yeltsin 'Russia's Abraham Lincoln.' In a near military miracle, lightly-armed Chechen fighters defeated and drove out the Russian army, but at appalling cost. Russia razed the Chechen capital, Grozny, and killed an estimated 100,000 civilians. President Dudayev was assassinated by the Russians, thanks to secret electronic equipment supplied to the KGB by the U.S."
---
"In 1996, Russia granted Chechnya de facto recognition and promised a referendum within five years to decide its future. Chechnya seemed free. But in 1999, in an eerie harbinger of the 9/11 attacks on the U.S., a series of mysterious explosions destroyed apartment buildings in Russia, killing 300 people. Then-prime minister Vladimir Putin, a former KGB officer, blamed 'Islamic terrorist' Chechens 'linked to bin Laden.' Russia was swept by nationalist fury and anti-Chechen hatred. When a FSB (formerly KGB) team was caught planting bombs in another building, and a KGB officer blamed the bombings on the war party in Moscow, the news was hushed up. Putin became president, almost by acclamation, and promptly ordered another invasion of Chechnya."
---
"In the second Chechen war, 60,000 civilians have so far died in Russian shelling and bombing, according to Chechen sources; 170,000 are refugees. The tiny nation has been shattered, covered with mines, and turned into a nightmare free-fire zone for 80,000 badly disciplined, often drunken Russian soldiers and Interior Ministry troops, who are paid special monthly bonuses to fight in Chechnya. In spite of massive firepower, including devastating fuel air explosives and carpet bombing, Russian forces have failed to crush small bands of fierce Chechen mujahedin. In mass roundups called zachistki, Russians seize all male Chechens over 16, routinely torture and, often, execute them. International rights groups accuse Moscow of widescale murder, torture, rape, and looting. Foreign and Russian journalists who try to report the ugly truth about this conflict are killed or silenced. Russia has lost an estimated 10,000 soldiers, 66% of their total losses in Afghanistan."
---
"If America truly cared about human rights, it would be encouraging Moscow to set the Chechen free instead of turning a blind eye to what the rights group, the International Helsinki Federation, calls a second attempted genocide against this tortured, forgotten people."
---

- Top -
Mistry Cancels U.S. Book Tour Over Racial Profiling

By PTI

Outlook, Nov. 3, 2002

"Indian-born Canadian author Rohinton Mistry, recently nominated for the Booker Prize, said he cancelled the last half of his U.S. book tour due to racial profiling at U.S. airports, local media reported. Mistry, whose most recent book Family Matters was nominated this year for the coveted Booker Prize which went to fellow Canadian Yann Martel, said he was extremely unhappy about his treatment at U.S. airports. The cancellation of book tour stops to Chicago; San Francisco; Boston; Salt Lake City, Utah; Iowa City and Madison, Wisconsin - according to The Globe and Mail - comes after Canada strongly protested a recent U.S. regulation to register certain Middle East born people traveling in the United States."
---
"While Mistry was not born in one of the countries targeted nor is he Muslim, he and his wife were treated rudely at U.S. airports, an official with his U.S. publisher Alfred A Knopf told the paper. 'As a person of colour he was stopped repeatedly and rudely at each airport along the way - to the point where the humiliation for both he and his wife has become unbearable,' Sonny Mehta, his New York publisher, told the paper, which apparently broke the story yesterday. Under new procedures, U.S. immigration officials must track the U.S. arrival and departure of people born in 25 predominantly Arab and Muslim countries and now can require them to be photographed and fingerprinted. India does not figure in this list of nations."
---

- Top -
Sikhs Celebrate Founding of Darbar Sahib

By AMAN SHARMA

The Associated Press, Nov. 1, 2002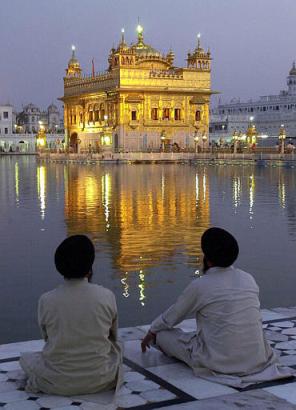 "Muslim saint Mian Mir laid the foundation stone of the shrine in 1589."
---

- Top -
Sikh Pair Must Stand Trial on Air-India Count

By ROBERT MATAS

The Globe and Mail, Nov. 1, 2002

"British Columbia businessman Harjit Singh Atwal and trucker Ranjit Singh Randhawa have been ordered to stand trial on a charge of obstructing justice by trying to silence a potential witness in the Air-India bombing case. Provincial Court Judge William Stewart ruled yesterday that the evidence was sufficient for a reasonable jury to consider a conviction. A date for their trial is to be set on Nov. 28."
---

- Top -
The Liberal Argument for Regime Change

By SALMAN RUSHDIE
Salman Rushdie is author of the Booker Prize-winning novel Midnight's Children.

The Washington Post, Nov. 1, 2002

"Will the American and European left make the mistake of being so eager to oppose Bush that they end up seeming to back Saddam, just as many of them seemed to prefer the continuation of the Taliban's rule in Afghanistan to the American intervention there?"
---
"The complicating factors, sadly, are this U.S. administration's preemptive, unilateralist instincts, which have alienated so many of America's natural allies. Unilateralist action by the world's only hyperpower looks like bullying because, well, it is bullying. And the United States' new preemptive-strike policy would, if applied, make America itself a much less safe place, because if the United States reserves the right to attack any country it doesn't like the look of, then those who don't like the look of the United States might feel obliged to return the compliment. It's not always as smart as it sounds to get your retaliation in first."
---
"Also deeply suspect is the U.S. government's insistence that its anti-Saddam obsession is a part of the global war on terror. As Al Qaeda regroups, attacking innocent vacationers in Bali and issuing new threats, those of us who supported the war on Al Qaeda can't help feeling that the Iraq initiative is a way of changing the subject, of focusing on an enemy who can be found and defeated instead of the far more elusive enemies who really are at war with America."
---
"The connection between Saddam and Al Qaeda remains comprehensively unproven, whereas the presence of the Qaeda leadership in Pakistan, and of Qaeda sympathizers in that country's intelligence services, is well known. Yet nobody is talking about attacking Pakistan."
---
"It should, however, be said and said loudly that the primary justification for regime change in Iraq is the prolonged suffering of the Iraqi people, and that the remote possibility of a future attack on America by Iraqi weapons is of secondary importance. A war of liberation might just be one worth fighting. The war that America is currently trying to justify is not."
---

- Top -
Quantifying India's Corruption

By KHUSHWANT SINGH
Khushwant Singh is India's iconic octogenarian author, editor, parliamentarian, and most widely read syndicated columnist.

The Hindustan Times, Nov. 1, 2002

"[T]ake a look at the special issue of Common Cause, entitled Our India: Political, Administrative, Judicial Systems and Scams, Scandals, Stigmas by H.D. Shourie. This man has done more than anyone else to put our country back on the rails of progress through a series of public interest litigations in the Supreme Court. . . . His son Arun Shourie is a minister of the central cabinet and like his father, a man of impeccable integrity and ability."
---
"Chandra Shekhar grabbed 51 acres of panchayat land till the Supreme Court deprived him of it. Rajiv Gandhi's name is still on the list of people who got money on defence deals. I.K. Gujral, Narasimha Rao and H.D. Deve Gowda have even now over 150 security guards and fleets of cars and a bungalow each in Delhi - all at the cost of the public exchequer, costing Rupees 42 crore [4.2 million] a year."
---
"[W]hile other democracies have two, three or at the most five or six parties, Bharat [India], which is mahaan [great], has 537. . . . The Central Vigilance Commission has published long lists of corrupt bureaucrats; several senior police officers are behind bars for heinous crimes. Our judicial system is also in a mess. It takes 10 to 20 years for simple cases to come to an end. The list of pending cases is over 25 million and gets longer by the day."
---

- Top -
The Bush Administration Is Out of Control

By JOHN PILGER
John Pilger, an Australian-born, London-based journalist, filmmaker, and two-time winner of the highest award in British journalism, in an interview with David Barsamian.

The Progressive, Nov., 2002

"[T]here are fundamentalists, Christian fundamentalists, who appear to be in charge of the White House at the moment. . . . The Daily Mirror polled its readers and 90 percent were opposed to an attack on Iraq. Overall, opinion polls in this country are running at about 70 percent against the war. [British Prime Minister Tony] Blair is at odds with the country."
---
"All of Bush's extremism comes from the Reagan years. That's why people like [Richard] Perle [Assistant Secretary of Defense in Reagan's Pentagon], [Paul] Wolfowitz [Deputy Secretary of Defense], and other refugees from that period have found favor again. I singled out Perle in the book because I thought he rather eloquently described the policies of the Bush regime. Sep. 11 has given these people, this clique, an opportunity from heaven. They never really believed they would have the legitimacy to do what they are doing. They don't, of course, have legitimacy because most of the world is opposed to what they are doing. But they believe it has given them if not a legitimacy then a constituency in the United States."
---
"I don't regard them as an elected group. It's quite clear that Gore won most of the votes. I think the accurate description for them is a military plutocracy. . . . It's very clear that the Bush Administration is out of control. It contains some truly dangerous people."
---
"I'm absolutely convinced of that. Israel is the representative of the United States in that part of the world. . . . If I were a teacher, I would recommend that all my students very hurriedly read most of [George] Orwell's books, especially 1984 and Animal Farm, because then they'd begin to understand the world we live in. . . . [O]ne of the most potent assumptions [journalists make today] is that the world should be seen in terms of its usefulness to the West, not humanity. This leads journalists to make a distinction between people who matter and people who don't matter."
---

- Top -
Imminent Threat to America

By DENNIS KUCINICH
Representative Dennis Kucinich, Democrat of Ohio, is head of the Progressive Caucus in Congress.

The Progressive, Nov., 2002

"During the Administration of Ronald Reagan, sixty helicopters were sold to Iraq. Later reports said Iraq used U.S.-made helicopters to spray Kurds with chemical weapons. According to The Washington Post, Iraq used mustard gas against Iran with the help of intelligence from the C.I.A. Iraq's punishment? The United States reestablished full diplomatic ties around Thanksgiving of 1984. Throughout 1989 and 1990, U.S. companies, with the permission of the first Bush Administration, sent to the government of Saddam Hussein mustard gas precursors and live cultures for bacteriological research. U.S. companies also helped to build a chemical weapons factory and supplied the West Nile virus, fuel air explosive technology, computers for weapons technology, hydrogen cyanide precursors, computers for weapons research and development, and vacuum pumps and bellows for nuclear weapons plants. 'We have met the enemy,' said Walt Kelly's Pogo, 'And he is us.' "
---
"The only weapon that can save the world is nonviolence, said Gandhi. We can begin this practice today by calling upon the Administration in Washington to stop the talk of war, and stop the planning for war. . . . We know that each day the Administration receives a daily threat assessment. But Iraq is not an imminent threat to this nation. Forty million Americans suffering from inadequate health care is an imminent threat. The high cost of prescription drugs is an imminent threat. The ravages of unemployment is an imminent threat. The slowdown of the economy is an imminent threat, and so, too, the devastating effects of corporate fraud."
---

- Top -
America Has No Economic Presence in Afghanistan

By AHMED RASHID
Ahmed Rashid is a journalist based in Lahore, Pakistan. He has been covering Afghanistan, Pakistan, and Central Asia for more than twenty years for The Far Eastern Economic Review and The Daily Telegraph. He is the author of Taliban (Yale University Press), a book that has sold a million copies and has been translated into more than twenty languages. His latest book is Jihad: The Rise of Militant Islam in Central Asia (Yale). He made the following comments in an interview with David Barsamian.

The Progressive, Nov., 2002

"During the Administration of Ronald Reagan, sixty helicopters were sold to Iraq. Later reports said Iraq used U.S.-made helicopters to spray Kurds with chemical weapons. According to The Washington Post, Iraq used mustard gas against Iran with the help of intelligence from the C.I.A. Iraq's punishment? The United States reestablished full diplomatic ties around Thanksgiving of 1984. Throughout 1989 and 1990, U.S. companies, with the permission of the first Bush Administration, sent to the government of Saddam Hussein mustard gas precursors and live cultures for bacteriological research. U.S. companies also helped to build a chemical weapons factory and supplied the West Nile virus, fuel air explosive technology, computers for weapons technology, hydrogen cyanide precursors, computers for weapons research and development, and vacuum pumps and bellows for nuclear weapons plants. 'We have met the enemy,' said Walt Kelly's Pogo, 'And he is us.' "
---
"The U.S., by failing until now to allow for the expansion of the I.S.A.F. [International Security Assistance Force] to other cities and by failing to take the lead in helping reconstruct the country and urging other Western nations to provide fast-moving funding, has created a precarious situation. There is an impasse. The warlords are stronger than they were some months ago. The Tajiks are more in control, more decisive and more unwilling to compromise, the central government authority has actually shriveled and not expanded outside Kabul. The situation can only be changed if the U.S. is willing to play a leadership role amongst the Western donors, essentially by expanding I.S.A.F. by whatever means and getting money and reconstruction projects into the country fast and in particular into the Pashtun belt."
---
"Karzai's strategy, which is questionable, has been to try to bring the warlords into Kabul and to persuade them to leave their fiefdoms. He's given a lot of senior posts to them, but many have refused his offers. . . . The real problem for Karzai is extending the writ of the central government. It is a political issue, but more than that, it's an economic issue. Unless Karzai can say, 'Either you behave or I have money and I can build a road in your area. Either you behave and join the central government and cooperate with me, or I won't build this road, I'll build it somewhere else,' he won't have any clout. The fact is, he has no money. As long as this continues, the warlords know Karzai is extremely weak."
---
"Immediately after the fall of Mazar-e-Sharif and Kunduz to the Northern Alliance, it was well documented that large numbers of Taliban prisoners suffocated to death as they were being transported in sealed containers from Kunduz and Mazar to Sheberghan. Amnesty International, the American-based Human Rights Watch, documented all this. Because the war was on, and defeating the Taliban was the main priority, this was ignored. Newsweek has presented considerable new evidence. And Physicians for Human Rights has unearthed mass graves. Clearly, something has to be done. The Afghan government actually condemned the mass killing and said that they would help any kind of investigation. But this is a very difficult issue. All the main perpetrators are part of the government."
---
"Afghan farmers have no access to other seeds, other crops, irrigation, tools, and all the other incentives that are needed to wean themselves from a black-market economy [i.e. drugs, poppies]. That again is part of the reconstruction effort."
---
"There's no doubt that the Al Qaeda have taken refuge not just in the tribal areas but also in Pakistan. . . . Rooting out Al Qaeda in Pakistan now is where the main battle is being fought. And it's a very difficult one. . . . I think the real problem is that there has been some disingenuity by Musharraf himself. He is, for example, cracking down on Al Qaeda. Pakistan has delivered to the Americans over 300 hundred of the 900-plus people incarcerated in Guantanamo Bay. At the same time, he's backsliding on the pledges he's made to Pakistanis and to the West about containing the larger Islamic parties, which are equally important. The reason he's been backsliding on that is because they are involved in fighting in Kashmir, and the army needs these groups' support for the war in Kashmir and for confronting India. It's a mixed bag. Musharraf is walking a very fine line."
---
"There is no way the Americans are going to be able to carry out a full scale war against Iraq and at the same time maintain the same kind of pressure on the Al Qaeda network in countries as diverse as Indonesia, Philippines, and Pakistan, as well as in Europe."
---

- Top -
Mann Serves Ultimatum on Centre

By PTI

The Hindustan Times, Oct. 31, 2002

"S.A.D. (A) President and member of Lok Sabha Simranjit Singh Mann on Thursday served an ultimatum on the Centre to either lift the ban on sending Sikh Jathas to Pakistan by Nov. 8 or face worldwide protests by his party. Addressing a press conference here, he claimed that the party units had been beefed up in Europe and other countries, including America, and Indian embassies would not be allowed to function on the day of agitation for which the date would be announced after the deadline of Nov. 8."
---
"A demonstration would also be held on that day outside Jalandhar Passport Office, he said. Mann had already written a letter to Deputy Prime Minister L.K. Advani for allowing Sikh Jatha to visit Pakistan on Guru Nanak Dev's birth anniversary on Nov. 19. He had been invited by Sham Singh, co-chairman of Pakistan Sikh Gurdwara Parbhandhak Committee (P.S.G.P.C.) to visit Nankana Sahib on Nov. 19."
---

- Top -
Israel's Lack of Human Dignity Contradicts Judaism

By ALOUPH HAREVEN
Alouph Hareven is co-director of Sikkuy, the Association for the Advancement of Human Dignity.

Ha'aretz, Oct. 31, 2002

"Human dignity is a profound human need of every person in every society, to be recognized for their value as a human being, and to be assured that they will not be harmed or humiliated. It is also a high value in Judaism. According to Chief Rabbi Eliahu Bakshi Doron, protecting human dignity is the most important of all the commandments, since any harm done to human dignity is harm to a person created in the image of God. Supreme Court President Justice Aharon Barak says the Basic Law for Human Dignity and Liberty is the leading law that integrates the values of Israel as a Jewish and democratic state."
---
"The enormous difficulty that Israel must deal with is that we are far from being a state that respects human dignity. . . . Russian and Ethiopian immigrants complain of humiliating treatment by native-born Israelis. . . . [F]or 35 years the experience of most Palestinians in the territories has been and remains humiliation by Israelis. Former Shin Bet chief Ami Ayalon and various Palestinian public figures repeatedly say that humiliation was, and remains, the main reason for the intifada - humiliation at the checkpoints, on the roads, even in their homes. All this is expressed in public opinion polls that confirm most people believe the leading attributes of Israelis are rudeness, arrogance, noisiness, impatience, intolerance, and chutzpah."
---
"The Israeli tragedy is that at the state level, there is no practical commitment to advance human dignity as a value with which to lead the country. . . . The difficult question for the future of the county is whether the state of the Jewish people that does not respect human dignity is not a contradiction of its very Judaism."
---

- Top -
1984 Sikh Massacres Have Been Reduced to Political Fodder

By U.N.I.

Sify News, Oct. 31, 2002

"Eighteen years on and each year leaders of different parties condemn the bloodshed of Sikhs in the wake of the assassination of Prime Minister Indira Gandhi, shooting memoranda to Government and squatting on the streets as a mark of 'protest.' The saga of commissions and committees set up to determine the causes, consequences, deaths, prosecutions, compensation and disciplinary action relating to the 1984 carnage began that year itself and continues to this day. According to official figures, 2,733 Sikhs were brutally killed, burnt or slaughtered in the capital within 72 hours. Countless others were injured, women raped and hundreds of homes and shops looted and destroyed."
---
"The massacres sparked widespread protests for years - and ironically many small-time politicians swept to public prominence by holding annual sit-ins for 'speedy justice to the survivors.' Today also, the B.J.P. held a Protest Day, coinciding with the death anniversary of the slain Prime Minister, to 'highlight the Sikh community's sufferings during the 1984 riots.' Delhi B.J.P. chief Madan Lal Khurana met Deputy Prime Minister L.K. Advani to demand that the report of the Justice Nanavati Commission - the latest in the series of enquiries into the anti-Sikh carnage - be submitted at the earliest. 'I do not believe in protests . . . they have become a racket in India,' remarked columnist and author Patwant Singh. He disapproved of such acts as 'ridiculous' and alien to 'civilised conduct.' At the same time, Patwant Singh blamed what he called 'absence of integrity of intention' in delivering justice to the survivors of the pogrom."
---
" 'Not a single man has been hanged 18 years after Sikhs were burnt alive on streets of Delhi. Howsoever critical of the United States we may be, we should appreciate its justice-delivery system, an example of which is the death sentence to a man who killed a Sikh Arizona gas station owner, Balbir Singh Sodhi, in reprisal to 9/11,' said Patwant Singh while speaking to U.N.I. The author, however, expressed optimism that the Nanavati Commission would provide valuable insights into the anatomy of the 1984 tragedy. 'I was the first witness to depose before the Nanavati Commission which has since examined a number of witnesses, including former Prime Ministers, politicians, police and administrative officials.' "
---

- Top -
Selective Terrorism Is Still Terrorism

EDITORIAL

Ha'aretz, Oct. 31, 2002

"Palestinian terrorists are adopting the approach that Israelis living beyond the Green Line, or who happen to be there, are legitimate targets. . . . Hani al-Hassan [veteran Fatah leader and the new interior minister in charge of the PA's security forces], who is supposed to represent the reform in the Palestinian Authority which elected a new cabinet the day before yesterday, is legitimizing perpetrators of violence against innocent people - in essence, terrorist acts. . . . The objection in the left and center to the very existence of West Bank settlements, the argument between the defense minister and prime minister on the size of the settlements' budget, even the violent clash between settlers and security forces on Havat Gilad, do not imply any understanding - much less agreement - that Israelis living in the territories are legitimate targets."
---
"As long as the Palestinian organizations try to distinguish between groups of Israelis on a geographic or political basis and use terror against some of them, while negotiating with the others - they will find themselves up against a total Israeli solidarity that rejects this approach out of hand. The Israeli public will support, by a large majority, a political move intended to settle the dispute peacefully, yet will stand up to fight against terrorism wherever it is."
---

- Top -
George Bush Has Misled the American Public

By ROBERT JENSEN
Robert Jensen is an associate professor of journalism at the University of Texas at Austin, a member of the Nowar Collective, and author of the book Writing Dissent: Taking Radical Ideas from the Margins to the Mainstream and the pamphlet Citizens of the Empire.

Outlook, Oct. 30, 2002

"George Bush HAS misled the American public. He IS misleading the American public, and we can assume he WILL continue to mislead the public."
---
"Remember when Donald Rumsfeld told a congressional committee that Iraq kicked out U.N. weapons inspectors in 1998? That's a lie. The head of the inspection team pulled the inspectors out after being informed that the Clinton administration was going to proceed with Operation Desert Fox, its illegal bombing of Iraq."
---
"[R]emember Rumsfeld's declaration that the U.S. had 'bulletproof evidence' of a connection between Iraq and Al Qaeda? For a bulletproof story, there certainly are a lot of holes, including a report from Czech President Vaclav Havel that suggests there is no evidence, at least of the long-rumored meeting between one of the 9/11 hijackers and an Iraqi intelligence officer in Prague."
---
"Take the so-called no-fly zones, in the north and south of Iraq, where U.S. and U.K. planes patrol the skies and bomb Iraqi targets at will. The U.S. claims these zones are authorized by U.N. Security Council resolutions. That the rest of the world disagrees and sees it as a violation of Iraqi sovereignty is of little concern to the U.S. Power means your alternative explanation can't be challenged."
---
"In 1857, the great Frederick Douglass made it clear that: 'If there is no struggle there is no progress. Those who profess to favor freedom, and yet deprecate agitation, are men who want crops without plowing up the ground, they want rain without thunder and lightning, they want the ocean without the awful roar of its many waters. This struggle may be a moral one; or it may be a physical one; or it may be both moral and physical; but it must be a struggle. Power concedes nothing without a demand. It never did and it never will.' "
---

- Top -
Only Democracy Can Alleviate Arab Poverty of Dignity

By THOMAS L. FRIEDMAN

The New York Times, Oct. 30, 2002

"Americans have a real stake in Bahrain's democratic experiment working and influencing others. Why? Look, no one should doubt that the rage boiling among Arab youth today - which exploded on 9/11 - is due in part to anger at U.S. support for anything Israel does. That anger is real. But the rage is also the result of the way too many Arab regimes, backed by America, have kept their young people without a voice or the tools to succeed in the modern world. Too many young Arabs feel humiliated when they compare themselves with others, and it is their poverty of dignity that also prompts them to lash out."
---

- Top -
Mann to Protest Against Ban on Visit to Gurudwaras in Pakistan

By STAFF

Sify News, Oct. 30, 2002

"Akali Dal (Amritsar) president Simranjit Singh Mann, M.P., today threatened to launch a morcha (agitation) against the Centre if Sikh religious bodies were not allowed to resume pilgrimage to Pakistan Gurdwaras by Nov. 8. He took strong exception to the rejection of one such request made by Delhi Sikh Gurdwara Management Committee (DSGMC) chief Paramjit Singh Sarna by Deputy Prime Minister L.K. Advani."
---
" 'It was a sheer violation of the Nehru-Liyaqat Ali Pact of 1950s which allowed four pilgrim tours a year to Sikh historic shrines in Pakistan, the cradle of the faith, in a year,' Mann said in a statement. The Akali leader said his party would hold a dharna (sit-in) and a demonstration in front of the Passport Office in Jalandhar. Akali Dal (Amritsar)'s overseas units, he added, would organise protests in front of Indian Missions abroad, particularly in Britain, Canada and the U.S."
---
"Mann also criticised former Punjab Chief Minister Parkash Singh Badal for not taking up this Sikh religious issue with the Centre despite being a partner in the N.D.A. coalition. 'The rulers of the day have conveniently forgotten the promises made to the Sikhs during the freedom struggle that they will enjoy 'the glow of freedom' [reference to a promise made to the Sikhs by Jawaharlal Nehru in place of an independent state] for their sacrifices,' Mann said."
---

- Top -
The Real Left Needs to Stand Up and Be Counted

By TODD GITLIN
Todd Gitlin is a professor of journalism and sociology at Columbia University. His most recent book is Media Unlimited: How the Torrent of Images and Sounds Overwhelms Our Lives. Next spring, Basic Books will publish his Letters to a Young Activist.

Outlook, Oct. 29, 2002

"The sponsors of what's being billed as a national anti-war demonstration in Washington on Oct. 26, and their eminence grise, Ramsey Clark, express no displeasure with Saddam Hussein. Their world is two-toned and, as with the Old Left at its worst, it's always clear who's wearing the black hats. (Ramsey Clark belongs to the International Committee to Defend Slobodan Milosevic, after all.) . . . Clark and others of his mindset are not only morally tainted, they're doomed. And the antiwar movement is doomed if they are allowed to lead it."
---
"Marc Cooper, that rare journalist of the left who calls know-nothings by their proper name, put it bluntly and well in the Los Angeles Times on Sep. 29 (A Smart Peace Movement Is MIA), writing that 'If the left is not for war against Hussein and is also opposed to economic sanctions, what is it for? If the left is for containment instead of invasion, then isn't it the U.S. armed forces that must do the containing? . . . If, at the end of the day, Hussein does foil weapons inspections, what is to be done then?' "
---
"Right now, the hard left is in charge by default, and the antiwar movement is lame on arrival as a result. If sensible antiwar forces make a valiant effort to speak outward to the American public, not upward to the gods of the hollow left, then and only then will we stand a chance of usefully weighing in against the rush to war."
---

- Top -
B.J.P. (Delhi) to Observe Anniversary of Sikh Massacres as Rosh Divas

By PTI

Outlook, Oct. 29, 2002

"The Delhi unit of the B.J.P. today said it would commemorate the anniversary of 1984 Sikh riots as Rosh Divas [Protest Day]. 'We want to express our protest and anguish at the heartless massacres of Sikhs in 1984 and urge the authorities to ensure that justice is meted out,' Vice President of state B.J.P., Harsharan Singh Balli told reporters here."
---
"He, however, denied that this move was aimed at pressurising the Nanavati Commission to submit its report soon. 'This is not a protest against the Commission, it is a protest against the massacres,' Balli said, adding that a delegation from the state unit would be meet Deputy Prime Minister L.K. Advani in this regard soon. B.J.P. state chief Madan Lal Khurana, was also present."
---

- Top -
B.J.P. Eyes Votes, Takes Up 1984 Victims' Cause

By STAFF

The Indian Express, Oct. 29, 2002

"Delhi B.J.P. has decided to take up the cause of 1984 riot victims with a vengeance. The avowed objective is delivery of justice for victims of the anti-Sikh riots but the target is the Congress, which the B.J.P. painted today as the perpetrators of the worst communal carnage in Indian history. 'I will take up the matter of the riot victims with Deputy Prime Minister L.K. Advani next week and ask for early submission of Nanavati Commission's report,' Delhi B.J.P. president Madan Lal Khurana declared today."
---
"Referring to the delay in the report three years after the Commission was set up by the N.D.A. government, Khurana said this was the first time that Delhi leaders were approaching the Centre for early action in the matter. Dangling the promise of justice before Sikh leaders from both Badal and Tohra groups today, he said the B.J.P. will also observe Oct. 31 as 'protest day' 'to express anger and disgust over the massacres of Sikhs in Nov. 1984.' Launching a tirade against the Congress, Khurana said thousands of innocent Sikhs were massacred in a planned and organised manner following the murder of former PM Indira Gandhi in 1984."
---
"Khurana saw no contradiction in B.J.P.'s espousal of the Sikh cause in the context of the Gujarat carnage. 'The Sikh riots are now 20 years old and no one has been punished. But the Gujarat riots are recent and already a commission has been set up,' he said. As for his pleading with Advani for speedy justice for the Delhi riot victims, Khurana said that he was like a bridge between the people and the government. Reeling off further similes, he said that he was like a son going to the father with the demands of the family. 'That does not reflect differences between state and Central B.J.P.,' he said."
---

- Top -
Bahrain's Hopeful Move Toward Democracy

By THOMAS L. FRIEDMAN

The New York Times, Oct. 28, 2002

"I heard Harvard's president, Lawrence Summers, say once that 'in the history of the world, no one has ever washed a rented car.' Ditto for countries. So many Arabs today feel that they are just renting their governments. They have no real ownership, and so don't feel responsible for solving their own problems. Bahrain took a small step last week toward giving its people ownership over their own country, and one can only hope they will take responsibility for washing it and improving it. Nothing could help this region more. There is hope."
---

- Top -
Horror of Ignorance

By DEEPAK TIWARI

The Week, Oct. 27, 2002

"Roomaliben is alive, but only just. The 71-year-old can barely speak or walk after suffering an attack so horrific, it hardly bears imagining. The defenceless old woman was beaten with spades, tortured and humiliated before being paraded around her village. Her assailants were her neighbours-people she had known, and trusted, her whole life. The reason? They thought she was a witch."
---
"It beggars belief, but in the district of Dahod where this incident took place, witch-hunting is terrifyingly common. Hundreds of cases are reported to the district police every year. But, astonishingly, they hardly ever reach the official records. 'We do not register such cases, but instead try to get them solved amicably among the villagers,' said an officer at Dahod police station. He readily dismissed witch-hunting as an age-old practice: the practice of holding a woman responsible for every misfortune. . . . In Gamala, as in many other tribal villages, superstition is a way of life. Black magic, spirits and witches are used to explain all kinds of mishaps. A child's death, in tribal eyes, is the result of an evil force rather than disease or malnutrition."
---
"Witch-hunting is prevalent in much of the region. 'Women are treated like cats and dogs with no human rights in the tribal districts of Jhabua, Dahod and Banswara,' says social worker Ranjit Singh. 'Every year hundreds of cases go unreported, because killing 'witches' is acceptable.' According to an official estimate, 68 women were killed in witch-hunts in Jhabua district alone, over the last 10 years. While many die, the lucky ones escape, to live as outcasts in nearby cities. The situation is so bad that some cities shelter many refugees; those who have fled their homes after being accused of witchcraft."
---
"Very little is being done to help the victims of superstition. The [male] witch-doctor's word is final, and the police do nothing. Shockingly, even the government will not intervene, for fear of alienating tribal vote-banks. Perhaps the only solution is to change tribal attitudes through education."
---

- Top -
Pakistan's Elections Were Manipulated

By IMRAN KHAN
Imran Khan is a former cricketing icon and leader of the Tehreek-e-Insaaf party; he is the only member of his party to have been 'elected' to the National Assembly.

The Week, Oct. 27, 2002

"The government indulged in massive pre-poll manipulation. We brought specific irregularities to the attention of the Election Commission but it failed to take any corrective action. On polling day, we had reports of election results being changed fraudulently in different parts of the country."
---
"The victory of the Mutahida Majlis-e-Amal is a reflection of the anti-U.S. sentiment in the country. The people of Pakistan were opposed to the U.S. aggression against Afghanistan."
---
"The pre-poll rigging did us more harm. It prevented eligible candidates from joining our party and contesting elections on our platform. Most of our candidates belonged to the middle class with limited financial resources. The Election Commission failed to enforce electoral rules and regulations including ceilings on expenditure. Candidates of other parties spent crores of rupees which our candidates could not afford to."
---
"The interim report [from the European Union] is a reflection of our concerns about the manipulation of the electoral process."
---

- Top -
Mistaken Identity: Sikhs in America

By TOM NADEAU

The Sacramento Bee, Oct. 26, 2002

"About 200 people attended the premiere [in Marysville, California] of a privately financed documentary about what life has been like for Sikhs in the United States since the terrorist attacks of Sept. 11, 2001. The $200,000 production, 'Mistaken Identity: Sikhs in America,' was undertaken after turbaned Sikhs were accosted for mistakenly being associated in the public mind with Osama bin Laden and other terrorists, said Yuba City physician Jasbir Kang, one of the film's financiers."
---
"The film tells how monotheistic Sikhism was founded in Punjab in northwestern India about the same time Martin Luther was leading the Reformation in Europe. It was a democratic rebellion against the strict caste system practiced by polytheistic Indian religions. Women were endowed with equality. There was no caste. Anyone could rise to the top. It also tells of the first Sikhs who came to this country in the 1880s, settling in Yuba City and Fresno. Northern California is now considered the center of Sikhism in America. Each year as many as 60,000 Sikh faithful come to Yuba City for an annual cultural parade sponsored by the Punjabi-American Heritage Society."
---

- Top -
Sikh M.P. Affirms Support for Sikh Homeland

By JANGVEER SINGH

The Tribune, Oct. 26, 2002

"The chief of the S.A.D. (A) [Shiromani Akali Dal (Amritsar)], Mr. Simranjit Singh Mann, who was thought to have softened his political stance after being elected to the Lok Sabha from Sangrur during which he projected himself as a moderate leader today chose a segment of the same constituency to reaffirm that he always stood for an independent Sikh homeland and would support the breakaway faction of S.G.P.C. members led by Mr. Mal Singh Ghuman only if they showed their willingness to support a 1946 S.G.P.C. resolution [filed by Balwant Singh Kukar] voicing the same demand."
---

- Top -
The Myth Around Muslim Demographics

By ASHA KRISHNAKUMAR

Frontline, Oct. 26, 2002

"[A] myth the Sangh Parivar tries to promote demagogically is that Muslims are poised to overtake Hindus in the population. According to Census figures, while India's Muslim population rose from 4.2 crores in 1941 to 7.6 crores in 1981 - an increase of 81 per cent - the Hindu population went up from 23.8 crores to 55 crores, a jump of 131 per cent. It will take 390 years for Muslims to become a majority, assuming the same annual compound growth rate of 2.71 per cent that prevailed between 1971 and 1981."
---
"The ridiculousness of the Sangh Parivar claim becomes evident from the fact that if the same growth rate continues for 390 years (from 1981) there will be 5,000 billion Indians or roughly 5,000 times the population today. This is absurd. According to demographers, when the population reaches its stationary limit (every population group is bound to reach this limit with development), some time in the near future, the Muslim population is likely to be no more than 13 per cent of the total (India: Population, Economy, Society by R.H. Cassen)."
---
"In terms of income, 40 per cent of the Muslim population (double that of the Hindu population) belong to the bottom 20 per cent in towns and cities. If the 'allurement' theory were true, Hindus would certainly not be tempted to embrace Islam, a community whose socio-economic indicators are hardly alluring."
---

- Top -
Bad N.R.I.s [Non-Resident Indians]

By KHUSHWANT SINGH

The Hindustan Times, Oct. 25, 2002

"The Khalistan movement was sustained for many years by mischievously uninformed Sikh NRIs based in Britain, Canada and the U.S. When its chief American financier Didar Singh Bains was invited to visit Punjab by the then Chief Minister, Parkash Singh Badal, and he saw the true state of affairs, he stopped funding Khalistani organisations. The movement died a peaceful death."
---
"The recent eruption of communal frenzy has been reflected by a Sikh organisation based in Britain that demands that its members should not be listed as Indians but as a different community. One may ask them: if you are not Indians, are you Pakistanis, Bangladeshis or Bhutanese? Have you ever thought of the consequences of such a foolish demand on your kinsmen living in India? They are desperately trying to gain acceptance with Conservative and Labour Party functionaries. I am sure the English will brush them aside as a lunatic fringe."
---

- Top -
Israel's Counterfeit Victory Over Settlements

By ZE'EV SCHIFF

Ha'aretz, Oct. 25, 2002

"Not only is the rule of law at issue, but so too is the type of preaching in practice by a number of West Bank and Gaza Strip rabbis to their flocks, who have encouraged their followers to refuse orders in a way that could undermine the foundations of the army."
---
"Sooner or later, the parties to the conflict will return to the negotiating table. And the central question we'll have to face then is: Does Israel wish to continue the occupation and oppression of another people?"
---
"The establishment of the illegal outposts is an attempt to forcibly prevent any reasonable territorial compromise: These outposts are intended to preclude any future Palestinian entity from possessing a territorial contiguity. No nation in the world could accept such terms and Israel is hardly likely to find any international support for such a position."
---
"Up to this point, all the preliminary rounds in this struggle - regarding not just the illegal outposts, but all the settlements - have ended with clear victories by the settlers. Their winning tactics are based on a simple ploy: The strategy is to establish three illegal outposts at a time. Then you compromise by removing one - even two if necessary. For the purposes of this game, some of the outposts aren't even populated at all, or only populated part of the time. These are the outposts about which compromise is usually reached. The settlers themselves take down one of the outposts and, meanwhile, put up some resistance in a few places for the benefit of the television cameras."
---
"Since the beginning of Ehud Barak's tenure as prime minister, no less than 94 illegal outposts have been established. Proof of the settlers' victory is evident in the fact that 35 of the outposts on this list were eventually classified as legal settlements."
---
"All in all, the settlers are the ones who have so far emerged triumphant; but their victory will prove to be a Pyrrhic one, which transforms Israel into a thoroughly colonialist, occupying power."
---
"Just as Israel earns much understanding throughout the world for its position versus the Palestinians' all-out demand for the 'right of return,' the Palestinians will gain understanding both from the international community and within Israeli society when it comes to the all-out battle for the settlements, not just the illegal outposts."
---

- Top -
I.H.R.O. Flays Mata Gujri Sahara Trust Members and Others

By STAFF

The Tribune, Oct. 24, 2002

"Interests other than welfare of children, greed for money, wrong and unwarranted intervention of outsiders and one-sided role played by the Patiala police have been cited as major reasons for the breaking up of the Mata Gujri Sahara Trust that was caring for the children of killed militants, since 1996 at Kallar Bhaini village near Dakala in Patiala district."
---
"The [International Human Rights Organization (I.H.R.O.)] report [prepared by a three-member committee of the I.H.R.O. comprising Dr. Kanwaljit Kaur Bal, Inderjeet Kaur and Anmol Singh Grewal, led by its chairman D.S. Gill] takes to task Bibi Sohanjit Kaur and Bibi Sandip Kaur, the two women who had formed the Trust to look after the children."
---
"The report also accuses the Patiala police of siding with Bibi Sohanjit Kaur and taking action against Bibi Sandip Kaur. . . . The report comes down heavily on the interference of the outsiders in the trust affairs. The Akand Kirtani Jatha [A.K.J.], a committee headed by a retired justice and some persons settled abroad, has also invited some adverse comments from the I.H.R.O. report."
---
"The issue of managing the funds was one of the most contentious issues between the two women, the report claims. . . . The self-styled Baba Nachattar Singh allegedly bought a car from the trust money for his personal use."
---

- Top -
Justice Bains Accuses Punjab Govt of Human Rights Violations

By PTI

Outlook, Oct. 24, 2002

"Justice Ajit Singh Bains, retired judge of Punjab and Haryana High court, today came down heavily on Punjab Government for its 'gross violation of human rights.' 'State Government has miserably failed to discipline its police force, which is allegedly responsible for at least 40 custodial deaths during the past six months,' Bains told reporters here. He pointed out the reports of National Human Rights Commission, according to which of the 400 cases of custodial deaths in the last six months across the country, 40 were from Punjab alone. He also lashed out at Punjab government for rewarding key posts to police officials held guilty for the alleged fake encounter of Jaswant Singh Khalara, a human rights activist, in 1995."
---

- Top -
Saddam's Gulag Exposed

By JOHN F. BURNS

The New York Times, Oct. 24, 2002

"President Saddam Hussein's decision to open the gates of his prisons and let tens of thousands of political prisoners and common criminals go free has afforded ordinary Iraqis a rare glimpse into the gulag that has maintained his power for 23 years, and prompted small but remarkable protests by some who lost relatives at the hands of the state security police years ago. . . . Why Iraq's reclusive leader decided so abruptly on an amnesty for tens of thousands of prisoners, abandoning at least for the moment one of his principal mechanisms of control, remained a topic of astonished debate among this nation's 22 million people."
---
"One official who spoke with the [protesting] women made little headway with what, in effect, was a circular argument. The man told them that there was no point in demanding that the government tell them what had become of their lost kin because the prisons and detention centers were now empty - a fact officially confirmed Tuesday by the interior minister, Mounzer Naqshabandi - and there was nobody left there to release. That, the official said, meant that there was nobody left for whom the government had to account."
---
"One reason for unease in the government is that many of the political prisoners released Sunday - and many of those named among the missing by the protesters Tuesday - were members of the two restive population groups, Kurds and Iraqi Shiites, who have been at the heart of past uprisings against Saddam. . . . Many Shiites, a majority in the Iraqi population, have long resented the government of Saddam, which is composed mostly of the Sunni Arabs who are a minority in Iraq."
---

- Top -
America's Unconvincing Proof Against Iraq

EDITORIAL

The New York Times, Oct. 24, 2002

"In its campaign for military action against Iraq, the Bush administration frequently asserts that it has proof of extensive ties between Iraq and Al Qaeda. What it has disclosed, however, is unconvincing. This is no way to justify a war - either the potential one against Iraq or the existing one against Islamic extremists."
---
"James Risen of The New York Times has reported (Oct. 22) that an often cited meeting between Mohamed Atta, the chief hijacker, and an Iraqi spy in Prague almost certainly never took place. The Czech president, Vaclav Havel, has told the White House that a report from Czech domestic intelligence of such a meeting in Apr. 2001 could not be substantiated. . . . Now it seems that Atta may indeed have been in Prague in Jun. 2000 - but with the intent of picking up a cheap flight to Newark rather than meeting an Iraqi spymaster."
---

- Top -
The Arab Basement

By THOMAS L. FRIEDMAN

The New York Times, Oct. 23, 2002

"Unlike the Arab street, no diplomacy can defuse the Arab basement. It doesn't want a smaller Israel, it wants no Israel; it doesn't want a reformed Saudi monarchy, it wants no Saudi monarchy."
---
"The only sensible response is to defeat those in the Arab basement, who are beyond politics and diplomacy, while at the same time working to alleviate the grievances, unemployment and sense of humiliation that are felt on the Arab street, so that fewer young people will leave the street for the basement, or sympathize with those down there - as millions of Arabs do today."
---
"My guess is that the only way to stop the drift of young Arabs from the street to the basement is by administering some shock therapy to this whole region."
---

- Top -
Democracy in Iraq Is a Pipe Dream

By NICHOLAS D. KRISTOF
Winner, jointly with wife Sheryl WuDunn, of the 1990 Pulitzer Prize for international reporting for their coverage for The New York Times of the Tiananmen Square democracy movement in China and its bloody supression.

The New York Times, Oct. 23, 2002

"Listen to the American hawks after a few glasses of wine, and you might be seduced into thinking that after overthrowing Saddam Hussein, we're going to turn Iraq into a flourishing democracy. But I'm afraid it's a pipe dream, a marketing ploy to sell a war. We haven't even been able to nurture full democracy in modern, bustling Kuwait, where women still cannot vote, or in Saudi Arabia, which is more egalitarian - neither men nor women can vote."
---
"[W]hile Kuwait is one of the freest countries in the gulf region, with a lively press that dares scold even members of the ruling Sabah clan, it is also a family-run venture that falls well short of being a full-fledged democracy. . . . A central challenge [in Iraq] is that democracy would effectively take power from the 16-percent Sunni Muslim minority that has always run Iraq and hand it to the 60 percent Shiite population, and this transfer could be very bloody. . . . The rise of a Shiite state in Iraq could strengthen Iran and lead to clashes with Shiite minorities in Kuwait, Saudi Arabia and other countries. . . . [O]dds are that the neighboring governments would do their best to block popular rule from ever emerging in Iraq."
---
"I'm afraid that the prattle about creating a democratic model on the Tigris is just a shrewd White House marketing attempt to bait and switch."
---

- Top -
The American Political Paradox

By ROBERT JENSEN
Robert Jensen is an associate professor of journalism at the University of Texas at Austin, a member of the Nowar Collective, and author of the book Writing Dissent: Taking Radical Ideas from the Margins to the Mainstream and the pamphlet Citizens of the Empire.

Outlook, Oct. 23, 2002

"[I]t has never seemed clearer to me that free speech is fragile and democracy is in danger of disappearing in the United States."
---
"To talk about the state of intellectual and political culture in the United States after Sep. 11, I want to go back to the early 20th century and the life of one of my favorite radical Americans, Scott Nearing. Nearing began his teaching career in 1906 at the University of Pennsylvania's Wharton School, where he was a popular teacher, author of widely used economic textbooks, and well-known speaker on the lecture circuit. . . . By 1915 Nearing had been fired by the Penn trustees. They gave no reason publicly, but there's little doubt that his socialist views and participation in the movement to end child labor played a role. . . . So Nearing moved on to the University of Toledo, a public university with a broader sense of its social mission. There he quickly became an integral part of the university and community - until 1917, when he was again fired, this time for his antiwar activity."
---
"[T]he United States today is a far less vibrant political culture than it was then. This is the paradox to come to terms with: How is it that as formal freedoms that allow democratic participation have expanded, the range and importance of debate and discussion that is essential to democracy has contracted? How is it that in the United States we have arguably the most expansive free speech rights in the industrial world and at the same time an incredibly degraded political culture? How did political freedom produce such a depoliticized culture?"
---
"During World War I, Nearing was only one of about 2,000 people prosecuted under the Espionage act of 1917, which was amended with even harsher provisions in 1918 by what came to be known as the Sedition Act. . . . In one of the most famous, and outrageous, cases of Nearing's time, labor leader and Socialist Party candidate Eugene Debs was forced to run his fifth and final campaign for president from a federal prison cell after he was sentenced to 10 years under the Espionage Act. His crime was giving a speech which pointed out, among other things, that rich men start wars and poor men fight them."
---
"Similar harshly repressive reactions surfaced again after World War II in the 20th century's second major Red Scare. The Supreme Court upheld the criminalization of political discourse in what became known as the Communist conspiracy cases prosecuted under the Smith Act of 1940. . . . It was not until 1957 that the Supreme Court reversed the trend in those cases, overturning convictions under the Act. The 1960s and 1970s brought more cases that continued to make more tangible the promise of the First Amendment, including landmark decisions that made it virtually impossible for public officials to use civil libel law to punish sedition and established that government could not punish incendiary speech unless it rose to the level of 'incitement to imminent lawless action.' "
---
"In public speaking and in print, I have argued that the U.S. war on terrorism is a disastrous policy that has more to do with the maintenance of imperial credibility and the extension of U.S. dominance in Central Asia and the Middle East than battling terrorism. I have denounced patriotism as an intellectually and morally bankrupt concept."
---
"The hostility toward some faculty members has not stayed within such civil boundaries, most notably Sami Al-Arian, the tenured Palestinian computer science professor at the University of South Florida who was vilified in the mass media and fired in Dec. 2001 for his political views. . . . The freedom of speech we enjoy today was won by people who were despised and denigrated in their time. History has vindicated them, but in their own time they suffered greatly."
---
"The Red Scare of the 19-teens and 1920s was designed to shut down that kind of political engagement, which was inconsistent with power's conception of democracy. One of the clearest articulations of that conception came from Walter Lippmann, a leading journalist and intellectual of the first half of the 20th century. In a complex society, Lippmann asserted that people did not have the capacity to understand public affairs well enough to have an active role in policy formation."
---
"Samuel Huntington, a political scientist with solid establishment credentials, warned that the problems of governance in the United States stemmed from what he called 'an excess of democracy' and the solution could be found in 'a greater degree of moderation in democracy.' . . . In the real world, it usually turns out that restraint is expected from the 'special interests' (defined as organized labor, students, women, minority groups, farmers - in other words, the bulk of the population) to make sure there are no restraints on the 'national interest' (corporate shareholders, the managerial class, defense contractors, the generals)."
---
"Many people told me the piece [I wrote as my first response to 9/11] echoed their own feelings. Others were outraged, especially my assertion that the attacks of Sep. 11 were 'no more despicable than the massive acts of terrorism - the deliberate killing of civilians for political purposes - that the U.S. government has committed during my lifetime.' "
---
"While it was possible for more people to hear me, being heard had far more limited effects [than in Nearing's time], not only on the immediate question of the war but more generally on the political culture."
---

- Top -
Sikhs Celebrate Guru Ram Das' Birth Anniversary

By MUNISH BYALA

Reuters, Oct. 22, 2002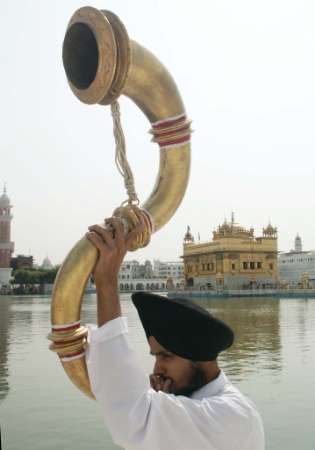 "A Sikh priest blows a traditional horn inside the compound of the Golden Temple [Darbar Sahib] (background) in Amritsar, in the northern Indian state of Punjab. . . . Many Sikhs will gather at the temple in the next two-days to celebrate the birth anniversary of Sri Guru Ram Das, the fourth spiritual Guru of the Sikh faith."
---

- Top -
Twice Denied Plane Seat, Sikh Sues for $60M

By ROBERT E. KESSLER

Newsday, Oct. 22, 2002

"Tejindar Singh Kahlon, 65, [an attorney who is a hearing officer at Nassau County Family Court] filed the suit yesterday in U.S. District Court in Central Islip against the Town of Islip, which operates the airport; Southwest Airlines; and security firm International Total Services. The suit says officials refused to search him with a metal detector or by touching his turban while it was on his head."
---
"Sikhs consider removing their turban in public the equivalent of going naked, and the U.S. Department of Transportation said requiring Kahlon to do so was a violation of federal anti-discrimination statutes, according to Kahlon's attorney, Thomas Liotti of Garden City."
---

- Top -
Liberalism Cuts Fundamentalism

By KULDIP NAYAR

The Indian Express, Oct. 22, 2002

"Though it [Pakistan] was an Islamic state, deeni (religious) parties seldom crossed the figure of five in the National Assembly because people did not take them seriously. . . . But the elections held this month, even though described as flawed by every observer, foreign or Pakistani, would indicate that the trend has changed. There is now an upsurge of religiosity."
---
"[A]bove all, the verdict is against the Americans for ousting the Taliban government. No wonder the first demand by the MMA [Muttahida Majlis-e-Amal, a conglomerate of six religious parties and the second largest vote getter] is to close down the U.S. bases in Pakistan and oust American soldiers."
---
"The U.S. state department spokesman, Richard Boucher, said that the election was 'an important milestone in Pakistan's ongoing transition to democracy'. Whatever America's certificate, it will be hard for democracy to return to Pakistan. This election itself is a boon given by the Supreme Court, which fixed Oct. 2002 as the deadline by which Musharraf should hold the polls. Still the military junta did everything possible not to have a fair election. Both the European team and the Commonwealth team have pointed out dishonest practices. The low participation of voters, around 31 per cent, itself shows that people were disgusted over the pre-poll rigging."
---
"The ascendancy of bigots is not surprising. It happens in Pakistan when the military takes over. The maulvis [religious teachers] and the mullas [priests] came back in a big way during the 12 long years of Zia-ul-Haq's rule. He, in fact, started the system of paying them from the government treasury. Musharraf pandered to religious elements to keep the liberals down so that the military coup would have some support. He also had to reckon with the fundamentalist groups within the armed forces. After he switched over to the American side, abandoning the Taliban regime he had built, General Musharraf tried to put a squeeze on fundamentalists. But by then they had turned into Frankenstein's monsters."
---
"Prime Minister Atal Bihari Vajpayee is quite right when he says that the West has double standards on terrorism. . . . There was no need [for India and Pakistan] to position the armed forces right up to the border when it was an open secret that there would be no war. . . . The only way to fight fundamentalism is to be more liberal."
---

- Top -
Sikh-Diaspora is Best List-Serv

By NORMAN GERALD (JERRY) BARRIER
N. Gerald (Jerry) Barrier is professor of history at the University of Missouri (Columbia), author of numerous books and research papers on Sikh history, and owner-operator of South Asia Books.

Sikh-Diaspora (Yahoo! Groups), Oct. 21, 2002

"[Sikh-Diaspora (Yahoo! Groups)] is the best list-serv going from my perspective, with balanced approaches and minimal conflict and personal attacks."
---

- Top -
Israeli Scholars Condemn Anti-Iraq War Mongering

By ROBERT FISK

The Independent, Oct. 21, 2002

"28 brave academics have signed a petition condemning President George Bush's build-up to war and Israel's support for it and warning that the Israeli government may be contemplating crimes against humanity on the Palestinians, including ethnic cleansing. . . . [A]ll of them are Israeli scholars at Israeli universities."
---

- Top -
Sangh Parivar Above the Law?

By NEENA VYAS

The Hindu, Oct. 21, 2002

"There is a law in the country which forbids any casteist slur against the Dalits. . . . On Sep. 3, in Amritsar, and, more recently, here [in New Delhi], . . . V.H.P. leader, Ashok Singhal, threatened to repeat Gujarat 'all over India' if the 'jehadi mentality' of some Muslims, who he held responsible for the Gujarat killings, was not checked. He described what happened in the State after the Godhra carnage as a 'successful experiment' in which 'entire villages were cleansed of Islam'. . . . The kind of language used by another V.H.P. stalwart, Praveen Togadia, against the Congress president, Sonia Gandhi - he had referred to her as an 'Italian dog' (Italy ni kutri) - is criminally appalling. . . . There is no doubt that the V.H.P. (and other organisations such as the Bajrang Dal) are protected by being part of the Sangh Parivar. As some of their leaders are openly saying: 'Mr. Vajpayee and Mr. Advani owe their jobs to us'."
---

- Top -
The Psychology of Religious Conversions

EDITORIAL

The Hindu, Oct. 20, 2002

"Whenever a religious conversion takes place, indeed it must be painful, as painful as it is for a child being weaned away from its mother's breast. But what happens when religion stops nurturing a people, and instead becomes an instrument of oppression, real or imaginary?"
---
"Over the last four decades, nearly two million black Americans rejected Christianity to embrace Islam. . . . The movement for conversion to Islam among black Americans was successful not because of the proselytising activities of some mullahs [Islamic clerics] but as a result of the perceived social injustice within American society. . . . Even before Independence, B. R. Ambedkar rejected Hinduism to become a Buddhist. . . . And if one were to go further back in history, it was the great Ashoka who gave up Hinduism to embrace Buddhism after the now famous battle of Kalinga that left thousands dead. . . . Buddhism, like Islam and Christianity, is a proselytising religion, unlike Hinduism or Judaism or Zoroastrianism."
---
"Article 25 of the Constitution, part of the fundamental rights, gives every citizen the right to freedom of religion. This is how it reads: 'Subject to public order, morality and health and to the other provisions of this part, all persons are equally entitled to freedom of conscience and the right to freely profess, practice and propagate religion.' "
---
"The census statistics demonstrated decade after decade that much of the Sangh Parivar propaganda about a diminishing Hindu population and a minority growing by leaps and bounds was a deliberate lie."
---
"[I]n 1977 the apex court [India's Supreme Court] held that the constitutional right to propagate one's religion did 'not include' the right to convert [others, i.e. proselytise]. That is how the law stands today, and naturally it is applicable throughout the country."
---
"[A]s for the Sangh Parivar, it has tried to hijack and allot to itself the role of the saviour of Hindu 'dharma'. What 'dharma' was being saved when five Dalits were lynched in Jhajhar in Haryana for skinning a dead cow? Or even if the cow was alive, can it be anyone's case that the life of a cow is more sacred than that of five human beings?"
---
"Conversions should be a non-issue, the real issue is continued social discrimination."
---

- Top -
Al Qaeda Is Neither Omni-Potent Nor Vanquished

By ERIC S. MARGOLIS

The Toronto Sun, Oct. 20, 2002

"In recent weeks, Washington has accused al-Qaida of an attack on a French tanker, the killing of a U.S. Marine in Kuwait and the frightful bombing of a Bali discotheque."
---
"Given these alarms, one would imagine al-Qaida to be a vast, octopoid organization whose tentacles span five continents. But this view, heavily promoted by the Bush administration and the U.S. media, is as wrong as George Bush's claim that terrorists are 'on the run.' "
---
"Al-Qaida, to repeat what this column has been saying since 9/11, is a small, tightly knit organization of about 300 hardened jihadis, or holy warriors, created as a role model, rallying point and ideological beacon for militant Islamic resistance movements around the globe."
---
"The bombing [in Bali] was a horrifying, cowardly act, but so is dropping 1,000-kg bombs on villages and apartment buildings [in Afghanistan]."
---

- Top -
The Silly Man

By VIR SANGHVI

The Hindustan Times, Oct. 20, 2002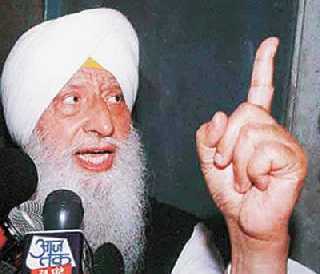 "[M]ore than one otherwise intelligent foreign journalist wrote, in the 1980s, that the secession of Punjab was inevitable and that Sikhs had ceased to see themselves as Indians."
---
"But by the early 1990s, the idea of Khalistan was finished and now, even the likes of Jagjit Singh Chauhan (the silly man who used to call himself President of Khalistan and print his own currency) are clamouring to join state politics. . . . The same thing . . . will eventually happen in Kashmir."
---

- Top -
Rajiv Gandhi's Legacy

By M.J. AKBAR

Arab News, Oct. 20, 2002

"Peace in Punjab was his [reference to India's former prime minister Rajiv Gandhi] greatest legacy to his country. It took time and was extraordinarily difficult. He had to hold his nerve during periods of despondence, inertia and crisis, not the least of them being the second siege of the Golden Temple [Darbar Sahib] which he ended by taking personal charge of the counteroffensive, and which he neutralized without the loss of a single life in an atmosphere of relentless violence. His fellow architect of the Punjab accord, Sant Longowal, paid with his life not too long after the accord. India has been combating terrorism on a continuing basis far longer than any other country."
---
"The key to Rajiv's strategy in Punjab was the Akali Dal. The Akalis, inevitably, occupied the space between Delhi and the secessionists. Historically, they had led the demand for the formation of a Sikh-majority state. The secessionists wanted to extend this to a Sikh-majority country. The Akalis could have gone either way. Indifference, or simple brutality (always a prerogative of the state) could have as easily pushed them away in the festering climate on the 1980s. Rajiv's method was simple: He drew the Akalis in by giving them power, and thereby a vested interest in the Indian Union."
---

- Top -
Harbans Lal: Sahaj-dharis Are Part of Sikhism

By STAFF

The Tribune, Oct. 19, 2002

"Noted Sikh scholar and founder-president of the All-India Sikh Students Federation [A.I.S.S.F.], Bhai Harbans Lal, today sought amendment in the procedure for nominating Sikh high priests including jathedar [head-priest] of Akal Takht."
---
"Talking to mediapersons here today, Bhai Harbans Lal said there must be consensus among the Sikhs all over the world before appointing jathedars. He opined that a presidium of Sikh scholars from all over the world be formed to make recommendations for appointment to the post of jathedar of Akal Takht."
---
"To a question, Bhai Harbans Lal said sahaj-dharis [unorthodox Sikhs] were part and parcel of Sikhism. He said they should not be deprived of the right to vote as they had been associated with Guru ghar [Guru's abode] from the beginning. He, however, said efforts should be made to give due representation to the sahaj-dharis in the management of gurdwaras."
---

- Top -
Have You Seen God?

By KHUSHWANT SINGH

The Tribune, Oct. 19, 2002

"There is also a charming description of God in Bhai Bula's janamsakhi [biography] of Guru Nanak. This Janamsakhi (life story) is discarded by scholars as spurious and written much after Guru Nanak. It describes God as a long-bearded old man draped in white clothes sitting on an ornate charpoy surrounded by fat buffaloes bursting with milk - an exact representation of a peasant's concept of a rich Punjabi zamindar [land-owner]."
---

- Top -
U.S. Hypocrisy Revealed

By MEDEA BENJAMIN
Medea Benjamin is founding director of the human-rights group Global Exchange, based in San Francisco.

USA Today, Oct. 18, 2002

"[W]hat sense does it make to have a foreign policy that says we'll negotiate with North Korea, a state that is conceivably more of a threat because it already has such weapons, but we'll pre-emptively strike Iraq because we think it might be developing these weapons?"
---
"[W]e can't continue to say that other countries must not develop weapons of mass destruction while we, by far the mightiest military power in the world, continue to refine these deadly weapons."
---
"In fact, we are now developing more 'usable' nuclear weapons and have outlined a scenario for their use against Iraq. To make the world safe from weapons of mass destruction, the United States must begin to live by the same set of rules we would like to impose on others and seriously embark on a course that will truly lead us to a nuclear weapons-free world."
---

- Top -
Rinpoche: Sikh Holy Book Is the Most Modern Spiritual Book

By STAFF

The Times of India, Oct. 17, 2002

"De facto Prime Minister of Tibet, S Rinpoche, said that the spiritual, philosophical, moral and traditional values mentioned by the Sikh Gurus in the Guru Granth Sahib could help reduce human suffering at a time when humanity was on the threshold of destruction."
---
"Rinpoche, who was addressing the inaugural function the three-day International Conference on Guru Granth Sahib, organised by department of Guru Nanak Studies, GNDU, here [Amritsar] on Thursday, termed the Guru Granth Sahib as the 'most modern' spiritual granth."
---

- Top -
U.S. Ignores Palestinian Sentiment and Recognizes Jerusalem as Israeli Capital

EDITORIAL

The Tribune, Oct. 16, 2002

"[T]he U.S. Congress recently recognised Jerusalem as Israel's capital, ignoring the Palestinian demand for the eastern part of the historic city as the capital of their future homeland. This has sent disturbing signals all over the Arab world."
---

- Top -
Ulster's Fragile Peace

EDITORIAL

The New York Times, Oct. 14, 2002

"Northern Ireland's Good Friday agreement, which has brought four and a half years of peace to that troubled province, faces a grave crisis. The British and Irish governments must do everything possible to maintain the momentum of peace while trying to re-establish some trust between the province's leading Protestant party, the Ulster Unionists, and Roman Catholic politicians, especially those from Sinn Fein, the Irish Republican Army's political wing."
---
"The fundamental problem is Sinn Fein's intimate relationship with the IRA and the IRA's continued refusal to declare a permanent peace. Ideally, the IRA should disband as a military organization. Failing that, Sinn Fein will have to put considerably more distance between itself and its longtime sponsor. At the same time, the Ulster Unionists must unequivocally embrace the idea of power-sharing and accept whomever the Catholic community chooses to represent it."
---

- Top -
Islam Is Not At Fault

By JOHN ESPOSITO
John Esposito, director of the Center for Muslim-Christian Understanding at Georgetown University, in Washington, D.C., author of 27 books, including two since Sep. 11, Unholy Wars and What Everyone Needs To Know About Islam (Oxford University Press), as quoted by Haroon Siddiqui.

The Toronto Star, Oct. 13, 2002

"[I]s the concept of a prophet who is also a warrior unique to Islam? 'What of Joshua, David and Solomon?' Islam and Muslims violent? Recall the Inquisition, the Crusades, colonialism, all the European wars, and the horrors inflicted by Christians in apartheid South Africa, in Northern Ireland, Bosnia and Kosovo. 'When there's conflict, human nature likes to create a bipolar world and monolith categories. In the Cold War, all Communists were the same and anybody that disagreed with Western capitalism was a Communist. In recent years, it's been Islamic fundamentalism, or militant Islam. Now, it's Wahhabi Islam.' "
---

- Top -
Badungar Angry at Sikhs Being Made Bhaiyas

By STAFF

The Times of India, Oct. 12, 2002

"President of Shiromani Gurdwara Parbandhak Committee (S.G.P.C.), Kirpal Singh Badungar, has taken strong exception to the manner in which Sikh youth were converted into bhaiyas to be presented before the authorisation committee for transplantation of kidneys in Amritsar. Reacting to a news report appearing in The Times of India, Badungar said it was shocking to realise that certain gangs were operating in the state with a view to hoodwink the Sikh youth to get into nefarious activities and distort their Sikh swarup [appearance]. He demanded Amritsar administration take strict action against such gangs that were functioning against Sikh interests in the state. Two Sikh youth were found to have donated their kidneys to unknown persons after their hair were cut and were given fake names and were said to hail from Bihar and supposedly working as servants in the houses of recipients of their kidneys."
---
" 'Such forceful conversions would not be tolerated as they hurt Sikh sentiments and police must take corrective steps,' Badungar added."
---

- Top -
Egypt's Mask of Silence

By JOAN SMITH

The Times, Oct. 11, 2002

"Saad Eddin Ibrahim, a 63-year-old Professor of Sociology, is serving a seven year sentence after a trial at which he appeared in court in a cage. Ibrahim first got into trouble two years ago, after his academic institution accepted a European Union grant, some of which was used to produce a film alleging voter intimidation in the 1995 parliamentary elections. He was convicted, with three co-defendants, at the end of July of accepting foreign funds without authorisation, disseminating false information harmful to Egypt's interests, and embezzlement."
---
"[Professor Edward] Said [of Columbia University] regards Ibrahim as 'a rather daring guy' who was prepared to talk about democracy, civil society and the rights of Egypt's ethnic and religious minorities. 'If you live by your intellect, if you get too outspoken and independent, you are going to get hit,' he says. Yet Said's outspoken criticism has found few echoes among Egyptian intellectuals. 'There has been very little defence of him in the Arab world,' says Said. 'It's disgraceful.' On the contrary, Ibrahim has been dismissed as too close to the Americans - he holds dual Egyptian and American citizenship - while foreign condemnation of his trial has given Mubarak another opportunity to present himself as the victim of Western bullying."
---
"Egypt is the second largest recipient of U.S. aid after Israel but Mubarak's critics say that many ordinary Egyptians, if not starving, are doing pretty badly. . . . Egyptian and foreign publications are regularly seized and censored, a circumstance that goes some way towards explaining the silence of many intellectuals. Fear of arrest is hardly conducive to creativity, and state censorship in Egypt and other Middle Eastern countries is responsible for the shocking statistic, noted in a recent U.N. report, that as few as 300 foreign books are translated into, and published in, Arabic each year."
---
"Ibrahim's jailing was briefly seen as the moment when the Arab world finally found its Nelson Mandela. But such hopes were quickly dashed by Mubarak's clever manipulation of anti-American feeling, combined with the petty jealousies endemic in countries where advancement still depends on patronage. 'A lot of people are jealous of him,' says Said. 'He was spectacularly successful, a man who had his own institute, who was always in the media. We gloat in the tragedies of our friends.' The whole episode is referred to dismissively in some circles as 'a fight among the Mamelukes,' a reference to the former slaves who ruled Egypt until the beginning of the 19th century. According to this cynical formulation, Ibrahim and Mubarak are marionettes in a larger plot orchestrated by the American Government for some darker purpose of its own."
---
"Yet it is hard to resist the suspicion that Ibrahim's fate is linked inextricably to the looming crisis in Egyptian politics, the question of who is to succeed the country's 74-year-old President. His real offence may have been to suggest openly that Mubarak is grooming his elder son Gamal to succeed him; Ibrahim is credited with coining the ironic term 'jumlukiya' - a hybrid of the Arabic words jumhuriya (republic) and malikiya (monarchy) - to describe the President's supposed ambitions."
---

- Top -
Why Custodial Deaths?

EDITORIAL

The Tribune, Oct. 8, 2002

"Even a single death in police or judicial custody is condemnable. But what should one do when as many as 666 persons are reported to have lost their lives in this manner in the past six months, or four such deaths occur every day? The blood-curdling figures, which include a state-wise break-up, have been released by the National Human Rights Commission. The more backward and bigger the state, the more depressing record it shows. That is the pattern. Thus, UP tops the list with 100 custodial deaths followed by Bihar with 75. The figure was 40 for Punjab and 25 for Haryana. The overall picture is disgusting."
---

- Top -
Jayalalithaa Outlaws Forcible Religious Conversions to Gain Favor With B.J.P.

EDITORIAL

The Hindu, Oct. 8, 2002

"In clamping a ban on the so-called 'forcible' (religious) conversions, the Jayalalithaa Government in Tamil Nadu has taken a leaf straight out of the Sangh Parivar's viciously sectarian agenda and has, in a sense, 'outranked' even the B.J.P.'s own regimes that have stopped short of enacting such a regressive and patently anti-minority legislation with serious Constitutional implications for a citizen's fundamental right to personal freedoms affecting profession, practice and propagation of religion (Article 25)."
---
"The mere fact that whoever converts 'by himself' or whoever takes part in conversions 'as religious priest' has been enjoined (under the Ordinance) to intimate the 'local magistrate' within a time-limit easily lends itself to intimidation, harassment and even persecution especially where the converts happen to be from the socially oppressed and economically disadvantaged sections, as is often the case. Nothing could be a greater travesty of justice and an affront to basic democratic rights than to let the minions of the law or of the bureaucracy have the role of an arbiter, so to say, in the matter of an individual's right to freedom of religion."
---

- Top -
Two Sikh Groups Placed on Canada's Terrorist List

By STAFF

The Globe and Mail, Oct. 7, 2002

"Two Sikh separatist groups have been added to a list of terrorist organizations whose assets will be frozen in Canada. One of the groups was founded by a man linked to the bombing of an Air India jet in 1985 in which 329 people died off the coast of Ireland."
---
"Babbar Khalsa International [B.K.I.] and the International Sikh Youth Federation [I.S.Y.F.] are now on a federal list created after the terrorist attacks in the United States last year. The International Sikh Youth Federation announced in Feb. it was closing its Canadian branch because of repeated accusations that it supports terrorism."
---
"The founder of Babbar Khalsa, Talwinder Singh Parmar, was named as an unindicted co-conspirator in the Air India bombing and one in Tokyo. He was shot by police in Punjab in 1986. The European Union designated the Babbar Khalsa and International Sikh Youth Federation terrorist groups last year. The United States and the United Kingdom have previously ordered banks to block their assets."
---

- Top -
America's Phony Evidence Against Iraq

By ERIC S. MARGOLIS

The Toronto Sun, Oct. 6, 2002

"Truth is indeed the first casualty of war. Recall in 1990 the famous tearjerker about Kuwaiti babies thrown from incubators by evil Iraqi soldiers, a canard that ignited war fever across America, but turned out to be a total fabrication. Or White House claims to have photographic evidence of an impending Iraqi invasion of Saudi Arabia. These claims were also phony, but they succeeded in stampeding the petrified Saudis into allowing the U.S. to permanently station military forces in the kingdom, where they remain to this day."
---
"[T]he Bush administration's stated goal of bringing democracy to the Arabs faithfully echoes claims by Victorian Britain's imperialists that they were conquering and exploiting Africa and Asia only to bring the benefits of Christianity and western civilization to benighted heathen."
---
"When America's great president, Dwight Eisenhower, ordered the British, French and Israelis to end their 1956 aggression against Egypt, the U.S. was a supreme hero across Asia and Africa."
---

- Top -
Bush, Saddam Delusional

By NICHOLAS D. KRISTOF
Winner, jointly with wife Sheryl WuDunn, of the 1990 Pulitzer Prize for international reporting for their coverage for The New York Times of the Tiananmen Square democracy movement in China and its bloody supression.

The New York Times, Oct. 4, 2002

"Iraqis hate the United States government even more than they hate Saddam, and they are even more distrustful of America's intentions than Saddam's. . . . [I]f Saddam thinks the average Iraqi is going to miss him, he's deluding himself. But if President Bush thinks our invasion and occupation will go smoothly because Iraqis will welcome us, then he too is deluding himself."
---

- Top -
The U.S. Is Placing Unacceptable Demands on Iraq

By ROBERT FISK

The Independent, Oct. 4, 2002

"[T]he draft U.N. resolution which Presidents Bush and Blair insist the U.N. must pass [states that] Arms inspection teams . . . 'shall have the right to declare for the purposes of this resolution . . . ground and air-transit corridors which shall be enforced by U.N. security forces or by members of the U.N. [Security] Council.' "
---
"In other words, Washington can order forces of the U.S. (a Security Council member) to 'enforce' these 'corridors' through Iraq - on the ground - when it wants. U.S. troops would thus be in Iraq. It would be invasion without war; the end of Saddam, 'regime change', the whole shebang."
---
"No Iraqi government - even a Baghdad administration without the odious Saddam - could ever accept such a demand. Nor could Serbia have accepted such a demand from Nato, even without the odious Slobodan. Which is why the Serbs and Nato went to war."
---
"There's also that other paragraph: that 'any permanent member of the Security Council may request to be represented on any inspection team.' In other words, the Americans can demand that their intelligence men can return to become U.N. inspectors, to pass on their information to the Israelis (which they did before) and to the U.S. military, which used them as forward air controllers for their aircraft once the inspectors were withdrawn."
---

- Top -
London Marches Against War

By TARIQ ALI
Reporting from London.

Outlook, Oct. 3, 2002

"The Stop the War Coalition - a united front that includes socialists of most stripes, liberals and radicals, pacifists and the moderate Muslim groups - had expected 200,000 people, but the mood in Britain was uneasy and large numbers of people, many of them conservative or even apolitical, had decided to swell the march [against war on Iraq]."
---
"The week before the march, New Labour issued the so-called Blair dossier, a farrago of half-truths and stale facts that was a very crude attempt at war propaganda. It backfired miserably. Blair was at his worst. The grinning disk-jockey in clerical mode. Everything reduced to a pseudo-morality tale. War-talk and piety is such an ugly combination. It may have convinced his ghastly cabinet, a bunch of mediocrities, most of whom would find it difficult to gain employment elsewhere. Blair prefers it like this: in the land of the blind, the one-eyed beggar is king."
---
"Nobody on the demonstration was taken in by the talk of a U.N.-led war being somehow more acceptable than a Bush-Blair attack. The British peace movement, for one, will not be taken in if the permanent members of the U.N.S.C. allow their arms to be twisted and their purses filled by the Bushmen. Here the movement will continue. And when the bombs begin to drop there will be acts of non-violent civil disobedience all over the country. We need the same in the United States."
---

- Top -
No Law Against U.S. Self-Preservation

By AL GORE
Al Gore, former U.S. vice president, as quoted in an editorial.

The Washington Post, Oct. 3, 2002

"[T]here's no international law that can prevent the United States from taking action to protect our vital interests."
---

- Top -
Clear Urban-Rural Divide Among Kashmir Voters

EDITORIAL

The Hindu, Oct. 3, 2002

"The view that a distinctive urban-rural divide characterises voter participation, with the cities and towns tending to be more apathetic or wary for various reasons — fear of the militant's gun, clout of the separatist groups and so on — seems to stand reinforced by the voting pattern in the latest phase."
---

- Top -
Growing Anti-Semitism in America

By JEFF JACOBY

The Boston Globe, Oct. 1, 2002

"At San Francisco State University . . . pro-Palestinian demonstrators recently confronted supporters of Israel with signs reading 'Jews = Nazis' and chants of 'Hitler should have finished the job.' . . . [Anti-Israel disinvestment campaigns currently gaining currency at American university campuses] is modeled on the anti-apartheid movement of the 1970s and 1980s, and its planted axiom is that there is no important moral difference between Israel - a free and tolerant democracy at war with dictatorial enemies bent on genocide - and the former white-ruled South Africa. That is a position only a moral idiot could endorse."
---
"It is not 'criticism' to portray Israel's lawful presence in Gaza and the West Bank as an illegal occupation yet never murmur a word of objection to China's occupation of Tibet, Syria's of Lebanon, Turkey's of Northern Cyprus, or Russia's of Chechnya. It is not 'criticism' to lay the blame for the violence in the Middle East at Israel's doorstep while ignoring the immense risks Israel has in pursuit of peace. It is not 'criticism' to accuse Israel of apartheid when it is the Arab world that preaches 'Kill the Jews!' and dances in the street when terrorists do so. This is not criticism; it is calumny. It butchers the truth and subjects Israel to a cruel double standard. It abets the cause of the world's foremost Jew-haters, people whose explicit goal is the liquidation of the Jewish state."
---

- Top -
Gujarat Transfers Cop Who Blew the Whistle

By DARSHAN DESAI

Outlook, Sep. 30, 2002

"The police officer who blew the whistle on Gujarat chief minister Narendra Modi has been shunted out. The state government could find no cause as such to suspend additional director-general of police (intelligence) R.B. Shreekumar, so it has transferred him out of the department. Along with him a DIG and an SP have also been transferred to show the government action as a routine one. Shreekumar invited Modi's wrath when on Sep. 12 he submitted a report to the state home department that the chief minister's speeches during the gaurav yatra were incendiary, hurting the sentiments of minorities."
---
"It's however no secret in police circles that Shreekumar's head was on the block ever since he reported to chief election commissioner J.M. Lyngdoh, during his visit to Gujarat, that the atmosphere was not conducive to holding a free and fair poll."
---
"During the second round of the yatra in Saurashtra, [Narendra] Modi [Gujarat's ex-Chief Minister (now caretaker CM)] said, 'Miya Musharraf doesn't know what Hindu terrorism is. When that happens, all of Pakistan will be wiped out.' "
---

- Top -
Mob Mentality Sterile Without State Sponsorship

By SHEKHAR GUPTA

The Indian Express, Sep. 28, 2002

"[I]n terms of impact as well as gravity, Akshardham was a much greater provocation than Godhra [both in Gujarat]. . . . [That there was no post-Akshardham violence] only confirms the old, proven wisdom on communal carnage in India. If the state machinery is determined to prevent it then the mob can never rule the streets. Some of our recent riots either had the state looking the other way, or being even complicit to some extent."
---

- Top -
Modi-Speak

By PURNIMA S. TRIPATHI

Frontline, Sep. 28, 2002

"At Becharaji village in Mehsana district on Sep. 9, [Gurjarat's ex-Chief Minister and present caretaker CM, Narendra] Modi not only ridiculed a section of people (again citing hum paanch, hamaare pachhis [roughly translated as we are five, we have twenty-five; a derogatory reference to higher than average Muslim reproductive rates]) but remarked that those who believed in multiplying their population in that fashion needed to be taught a lesson."
---

- Top -
The Physics of Power

By ARUNDHATI ROY
The text of a lecture delivered on Sep. 18, 2002 at the Lannan Foundation in Santa Fe, New Mexico, United States.

Frontline, Sep. 28, 2002

"Though it might appear otherwise, my writing is not really about nations and histories, it's about power. About the paranoia and ruthlessness of power. About the physics of power. I believe that the accumulation of vast unfettered power by a state or a country, a corporation or an institution - or even an individual, a spouse, friend or sibling - regardless of ideology, results in excesses such as the ones I will recount here."
---
"An 'anti-national' is a person who is against his/her own nation and, by inference, is pro some other one. But it isn't necessary to be 'anti-national' to be deeply suspicious of all nationalism, to be anti-nationalism. Nationalism of one kind or another was the cause of most of the genocide of the twentieth century. Flags are bits of coloured cloth that governments use first to shrink-wrap peoples' minds and then as ceremonial shrouds to bury the dead."
---
"Once someone is branded anti-American, the chances are that he or she will be judged before they're heard and the argument will be lost in the welter of bruised national pride. . . . When the rest of the world wants to know what the U.S. Government is up to, we turn to Noam Chomsky, Edward Said, Howard Zinn, Ed Herman, Amy Goodman, Michael Albert, Chalmers Johnson, William Blum and Anthony Arnove to tell us what's really going on."
---
"Now that the initial aim of the war - capturing Osama Bin Laden (dead or alive) - seems to have run into bad weather, the goal posts have been moved. It's being made out that the whole point of the war was to topple the Taliban regime and liberate Afghan women from their burqas. We're being asked to believe that the U.S. marines are actually on a feminist mission. . . . Is it possible to bomb bigotry out of India? Can we bomb our way to a feminist paradise? Is that how women won the vote in the U.S.? Or how slavery was abolished?"
---
"Twenty-nine years ago, in Chile, on the 11th of Sep. 1973, General Pinochet overthrew the democratically elected government of Salvador Allende in a C.I.A.-backed coup. . . . In 1999, following the arrest of General Pinochet in Britain, thousands of secret documents were declassified by the U.S. Government. They contain unequivocal evidence of the C.I.A.'s involvement in the coup as well as the fact that the U.S. Government had detailed information about the situation in Chile during General Pinochet's reign."
---
"Sadly, Chile was not the only country in South America to be singled out for the U.S. Government's attentions. Guatemala, Costa Rica, Ecuador, Brazil, Peru, the Dominican Republic, Bolivia, Nicaragua, Honduras, Panama, El Salvador, Peru, Mexico and Colombia - they've all been the playground for covert - and overt - operations by the C.I.A. . . . This list does not of course include countries in Africa or Asia that suffered U.S. military interventions - Vietnam, Korea, Indonesia, Laos, and Cambodia."
---
"Not far from here, in Albuquerque, is the National Atomic Museum where Fat Man and Little Boy (the affectionate nicknames for the bombs that were dropped on Hiroshima and Nagasaki) were available as souvenir earrings."
---
"On the 11th of Sep. 1922, ignoring Arab outrage, the British Government proclaimed a mandate in Palestine, a follow up to the 1917 Balfour Declaration, which Imperial Britain issued, with its army massed outside the gates of the city of Gaza. The Balfour Declaration promised European Zionists a national home for Jewish people."
---
"In 1937, Winston Churchill said of the Palestinians: 'I do not agree that the dog in a manger has the final right to the manger even though he may have lain there for a very long time. I do not admit that right. I do not admit for instance that a great wrong has been done to the Red Indians of America or the black people of Australia. I do not admit that a wrong has been done to these people by the fact that a stronger race, a higher-grade race, a more worldly-wise race to put it that way, has come in and taken their place.' "
---
"In 1947, the United Nations formally partitioned Palestine and allotted 55 per cent of Palestine's land to the Zionists. Within a year they had captured 76 per cent. On the 14th of May 1948 the state of Israel was declared. Minutes after the declaration, the U.S. recognised Israel. The West Bank was annexed by Jordan. The Gaza Strip came under Egyptian military control. Formally, Palestine ceased to exist except in the minds and hearts of the hundreds of thousands of Palestinian people who became refugees."
---
"The U.S. Government has blocked, along with Israel, almost every U.N. resolution that sought a peaceful, equitable solution to the conflict. . . . It was on the 11th of Sep. 1990 that George W. Bush Sr., then President of the U.S., made a speech to a joint session of Congress announcing his Government's decision to go to war against Iraq."
---
"About half a million Iraqi children have died as a result of the sanctions. Of them, Madeleine Albright, then U.S. Ambassador to the U.N., famously said, 'It's a very hard choice, but we think the price is worth it.' . . . The U.S. has the largest arsenal of nuclear weapons in the world. It's the only country in the world to have actually used them on civilian populations. If the U.S. is justified in launching a pre-emptive attack on Iraq, why, then any nuclear power is justified in carrying out a pre-emptive attack on any other. . . . The U.S., which George Bush has called 'the most peaceful nation on earth,' has been at war with one country or another every year for the last fifty years."
---
"In the last ten years of unbridled Corporate Globalisation, the world's total income has increased by an average of 2.5 per cent a year. And yet the numbers of the poor in the world has increased by 100 million. Of the top hundred biggest economies, 51 are corporations, not countries. The top 1 per cent of the world has the same combined income as the bottom 57 per cent and the disparity is growing."
---
" 'The American Way of Life' is simply not sustainable. Because it doesn't acknowledge that there is a world beyond America. . . . Fortunately, power has a shelf-life. . . . For all the endless empty chatter about democracy, today the world is run by three of the most secretive institutions in the world: the International Monetary Fund, the World Bank, and the World Trade Organisation, all three of which, in turn, are dominated by the U.S. Their decisions are made in secret. The people who head them are appointed behind closed doors. Nobody really knows anything about them, their politics, their beliefs, their intentions. Nobody elected them. Nobody said they could make decisions on our behalf. A world run by a handful of greedy bankers and CEOs who nobody elected can't possibly last."
---
"Soviet-style communism failed, not because it was intrinsically evil but because it was flawed. It allowed too few people to usurp too much power. Twenty-first century market-capitalism, American-style, will fail for the same reasons. Both are edifices constructed by human intelligence, undone by human nature."
---

- Top -
U.S. Double-Standards

By TARIQ ALI
As quoted by Fatemah Farag.

Al-Ahram, Sep. 26, 2002

"I despise people who become apologists for the U.S. I am at the same time deeply hostile to all forms of religious fundamentalism."
---
"[A] war in Iraq will inflame the entire Arab world. The excuse is that Saddam [Hussein] might have hidden nuclear weapons or that he might manufacture them in the future. Might? The Israelis have nuclear weapons and Mordecai Vanunu, the courageous Israeli scientist who revealed this to the world, is still in prison. A quarter of a century in prison and Bush and his confederates want to invade Iraq? You do not have to be too sophisticated to see this as a grotesque display of double-standards. It's possible that after the Americans have occupied Iraq they will also put some pressure on the Israelis to accept the existence of Palestine, but as an Israeli protectorate. It will not work in the long run."
---

- Top -
Blaming Today's Terrorism on Islam Is Nonsense

By BISHOP DESMOND TUTU
In an interview with Haroon Siddiqui.

The Toronto Star, Sep. 26, 2002

"If you have a sense of history, you know that the Crusaders were Christians, and you realize that the civilization about which we boast now would not have been available to us had it not been for the Muslims. . . . [W]here did the Crusades originate? Is that a justification for saying that Christianity is an aggressive religion? Who was responsible for the Holocaust? Because some Christians did that, would we then say that Christianity is a violent religion? Fascism - where did that come from? Europe. Nazism? Europe. Colonialism? Europe. Does that justify our saying that all of that was due to Christianity? Apartheid was supported by one of the major Christian churches in South Africa. Do you then say, 'Ah, Christianity is responsible for all this racism?' "
---

- Top -
Biggest Impact of 9/11 on the U.S. Is the Erosion of Civil Liberties

By ANITA RODDICK

The Independent, Sep. 26, 2002

"[I recently wrote that] the main change in America since that horrible day [9/11] . . . [has been] the supression of public dissent and the erosion of civil liberties in the United States, which as I see it are among the most dire threats that country now faces."
---
"Somehow, my criticism of George Bush had been equated with a hatred of the country he leads, as if a leader and his country were one and the same, as if all Americans support George Bush without reservation or exception. When I am feeling particularly generous, I suppose this is a simple misunderstanding by a few people who accidentally missed my point. But I also fear that perhaps this is the natural result of the atmosphere created when a sitting president tells his subjects that 'you're either with us or you're with the terrorists.' "
---
"Criticism of Bush, then, is tantamount to friendship with Bin Laden. The mind reels at the logic. Teddy Roosevelt must be spinning in his grave. He's the beloved American president who said: 'To announce that there must be no criticism of the president, or that we are to stand by the president right or wrong, is not only unpatriotic and servile, but is morally treasonable to the American public.' . . . As Günter Grass said: 'The job of a citizen is to keep his mouth open.' "
---

- Top -
The U.N. Has Failed the Palestinians

By MUSTAFA BARGHOUTI
Mustafa Barghouti is spokesman for the Palestinian National Initiative, a coalition for democratic change in the West Bank and Gaza.

Al-Ahram, Sep. 26, 2002

"The U.N. in particular has failed to provide the one thing that Palestinians have consistently called for - an international protection force. Since the beginning of the Intifada, when Israeli troops responded to unarmed Palestinian demonstrations with excessive and disproportionate military force, Palestinians have called for protection. As the two years have passed, and the Israeli onslaught has continued, to the point that over 1,800 Palestinians have been killed and, according to the Palestinian Ministry of Health, more than 41,000 have been injured, we have pleaded for international protection."
---
"It was not U.N. troops in smart uniforms who took up positions in our villages and cities, nor was it American soldiers storming ashore, as in Somalia. It was individuals who responded to our calls, and small groups from trade unions and churches, anti-globalisation activists, committees from the world social forum, Jewish and Christian groups opposed to the occupation, governmental representatives, as well as those belonging to Palestinian solidarity groups."
---

- Top -
Crimes Against Humanity in Iraq

By ROBERT FISK

The Independent, Sep. 26, 2002

"Tony Blair's 'dossier' on Iraq is a shocking document. Reading it can only fill a decent human being with shame and outrage. Its pages are final proof - if the contents are true - that a massive crime against humanity has been committed in Iraq. For if the details of Saddam's building of weapons of mass destruction are correct . . . it means that our massive, obstructive, brutal policy of U.N. sanctions has totally failed. In other words, half a million Iraqi children were killed by us - for nothing. . . . The Blair 'dossier' tells us that, despite sanctions, Saddam was able to go on building weapons of mass destruction."
---

- Top -
Lone-Wolf Bush

EDITORIAL

The New York Times, Sep. 24, 2002

"As a presidential candidate two years ago, George W. Bush called for a degree of humility in U.S. dealings with other nations. Since he took office it has often been hard to locate that sentiment in his foreign policy. . . . Given Bush's lone-wolf record on matters like global warming, and the nature of the issues he now faces, including a looming confrontation with Iraq, it is clear that these combative attitudes will be driving Washington policy in the months ahead. . . . Strong, confident leaders need not be arrogant leaders. Indeed, arrogance subverts effective leadership. Whether the issue is protection of the environment or protection of the homeland, the United States needs help. In securing America's safety, Bush must be careful not to create a fortress America that inspires the enmity rather than the envy of the world."
---

- Top -
British M.P. Backs Khalistan Demand

By SANJAY SURI

The Tribune, Sep. 24, 2002

"A senior ruling Labour Party M.P. has supported a separate Sikh state of 'Khalistan' if the move is made 'peacefully and democratically.' Rob Marris, Labour M.P., expressed his support at a meeting organised by a pro-Khalistan group in a gurdwara in Wolverhampton on Sunday. At the same meeting a senior shadow minister [Caroline Spelman] of the Conservative Party expressed support for Sikhs in Britain to register themselves as Sikhs and not Indians. Rob Marris, who is treasurer of the All Party Panjabis in Britain Parliamentary Group, expressed strong support for the Sikh Agenda that the Sikh Secretariat has produced. The agenda calls for Sikhs to be registered as separate from Indians in Britain, and calls for self-determination in Punjab."
---

- Top -
Selective Focus on Human Rights

By FRED HIATT

The Washington Post, Sep. 24, 2002

"Almost no one now disputes that the United States and the United Nations should have prevented the murder of 800,000 or more Rwandans in 1994. . . . In North Korea, as many as 3 million people have died from a famine caused largely by the failed economic policies of a brutally oppressive government. According to Jasper Becker, who wrote a book about Communist China's politically induced famine of 1958-1962 and who has interviewed many North Korean refugees, the famine in that isolated nation may have begun more than a decade ago. . . . In Burma, the military junta murdered thousands to suppress pro-democracy demonstrations 14 years ago. Since then it has pressed millions into forced labor and allowed thousands of girls and women to be sold into forced prostitution, which is slavery of another kind."
---
"For more than two decades Saddam Hussein has kept his people locked in the most brutal of police states. He has exterminated tens of thousands of Kurds, forcibly evicted tens of thousands of Shiite Arabs and made routine the use of murder, rape and torture against Iraqis of every ethnicity."
---

- Top -
Bajrang Dal Goons Rough Up South Koreans

By SOROOR AHMED

The Asian Age, Sep. 23, 2002

"Bajrang Dal activists attacked and injured nine people, seven of them South Korean nationals, for allegedly converting Hindus to Christianity in north Bihar's Begusarai town. . . . The presence of South Koreans in Begusarai is not unusual. Samsung has taken up a massive Rs 2,500-crore expansion programme at the Barauni oil refinery near Begusarai. Besides, some of the Koreans are reportedly involved with some N.G.O.s."
---

- Top -
Maharashtra Moves to Ban Bajrang Dal, V.H.P.

By STAFF

The Deccan Chronicle, Sep. 23, 2002

"Alarmed by the situation created by 'fundamentalist' forces in the neighbouring Gujarat, Maharashtra government is likely to initiate moves to ban Bajrang Dal and V.H.P. in the State, Minister of State for Home Kripashankar Singh said here on Monday."
---

- Top -
108 Muslims Embrace Hinduism Again

By STAFF

The Deccan Herald, Sep. 22, 2002

"As many as 108 Muslim families embraced Hinduism again at a village in Ajmer district of Rajasthan, a Vishwa Hindu Parishad spokesman claimed here on Sunday. The Muslims took a vow in the presence of V.H.P. International general secretary Praveen Togadia to follow Hindu traditions and the way of life at Amba Masania village on Saturday, he said. The families had been following Hindu customs in marriages and other social functions even after their conversion to Islam, the spokesman said. They voluntarily embraced Hinduism again at the function sponsored by the Vishwa Hindu Parishad, he said. The function was addressed by Togadia and other leaders of the organisation."
---

- Top -
Blundering Bush

By ERIC S. MARGOLIS

The Toronto Sun, Sep. 22, 2002

"Bush has blasted Saddam for 'undermining and weakening the U.N.' In his very next sentence, Bush vowed to ignore the U.N. Security Council and invade I-raq, as he calls it, if the U.N. didn't give him a green light to attack. Bush is determined to destroy a nation whose name he can't even pronounce."
---
"Bush and Congress (Democrats and Republicans alike) fear the minute Iraq war fever subsides, they will be crucified over the scandals engulfing Wall Street and corporate America. The Clinton and Bush administrations and Congress all took huge donations from the super crooks at Enron, Worldcom, Global Crossing and their Wall Street co-conspirators, and were thus party to the most massive swindle in American history."
---
"And the United Nations? It may think the Americans have gone crazy, but, hey, the Yanks pay almost half of the U.N.'s bills. There's no way the U.N. will endanger its expense accounts for the sake of miserable Iraq."
---

- Top -
The Challenges of Negotiating With L.T.T.E.

EDITORIAL

The Hindu, Sep. 20, 2002

"Most notable among the packages that have been rejected by the L.T.T.E. in the past were the Devolution Proposals contained in the address delivered by the Sri Lankan President, Chandrika Kumaratunga, on Aug. 3, 1995, which offered substantive autonomy. That package included proposals for re-demarcating the existing boundaries of the North-East province and the devolution of power to the regions so that the people in each could have control over major aspects of their lives, including personal security and the administration of justice. If the L.T.T.E. was not prepared to accept that package which appeared to offer the most expansive framework of devolution it is difficult to appreciate what more the Sri Lankan Government can now offer to persuade this organisation to accept a settlement short of one that effectively divides the country."
---
"L.T.T.E. has never put forward proposals of its own but has instead waited for the Sri Lankan Government to make an offer which they then use as the basis to hike up their demands. . . . New Delhi cannot on any account allow for its demand for the extradition of the L.T.T.E. supremo Velupillai Prabakaran to be diluted or set aside for the momentary convenience of the establishment in Colombo."
---

- Top -
A Medal for Saddam?

By M.J. AKBAR

Dawn, Sep. 19, 2002

"George Bush, of course, cannot understand the difference between Osama and Saddam Hussein. In his speech to the United Nations President Bush included in his list of reasons for the invasion of Iraq the charge that he killed children in front of their parents. A slightly different explanation is offered by the marketplace for President Bush's obsession with Saddam. One of course is the son's Freudian desire to show daddy that he can do better."
---
"The second is that if you cannot locate Osama and Mullah Omar one year after conquering a country to find them, the second best thing to do is to change the subject. The fact that the C.I.A. has been trying for months, without any success, to link Mohammed Atta (of 9/11 fame) with an Iraqi spy is no deterrent. A 21-page fact sheet that the White House released along with the Bush speech did not once connect 9/11 with Saddam Hussein. But when Bush comes to shove, all he wants is regime change in Baghdad, preferably by war."
---
"I have very little sympathy for Saddam Hussein's dictatorship, or with any dictatorship for that matter, but I must point out significant achievement of Saddam Hussein. Iraq is the only issue on which India and Pakistan agreed on in the United Nations. Anyone who can make India and Pakistan agree on anything these days deserves some kind of medal."
---

- Top -
China's Rough Love for Tibet

By ECONOMIST STAFF

Economist, Sep. 19, 2002

"Since the 1951 takeover of Tibet by Mao Zedong's Communist forces, Tibetans have bristled under (and occasionally, but unsuccessfully, revolted against) their Chinese masters. Staking what it considers an 'indisputable' and 'ancient' claim to sovereignty over Tibet, China has sought to modernize the place in the hope that rising prosperity, eventually, will be enough to win grudging acceptance by Tibetans of their fate."
---
"China vigorously denies charges that it seeks to change Tibet by flooding the place with migrants, but it is evident that Chinese migrants are in fact dominating major portions of Tibet's economy; Chinese bureaucrats, as well as soldiers and police, are stifling Tibet's religious and cultural life; and an ambitious Beijing-sponsored development plan, while succeeding in raising the region's standard of living, is at the same time transforming its landscape and browning its unique hues."
---

- Top -
A.C.L.U. Soldiers on Under Romero

By BOB HERBERT

The New York Times, Sep. 19, 2002

"Mr. [Anthony] Romero [A.C.L.U.'s new executive director since Sep. 4, 2001] and his colleagues have won preliminary victories in a number of cases, although the rulings are still subject to appeal. It was an A.C.L.U. lawsuit that led to a U.S. Court of Appeals ruling last month that the Bush administration could not routinely conduct deportation hearings in secret. 'Democracies die behind closed doors,' said Judge Damon Keith, who wrote the opinion for the three-judge panel. In another case in which the A.C.L.U. participated, a federal district judge in Washington ruled that the names of detainees suspected of immigration violations had to be made public. 'Secret arrests,' wrote Judge Gladys Kessler, 'are a concept odious to a democratic society.' "
---

- Top -
Conundrum in Iraq

By ROBERT FISK

Dawn, Sep. 18, 2002

"You've got to hand it to Saddam. In one brisk, neat letter to Kofi Annan, he pulled the rug from right under George Bush's feet. . . . Saddam would do everything he could to avoid war. President Bush was doing everything he could to avoid peace. . . . Be sure, too, that Saddam, that master of the post-agreement conditional clause, will have a few surprises for the U.N. inspectors when they do turn up in Baghdad."
---
"Saddam, of course, must have his own worries. Back in 1996, the Iraqis were already accusing the U.N. inspectorate of working with the Israelis. Major Scott Ritter, Iraq's nemesis-turned-saviour, was indeed - as an inspector - regularly travelling to Tel Aviv to consult Israeli intelligence. Then Saddam accused the U.N. inspectors of working for the C.I.A. And he was right. The United States, it emerged, was using the U.N.'s Baghdad offices to bug Iraq's government communications. And once the inspectors were withdrawn in 1998 and the U.S. and Britain launched 'Operation Desert Fox', it turned out that virtually every one of the bombing targets had been visited by U.N. inspectors over the previous six months. Far from being an inspectorate, the U.N. lads - though they didn't all know it - had been acting as forward air controllers, drawing up an American hit list rather than monitoring compliance with U.N. resolutions."
---
"Then Bush demanded that Iraq 'cease persecution of its civilian population, including Shia, Sunnis, Kurds, Turkomans and others'. Notwithstanding the inclusion of Turkomans - worthy of protection indeed, though one wonders how they turned up on the Bush list - does this mean that the U.N. could demand human rights monitors inside Iraq? In reality, such a proposal would be both moral and highly ethical, but America's Arab allies would profoundly hope that such monitors are not also dispatched to Riyadh, Cairo, Amman and other centres of gentle interrogation."
---
"Mr. Bush's sudden passion for international adherence to U.N. Security Council resolutions - an enthusiasm which will not, of course, extend to Israel's flouting of U.N. resolutions of equal importance - is in reality a cynical manoeuvre to provide legitimacy for Washington's planned invasion of Iraq."
---
"But even this idea has a hand grenade attached to it. Today, for example - and you will look elsewhere in vain for any mention of this - marks the 20th anniversary of the 1982 Sabra and Chatila massacre, the slaughter of 1,700 Palestinian civilians by Israel's Phalangist militia allies, a bloodbath which Israel's own army watched and noted - and did nothing about. Lawyers for the families of the victims are even now appealing against a Belgian decision not to allow Israel's prime minister, Ariel Sharon - then the defence minister who was judged 'personally responsible' by Israel's commission of inquiry - to be tried for these mass murders."
---

- Top -
Unpopular America

By TARIQ ALI
Debating Daniel Pipes.

Outlook, Sep. 17, 2002

"But [the celebration in response to 9/11] wasn't confined to the world of Islam. This was very, very strong in Latin America. I mean, in parts of Latin America, there were public celebrations of this event. The reaction in parts of China were also very similar. But that, I don't think, has much to do with militant Islam at all."
---
"This ruthless megalomaniac [Saddam Hussein] was once a close ally of the United States, backed by them and Britain when they unleashed him to fight the war against the clerics in Iran. That's when he acquired chemical weapons and some of his scientists came and were trained in the Porton Down laboratories in Britain. The notion that this regime, which has been weakened by continuous sanctions, by weekly Anglo-American bombing raids, is capable of threatening any Western country is, of course, a joke."
---

- Top -
George Bush's Iraq Obsession

By ERIC S. MARGOLIS

The Toronto Sun, Sep. 15, 2002

"Last week, Britain's authoritative International Institute for Strategic Studies issued a study that concluded Iraq had the ability to produce a few nuclear devices, but lacked the enriched uranium or plutonium to do so. . . . As a long-time member of the institute, I was disappointed that it would appear to bend to pressure from the British government by producing a report that was misleading and sensational. Instead of supporting 'regime change' in Baghdad, the I.I.S.S. might do better to review its own weak leadership at London H.Q."
---
"President Bush claimed last week that an attack on Iraq was justified because it had refused to bow to U.N. resolutions and had weapons of mass destruction. Bush could just as well have been talking about Israel, which ignores scores of U.N. resolutions and refuses to admit nuclear arms inspectors. Or of India, which also ignores U.N. resolutions on Kashmir, and is developing a very large nuclear arsenal with Israeli aid, that includes nuclear-armed I.C.B.M. missiles that will soon be able to reach the U.S."
---
"There must be no repeat of the 1990s, when many U.N. inspectors in Iraq turned out to be U.S. and Israeli spies whose job was to target Saddam Hussein for assassination."
---

- Top -
American Hegemony

By TARIQ ALI

Al-Ahram, Sep. 12, 2002

"The leaders of the United States wish to be judged by their choice of enemies rather than the actual state of the world, leave alone the concrete results of the 'war against terrorism'. . . . There are 189 member states of the United Nations. There is a U.S. military presence in 120 countries. . . . No memorials honouring innocent victims will be built in Kabul."
---
"On 16 Jun. 2002, The New York Times reported: 'Classified investigations of the Al Qaeda threat now underway at the F.B.I. and C.I.A. have concluded that the war in Afghanistan failed to diminish the threat to the United States, the officials said. Instead the war might have complicated counter-terrorism efforts by dispersing potential attackers across a wider geographic area.' "
---
"To preserve this regime the United States will have to maintain a permanent military presence. In other words democracy, human and social rights, etc, are as remote as they ever were. . . . Gaza will be transformed into a modern equivalent of an Indian reservation."
---

- Top -
America's War Record Is Littered With Lies

By KENNETH DAVIDSON

The Age, Sep. 12, 2002

"President Lyndon Baines Johnson got Congress to approve U.S. military intervention in Vietnam based on the Gulf of Tonkin Resolution, based on the claim that North Vietnamese torpedo boats made unprovoked attacks on two U.S. destroyers. Does anybody believe this story now? If it is true, why hasn't the U.S. released the archives relating to the incident?"
---
"After the Iraqi invasion of Kuwait in 1990, a group backed by the Kuwait government-in-exile hired a U.S. public relations firm to devise a campaign to win American support for the war. The high point was the use of the daughter of Kuwait's ambassador to the U.S. as a star witness to a congressional hearing into the Iraq invasion. Under an assumed name, she said: 'I saw Iraq soldiers come into the hospitals with guns, and go into a room where 15 babies were in incubators. They took the babies out of the incubators, took the incubators and left the babies on the cold floor to die.' She later admitted she had lied."
---
"[The Americans] want Saddamism without Saddam. He is no longer their man."
---

- Top -
The U.S. Is a Threat to World Peace

By NELSON MANDELA (in an interview with Tom Masland)

Newsweek, Sep. 10, 2002

"The United States has made serious mistakes in the conduct of its foreign affairs, which have had unfortunate repercussions long after the decisions were taken. Unqualified support of the Shah of Iran led directly to the Islamic revolution of 1979. Then the United States chose to arm and finance the [Islamic] mujahedin in Afghanistan instead of supporting and encouraging the moderate wing of the government of Afghanistan. That is what led to the Taliban in Afghanistan. But the most catastrophic action of the United States was to sabotage the decision that was painstakingly stitched together by the United Nations regarding the withdrawal of the Soviet Union from Afghanistan. If you look at those matters, you will come to the conclusion that the attitude of the United States of America is a threat to world peace."
---
"[Y]esterday there was an article that said [Dick Cheney] is the real president of the United States of America, I don't know how true that is. . . . He opposed the decision to release me from prison [laughs]. The majority of the U.S. Congress was in favor of my release, and he opposed it."
---

- Top -
Narayana N.R. Murthy on Secularism

By KULDIP NAYAR

The Indian Express, Sep. 10, 2002

"[Speaking at a memorial lecture in Delhi, the chief of Infosys] took to task those who criticised the Indian Muslims for celebrating the victory of Pakistan over India in cricket. Their number was small, Murthy said. They reflected the feeling of insecurity prevailing among them. He compared such incidents to the demonstration of support by the Indians in the U.K. to the Indian cricket team. That, too, indicated a sense of insecurity and nothing more than that, he said. [Human Resources Development Minister Murli Manohar] Joshi [who was sitting in attendance] could not have felt happy over the example of the cricket match because the B.J.P. has often cited such instances to 'prove' that 'they' are 'not loyal' to India."
---
"Joshi is one of those who watched the demolition of the Babri masjid at Ayodhya. Coal and Mines Minister Uma Bharti, riding on his shoulders, had laughed and enjoyed the spectacle. Both were indicted by the C.B.I. in the case relating to the destruction of the masjid. The Uttar Pradesh High Court did not entertain the case on technical grounds. It went up to the Supreme Court. Before it could pronounce judgment, the Mayawati government withdrew the case on the plea that the state government would come back with fresh thinking. People are still waiting for this to happen."
---
"There was no fallout from Gujarat [reference to the recent state-sponsored carnage of Muslims] in the neighbouring states, neither in Maharashtra where the Shiv Sena-B.J.P. combine is openly following the anti-Muslim agenda, nor Rajasthan which the B.J.P. is preparing as the next laboratory after Gujarat."
---

- Top -
India Learnt Nothing From 9/11

By TAVLEEN SINGH

The Indian Express, Sep. 8, 2002

"Maulana Masood Azhar, widely acknowledged as masterminding most acts of terrorist violence in India in recent years, was . . . in our [India's] prisons for five years and also won his freedom as a result of the hijacking of IC-814. How seriously will anyone take our complaints against cross-border terrorism if terrorists can remain under trial for five years? . . . [A]fter the terrible pogroms of Gujarat with what face can the Vajpayee government do anything to stop Islamic fundamentalism?"
---
"[T]his newspaper reported that Singhal made a speech at the Shivala Bhaian temple in Amritsar in which he described what happened in Gujarat as a 'successful experiment'. He said, 'Godhra happened on Feb. 27 and the next day, 50 lakh Hindus were on the streets. We were successful in our experiment of raising Hindu consciousness, which will be repeated all over the country now.' He described as a 'victory' for Hindu society that whole villages in Gujarat had been 'emptied of Islam'."
---
"If he said these things should he not be in jail on charges of inciting communal violence? Speaking of which if Narendra Modi questioned the Chief Election Commissioner's patriotism on the ground that he was Christian and thereby suspect, should he not also be in jail?"
---
"[O]ur local war against terrorism is doomed to fail as long as we lack the courage to lock Hindu terrorists up."
---

- Top -
Officials Admit Army Killed Kashmir Civilians

By STAFF

The Washington Times, Aug. 2, 2002

"Indian army troops hunting for terrorists involved in an attack in Kashmir killed and buried innocent civilians, and when protests by villagers forced exhumation of their bodies, they fudged D.N.A. tests to try to prove that the remains were those of Pakistani militants, government reports have revealed. Human rights groups frequently have reported abuses by the Indian army in the territory claimed by both India and Pakistan, but the incident is one of a few cases of excesses conceded."
---

- Top -
The Hypocrisy of American War-Mongering Over Iraq

By HOWARD ZINN

The Progressive, Aug., 2002




"[T]he country that possesses by far the most 'weapons of mass destruction' is our country [the U.S.], which has used them more often and with more deadly results than any nation on Earth."
---

- Top -
Sikhs Frustrated in Efforts to Rebuild Richmond Hill Gurdwara

By JACOB H. FRIES

The New York Times, Jul. 7, 2002

"Thirty years ago this summer, a small group of Sikhs from the Punjab region of India got together the money to buy a Methodist church on a quiet residential block in Richmond Hill, Queens, and converted it into one of the first Sikh temples on the East Coast. In the beginning their numbers were few. But the temple, on 118th Street, quickly became a way station for Sikhs entering the country. Other temples sprouted nearby, spreading into Ozone Park. Now more than 20,000 Sikhs live in Richmond Hill and surrounding neighborhoods. Then, in an instant late last winter, the original temple was lost. On Mar. 8, a gas leak in a basement kitchen erupted in flames that raced up the staircase, shattered windows and burst through the roof. Two dozen or so people escaped, six visiting priests were injured and one later died, and a congregation was without its revered gurdwara."
---
"Today, the temple looks much the way it did the day after the blaze. A breeze whips through the shell of the brick building, carrying the faint smell of burned rubber across the block. Pigeons roost amid the wreckage: the blackened shoes of worshipers, the broken glass, the police tape. Nothing has been cleared because officials of the Sikh Cultural Society of Richmond Hill, which owns the temple, and the insurance company, Great American Insurance, are still trying to work out a settlement. The temple was insured for about $1.5 million, said the society's chairman, Harpreet Singh Toor. An investigator for Great American who recently visited the site would not comment. Some members say that bickering and backbiting are daily occurrences among temple members concerned with the slow pace of replacing the burned building. The tension is due, in large part, to the vast hopes that members hold for the new temple they plan to build over the ashes of the old."
---
"Three Sikh architects have submitted designs for the temple. The cultural society's board is expected to choose one by the end of the month. One of the three, Jaswant Singh Chani, 58, who works out of Holliston, Mass., said most Sikh temples in America were in older, rehabilitated buildings, many of them former houses of worship of other faiths. 'Here's an opportunity to build a real gurdwara experience,' Mr. Chani said. 'It is a once-in-a-lifetime chance.' His design, he told temple members recently, tries to meld function and Sikh spirituality. Upon entering, there would be a room for worshipers to remove their shoes, then a sink area for them to cleanse their hands and face. 'You must prepare yourself to hear the truth,' he said of the characteristic Sikh ritual. 'This allows that.' "
---
"The five-story, 100,000-square-foot temple would also include a lobby, the main sanctuary, computer rooms, classrooms, a museum, a library, a kitchen, sleeping accommodations . . . and an underground parking garage. The temple would cost at least $15 million, Mr. Chani said, and take two years to build. The other two architects have proposed similar designs. Congregation members say they are just eager to find a permanent home. They have been moving around a lot. The former cultural society chairman, Harbans Singh, 51, recently attended services at the renovated house and pressed other members about what progress had been made on a new temple. He grilled the current chairman, Mr. Toor, about what was taking so long. 'Do you have a lawyer?' Mr. Singh asked. Mr. Toor said he did not. 'You are wrong,' Mr. Singh told him sharply. 'You should have a lawyer. The insurance company has their lawyers.' Mr. Toor became defensive at the comment, saying he was doing all that he could or should."
---

- Top -
1984 Was a Sikh Massacre, Not a Hindu-Sikh Riot

By KULDIP NAYAR
Kuldip Nayar has been many things in his life - reporter, editor, detainee during the Emergency (1975-1977), high commissioner to Great Britain, peacenik, Rajya Sabha [Upper House of the Indian Parliament] member - but what he does best is explore the byzantine maze of Indian politics to provide amplification and clarity of events, issues and personalities.

The Hindu, Apr. 20, 2002





"Some human rights activists who worked in Delhi during the 1984 riots are also in Gujarat. They recalled that the 1984 riots like those in Gujarat were well-planned and executed with open assistance from the police and the Government machinery. The military was deliberately not deployed immediately after the rioting in Ahmedabad as in Delhi in 1984. Soon after the 1984 killings, rights activists brought out a book Who Are the Guilty? Till today it remains the most authentic version. Now, Vrinda Grover, a scholar and activist, has laid bare the 1984 massacre in a report, The Quest for Justice written jointly with her associate, Kajal Bharadwaj. Discussed at a seminar in Delhi, the report examines different aspects of the circumstances which led to the massacre and contains interviews with scores of people and analyses of numerous official and unofficial reports and documents."
---
"The first four days of November 1984 were the bloodiest in Delhi's history since 1947, says the report. According to official figures, 2,733 Sikhs were brutally killed, burnt and slaughtered in the Capital within 72 hours. Countless others were injured, women raped and hundreds of homes and shops looted and destroyed. The report's sarcasm is biting. It says: 'Public memory defines these incidents as the 1984 riots - a continuing misnomer. There is substantial recorded testimony of both victims and other citizens of Delhi to show that it was not a riot, but a massacre, a mass murder.' There was no large scale rioting between Hindu and Sikh communities. In fact, recorded testimony points to the fact that mobs were assigned the task of 'systematically eliminating and looting Sikh families.' "
---
"Reconstructing the events which led to the 1984 massacre, the report says political analysts believe that during the 1980s, the Prime Minister, Indira Gandhi, had encouraged Sant Jarnail Singh Bhindranwale in his expression of communal sentiments to counter the growing popularity of the Akali Dal in Punjab. He began to voice extreme and sectarian demands. The 1980s saw the campaign for a separate Khalistan gain momentum and militancy rapidly took root in Punjab. Numerous assassinations of political figures and police officials took place. In June 1984, Indira Gandhi ordered the Army to enter what the Sikh community considers its most sacred shrine, the Golden Temple in Amritsar."
---
"This was a highly controversial operation involving the extensive use of firepower including tanks and the near-complete destruction of the section of the temple known as the Akal Takht. In the months that followed, rumours flew thick and fast about the impending revenge the Sikhs were bound to exact and on Oct. 31, 1984, Indira Gandhi was assassinated by two of her bodyguards who belonged to the Sikh community. Suddenly, thousands of Sikhs in the national capital (and elsewhere) became targets of communal violence in the first few days of Nov."
---
"Punjab was different prior to 1984. Hindus and Sikhs generally perceived themselves as one community or as communities with an intrinsically linked history. The political manoeuvring for control over Punjab started a cycle of violence that ruptured the link between the communities and communalised the psyche of both. The indiscriminate killing of individuals and the violence directed against a particular community with the apparent complicity of Government machinery have continued to haunt the Indian polity. Reacting to the conviction and sentencing of Indira Gandhi's assassins, a woman survivor of the 1984 incidents asked: 'Why is it that not one of those who have killed our men has been punished by being put in jail?' "
---
"The saga of commissions and committees set up to determine the causes, consequences, deaths, prosecutions, compensation and disciplinary action relating to the 1984 carnage began that year and continues to this day. The latest of these is the Justice Nanavati commission appointed in Jul. 2000 by the Central Government. This is the second commission of inquiry into the 1984 massacre constituted under the Commission of Inquiry Act, 1952."
---
"In their report, Ms. Grover and Ms. Bharadwaj ask: 'How can we break the vicious cycle of violence? Does the Indian polity still carry the burden of that tragic turn of events?' The answers to such questions will emerge if and when the truth is translated into justice and is interjected into social institutions and public awareness. The legal system has the avowed purpose of resolving conflicts and redressing infringed rights. It has the legitimate authority to source the truth and deliver justice. Situations of mass murders and violence are a challenge to our legal system and social conscience. The instigation of communal frenzy and the commission of mass murder cannot be ignored or excused. The persons who killed, burned or looted as well as the minds that engineered or conspired to arrange these events must be punished. Failure on either count will upset judicial norms and undermine the standing of state institutions in the minds of the citizenry."
---
"The American Embassy has sent me a voluminous report on human rights practices, prepared by the State Department's Bureau of Democracy, Human Rights and Labour. The report has a chapter on every country except the U.S. Understandably, a Government-funded organisation cannot comment on the state of human rights in its own country. I think the whole thing is conceptually wrong. Washington cannot judge violations of human rights in the rest of the world. When it does, it carries no conviction because such assessments should be made by organisations which are autonomous and which are not part of the Government. Amnesty International has credibility because it is independent, although in its case too the funding could be more transparent and in no way should it be connected with the sources directly or indirectly linked to the Government or its overt or secret agencies. I do not know much about Asia Watch based in the U.S. But it carries more conviction than the State Department's Bureau."
---
"The quality of reporting by the Bureau leaves one unfulfilled. The press is a good source but the compiling of happenings here and there, like reports in newspapers, does not speak well of the work, which has to be in the field by committed human rights activists. In a way, the report is a catalogue of unconfirmed instances of violations. Coming as it does from the State Department, it does no credit to the U.S. Government. Also, human rights activists do not take it seriously because it has the stamp of the Government. The Chinese criticism of the Bureau's report carries conviction because at times it badgers the Government in Beijing for the wrong reasons."
---

- Top -
Has 1984 Been Forgotten?

By JAYA JAITLY

The Indian Express, Apr. 12, 2002

"The Vigyan Bhavan premises are host to . . . the Justice Nanavati Commission seeking the truth about what happened to Sikhs in Oct. 1984 following Indira Gandhi's assassination. . . . If one reason is that 1984 is best forgotten for some people, the recent events in Gujarat make it imperative to recall the past and learn a few lessons. . . . Hundreds who are still active in politics, voluntary organisations and the media, including this writer, were eye-witnesses to the targeted attack on every Sikh person, establishment, dwelling and taxi stand for four days from the late afternoon of Oct. 31, 1984. Khoon ka badla khoon se [avenge blood with blood] was the refrain which emanated from Safdarjang Road, where Mrs. Gandhi's body lay; it reverberated over Doordarshan and found echoes across Delhi, Gurgaon, Kanpur, Bokaro, Indore and in trains."
---
"Sikhs desperately cutting off their hair and removing their turbans to escape identification were attacked with iron rods, trapped in burning tyres or in their flaming shops and homes. Even Sikh army officers in uniform were pulled out of trains and killed. The police went around on motorcycles shouting encouragement to the mobs while Congress leaders were seen instigating those beholden to them in the vast slum clusters. All this has been documented in the thousands of heartrending affidavits filed by the victims and in the P.U.C.L. report, 'Who are the guilty?,' termed the job of a kangaroo court by the Congress."
---
"The government belatedly put the death count at 425 but Atal Bihari Vajpayee asked the B.J.P. to compile an accurate list which was released at the end of Nov. 1984. This put the toll at 2,500. Both Madanlal Khurana and V.K. Malhotra have deposed before the Nanavati Commission, recounting how the Congress had raised a hue and cry calling the B.J.P. anti-national for quoting such a high figure. But the official figure compiled by the Justice Ahuja Committee as late as 1987 confirmed 2,733 deaths. No government has provided a consolidated figure for the rest of India."
---
"Despite such unprecedented horror in the capital of a supposedly civilised India, the Congress government headed by Rajiv Gandhi chose not to institute a commission of inquiry immediately. Human rights groups filed a writ, but the government took the stand that the court had no powers to institute a commission of inquiry. However, in Apr. 1985, when the Rajiv-Longowal accord was to be signed, Longowal listed a commission as one of the pre-conditions. So came the Justice Ranganath Mishra Commission, more as a political sop than out of duty. Mishra, who is today a Congress member of the Rajya Sabha, stated in his report that a number of Congress workers participated in the 'riots' but that the Congress party was not involved. The report also said that if the army had been called in time, 2,000 lives could have been saved."
---
"It did not go into who was responsible for all this since that had been conveniently left out of the terms of reference. The report was submitted in Aug. 1986 but the government took six months to lay it before Parliament. To demonstrate 'action taken,' it appointed retired justices for (i) the Jain-Banerji Committee to go into why a large number of cases were not registered at all or were not registered properly; (ii) the Kapoor-Mittal Committee to inquire into the role of the police; and (iii) the Ahuja Committee to determine the number of deaths. On Mishra's crucial finding that the delay in army deployment resulted in 2,000 deaths, the government was totally silent. No one shouted for the resignation of the prime minister or the home minister. Little or no action was taken on the reports submitted by these committees."
---
"The deployment of the army in 1984 was in sharp contrast to recent deployment in Gujarat. Army trucks were helplessly lost in the tree-lined avenues of New Delhi as killings went on unabated in faraway Palam and Trilokpuri. At 5 p.m. on the evening of the assassination the car of none less than the president of India, Giani Zail Singh, a Sikh, was stoned near the All India Institute of Medical Sciences. Large-scale violence had begun. This should have been enough to call the army out but even on Nov. 1, as killings went on in east and west Delhi, Palam area and the south districts, curfew was not imposed till 4 p.m. - and that too only in central and south Delhi. In the east it led to 1,026 Sikhs being killed. Only at 8 p.m. on the night of Nov. 1 was curfew imposed throughout Delhi."
---
"The army was called at 2.30 p.m. on Nov. 1 but when the general officer commanding went to meet the lieutenant governor, he was kept waiting for one hour. Was this swift action compared to Gujarat? The army reached south and central Delhi at 6 p.m. and east and west Delhi only in the afternoon of Nov. 2. No magistrates to give permission to fire or navigators were provided, rendering the army virtually ineffective until Mrs. Gandhi's funeral was over. The three days 'to teach them a lesson,' as the message went, were finally over as her funeral pyre died down. After this, the Congress unleashed a highly inflammatory election campaign with bit advertisements in all newspapers. These are well-documented in the Jan. 13, 1985, issue of the now closed Illustrated Weekly of India."
---
"It spread fear about 'neighbours' and 'taxi drivers' and questioned Sikh patriotism by asking people whether they wanted the country's borders at their doorsteps. Political analyst Rajni Kothari wrote in the Dec. 23 issue: 'Rajiv Gandhi's government was inaugurated in Delhi through massive killing, arson and incitement to crime by influential politicians accompanied by a total breakdown of civil authority . . . There is considerable evidence to suggest that the neglect was planned neglect.' The greatest beneficiary of all this was Sonia Gandhi's late husband whose party won more than 400 seats to the B.J.P.'s two in the ensuing Lok Sabha election."
---
"He had declared at the Boat Club rally to commemorate his late mother's birth anniversary that 'when a great tree falls, the earth will shake,' clearly approbation for those who committed genocide in the name of spontaneous anger. . . . [L]et not the existence of the Justice Nanavati Commission be allowed to fade from public view."
---

- Top -
Sikh Determined to Rebuild Richmond Hill Gurdwara

By DEEPTI HAJELA
Harpreet Singh Toor is chairman of the gurdwara's (95-30 118th Street, Richmond Hill, Queens, N.Y.) board of trustees.

The Associated Press, Apr. 4, 2002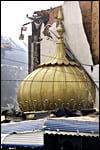 "The stench of smoke lingers even now, three weeks after the Sikh Cultural Society in Queens, New York, was gutted by fire. Half of the two-story building that housed the first East Coast Sikh temple is gone, leaving a gaping hole in the ground and debris all around. In the other half, where the roof collapsed, one of the most extensive library collections of its kind is gone too. At least two years of construction and up to $10 million will be needed before the flock - which numbers in the thousands - can return to a new temple. But the leadership . . . is determined to rebuild, and is philosophical about the task ahead. 'It's part of the Sikh religion, you have to move on. . . . Change is always there,' said Joginder Singh Malhi, who ran educational programs at the temple, or gurdwara as it is called by Sikhs. He said the reconstruction also provides an opportunity for seva [service], or religious work. 'Whoever performs service,' he said, 'receives the grace of God.' "
---
"The gurdwara was destroyed Mar. 8 in an early morning fire and authorities are still investigating the cause. One man, a visiting priest from India, died from smoke inhalation. The temple would have marked its 30th anniversary this summer, said Harpreet Singh Toor, chairman of the cultural society. When it opened its doors in Jun. 1972, the temple quickly became a focal point for Sikhs who had had no other religious institutions in the region. At the time, Sikhs lived primarily on the West Coast. . . . In the years since the temple's founding, other gurdwaras have opened elsewhere in New York and other East Coast cities. But the Sikh Cultural Center continued to have a large draw - between 700 and 800 visitors daily, up to 3,000 on weekends, and as many as 10,000 on holy days, Toor said. Now, a temporary altar set up in a house the society owns next door to the burned-out gurdwara draws 300 to 400 visitors every day for prayers."
---
"Singh's looking forward to returning to his former religious home, and there is no question in his mind that he will be able to. 'They must make a new one,' he said. But when they do, it will be missing some of the things that made it unique - including the library's 15,000 to 20,000 tomes covering subjects including Sikh culture, and Punjabi and Indian history. Toor said the collection was so extensive that scholars would visit; many of the books, now out of print, are almost impossible to replace. 'There are other collections, but I don't think anybody had that extensive a library,' said Dr. Jasbir Singh Kang of the Punjabi American Heritage Society in Yuba City, Calif. 'That's the biggest tragedy. A building can be replaced.' But while the library is gone, the books [religious texts] that formed the core of the temple are safe."
---

- Top -
Israel Must Withdraw Now

By DAOUD KUTTAB
Daoud Kuttab, director of the Institute for Modern Media at Al-Quds Univerity in Jerusalem, has frequently been arrested and detained by the Palestinian Authority for his reporting.

The Globe and Mail, Apr. 4, 2002

"[T]he Middle East conflict must be seen in the larger context of a people wishing to end what is perhaps the 21 century's only remaining foreign military occupation of a civilian population. In 1967, Israel occupied Arab territories in a flagrant contravention of international norms. At the time, the United Nations Security Council called that occupation 'inadmissible' and called on Israel to withdraw from the occupied territories. Not only is there a need to take into consideration the 35-year-old Israeli occupation, but the U.S. and others must also note the illegal Jewish settlements that have been planted in occupied Palestinian territories in contradiction to the Fourth Geneva Convention."
---
"Mr. Arafat, who spoke by video from under Israeli siege, publicly supported the Saudi peace initiative. He even used the occasion to call on Israel to respond positively to the plea for a comprehensive peace, for the sake of 'our children and your children.' After the Arab leaders unanimously approved a peace plan which provided an historic opportunity for Israel to become a normal part of the Middle East, the opposite happened. . . . When Yitzhak Rabin found himself in a similar position, he stated that Israel would spend a week mourning the dead and on the eighth day would return to the negotiations. Mr. Rabin knew that radicals on both sides don't want peace. He paid for his search for this elusive peace with his own life."
---

- Top -
Sikhs Hand Back Mosque

By AYANJIT SEN

B.B.C., Mar. 28, 2002

"400-year-old mosque built by a Sikh religious figure, Guru Hargovind Singh, in the northern Indian state of Punjab has been handed back to Muslims after 55 years. A memorandum of understanding has been signed by the Sikh caretakers of the building and the Punjab Waqf Board - an elected body of Muslim theologians - in Hargovindpur village in Gurdaspur district."
---
"Under the agreement, the mosque will be run by the Muslims. Speaking to the B.B.C., a senior official of the waqf board, Dr. Mohammed Rizwanul Haque, said the mosque was looked after by Sikhs after the Muslims in the area migrated to Pakistan during partition of the India sub-continent in 1947. He said a Sikh priest kept their holy book - Guru Granth Sahib - in the mosque and used to give daily sermons."
---
"The book has now been shifted to an adjoining building so that the mosque can be preserved in its original form as by Guru Hargovind Singh. 'The performance of Muslim religious prayers in the mosque after 55 years would be recorded in history as an event when Sikhs showed so much magnanimity towards Muslims,' said Dr. Haque."
---
"Local government officials told the B.B.C. that this mosque is a historical monument. Last year, Waqf board officials approached the Sikhs requesting them to hand over the mosque. The Sikhs finally agreed after a series of meetings. The authorities said repairs on the mosque started last month and would take some time."
---

- Top -
Why Montreal (Canada) Didn't Become the New World's Ulster (Northern Ireland)

By WILL FERGUSON

Maclean's, Mar. 18, 2002

"After all, we're built upon even deeper fault lines: French, English; Catholic, Protestant; the conquered and the conquering. The timeline is also similar, with the Oct. Crisis of 1970 paralleling the Bloody Sunday uprisings of Derry in 1972. In both cases, a besieged minority lashed out at the establishment: francophones in Quebec, Catholics in Derry. Both times, civil rights were suspended and martial law declared. . . . I always assumed it was Pierre Trudeau's draconian War Measures Act that did the trick. . . . In Canada, the tally - including bombing victims and assassinations since 1867 - stands at exactly . . . seven. . . . A preliminary report by the Royal Commission on Bilingualism and Biculturalism [is] what saved us, not the presence of armed troops in the streets. It was this now-forgotten royal commission that led directly to the Official Languages Act of 1969, the terms of which were being implemented even as the bombs were going off in Montreal."
---
"In Canada, separatism wasn't outlawed; violence was. And beginning in 1976, the democratically elected Parti Quebecois was allowed to bring in a series of contentious language laws that restricted English and promoted French. These laws, ironically, took the wind out of the separatist sails. In Canada, we bend so as not to break. . . . Following the Bloody Sunday riots, the British were unrelenting and unflinching, and the result was a guerrilla war that spanned three decades."
---

- Top -
Israeli-Palestinian Stalemate

By ERIC SILVER

Maclean's, Mar. 18, 2002

"[Israeli foreign minister, Shimon] Peres says Sharon's hardline position has failed and a new, more conciliatory approach is needed. 'There are some people who are saying, 'Let's have a war, then we shall have peace,' ' said Peres. 'But we have had wars. What do we want - to win another time, to occupy another time, what for? And what will happen after the next war? We don't need a war to make peace. We need peace to prevent a war."
---

- Top -
Ayodhya Saga Continues

By JOANNA SLATER

Far Eastern Economic Review, Mar. 14, 2002

"The construction of the temple was a central campaign promise of the B.J.P. before it came to power in 1999. Then its coalition partners, some of whom are determinedly secularist, forced it to abandon the pledge. They insisted that nothing change at Ayodhya until a continuing court case on the disputed land reached a verdict. . . . A year ago, Prime Minister Atal Behari Vajpayee caused a major stir when he said the temple's construction was 'an expression of national sentiment.' . . . The temperature began rising again when a sister organization of the B.J.P., the Vishwa Hindu Parishad (VHP), or World Hindu Council, announced a Mar. 15 deadline to begin construction, regardless of the courts. . . . To defuse the current tensions, the government wants the VHP to call off its deadline. In exchange, the VHP and [Mahant] Paramhans [Ramchandra Das] want the government to hand over a portion of the 62 acres of land near the site that has been under government control since 1992."
---

- Top -
India's Secularism in Jeopardy

By TUNKU VARADARAJAN
Tunku Varadarajan is deputy editorial features editor of The Wall Street Journal.

The Wall Street Journal, Mar. 14, 2002

"[In light of recent Hindu-Muslim clashes] we are obliged to ask whether one of the great political experiments of the last 100 years - the establishment in India of a secular state - has unraveled beyond repair. . . . India was a place of habitual religious fervor when its constitution was adopted, in 1950, shortly after independence from the British. At that time, only about 18% of its population was literate. Since many fewer people than that, surely, were equipped to read and understand the constitution, India's secularism - enshrined in that text - was principally the conceit of the country's political elite. In fact, it was close to being the conceit of just one man, Jawaharlal Nehru, the first prime minister, who was averse to religion in a way that might have pleased Mustafa Kemal Ataturk."
---
"[Nehru's] disdain for India's religious symbols (and his discomfort with the quasireligious rhetoric that had been so much a part of Mahatma Gandhi's politics) was just as unbending as the doughty Turk's aversion to the culture of the fez. . . . [Secularism] was Nehru's greatest political achievement. . . . Revolutionary [Jacobin] France provides the only other example, before Ataturk, in which secularism formed the bedrock of a national project."
---

- Top -
American Foreign Policy Blunders: Vietnam to Afghanistan

By ERIC S. MARGOLIS

The Toronto Sun, Mar. 10, 2002

"White House tape recordings revealed that by 1967 Democratic president Lyndon Johnson knew the war [in Vietnam] was lost, yet kept sending tens of thousands of American soldiers to their deaths because he had no better plan and feared the domestic political consequences of a pullout. Johnson and Robert McNamara, his secretary of defence, persistently lied to and deceived Americans. . . . America has been scourged by terrorist attacks because of its often heavy-handed interventions abroad, not because Muslims hate democracy or McDonald's. The Saudis who staged kamikaze attacks on the U.S. did so because of the agony of Palestine and Iraq, and American domination of Saudi Arabia. Deeper U.S. involvement in Asia will likely mean more, not less, risk of terrorist attacks."
---

- Top -
Israel's Colonial War

By ROBERT FISK

The Independent, Mar. 9, 2002

"In Jun. of 1982, Palestinian and Lebanese prisoners were executed by the Israelis and secretly buried in Sidon; Israeli jets bombed Palestinian hospitals. Yes, a PLO anti-aircraft gun was positioned on the roof of a hospital in Sidon but the Israelis went ahead and destroyed the hospital anyway - and all the patients inside it. . . . Only last Christmas, the Israeli Prime Minister, Ariel Sharon, told the French President, Jacques Chirac, that the Israelis were 'like you in Algeria [in reference to the Algerian war of independence of 1954-62],' the only difference being that 'we [the Israelis] will stay.' And there you have it. Israel, in Mr. Sharon's own words, is fighting a colonial war. . . . [In his recent critique of Israeli policy] Mr. Powell and his minions were not attacking Mr. Sharon because the Israeli policy was immoral. It was the military ineffectiveness of killing Palestinians, not the abuse of human rights that this embodies, to which the Americans took objection."
---

- Top -
One-Sided Righteousness

By ANDY DONATO

The Toronto Sun, Mar. 7, 2002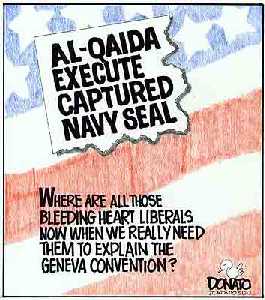 ---

- Top -
Decline of Morality in the U.S.

By ROBERT FISK

The Independent, Mar. 7, 2002

"The pathetic little force of peace-keepers in Kabul cannot control all of the capital, let alone the rest of the country. The Interim President, Hamid Karzai, can scarcely control the street outside his office. But the 'war against terror' comes first. . . . When the Israeli army goes on a shooting spree in the refugee camps and kills 16 Palestinians, among them two children, the U.S. calls for 'restraint.' When a Palestinian suicide bomber murders a crowd of Israelis in Jerusalem, including two babies and a 10-year old, the U.S. boldly blames Yasser Arafat for not 'stopping terrorism' by locking up the bad guys. And Ariel Sharon? Why, he's busy destroying the police stations and prisons to make sure Mr. Arafat can't do what he's been ordered to do."
---
"Maybe the Bush administration actually believes that the man held 'personally responsible' by an Israeli commission of inquiry for the murder of 1,700 Palestinian civilians in Beirut in 1982 really is fighting America's 'war on terror.' Maybe America's moral compass has become so skewed by the crimes against humanity on Sep. 11 that President Bush simply no longer cares what Mr. Sharon does."
---
"[T]he latest little killer is the word 'transfer' or 'resettlement.' As in 'the simple answer . . . would be to create a vast separation from Israel, resettling the Palestinians in Jordan, where 80 per cent of the population is Palestinian.' This comes from an article published in USA Today. In Israel itself, an opinion poll asks Israelis how many of them would support 'transfer' - of Arabs out of their homes, of course, not Jewish settlers off Arab land - as a solution to the war. This is incredible. 'Transfer' is ethnic cleansing and ethnic cleansing is a war crime. If American newspapers are prepared to print such an option and if Israelis are asked to give their opinion on it, what is Mr. Milosevic doing in The Hague?"
---
"The moral collapse is already underway. Take the watering down of the U.S. government's latest report on human rights. In 2000, it said that Egypt's hopelessly unfair military courts 'do not ensure civilian defendants due process before an independent tribunal.' In the 2001 report, however, that sentence has been censored out. It has to be, of course, because Mr. Bush is now setting up his own military courts to try his prisoners at Guantanamo Bay without due process."
---

- Top -
Canada's Weak Condemnation of Israel

EDITORIAL

The Toronto Star, Mar. 7, 2002

"[Canadian foreign minister Bill] Graham's basic message [to the Canada-Israel Committee in Ottawa] was sound enough. Terror attacks will never get Palestinians their state, and repression can never deliver Israelis security. . . . Canada's foreign minister might have pointed out that each and every death is sickening evidence that Sharon and Arafat have failed miserably to force each other to their knees in the past year. Instead, they are forcing people into graves, and at a fearsome rate. Ten yesterday, 100 in the past week, and nearly 1,400 in all. Graham might have noted that the United States, Saudi Arabia and now Egypt have all put credible peace initiatives on the table, and that any rational leader would seize one without further ado, and break the deadlock. He might have faulted Sharon for demanding a Palestinian capitulation to occupation, before opening talks. Or slammed Arafat for embracing terror as a weapon of resistance. He didn't. And that is a shame."
---

- Top -
Mugabe's Days Are Numbered

By GORDON BATHOS

The Toronto Star, Mar. 7, 2002

"Few younger voters today reflexively revere Mugabe as a leader of the 1970s 'bush war' that brought down Ian Smith's racist Rhodesian regime, at a cost of 30,000 lives, and delivered independence in 1980. . . . On the divisive issue of land reform, the MDC [the opposition party, Movement for Democratic Change, led by Morgan Tsvangirai] proposes to return white-owned land seized by black settlers, and relocate them on unused crown land. Then it would purchase one-third of the land owned by whites, at a fair price, for black farmers. This, Tsvangirai says, is the way to 'national healing' and progress."
---

- Top -
Fragile Peace in Sri Lanka

EDITORIAL

The Globe and Mail, Mar. 4, 2002

"Last month, the rebels and the government of Prime Minister Ranil Wickremesinghe reached a formal ceasefire and agreed to begin talks to end a conflict that has claimed more than 60,000 lives. . . . President Chandrika Kumaratunga, a political opponent of Mr. Wickremesinghe, . . . appears bent on making things difficult. Foolishly, she has questioned clauses in the peace pact that allow the government of Norway to act as an impartial arbiter, and has accused the Prime Minister of keeping her in the dark."
---

- Top -
Hypocritical America

By THOMAS L. FRIEDMAN

The New York Times, Mar. 3, 2002

"[I]f you spend five minutes in the Arab-Muslim world these days, you'll instantly discover that people there don't believe us when we [the U.S.] tell the truth! The idea that they might believe our lies [(the Pentagon was considering putting out false stories that might advance America's antiterrorism campaign)] is ludicrous. . . . U.S. officials rightly say that Israel is our friend because it is a democracy. But for 30 years, these same officials have failed to speak out against Israeli settlements in the occupied territories, even though they know those settlements, if unrestrained, are going to destroy Israel as a Jewish, democratic state and deprive Palestinians of any potential homeland. Do we ever press our values - democracy, freedom, women's rights - in the Arab-Muslim world? No. We talk about them only for China or North Korea, never for countries whose oil or bases we may need. Is there any wonder some people there see us as hypocrites?"
---

- Top -
Saudi Crown Prince Delivers a Fresh Chance for Mideast Peace (But, the Devil Will Still Be in the Details.)

By NORMAN SPECTOR
Norman Spector was Canadian ambassador to Israel and Canada's first representative to the Palestinian Authority.

The Globe and Mail, Feb. 28, 2002

"At first uncertain how to react, the U.S. is now praising the Saudi plan [for Israel-Palestine peace; as conveyed through Thomas Friedman's New York Times column of Feb. 17, 2002], if only because it fills a worrisome vacuum. They also, no doubt, are grateful for any prospect of restoring calm in the West Bank and Gaza, which would facilitate their task of taking out Saddam Hussein. . . . Yasser Arafat needs an 'achievement' to prove to his people that their sacrifices were not in vain. And Ariel Sharon - mindful that it would be an incentive for more violence in the future - is determined not to give him any victory. To date, Mr. Sharon has refused Mr. Arafat's repeated calls for a return to negotiations, demanding that the Palestinian leader crack down on Hamas and other terrorist groups first. Though this was his initial reaction to the Friedman column, Mr. Sharon is now indicating a willingness to talk."
---
"The Saudis' first foray into Mideast diplomacy was to offer an alternative to the 'failure' and 'uselessness' of the 1978 Camp David accords, which brought peace to Egypt and Israel and offered autonomy to the Palestinians. The Saudis were opposed then by Iraq and Syria-and the Palestine Liberation Organization-because they averred that 'all states in the region should be able to live in peace.' In the end, the Arab summit at Fez, Morocco, in 1982 simply affirmed support for United Nations guarantees for all states in the region. . . . Tatbiya, in Arabic, includes the fullest political, economic, cultural and people-to-people ties. That's far beyond the term 'normal, peaceful relations,' which describes the cold relationship between Egypt and Israel, and which likely represents the limits of Syrian conviviality, too."
---
"The Saudis themselves have taken in only about 25,000 [Palestinian refugees from the 1948 and 1967 wars] over the years; the Lebanese have kept them in camps without any rights. There is wall-to-wall opposition to their return in Israel, where the demand equates to creating two Palestinian states, and no Jewish one. . . . The virtue of the Saudi proposal is that it focuses on a final status agreement between Israelis and Palestinians, in contrast to the failed staged approach of the Oslo agreement. . . . The most intractable problem, however, will be the question of Jerusalem-specifically the Temple Mount/Haram al-Sharif."
---

- Top -
B.J.P. Is No Different

By KULDIP NAYAR

The Indian Express, Feb. 26, 2002

"Exit polls have seldom been straws in the wind. They have, instead, been a vehicle for political propaganda. . . . In fact, such estimates come in the way of a free and fair poll. The Election Commission should ban them."
---
"[In Punjab] the Akalis have proved that they maintain their stronghold in the rural areas. The B.J.P., which said it had its base in the cities, has been totally decimated. The Punjabi Hindu has shown that he does not trust the Akalis, who tend to mix religion with politics. . . . [The post-election situation in UP where no party has obtained a majority and the governor must decide which party to invite to try and form a government] does, however, raise the larger question about whether governors should be drawn from political parties [since UP governor Shastri had been in the RSS for years]. True, this post is usually a 'reward' given to them for services they have rendered. But some among them have made a mess of things as governors. Vinod Pande in Bihar is one example and Romesh Bhandari in UP, another."
---
"It is obvious that the Panthic Party of Gurcharan Singh Tohra, Simranjit Singh Mann and the like could not have affected more than a few seats. They are finished now. [A] reason for the Congress getting fewer seats than expected is because it selected the wrong candidates. It is an open secret that party tickets were sold to some people for more than Rs 1 crore each. . . . The party that had once sold itself as 'the party with a difference,' has been exposed as being no different from the others despite its claim to having the right values and discipline. In terms of corruption or jobbery, it is even worse than the others. Its image of being anti-minorities has cost it the votes of Muslims, Christians and even Sikhs."
---

- Top -
U.S. Should Isolate Arafat

By WILLIAM SAFIRE

The New York Times, Feb. 25, 2002

"[T]he worst policy for the United States [regarding the Palestine-Israel impasse] would be to repeat the Clinton mistake of unending intercession."
---

- Top -
While Pakistan Liberalizes, Fundamentalism Is Gaining Ground in India

By PANKAJ MISHRA
Pankaj Mishra is author of Butter Chicken in Ludhiana, a travelogue and, more recently, The Romantics, a novel.

The New York Times, Feb. 25, 2002

"[P]ublic opinion overwhelmingly opposes the fanatical ideologies that have undermined Pakistan in every way. It is this strong anti-extremist sentiment that General Musharraf now relies on - much more than American support - in his crackdown on militant groups and his more discreet confrontations with the ideologues given high places by the previous military ruler, Mohammad Zia ul-Haq. . . . [India's] federal minister for education, Murli Manohar Joshi, promotes a new Indian history that highlights the depredations of Muslim invaders (as they are called) and celebrates Hindu bravery. Mr. Joshi has also allocated funds for such 'Hindu sciences' as astrology. This sectarian-minded education is objected to by many of India's distinguished historians - especially those who had stressed India's pluralist traditions in their now discarded textbooks. Mr. Joshi recently denounced these historians as 'academic terrorists' who were more difficult to fight than the usual kind of terrorist."
---
"Oddly, the illiberal tendencies a military dictator seeks to expel, with popular support, from Pakistan seem to be finding a hospitable home in democratic India."
---

- Top -
Toronto Gurdwaras Issuing Bogus Tax Receipts

By ROBERT CRIBB

The Toronto Star, Feb. 24, 2002

"Three Sikh temples [Sri Guru Singh Sabha at 331 Old Weston Road in Toronto; and Shromani Sikh Sangat temples at 2377 Dunwin Drive in Mississauga and 269 Pape Avenue in Toronto] are issuing bogus charitable tax receipts to donors. The federal government revoked the charitable status of all three temples eight years ago for failing to file tax returns. . . . [Ajit Singh Sahota, president of the Ottawa-based World Sikh Organization said,] 'These people should be held accountable.' Michel Proulx, spokesperson for the Canada Customs and Revenue Agency, said he could not comment specifically on the three temples, except to say that none have charitable status. He added, 'This is like the underground economy.' "
---
"Nine Sikh temples in the Greater Toronto Area serve more than 100,000 Sikhs. . . . Sikh leaders in Toronto [including Irvinderpal Singh Babra, a moderate Sikh and publisher of the English-language Sikh Press in Toronto] say the three temples whose charity status was revoked are controlled by members of two controversial organizations, Babbar Khalsa International (B.K.I.) [Weston Road] and the International Sikh Youth Federation (ISYF) - militant international organizations working for an independent Sikh homeland in India. . . . [BKI and ISYF] are outlawed in India and named in Britain's list of 25 organizations. . . . While the groups are not named on Canada's list of known terrorist groups, the Canadian Security and Intelligence Service (CSIS) has been investigating them."
---
"Mississauga's Ontario Khalsa Darbar temple declared $757,227 in 'tax-receipted gifts' in its 2001 tax filing. Malton-based temple Sri Guru Singh Sabha declared 'tax-receipted gifts' of $548,514. The North York Sikh Temple, a smaller gurdwara, received $268,820, according to its latest filing. . . . Manjit Lotay, the [Weston Road] temple's chartered accountant, said, 'They should not be issuing receipts. . . . It's like you driving without a licence. I've said they shouldn't be issuing it. I've already told (temple president Sadhu Singh) that.' . . . While [Shromani Sikh Sangat Toronto] did have charitable status under a previous name - Shromani Sikh Society - it was revoked on Jan. 29, 1994, for failing to file the required annual information returns. . . . Amarjit Singh Mann, a director of Shromani Sikh Sangat . . . and the current president of the temples, Balbir Singh, said they were members of the International Sikh Youth Federation in the past but are no longer."
---
"Ripsodhak Grewal, co-founder of the Ontario Gurdwaras Committee, an umbrella group representing most of the province's Sikh temples - including the three without charitable status - calls the issuing of bogus receipts 'disturbing.' "
---

- Top -
Flawed U.S. Foreign Policy

By ERIC S. MARGOLIS

The Toronto Sun, Feb. 24, 2002

"Last week, on TVO's Diplomatic Immunity . . . super-hawk Richard Perle, one of the administration's most influential advisers (certainly the smartest), said the U.S. plans to attack Iraq 'this year' and may also assail Syria. The ardently pro-Israel speechwriters who penned Bush's incendiary 'axis of evil' speech had reportedly listed these three nations initially: Iraq, Iran and Syria. It's believed Bush dropped Syria and added North Korea so his speech would not seem uniquely focused on 'evil' Muslim nations."
---
"While Iraq and Iran may one day possess the means to threaten Israel with weapons of mass destruction, they have little or no current or medium-term capability today. They certainly have no strategic reason to attack the U.S., as Pentagon hawks unreasonably claim. . . . The regime of Kim Jong-il has forced North Koreans to suffer mass starvation while continuing to build up its huge armed forces. . . . [T]he [U.S.] administration contemplates war against Iraq and Iran - neither of which threatens U.S. troops or North America - but rejects war against North Korea, which really does threaten U.S. soldiers with conventional, chemical, biological, and even nuclear attack. . . . Solving the Palestine tragedy, not launching new wars, [should be] America's priority."
---

- Top -
Indo-Israeli Relations

By KHUSHWANT SINGH

The Hindustan Times, Feb. 23, 2002

"Right from the day Israel came into existence as a sovereign State, I pleaded for opening full diplomatic relations between Israel and us. I was accused of harbouring anti-Muslim feelings because Israel was looked upon by many ill-informed people as an enemy of Islam. . . . It took us almost 40 years to realise our folly. It was in Jan. 1992 that full diplomatic relations were established between India and Israel."
---

- Top -
Saudi Arabia Must Modernize to Stay Competitive

By THOMAS L. FRIEDMAN

The New York Times, Feb. 20, 2002

"Today, with the oil boom over, the Saudi economy can no longer afford the welfare net that once guaranteed every Saudi a government job. Since 1980 Saudi Arabia's population has exploded from 7 million to 19 million, thanks to one of the highest birth rates in the world and zero family planning. Meanwhile, per-capita oil income has fallen from $19,000, at the height of the oil boom in 1981, to about $7,300 today. With less money trickling down to sustain extended families or bloated government offices, several million Saudis are now unemployed, underemployed or taking jobs they never would have before. To soak up all the unemployed here, Saudi Arabia will have to learn how to drill human oil wells. That is, its crude oil wells built an impressive infrastructure, but they can't sustain the future. Saudi Arabia will be able to thrive only if it can reform its schools to build young people who can innovate and create wealth from their minds - not just from their wells."
---
"That means revamping the overcrowded Saudi universities, which right now churn out endless graduates in Islamic studies or liberal arts, but too few with the technical skills a modern economy demands. It also means revamping the Saudi legal system to attract foreign investors to create jobs. That means real transparency, rule of law, independent courts and anti-corruption measures. . . . Almost all of the 15 Saudi hijackers on Sep. 11 came from one of the country's poorer regions, 'Asir, which has recently undergone a rapid but socially disruptive modernization."
---

- Top -
America's Laughable War on Terror

By NICHOLAS D. KRISTOF
Winner, jointly with wife Sheryl WuDunn, of the 1990 Pulitzer Prize for international reporting for their coverage for The New York Times of the Tiananmen Square democracy movement in China and its bloody supression.

The New York Times, Feb. 19, 2002

"President Bush offered troops in a White House meeting with the Philippine president before his aides knew where Basilan was. The real aim of the American mission is political: to demonstrate momentum in the war on terror, deploy troops in a country where they are welcome, show the flag in Southeast Asia, and find an enemy that can be quickly beaten. . . . One clue that the American aim in the Philippines is a feel-good declaration of victory more than a defeat of terrorism is that we have no plans to pursue anyone to Sulu. Likewise, we have no plans to mess with the Moro Islamic Liberation Front, which has much stronger ties to terrorism and to Al Qaeda, but which has thousands of fighters and is thus more formidable."
---
"My guess is that Abu Sayyaf will soon be wiped out on Basilan - that was already in the cards before the Americans showed up - but that the group may become even stronger in Sulu. There it will be inflated by escapees from Basilan, by anger at the American incursion into Muslim territory, and by the prestige that comes from having your group survive an attack by a superpower. Instead of sending troops to Basilan, where they risk doing more harm than good, the United States should focus on handing over intelligence."
---
"The irony is that American troops are desperately needed - not in the Philippines but in Afghanistan. Yet the White House keeps stiffing the interim Afghan leader, Hamid Karzai, as he pleads for troops as part of an international security force to keep that country from disintegrating again. Instead we're sending soldiers to the southern Philippines - where they risk making terrorism worse. That's what comes of White House decisions to deploy troops in places no one there has ever heard of."
---

- Top -
Crown Prince Abdulah Articulates a Peace Plan

By THOMAS L. FRIEDMAN

The New York Times, Feb. 17, 2002

"[Saudi Arabia's Crown Prince Abdulah's Israel-Palestine peace plan as stated to me:] 'full withdrawal from all the occupied territories, in accord with U.N. resolutions, including in Jerusalem, for full normalization of relations' . . . [Saudi Arabia's crown prince, and de facto ruler, Abdullah bin Abdul Aziz al-Saud] is known as the staunchest Arab nationalist among Saudi leaders, and the one most untainted by corruption. He has a strong Arab following inside and outside the kingdom, and if he ever gave such a speech, it would have a real impact on Arab public opinion, as well as Israeli. Prince Abdullah seemed to be signaling that if President Bush took a new initiative for Middle East peace, he and other Arab leaders would be prepared to do so as well."
---

- Top -
Poor Report Card for the Muslim World

By PERVEZ MUSHARRAF

An International Conference on Science and Technology Held in Islamabad, Feb. 16, 2002

"Today we are the poorest, the most illiterate, the most backward, the most unhealthy, the most un-enlightened, the most deprived, and the weakest of all the human race."
---

- Top -
B.J.P. Is Losing Its Appeal

By RANDEEP RAMESH

The Guardian, Feb. 15, 2002

"This week will see the biggest test of democracy since George Bush managed to lose the popular vote and win the White House. The fourth largest electorate in the world [Uttar Pradesh, Uttranchal and Punjab] - bigger than Brazil, Indonesia or Russia - is going to the polls and looks as if it might stem the tide of Hindu nationalism in India. . . . The more hardline elements of the B.J.P. and its affiliates, who emphasise Hindu rites rather than human rights, have exposed the limitations of the party's electoral franchise. . . . As Nobel prizewinning economist Professor Amartya Sen and his Delhi-based colleague Dr. Jean Dreze note in their forthcoming book, India: Development And Participation: 'The fact that the government spends about three times as much on 'defence' as on healthcare is not unrelated to the lobbying powers of the military establishment.' "
---

- Top -
Act or Step Aside

EDITORIAL

The Toronto Star, Feb. 14, 2002

"Unless Arafat curbs the violence and renounces a refugee return, he will never preside over a viable state. And Sharon has been exposed as a fraud, for promising peace without territorial compromise. . . . Arafat is losing the Palestinian street to radicals, terrorists are firing rockets at civilians and women are being recruited as suicide bombers. Sharon has failed to persuade the Americans to cut all ties with Arafat, his coalition is strained, the peace movement is building and reservists are refusing to play jailer. Neither leader offers his people relief. . . . If Arafat curbs the terror, Sharon should promise to quit the occupied areas. Whoever cannot bring himself to go that far should step aside, and give his people hope."
---

- Top -
China's Steady Americanization

By FRANK CHING
Frank Ching is a Hong Kong-based journalist and commentator.

The Globe and Mail, Feb. 14, 2002

"If imitation is the highest form of flattery, then Washington should feel particularly complimented by Beijing. Over and over, China has shown that America is its newest role model. . . . When the Chinese government decided that President Jiang Zemin needed his own official plane, it naturally decided to buy a U.S.-manufactured one . . . Chinese officials discovered more than two dozen electronic listening devices throughout the plane [but] chose not to make an issue of it. . . . [T]he Chinese evidently decided that the Sino-American relationship was too important to be sidetracked. . . . Even as Andersen is being publicly embarrassed for its Enron accounting practices, the firm is enjoying a boon in China, with two new offices being planned. . . . [China] supported the U.S. attack on Afghanistan-the first time it had taken the side of an industrialized power against a Third World nation-and it has not objected to the U.S. military presence on China's periphery."
---

- Top -
Cambodia Uncooperative On Killing Fields Tribunal

REUTERS

The Globe and Mail, Feb. 13, 2002

"Cambodia told the United Nations yesterday it will make no further concessions on setting up a joint genocide tribunal to try former leaders of the brutal Khmer Rouge regime, blamed for the deaths of 1.7 million people between 1975 and 1979 in the 'killing fields.' Sok An, the Cambodian government's chief negotiator, said Phnom Penh was open to the U.N. re-entering talks after the world body pulled out last week saying the tribunal that was planned could not guarantee impartiality. But the negotiator told reporters late yesterday that Cambodia was in no mood to back down and that the world body would need to be more flexible."
---

- Top -
Pakistan Must Go Beyond Superficial Changes to Combat Terrorism

By HUSAIN HAQQANI
Husain Haqqani served as adviser to Prime Ministers Nawaz Sharif and Benazir Bhutto and as Pakistan's ambassador to Sri Lanka.

The New York Times, Feb. 13, 2002

"[Wall Street Journal Mumbai bureau chief Daniel] Pearl's captivity has symbolized the limits of General Musharraf's power. . . . While some of these [terrorist] groups have, upon American insistence, been banned, there are others still operating within the country clandestinely. Some extremist groups are not even known to the Pakistani government, which has until now ignored fringe groups. And the United States has only vague knowledge about the various terrorist organizations operating out of Pakistan. . . . In the past, journalists and social workers who tried to expose Islamic extremist activity have been harassed by police and intelligence officials. Politicians criticizing those groups have been described as anti-state. These people will be able to provide intelligence on terrorist groups only if they feel that the state itself is not aligned with these groups."
---
"If Pakistan is to make a clean break with [past] policies, it will have to begin cooperating with India by exchanging intelligence and agreeing to extradite wanted terrorists. . . . General Musharraf himself defended Muslim militants publicly, describing them as freedom fighters. Even now, his power is based on his control of the military and, in turn, on the military's domination of Pakistani society. For extremism to be curbed, Pakistani society needs to be freed from the grip of the military."
---

- Top -
Long Road Ahead for Real Peace in Sri Lanka

By PAUL KNOX

The Globe and Mail, Feb. 13, 2002

"The danger, according to Paikiasothy Saravanamuttu, executive director of the Centre for Policy Alternatives in Colombo, is that peace will mean only an end to the killing-not a rejigging of Sri Lanka's political setup that might ensure lasting harmony. 'The war is a symptom of a wider ethnic problem,' he says-one that will have to be addressed with the kind of constitutional change that has proved elusive in the past."
---
"Sri Lanka is now a unitary state; it will almost certainly have to move to a federal system with considerable autonomy for the Tamil minority. Precise proposals on which areas this would cover and, more important, how it would be financed will be needed sooner rather than later. Other issues, should matters get that far, include procedures for demobilization and incorporating former fighters into the mainstream of Sri Lankan life. The armed forces' affable spokesman, Brigadier Sarath Karunaratne, wonders if the overwhelmingly Sinhalese army might create a Tamil regiment as part of a settlement."
---
"It also seems natural to think about accountability. Reports by international human-rights groups tell of abuses by both sides, including forced disappearances and attacks on civilians. Sri Lanka would seem to be ripe for the establishment of a truth commission, in the manner of South Africa or Argentina. On that subject, I heard mixed views. Not surprisingly, the warring parties aren't particularly interested."
---

- Top -
Crazy Americans

By THOMAS FRIEDMAN

The New York Times, Feb. 13, 2002

"Chris Patten, the European Union's foreign policy czar, told The Guardian that the Bush axis-of-evil idea was dangerously 'absolutist and simplistic,' not 'thought through' and 'unhelpful,' and that the Europeans needed to stop Washington before it went into 'unilateralist overdrive.' . . . [B]ut I'm still glad President Bush said what he said. Because the critics are missing the larger point, which is this: Sep. 11 happened because America had lost its deterrent capability. We lost it because for 20 years we never retaliated against, or brought to justice, those who murdered Americans. From the first suicide bombing of the U.S. Embassy in Beirut in Apr. 1983, to the bombing of the Marine barracks at the Beirut airport a few months later, to the T.W.A. hijacking, to the attack on U.S. troops at Khobar Towers in Saudi Arabia, to the suicide bombings of two U.S. embassies in East Africa, to the attack on the U.S.S. Cole in Yemen, innocent Americans were killed and we did nothing."
---
"There is a lot about the Bush team's foreign policy I don't like, but their willingness to restore our deterrence, and to be as crazy as some of our enemies, is one thing they have right."
---

- Top -
America Needs to Limit Its Involvement in the Philippines

By NICHOLAS D. KRISTOF
Winner, jointly with wife Sheryl WuDunn, of the 1990 Pulitzer Prize for international reporting for their coverage for The New York Times of the Tiananmen Square democracy movement in China and its bloody supression.

The New York Times, Feb. 12, 2002

"[T]he antiterror operation [against the Abu Sayyaf group] that the United States is enthusiastically backing here in Basilan is itself based in part on terror [on the part of the Philippine troops, marines, and militia]. . . . The Philippines today is a strongly pro-American democracy with an impressive president, Gloria Macapagal Arroyo, and strong economic prospects. One of its remaining challenges is the instability among the alienated Muslims of the south. And if there is one lesson from the last 200 years of Philippine history - under Spanish, American, Japanese and Philippine rule - it is that repression does not squelch unrest, it feeds it."
---

- Top -
Kambanda Set the Precedent for Milosevic

EDITORIAL

The Toronto Star, Feb. 12, 2002

"Brazenly defiant though he is, Milosevic cannot credibly contest the court's validity. More than 30 Serbs, Croats and Bosnians have been tried. And in 1998 Rwanda's former president Jean Kambanda set the modern precedent that mattered. Facing an identical tribunal he pleaded guilty to genocide and to crimes against humanity in the deaths of 800,000 in 1994. He got life. Milosevic's final myth is that this trial will tarnish all Serbs. It won't. They ousted him in 2000, and sent him to trial. They have embraced democracy, and the rule of law, as he never did. This is about Milosevic's personal culpability, not collective guilt. It reminds other powerful leaders that they too can be held to account for genocide. It offers some small justice, to the untold many who suffered."
---

- Top -
Pakistani Terrorism Far From Extinguished

EDITORIAL

The Washington Post, Feb. 12, 2002

"[L]ast week [Pakistani President Pervez Musharraf] delivered another address that restated Pakistan's longstanding official position that the fighting in Indian-controlled Kashmir is the result of an 'indigenous' rebel movement that deserves Pakistan's support. At face value, that stand might look legitimate; but the problem is that Pakistani governments for years have used that formulation as a cover to foment and supply the Kashmir insurrection. . . . [S]ome in Pakistan suspect that despite hundreds of reported arrests, his crackdown has not been uncompromising, that many of the militants have been allowed to remain free in exchange for lying low. . . . Rather than blame the Pakistani terrorists, or the evident failure of his new campaign to stop them, Mr. Musharraf suggested that India might somehow be behind the kidnapping [of The Wall Street Journal's Mumbai bureau chief Daniel Pearl]-an irresponsible and implausible suggestion that is not backed by evidence."
---
"Mr. Musharraf wants U.S. help in persuading India to begin negotiations on Kashmir, and the Bush administration should weigh whether it can help galvanize a peace process without compromising its longstanding neutrality in that conflict."
---

- Top -
Landmark Trial Begins Today

EDITORIAL

The Globe and Mail, Feb. 12, 2002

"[Today the United Nations' International Criminal Tribunal for the former Yugoslavia embarks on] the most important war-crimes trial since the postwar Nuremberg trials. . . . In all, 66 charges have been prepared against Mr. [Slobodan] Milosevic, long regarded as the chief architect of four blood-soaked Balkan wars in which an estimated 200,000 people were killed and more than three million made refugees. He stands accused of committing crimes against humanity in Croatia in 1991-92; of genocide in Bosnia during the 1992-95 conflict; and of crimes against humanity in Kosovo in 1999. . . . Chief prosecutor Carla Del Ponte told an Italian newspaper recently that she has been seeking access to Yugoslav military records but that President Vojislav Kostunica 'has blocked me in every way.' "
---
"It was during the breakup of Yugoslavia that the term "ethnic cleansing" first became familiar, and prosecutors at The Hague will seek to establish that the notion was central to Mr. Milosevic's plans for a Greater Serbia. . . . Canadians should be particularly proud of the role played by Supreme Court Justice Louise Arbour, formerly the tribunal's chief prosecutor. It was she who signed the Milosevic indictment in 1999-the first time a sitting head of state had been charged with war crimes-after earlier prodding the U.N. into granting the court the large budget increase it needed. When Judge Arbour took the reins in 1996, three years after it was created, only seven defendants were in custody. Since then, the tribunal has tried 31 Serbs, Croats and Muslims, five of whom have been acquitted. A further 43 currently await trial."
---
"[T]he world needs a permanent court to deal with such allegations. If enough countries provide support (60 are needed), such a court could finally take shape this year."
---

- Top -
Washington Must Press Mugabe Now

By J. STEPHEN MORRISON
J. Stephen Morrison is director of the Africa program at the Center for Strategic and International Studies.

The New York Times, Feb. 12, 2002

"Now, in the run-up to national elections on Mar. 9 and 10, is the time for Washington to take the lead in insisting that Mr. Mugabe relinquish power. . . . [So far, the Bush administration has justified inaction while it] waited to see if the quiet diplomacy of President Thabo Mbeki of South Africa might show results or whether the Southern African Development Community, the European Union and the Commonwealth of Nations might persuade Mr. Mugabe to cease land invasions, intimidation of the judiciary and independent media, manipulation of electoral procedures, and establishment of armed youth militias. Early this year, he even threatened a military coup if the opposition, the Movement for Democratic Change, were to win the national elections next month. . . . Southern African leaders have lacked the will or means to get tough with Mr. Mugabe. This is most notably true of [President Thabo] Mbeki, who simply cannot bring himself and his government to act as a major continental power."
---
"Nigeria and Botswana, with support from South Africa, thwarted Britain's call to suspend Zimbabwe from the commonwealth. . . . Making [Mugabe's] government's corruption a focus of international attention is crucial in helping to bring down Mr. Mugabe; exposure of corruption was an important factor in ousting Slobodan Milosevic from Serbia. . . . [M]any recent independent polls show that the Movement for Democratic Change will capture 70 percent of the vote in Mar. . . . Washington should press for the election to be postponed and for transitional governing arrangements to be negotiated between reformers of the ruling party and the opposition. Washington must make absolutely clear that should Mr. Mugabe continue along his present course and insist on obtaining a sham electoral victory in Mar., the United States will view his government as illegitimate."
---

- Top -
Iran Reacts to Bush's Axis of Evil Speech

EDITORIAL

The New York Times, Feb. 12, 2002

"[Bush's] comment has clearly strengthened the hand of the hard-liners and forced reformers to prove their patriotism by denouncing the United States. . . . For the most part, [Iran's elected president] Mr. [Mohammad] Khatami and his allies have been intimidated or outmaneuvered by the conservative clerics who still control Iran's military and internal security forces. In recent weeks, Iran has been meddling in western Afghanistan through shipments that may include arms. It has harbored Al Qaeda operatives fleeing across its border from Afghanistan. It sent 50 tons of arms to the Palestinian Authority and continues to finance the murderous Palestinian Islamic Jihad. It may also be rearming Hezbollah in southern Lebanon."
---

- Top -
V.H.P. and B.J.P. Are Indistinguishable

By KULDIP NAYAR

The Indian Express, Feb. 11, 2002

"An estranged close family member of Home minister L.K. Advani has filed an affidavit with the Liberhan Commission probing the demolition, making the allegation of complicity against him. . . . the B.J.P.'s own agenda, although on hold as long as it is part of the N.D.A., is no different from that of the V.H.P. The B.J.P., too, wants the disputed site to be handed over for the building of the temple. Party president Jana Krishnamurthi admitted at a recent press conference that the 'biggest restriction' was that the temple was not on the N.D.A. agenda. . . . [T]he PM has rejected the demand for handing over the 67-acre acquired land to the V.H.P. But referring the matter to the Law ministry to examine its legal aspects is a concession. . . . If the faith of a community is above the court's authority, then why have a constitution at all?"
---

- Top -
Bush's Dubious Axis of Evil

By HARRY STERLING
Harry Sterling is an Ottawa-based commentator who is a former Canadian diplomat.

The Toronto Star, Feb. 11, 2002

"[W]hile there may be an increasing convergence of views (and actions) between America and Israel over Arafat and Saddam Hussein, Bush's escalation of threats against Iran and North Korea is not something the international community, including Canada, should blindly accept - because Bush's depiction of the threats posed by Tehran and Pyongyang seem to be based more on right-wing ideology than valid dangers to either the U.S. or other countries."
---
"Iraq is a unique case. As long as Saddam remains in power there is little doubt Bush is determined to use any pretext to take action against him, including Iraq's refusal to accept the return of U.N. arms inspectors. The fact Saddam is seen in the Arab world as a leader who dared to stand up to the world's sole superpower - and survive - is something Bush clearly wants to rectify. However, Bush has been warned by several Arab leaders, including Jordan's pro-U.S. King Abdullah, that attacking Iraq could destabilize the entire Middle East region. Nevertheless, he seems determined to ignore such concerns. This, despite a recent CIA report admitting there was no indication Iraq had supported terrorist movements over the past decade."
---
"There is little doubt Iran has supported Islamic extremist groups, particularly Hezbollah. However, for Bush to target it now, when Iranian reformers around President Muhammad Khatami are engaged in a struggle with the country's hard-line mullahs to moderate Iranian policy, is not in the long-term interests of the international community. Several European leaders, including French Foreign Minister Hubert Vedrine, say they prefer to broaden relations with Tehran, not ostracize it. Any anti-Iranian initiative mounted by Bush would be quickly exploited by Iranian conservatives to the disadvantage of the pro-democracy reform movement."
---
"Bush's sudden chill toward North Korea comes at a time when about three dozen countries, including Canada, have established diplomatic relations with Pyongyang, with the direct encouragement of South Korean President Kim Dae Jung [who] took the risky step of extending feelers to the regime of Kim Jong Il via . . . his 'sunshine policy.' The two Koreas have subsequently increased trade . . . and are re-establishing road and rail links. That initiative has dramatically lessened tension on the peninsula, resulting in Kim Dae Jung winning the Nobel Peace Prize. . . . Some see such sabre-rattling as linked to Bush's pushing through his whopping defence budget of $380 billion (U.S.), including funding for his controversial missile defence system, which numerous countries, including Russia, China and several European states oppose. . . . [Canada and other nations] should not allow the fight against international terrorism to be used as a pretext to advance other dubious U.S. objectives."
---

- Top -
India Must Not Allow Foreign Ownership of Media

By KULDIP NAYAR

Outlook, Feb. 11, 2002

"Pandit Jawaharlal Nehru didn't like the fact that foreign newspapers were published from India. He had made his dislike more than apparent when, as the prime minister of India, he was supposed to ensure that all foreign-owned newspapers in the country pass into Indian hands. . . . The print media is one of the pillars of our democracy. And a nation buffeted by disruptive forces can't take chances by opening its print media to those who are capable of stoking the fires of separatism and parochialism. Foreign companies are already an economic force in the country; their share in the print media can give them a political clout which no outsider should wield. And who knows which forces will operate behind the mask of foreign equity. Given the reach of the terrorists, it's not difficult for them to find avenues to buy equity in Indian newspapers."
---

- Top -
L.T.T.E. Praises Canadian Handling of Quebec

By PAUL KNOX

The Globe and Mail, Feb. 11, 2002

"S. P. Tamilselvan [head of the political wing of the Liberation Tigers of Tamil Eelam since 1993 said from his headquarters in the war-ravaged jungle town of Kilinochchi] Tamil Tiger separatists hope for a Quebec-style referendum on secession from Sri Lanka and would respect the result even if they lost [and they] see Canada's federal system as a possible guide for an agreement to end Sri Lanka's 18-year civil war. . . . Sri Lanka lacks 'such a civilized . . . governance and perception and political thinking,' he said. . . . L.T.T.E. and government forces have observed a ceasefire for six weeks, raising fresh hopes for an end to fighting that has killed an estimated 64,000 people since 1983."
---
"He noted that previous government offers of Tamil autonomy and language rights have foundered on opposition from ethnic-Sinhalese nationalists. . . . The Tigers' hard-line military commander, Velupillai Prabhakaran, said in Nov. for the first time that he would consider a solution short of his traditional demand of a separate Tamil state. Prime Minister Ranil Wickremesinghe faces strong political pressure to oppose any secession plan. Canada, Switzerland and Spain are among federal states that have been studied by experts looking at possible autonomy arrangements, said Paikiasothy Saravanamuttu, a political analyst and executive director of the Centre for Policy Alternatives in Colombo."
---

- Top -
Australia's Shameful Treatment of Refugee Claimants

By JOHN PILGER

Outlook, Feb. 11, 2002

"[T]he Government of John Howard has, at a stroke, demolished the national image with racist and inhumane policies, shamelessly and aggressively implemented, currently against desperate refugees."
---
"When a freighter, the Tampa, having rescued 400 refugees from almost certain drowning, approached Australia's shores, the Canberra government sent special forces to prevent traumatised men, women and children from landing. In full battle kit, the soldiers steered the refugees to miserable conditions on remote Pacific islands, where several contracted malaria."
---
"In their attempts to justify this contravention of the most basic of human rights, the right of refuge, Prime Minister Howard and his ministers lied that another group of refugees had thrown their children overboard as a sacrificial means of attracting attention. 'I find that [the refugees' behaviour] is against the natural instinct,' said Howard. These people, said a senator, 'are repulsive . . . and unworthy of Australia.' The then Labor Party leader, Kim Beazley, joined in the condemnation, to the disgust of almost everyone. In fact, the refugees had jumped from their leaking craft when an Australian warship fired across its bows. No children had been 'thrown overboard,' admitted Australia's naval chief, in a rare contradiction of his political master."
---
"In their desperation, the refugees, many of them unaccompanied children, have resorted to suicide, starvation, arson and mass escapes. Last week, 62 refugees in a camp at Woomera in the South Australian desert sewed their lips together to protest the government's admission that it was delaying their asylum application, 'deliberately to break their spirit,' say lawyers allowed access to them. . . . Howard and his ministers have promoted a propaganda exercise of fear and loathing among the Australian public. Such is Howard's cynicism that he has never explained to Australians that their country actually receives one of the smallest numbers of 'illegal' asylum-seekers in the world: about 4,000 a year. Of these, three-quarters are eventually accepted, but only after mandatory and indefinite imprisonment in camps described by the former conservative prime minister Malcolm Fraser as 'hell-holes.' "
---
"The minister responsible is Philip Ruddock. . . . Last year, he referred to a six-year-old Iraqi boy struck speechless by his experiences in a detention camp as 'it.' When an official of Amnesty International told him of the appalling conditions in the camps on the Pacific island of Nauru, whose debt-ridden government Australia has bribed to take its boat people, the minister's jocular jibe was: 'Do you think they would prefer to be at one of our detention centres here?' . . . The [Rupert] Murdoch newspapers' [Sunday Telegraph] campaign against an Australian drifter, David Hicks, who fought with the Taliban, is matched by Howard's disgraceful refusal to demand that the United States hand him back to his own country or treat him as a PoW."
---
"There is a correlation between this false hysteria and the 'tough stand' also taken against Aborigines, a minority of around 2 per cent of the population. When an Aboriginal boxer, Anthony Mundine, remarked on television that Americans had 'brought [terrorism] upon themselves [for] what they done in the history of time,' he was all but lynched. He is a Muslim. Thanks to his 'traitorous talk,' crowed one of the media lynch party, 'word is that his promising international career is over.' "
---
"Australia was the first country where ordinary people won a 35-hour week, half a century ahead of Europe and America. Long before most of the world, Australia had a minimum wage, child benefits and pensions. Australian women were the first to be able to vote and stand for parliament. The secret ballot was invented in Australia. . . . Last week, Pauline Hanson retired from politics, mainly because the Howard government pre-empted and absorbed her populism. Her openly racist One Nation party at its peak captured 10 per cent of the national vote: about a million people. Now they are Howard's people."
---
"In recent years, this 'debate' has been influenced by a group of David Irving-style denialists who say there was no slaughter of the first Australians, no rapacious past. . . . Murdoch owns 70 per cent of the capital city press; and journalists and broadcasters who speak too freely must consider the consequences, especially those in the state-funded Australian Broadcasting Corporation."
---

- Top -
Day of Reckoning for Milosevic

EDITORIAL

The New York Times, Feb. 11, 2002

"The most important war crimes trial in Europe since Nuremberg opens tomorrow in The Hague. Slobodan Milosevic, once Yugoslavia's dictator, stands indicted for war crimes and crimes against humanity in Bosnia, Croatia and Kosovo, and genocide committed in Bosnia. . . . Mr. Milosevic started four wars - Slovenia was the site of the first - which killed 200,000 people and drove 3.5 million from their homes. A longtime Communist Party functionary, he reinvented himself as a nationalist, and rose to power in Yugoslavia selling the ancient dream of a Greater Serbia."
---

- Top -
Support for Bush's Axis of Evil From Familiar Quarters

By MARGARET THATCHER
Margaret Thatcher, prime minister of Britain from 1979 to 1990, is author of the forthcoming book, Statecraft: Strategies for a Changing World.

The New York Times, Feb. 11, 2002

"[A]s long as America works to maintain its technological lead, there is no reason why any challenge to American dominance should succeed. And that in turn will help ensure stability and peace. . . . Islamic extremism today, like Bolshevism in the past, is an armed doctrine. . . . [I]t is best that the United States, as the only global military superpower, deploy its energies militarily rather than on social work. . . . As for North Korea, the regime of Kim Jong Il is as mad as ever and is the world's main proliferator of long-range ballistic missiles that can deliver nuclear, chemical or biological warheads. . . . How and when, not whether, to remove [Iraq's Saddam Hussein] are the only important questions."
---

- Top -
Arjan Singh Joins Rank With Manekshaw and Cariappa

By SANDEEP PHUKAN

The Week, Feb. 10, 2002

"The hero of the crushing defeat of Pakistan in the 1965 war lightly wears his new halo: on Republic Day, India made him the first ever Marshal of the Indian Air Force. Only two other Indians have risen to equivalent rank - Field Marshals S.H.F.J. Manekshaw and K.M. Cariappa of the Army. . . . Singh will hold office of a five-star general for the rest of his life. . . . The former Air Chief Marshal is a highly decorated officer [and] won the Distinguished Flying Cross of the Royal Air Force. . . . One of the main reasons the Indians outsmarted the Pakistanis in the 1965 war, he says, was the logistics support by the IAF. When the Pakistani air force attacked Chamjaurian near Jammu, India also decided to use air power. As the IAF chief, Singh was to ensure that the Pakistanis did not destroy the Akhnoor bridge, which linked Indian Army bases in Rajouri and Poonch."
---
"[Former Air Chief Marshal N.C.] Suri's only regret is that his efforts, while in office, to persuade the government to confer the rank of Marshal on Singh had not succeeded: at that time the government was not keen on having a Marshal. The rank seemed reserved for the Army. Did the government discriminate against the Air Force and Navy? 'While I was the chief between 1965 and 1969, I never felt that,' says Singh. 'But our leaders were more Army-centric earlier, because the Army has to physically get into mainland enemy territory in order to overpower the enemy. But all that has changed after the Gulf War in 1991 and the strikes on Afghanistan. Look at the way the Americans prevented major casualties by making maximum use of air power.' "
---

- Top -
U.S. Is Losing Both Its Head As Well As International Support

By ERIC S. MARGOLIS

The Toronto Sun, Feb. 10, 2002

" 'The world now thinks the U.S. has lost its mind.' This response to President George Bush's bombastic state of the union address did not come from 'axis of evil' Iraq, Iran, or North Korea, but from former U.S. secretary of State Madeleine Albright. . . . France's normally cautious foreign minister, Hubert Vedrine, called Bush's views on terrorism 'simplistic.' He warned about Bush's policy that 'reduces all problems in the world to the struggle against terrorism.' . . . 'European countries do not agree with the White House Middle East policy and think it is a mistake to support Ariel Sharon's purely repressive policies,' said Vedrine, speaking for the entire European Union. . . . Threatening war against Iran for seeking to advance its interests in neighbouring Afghanistan shows just how irrational and imperially arrogant the Bush administration is becoming."
---
"Fifty years of painful efforts to build a framework of international law are being swept away by the Bush crusaders, who seem to have convinced themselves they are re-fighting World War II rather than dealing with a dangerous criminal conspiracy made up of a few thousand individuals."
---
"If Bush really wanted to promote justice and human rights abroad, he should begin with those nations that are American protectorates: Morocco, a medieval police state with a frightful record of poverty, torture, and abuse; Tunisia and Egypt, both military dictatorships with odious human rights records; Turkey, another military state disguised as a democracy, where torture and murder of political opponents are the norm; Arabia's oil monarchies, which are propped up by U.S. troops. And last, but certainly not least, Palestine, where an entire people are being crushed by a brutal army using U.S.-made tanks, and U.S.-made helicopter gunships, financed by U.S. taxpayers' dollars, and sheltered from worldwide condemnation by America's oft-used U.N. veto. . . . [R]emember the disastrous consequences caused by lack of public challenge to America's entry into the Vietnam war. America has suffered . . . but pain and suffering are no excuse for acting foolishly, dangerously, or dictatorially."
---

- Top -
Israel's Separation Plan Is Regaining Currency

By YOSSI KLEIN HALEVI
Yossi Klein Halevi is the Jerusalem correspondent for the New Republic and a senior writer for The Jerusalem Report. His most recent book is At the Entrance to the Garden of Eden: A Jew's Search for God with Christians and Muslims in the Holy Land (Morrow).

The Washington Post, Feb. 10, 2002

"[A] new bumper sticker has begun appearing on Israeli cars: "A Protective Fence, the Only Way." The slogan is a demand for a security fence along the unmarked 192-mile border between Israel and the West Bank. . . . Israelis are once again wondering whether we can ever find our place in a region where government newspapers promote Holocaust denial and suicide bombers are revered as holy men."
---
"Two distinct separation plans have emerged. The first, promoted by a movement called 'A Fence for Life,' is wholly security-focused. 'A fence isn't a political solution,' says Ilan Tzion, a lawyer and the group's founder. . . . [S]ettler leaders oppose the plan, arguing that what begins as a security fence will ultimately become a political border. . . . Leading members of the Labor Party, such as Haim Ramon and Shlomo Ben-Ami, as well as former Israeli security service head Ami Ayalon, novelist and peace activist A.B. Yehoshua and Likud Knesset member Michael Eitan, all endorse variations of the [second] plan [whereby] Israel would uproot dozens of the 150 settlements and allow Palestinians to form a state-essentially a unilateral imposition of Ehud Barak's offer at Camp David in Jul. 2000 to withdraw from most of the territories, minus the Arab neighborhoods of Jerusalem."
---
"Even left-wing supporters of separation agree that, at least for now, Jerusalem cannot be divided: Sharing the intimate workings of this city with Arafat would only further entwine the two sides and undermine the logic of separation. Separation is not a plan; it is an act of despair, acknowledgment that, at this point, the conflict can only be managed, not solved. Unilateral withdrawal would end the two visions that dominated Israeli discourse for the last two decades - a greater Israel and a negotiated peace. The first intifada of the late 1980s disabused the Israeli mainstream of the absurd notion that Israel could dominate another people and still remain a worthy Jewish state. The second intifada has discredited the equally absurd notion that Israel could import tens of thousands of PLO terrorists into the territories, outfit them with police uniforms and turn them into allies against terrorism."
---
"[Dan] Meridor [strategic planning minister in the current government], a veteran supporter of a greater Israel, concedes that the left was right all along when it warned against absorbing several million Palestinians into the Jewish state."
---
"I wonder whether separation wouldn't be just one more reckless Israeli initiative. Withdrawal under Palestinian fire would convince the Arab world that more violence would yield more Israeli concessions - just as Israel's flight from Lebanon two years ago helped convince the Palestinian leadership to adopt the 'Hezbollah option' to the territories and launch the current intifada. After withdrawal, attacks could continue, especially from the Syrian-dominated Hezbollah . . . Even after withdrawal, Israel would remain in control of hundreds of thousands of Palestinians in greater Jerusalem . . . And separation, of course, doesn't address the Jewish state's demographic crisis: One million Arab Israelis, who increasingly identify themselves as Palestinians and whose Knesset representatives publicly advocate violence against Jews, are full-fledged citizens living within the pre-1967 borders. They are one of the fastest-growing portions of the population."
---
"Lost in the debate over the fence is a sense of historical irony. Zionism believed that Jews needed to live in their own state; it opposed the spirit of the Jewish ghetto. The purpose of the state wasn't to withdraw from the world, but to create the basis for a new and integrated relationship with the rest of humanity. Now, advocates of a fence are proposing a self-imposed ghetto, sealing us from our neighbors."
---

- Top -
Arafat's Removal Could Constitute Israel's Suicide

By KHALIL SHIKAKI
Khalil Shikaki is a professor of political science at Bir Zeit University and director of the Palestinian Center for Policy and Survey Research in Ramallah.

The Washington Post, Feb. 10, 2002

"[The current] Israeli strategy [to isolate and discredit Arafat, and coerce him into cracking down on those Palestinians who are determined to use violence to end the 34-year Israeli occupation of Palestinian land] seems to me to border on sheer madness. It seeks to create winners and losers, as Sharon would like nothing better than to see Arafat and the Palestinians defeated. The reason for the strategy is simple: Sharon does not have much to offer Arafat at the negotiating table. His idea of scattered Palestinian bantustans in 42 percent of the territories occupied by Israel in 1967 is utterly detested by all Palestinians. No Palestinian leader could accept such conditions in any future agreement with Israel."
---
"While senior Palestinian officials may complain about the lack of a clear mandate or Arafat's unwillingness to delegate authority, they seem to me unwilling to use whatever room to maneuver they already have. The Jul. 2000 Camp David negotiations showed a reluctance on the part of Arafat's top aides to take risks for him by, for instance, publicly endorsing the compromises he was willing to entertain. . . . America's anti-Palestinian stance has encouraged people in the Israeli right, such as Beny Elon, a minister of tourism in Sharon's government, to call for the 'mass transfer' of Palestinians to Jordan and to affirm the belief in the long discredited notion that Jordan is Palestine. . . . By focusing exclusively on security, Washington seems to affirm the suspicion that it seeks only a short-term solution to the conflict, one that calms but does not resolve it. And as the past year has shown, that is a focus that is sorely misplaced."
---

- Top -
Approaching Geneva

EDITORIAL

The New York Times, Feb. 10, 2002

"The White House has given Secretary of State Colin Powell a limited victory by acknowledging that the Geneva convention applies to the Afghanistan conflict and therefore broadly governs the treatment of captured Taliban fighters, although not Al Qaeda terrorists, detained in Guantánamo, Cuba. . . . Bush was wise to revisit Attorney General John Ashcroft's misguided advice that the convention simply did not apply. . . . Doubts about whether individuals qualify as prisoners of war are supposed to be resolved by a legal tribunal. Instead, Bush simply declared that the irregular nature of the Taliban's armed forces made all Taliban fighters ineligible for prisoner of war status. An arbitrary decision by the president is not an acceptable substitute for due process."
---

- Top -
No Jewish Media Conspiracy Against Arabs and Muslims

By THOMAS L. FRIEDMAN

The New York Times, Feb. 10, 2002

"When Jewish reporters in Beirut and Israel were at the forefront in covering such stories as the Sabra and Shatila massacre of Palestinians, why did no one in the Arab world ask whether they were part of a Jewish conspiracy? When Jewish congressmen and commentators led the campaign for U.S. intervention to save the Muslims of Bosnia and Kosovo and to roll back the Iraqi invasion of Kuwait and protect Saudi Arabia in the Persian Gulf war, why did no one in the Muslim world complain about a Jewish conspiracy? The truth is that Jewish commentators and lawmakers have probably been more outspoken in support of using American force to rescue Muslims in the last 15 years than any other group - including American Muslims."
---
"It will be a tragedy if Arabs and Muslims adopt the position that there is no conceivable reason why Americans might be upset with them today and that any criticism they face in the U.S. media is entirely the result of some Jewish campaign of vilification. . . . [W]henever a people reduces all its problems to a conspiracy by someone else, it absolves itself and its leaders of any responsibility for its predicament - and any need for self-examination. No civilization has ever prospered with that approach. (And several courageous Arab journalists have started to point that out.) Blaming someone else is not a substitute for analyzing or coping. (That also applies to Israelis who say Yasir Arafat, alone, is the source of all their problems.)"
---
"The standard view of America in the Arab-Muslim world is that America is rich and powerful because it is crass and materialistic. . . . The truth is exactly the opposite. America is successful and wealthy because of its values, not despite them. It is prosperous because of the way it respects freedom, individualism and women's rights and the way it nurtures creativity and experimentation. Those values are our inexhaustible oil wells. Americans naturally gravitate toward societies that share those same values, and they recoil from those that don't."
---

- Top -
No Support for Bush's Axis of Evil

By HAROON SIDDIQUI
Haroon Siddiqui is The Toronto Star's editorial page editor emeritus.

The Toronto Star, Feb. 10, 2002

"The President's initial measured response to terrorism has given way to a cocky bellicosity that's annoying critics at home, including Bill Clinton, and allies across the Atlantic and beyond. The European Union and the North Atlantic Treaty Organization have added their collective voices to German, French and even British reservations about his plan to expand the war on terrorism to wherever he sees fit."
---

- Top -
Jeev Milkha Singh Is India's Top Golfer

By SOORAJ D. SINGH

The Week, Feb. 10, 2002

"As the only Indian with cards in four international Professional Golf Association [PGA] tours - Asian, European, Japanese and South African - Jeev Milkha Singh is the best in the country. . . . [H]is next target is a card for the American PGA."
---

- Top -
Bhindranwale v. Puran Singh

By KHUSHWANT SINGH

The Week, Feb. 9, 2002

"Puran Singh who dedicated his life in the service of the destitute was acknowledged merely as a bhagat (follower), while Bhindranwale who was always armed to the teeth and whose goons murdered scores of innocent Hindus is still revered by his followers as a sant and a martyr."
---

- Top -
India's Costly Deal With Terror

By NAJAM SETHI

The Friday Times, Feb. 8, 2002

"The recent arrest of Sheikh Umar Saeed in Karachi could be a pointer in the right direction [in the search for the kidnapped Wall Street Journal's Mumbai bureau chief Daniel Pearl]. Mr. Saeed is the former London School of Economics graduate who became a Kashmiri mujahid, tried to kidnap foreign journalists in India some years ago, was caught and imprisoned and then freed from an Indian jail via the 1999 hijacking of an Indian plane, after which he conveniently 'disappeared.' He is also wanted for his links with Mohammad Atta who masterminded the suicide attack on the World Trade Centre."
---

- Top -
Canada's Shameless Evasion of Geneva

EDITORIAL

The Globe and Mail, Feb. 8, 2002

"[Canadian Prime Minister Jean Chrétien's] outburst in the House of Commons on Wednesday was inexcusable, even in the heat of partisan anger. Bloc Québécois Leader Gilles Duceppe asked a question many other Canadians have been asking: 'Was the Prime Minister not imprudent in allowing the handover of prisoners [in Afghanistan] without having in advance obtained firm assurances that the Americans would respect the Geneva Conventions?' "
---
"The Americans had, after all, said they would not respect the Geneva Conventions, though they would be humane. (The White House yesterday said it would now follow the conventions for some prisoners, though not all.) And the Geneva Conventions do require the Canadians to treat the prisoners by those rules, even those whom a 'competent tribunal' finds don't merit the additional protections of a prisoner of war. And they do require the Canadians to satisfy themselves, when handing over prisoners, that the other power will abide by the internationally ratified conventions."
---
"Instead, the Prime Minister accused the Bloc of being 'defenders of the terrorists' for asking such a question, a question his own Deputy Prime Minister has called an important one to resolve. Later in the day, Mr. Chrétien refused to apologize."
---

- Top -
Chrétien's Blatant Disregard for Geneva Convention

EDITORIAL

The Toronto Star, Feb. 8, 2002

"[A]s far as we can determine M. Duceppe et cie. are not wild-eyed anarchists, Al Qaeda operatives or 'defenders of the terrorists,' as Jean Chrétien put it this week. His was a cheap and nasty shot, designed to blow off a serious question on an embarrassing issue. It crossed the line. Duceppe may suffer from a sadly deficient sense of Canada's worth, but he was within his rights to wonder whether it was prudent for Canadian troops to hand over Al Qaeda terrorists to the U.S. military, in possible violation of the Geneva Conventions. Some on the government benches have posed the very same question."
---
"Even Deputy Prime Minister John Manley has been working up a sweat trying to squeeze an assurance from the U.S. that it is not violating prisoners' rights by arbitrarily declaring them to be unlawful combatants. 'Don Rumsfeld (the U.S. defence secretary) can't decide that,' Manley said as recently as Monday. 'There has to be a process (of identifying captives as prisoners of war, or as irregular fighters who enjoy fewer rights) as anticipated in the conventions.' "
---

- Top -
Canada Must Comply With Geneva Convention

EDITORIAL

The Toronto Star, Feb. 7, 2002

"Afghanistan's political chaos should not be a pretext for the United States and Canada to adopt a lawless 'anything-goes' policy toward Taliban and Al Qaeda prisoners. Whether George Bush likes it or not, the Geneva Convention applies to the 550 Afghans and others currently in custody, and to any new prisoners that the allied forces may take. Bush's balkiness at accepting this, and Ottawa's timorous reluctance to call him on it, is depressing. Before Canadian troops run up the Maple Leaf in Kandahar, signalling the formal start of our mission, Jean Chrétien should make the U.S. aware that public opinion here will not stomach flouting the Geneva rules. Not when it is easy to comply with the law."
---
"Even Deputy Prime Minister John Manley has been working up a sweat trying to squeeze an assurance from the U.S. that it is not violating prisoners' rights by arbitrarily declaring them to be unlawful combatants. 'Don Rumsfeld (the U.S. defence secretary) can't decide that,' Manley said as recently as Monday. 'There has to be a process (of identifying captives as prisoners of war, or as irregular fighters who enjoy fewer rights) as anticipated in the conventions.' "
---

- Top -
America Too Patriotic

By NORMAN MAILER
Influential American writer Norman Mailer, renowned for his macho image and stabbing the second of his six wives 40 years ago, is widely recognized as pioneering the genre known as New Journalism, where writers such as Tom Wolfe, Hunter S. Thompson and Joan Didion blurred the distinction between fact and fiction and peppered prose with their own opinions. Harvard-educated Mailer's best known works include The Executioner's Song and The Armies of the Night.

The Daily Telegraph, Feb. 6, 2002

"What happened on Sep. 11 was horrific, but this patriotic fever can go too far . . . America has an almost obscene infatuation with itself. Has there ever been a big, powerful country that is as patriotic as America? And patriotic in the tinniest way, with so much flag waving? You'd really think we were some poor little republic, and that if one person lost his religion for one hour, the whole thing would crumble. America is the real religion in this country. . . . The Right wing benefited so much from Sep. 11 that, if I were still a conspiratorialist, I would believe they'd done it. . . . I have respect for [New York's Mayor Rudy] Giuliani because he had one moment when he really could become much larger than he ever was before, and he rose to the occasion."
---

- Top -
Arafat Can't Win In This Post-Sep. 11 World

EDITORIAL

The Globe and Mail, Feb. 5, 2002

"When [Arafat] called for a ceasefire in mid-Dec., most Palestinians heeded him, and the truce largely held until Israel assassinated a top Palestinian militant. . . . [T]he number of Israeli settlers in the West Bank has surged (doubled to more than 200,000, by estimates from Israel's Peace Now)."
---

- Top -
History Lesson

By IRSHAD MANJI

The Globe and Mail, Feb. 5, 2002

"After the 1967 war, Aziz [Shehadeh, lawyer and human rights activist] became the first Palestinian to draft a two-state solution . . . [to which the PLO responded thus:] '[Shehadeh you are] a traitor, a despicable collaborator . . . You shall pay for your treason . . . We shall eliminate you. Silence you forever.' Aziz lived till the mid-1980s, but he was murdered. And long before that, the Palestinian lawyers union disbarred him. . . . [T]hat's not unlike what happened last year to playwright Ali Salem. The Egyptian writers union booted him out because of his visits to Israel. . . . [T]he lessons he picked up on those visits fuelled his calls for Muslim moderation."
---
"[A] piece of Arab history that most Muslims were never taught at the madrassa [is] that Jews cultivated the climate in which Prophet Mohammed could survive and spread the word about Islam. Mecca's pagan Arab population did not exactly welcome the Prophet in the early seventh century. They oppressed him to the point of threatening his life, obliging him to flee north to Medina. As Albert Hourani observed in A History of the Arab Peoples, his escape was helped by traders who needed an arbiter in tribal disputes. 'Having lived side by side with Jewish inhabitants of the oasis, they were prepared to accept a teaching expressed in terms of a prophet and a holy book.' . . . Every Muslim knows that Prophet Mohammed's journey to Medina is referred to as the hijra, or flight. Yet how many of us know that, in its original translation, the word means 'seeking protection by settling in a place other than one's own?' Rather like what Jews did after the Second World War."
---
"Jewish tradition provided our Prophet with sanctuary and succour. Today, it's payback time."
---

- Top -
Mexico Must Come to Terms With Its Legacy of Human Rights Abuses

EDITORIAL

The Globe and Mail, Feb. 4, 2002

"Shortly after Mexican President Vicente Fox took office 18 months ago, ending 71 consecutive years of rule by the Institutional Revolutionary Party (PRI), he pledged to set up a federal commission that would examine the long list of human-rights abuses allegedly committed by his predecessors. The commission has yet to materialize, apparently thwarted by foot-dragging among the PRI stalwarts who still control Mexico's Congress. But now, Mexico's Supreme Court has ordered an inquiry into a particularly heinous item on that list: the 1968 slaughter of dozens, possibly hundreds, of students by government troops."
---
"The massacre occurred in Mexico City on Oct. 2, less than 24 hours before the Olympic Games opened. A peaceful demonstration by left-wing students voicing a range of protests turned into a bloodbath when plainclothes government snipers opened fire. Just how many people died has long been in dispute. The government of the day, headed by President Gustavo Diaz Ordoz, insisted that there were no more than 30 fatalities and that the students fired first. Human-rights activists have put the toll at around 300, with as many as 1,000 others injured. . . . There has always been suspicion that responsibility for the killings lay directly with Mr. Diaz Ordoz and his interior minister, Luis Echeverria, who went on to become president. Mr. Diaz Ordoz is dead, but as recently as four years ago Mr. Echeverria acknowledged before a congressional committee that the students killed that day were not violent revolutionaries but 'the sons and daughters of workers, farmers and unemployed people.' "
---
"Two months ago [Mr. Fox] acknowledged that during the 'dirty war' of the 1970s and early 80s, hundreds of leftists were kidnapped, tortured and murdered by government agents."
---

- Top -
Daniel Pearl's Kidnapping Is a Political Blunder

By ROBERT FISK

The Independent, Feb. 4, 2002

"Back in the mid- to late-1980s . . . the hostage-takers of Beirut [Islamic Jihad] . . . made one serious political error. Once foreigners were kidnapped, almost every Western journalist fled Beirut. Although The Independent kept operating - I once had the odd distinction of being outnumbered five to one in Beirut by my kidnapped colleagues - Lebanon's tragedy fell out of the news. No one read or heard of the great battles being fought between Hizbollah and the occupying Israeli army in the south of the country - save, of course, from Israel itself - and the terrible suffering of the Palestinian camps under siege by a Lebanese militia was a story largely untold."
---
"The Hizbollah, around which these kidnap groups floated like satellites, now acknowledges that hostage-taking was a major blunder, an own goal of the worst kind, quite apart from the inhumanity of imprisoning the innocent and threatening their lives. If Israel could not persuade the United States to put the Hizbollah on America's 'terrorist' list, the kidnappings would have done the trick. The argument that national resistance should not be confused with 'terrorism' was never heard - because the journalists who should have reported it were either locked up or running away."
---
"Daniel's kidnappers are now making an identical error. They gave all American journalists until midnight last night to leave Pakistan, the best way of ensuring that the suffering of tens of thousands of Afghan refugees, the chaotic, lawless Afghanistan which has emerged from America's victory, the crisis in Kashmir and the plight of Pakistan's millions of poor goes unrecorded, and all for a series of demands that will never be met by the United States."
---
"Now I happen to think that the treatment of the prisoners at Guantanamo Bay is outrageous, illegal, a scandal for a country that claims to be a democracy. I wrote here earlier that these men were being treated much as the Beirut hostages were treated, complete with the threat of death from drumhead courts. And - given the dangerous, infantile State of the Union speech which President Bush gave last week - I am not surprised that the U.S. government saw nothing wrong with releasing those disgusting photographs of the shackled, hooded, drugged prisoners."
---

- Top -
Canada Ought to Follow Geneva Convention Regarding Afghan Prisoners

By HUGH WINSOR

The Globe and Mail, Feb. 4, 2002

"Both Mr. Bush and Mr. Rumsfeld have said they will abide by 'Geneva-like' rules when it comes to fair and humane living conditions for their detainees. But both have been equally adamant they will not consider those people detained as prisoners of war. That is clearly in contravention of the Geneva accords, which state that all captured combatants must be given the protections due prisoners of war until a 'competent tribunal' determines otherwise. . . . The Americans have some understandable tactical reasons for not treating captured Taliban or al-Qaeda combatants as prisoners of war. They wouldn't be able to interrogate them for intelligence about their former colleagues and they would have to be released when hostilities end. But if Canadians are going to be party to this approach, the least we can do is ensure that combatants we capture are guaranteed a determination of status by a 'competent tribunal' before being turned over to the American jailors."
---

- Top -
Palestinian Vision of Peace

By YASIR ARAFAT
Elected president of the Palestinian Authority in 1996 and is also chairman of the Palestine Liberation Organization.

The New York Times, Feb. 3, 2002

"The cycle [of Israeli-Palestinian violence] has led many to conclude that peace is impossible, a myth borne out of ignorance of the Palestinian position."
---
"The Palestinian vision of peace is an independent and viable Palestinian state on the territories occupied by Israel in 1967, living as an equal neighbor alongside Israel with peace and security for both the Israeli and Palestinian peoples. In 1988, the Palestine National Council adopted a historic resolution calling for the implementation of applicable United Nations resolutions, particularly, Resolutions 242 and 338. The Palestinians recognized Israel's right to exist on 78 percent of historical Palestine with the understanding that we would be allowed to live in freedom on the remaining 22 percent, which has been under Israeli occupation since 1967. Our commitment to that two-state solution remains unchanged, but unfortunately, also remains unreciprocated."
---
"We understand Israel's demographic concerns and understand that the right of return of Palestinian refugees, a right guaranteed under international law and United Nations Resolution 194, must be implemented in a way that takes into account such concerns. However, just as we Palestinians must be realistic with respect to Israel's demographic desires, Israelis too must be realistic in understanding that there can be no solution to the Israeli-Palestinian conflict if the legitimate rights of these innocent civilians continue to be ignored. Left unresolved, the refugee issue has the potential to undermine any permanent peace agreement between Palestinians and Israelis. . . . Israel has yet to understand that it cannot have peace while denying justice."
---
"The 1993 Oslo Accord, signed on the White House lawn, promised the Palestinians freedom by May 1999. Instead, since 1993, the Palestinian people have endured a doubling of Israeli settlers, expansion of illegal Israeli settlements on Palestinian land and increased restrictions on freedom of movement. . . . [C]ondemnations do not stop terrorism. To stop terrorism, we must understand that terrorism is simply the symptom, not the disease. . . . Many believe that Ariel Sharon, Israel's prime minister, given his opposition to every peace treaty Israel has ever signed, is fanning the flames of unrest in an effort to delay indefinitely a return to negotiations. . . . The Palestinians have a vision of peace: it is a peace based on the complete end of the occupation and a return to Israel's 1967 borders, the sharing of all Jerusalem as one open city and as the capital of two states, Palestine and Israel."
---
"Palestinians are ready to end the conflict. We are ready to sit down now with any Israeli leader, regardless of his history, to negotiate freedom for the Palestinians, a complete end of the occupation, security for Israel and creative solutions to the plight of the refugees while respecting Israel's demographic concerns. But we will only sit down as equals, not as supplicants; as partners, not as subjects; as seekers of a just and peaceful solution, not as a defeated nation grateful for whatever scraps are thrown our way. For despite Israel's overwhelming military advantage, we possess something even greater: the power of justice."
---

- Top -
Bush's State of the Union Speech Smacks of Hypocrisy

By ERIC S. MARGOLIS

The Toronto Sun, Feb. 3, 2002

"[I]n his bellicose state of the union speech last week, evangelical Christian George Bush left no doubt that a crusade was exactly what he had meant [by his earlier characterization of the U.S.-led antiterror war]. Better a crusade than facing the spreading Enron scandal or explaining away a looming deficit brought on by reckless spending. . . . Interestingly, the most-wanted on America's new hit list - Iraq, Iran, and North Korea - just happen to also be top enemies of Israel. (North Korea supplies missile components and technology to Israel's Arab foes and Pakistan.)"
---
"Hezbollah waged a long, dirty guerrilla war against Israel's long occupation of southern Lebanon. Israel and its media supporters branded Hezbollah 'terrorists.' But most nations regarded Hezbollah as a legitimate national resistance movement fighting to free Lebanon from Israeli occupation, which was repeatedly ruled illegal by the U.N. and in violation of international law. Iran helped arm and finance Hezbollah, whose guerrillas were to Iran what the Nicaraguan Contras and Afghan "freedom fighters" were to America. To brand Iran a 'terrorist state' because of its support of a legitimate resistance movement is mendacious and Orwellian."
---
"Before damning Iran, look at America's own record. During WWII, the U.S., Britain, and the U.S.S.R. invaded Iran, an independent nation. In 1953, the U.S. and Britain overthrew Iran's government when it sought to gain control of its own oil resources. The U.S. put Shah Mohammed Pahlavi on the throne and kept his outrageously corrupt, kleptomaniac regime in power through the army and the dreaded U.S. and Israel-trained secret police, SAVAK, which tortured and killed tens of thousands of Iranians. After the Shah was overthrown by the 1979 Iranian revolution, the U.S. sent Iraq's Saddam Hussein to invade Iran and crush its Islamic government. The U.S. secretly supplied Iraq with money, arms, intelligence, and chemical and biological weapons. . . . The U.S. repeatedly sought to overthrow the Iranian government, even financing the terrorist Mujihadin-i-Khalq organization, which assassinated much of Iran's leadership with bombs."
---

- Top -
No Indo-Pak Dialogue Possible Amidst Mistrust

By KHUSHWANT SINGH

The Hindustan Times, Feb. 2, 2002

"When two persons are convinced that the other is a liar, there is no point of their having a dialogue to sort out their differences. . . . India and Pakistan are caught in a vicious circle. We try to convince other nations that we are telling the truth while the other is lying. . . . Recent exchanges between us prove the futility of a dialogue when there is deep distrust between the parties."
---

- Top -
Humanitarian Cost of U.S.-Led Afghan War

EDITORIAL

The Progressive, Feb. 1, 2002

"There are those who will say this war is surely justified, given the plight of Afghan women under the Taliban. But we fear that the American "Daisy-Cutters" and cluster bombs have not ended their agony. We side with Afghan women who opposed the war because of the violence it would cause and who now warn about the unsavory résumés of the Northern Alliance. Nor are we fooled by the rhetoric of the Laura Bushes of this world. This war was not a war for women's liberation; it was a war of revenge. And it was the utmost hypocrisy for George and Laura to shed tears over the oppression of women in Afghanistan when women are treated essentially as badly in Saudi Arabia, and the First Family doesn't say a word about that. What's more, it was the United States that supported the Taliban when it came to power, knowing full well their savage treatment of women."
---
"War rarely is the elixir it is made out to be. A case in point: Afghan law appears resistant to dramatic change. In a late Dec. announcement reported by Agence France Press and noted in Alexander Cockburn's syndicated column, the new Justice Minister, Abdul Rahim Karimi, said the interim government would continue to impose Sharia Islamic law on all Afghans, but would do so with less force. . . . [Marc W. Herold, professor of economics and women's studies at the University of New Hampshire, published 'A Dossier on Civilian Victims of United States' Aerial Bombing of Afghanistan: A Comprehensive Accounting' which] estimates the number of civilian casualties in the first nine weeks of the war at 3,767."
---
"The war on Afghanistan . . . has claimed thousands of innocent lives and threatens to claim still more. It is accomplishing this destruction more slowly than the terrorist attack. But it is carrying out extensive, calculated killing nonetheless. This heaping of death upon death has led to a huge mound of bodies, which is no cause for celebration."
---

- Top -
Divided India

By KHUSHWANT SINGH

Tehelka, Feb. 1, 2002

"Mohammad Ali rightly remarked that the British did not divide and rule, but that we were divided and they ruled. . . . My own reading is that the primary causes of civil unrest are unchecked growth of population and consequent shortage of employment opportunities. There is also a resurgence of religious fundamentalism. It has always been a feature of Islam, and now it has surfaced among the Hindus also in a vicious form. . . . It is pointless to blame individuals for the Partition. The majority of Muslims wanted to break away from India because they felt insecure in a non-Muslim dominated India. So they got Pakistan and later Bangladesh. The British did encourage separation for many decades, but when it came to giving independence, they did their best to leave a united India. Indian leaders failed to come to a settlement."
---
"I would like to honour the views of the people of Kashmir. Unfortunately, they do not speak with one voice. So I suggest divisions of Indian Kashmir into three. Ladakh and Jammu will stay with India, as they wish. The point of contention is the valley, which is too small to be an independent state. It should be given full autonomy - guaranteed by both India and Pakistan - with provision for rehabilitation of Pandits and Sikhs who were forced to flee from it."
---

- Top -
Afghanistan Sees India As Major Ally

By KULDIP NAYAR

The Indian Express, Jan. 29, 2002

"America helped in the birth of the Taliban so that Russia would never come into the picture again. But all America's chickens came home to roost later. It was not at all surprising that the same Taliban hit the Americans in their own country. In fact, it was inevitable. If you sow the wind, you will reap the whirlwind. . . . India may not be able to erase the stigma of having abstained at the U.N. on the condemnation of Moscow in 1979. . . . Washington is wrong in establishing its base in Afghanistan. It is sure to come to grief as Russia did. . . . Kabul, as the days go by, will depend more and more on New Delhi than on Washington or Islamabad. The latter is being mistrusted because of its past relations with the Taliban, a hated lot in Afghanistan. America is being treated as the Soviet Union was at one time: a necessary evil."
---

- Top -
Powell Urges Bush to Rethink P.o.W. Status for Afghans

By WILLIAM SAFFIRE

The New York Times, Jan. 28, 2002

"The real problem is interrogation. If designated as P.O.W.'s, Al Qaeda men and Taliban leaders - many of whom may be able to name other Osama bin Laden confederates already assigned to new attacks - would be required only to state name, rank and serial number. They would then claim not only the right to remain silent, but also the right be freed when the 'war' ended - despite active participation in a criminal conspiracy to kill civilians. Our overriding public purpose in the antiterror campaign is to deter as many future attacks as we can without subverting our Constitution."
---
"After an ill-advised military order at the start, the president is painfully working out a form of prosecution of accused criminal-warriors that balances the protection of human lives with a concern for principles of human rights. If military tribunals subject to civilian review must be one part of his approach, he should "reconsider" his one-crime-fits-all decision, as Powell suggests, and have tribunals slot each suspect or defendant into the proper prosecutorial venue. It's encouraging that Bush has not allowed last week's leak to trigger a paroxysm of plumbing. The Washington Times was one of the few conservative media voices to oppose his early kangaroo-court order; when its editor, Wes Pruden, shook his hand at a Christmas reception, Bush surprised those nearby by saying, 'You're a conscience of this town.' That augurs well for balance at Guantánamo."
---

- Top -
Dasgupta's New Book Reveals British Conspiracy on Kashmir and Early Western Tilt Toward Pakistan

By ARAVINDA R. DEO

Outlook, Jan. 28, 2002

"[C. Dasgupta's new book War And Diplomacy In Kashmir, 1947-48] examines the British role in manipulating the tribal invasion of Kashmir to a stalemate and internationalising the issue. He draws heavily on documents that have now been declassified and reveals the role played by Mountbatten and the service chiefs in India and Pakistan (all British nationals) who owed their loyalty not so much to the governments of the dominions they served but to the British government."
---
"The book examines the dubious role played by two persons-Mountbatten and Philip Noel-Baker, secretary of state in the Commonwealth Relations Office. At this point, Britain needed Pakistan more than India for what were perceived to be British oil and strategic interests in the Gulf region. . . . It was only after the departure of senior British military officers that any meaningful contingency planning could take place. But by then Kashmir had become an intractable problem. In '48 the Americans had seen the legitimacy of Kashmir's accession to India. It was only with the Cold War that the U.S. began to woo Pakistan."
---
"Could India have fared better had it not accepted Mountbatten as governor-general and, like Pakistan, picked a senior Congress leader to that post? Could India have done away with the services of British officers? The answer to the first question is yes. To the second, perhaps. . . . One can only hope we learn from our mistakes and trust no strangers in matters of national security."
---

- Top -
Turkey Defies the Stereotype of a Muslim Country

By FAREED ZAKARIA

Newsweek, Jan. 28, 2002

"Seventy-five percent of the country is in favor of joining the European Union. . . . Since Sep. 11 we've all heard dozens of instant experts explain that in Islam, religion and politics can never be separated. Well, Turkey's done it for seven decades. . . . Interestingly, the Islamic parties are now in favor of EU membership because they realize that their freedom of expression would be better guaranteed by European courts than Turkish generals. Even on the decades-long impasse over Cyprus, Ankara is inching toward a negotiated solution. . . . With 12 percent of its population Kurdish and having battled a terrorist movement for decades, Turkey believes that Kurdish self-determination even across the border [in Iraq] would mean the end of the nation's unitary existence."
---
"The Iraqi Kurds have been the chief opposition to Saddam Hussein for a decade. Were they to declare independence, the United States would not crush them."
---

- Top -
Mugabe Holding Onto Power At All Costs

By SALLY ARMSTRONG

Maclean's, Jan. 28, 2002

"In a bid to stay in power by pitting blacks against whites over the contentious issue of land reform, Zimbabwe's egomaniacal president, Robert Mugabe, 77, allowed roving gangs of thugs to start taking over white-owned farms. The seizures turned violent - more than 45 people, both black and white, have been killed so far. . . . In addition to the dead, more than 700 people are missing, while 70,000 black farm workers have been thrown out of their homes on white-owned farms by Mugabe's gangs as they move in. . . . Mugabe is a former Marxist guerrilla who led the largest militia in the bloody revolt that in 1979 ended the rule of Ian Smith, the white president of what was then Rhodesia. He has been at the country's helm since 1980. With his popularity plummeting, critics say, he seems determined to turn a resource-rich nation that once boasted Africa's most robust economy into a police state."
---
"With a federal election set for Mar. 9 and 10, Mugabe's ruling Zimbabwe African National Union Patriotic Front rammed new security laws through parliament - to ensure he is not ousted from power democratically. The bills, passed on Jan. 9, give police sweeping powers to crack down on opponents ahead of the vote. Legislation is also expected to pass that outlaws verbal or written criticism of Mugabe, bans foreign correspondents from the country and requires local journalists to be licensed. Bringing the president into disrepute will carry a prison term of up to six months."
---
"Mugabe realized he was vulnerable to defeat two years ago when his party lost a national referendum on the question of altering the constitution to give him additional powers. His reaction: playing the race card and giving war veterans the green light to take over white-controlled farms. In one week alone in Jan., militants drove 23 white farmers from their land. So far, more than 2,000 farms have been overrun and, on Jan. 1, Mugabe began to hand out the seized property to about 1,000 of his supporters. Before he is finished, analysts believe 100,000 people will be given land, mostly members of Mugabe's ruling ZANU-PF party, civil servants and members of the armed forces and their families."
---
"But even with the economy in ruins and thousands now facing starvation, many blacks believe the war veterans have a legitimate point. Whites make up less than one per cent of the country's population of 12 million, but control one-third of the arable land - this in a nation with 60 per cent unemployment and where nearly a third of the population lives on less than a dollar a day. The land question was one of the issues driving the 1979 revolution, and the issue has simmered for years. In 1997, Mugabe announced that the constitutional right of farmers to receive full compensation for their land would not be honoured. But the situation did not turn violent until Mugabe lost his bid to change the constitution and began to allow the gangs to take over white-owned farms."
---
"Just as ominously, the military has thrown its full weight behind Mugabe, saying it will only accept the election of a president who fought in the nation's war for independence. (Unlike Mugabe, Morgan Tsvangirai, leader of the main opposition party, was a labour activist during that conflict.)"
---

- Top -
Congress Benefits From Unpopular Incumbent Shiromani Akali Dal

By RANJIT BHUSHAN

Outlook, Jan. 28, 2002

"[Congress's] main support base is the rich rural farmer whose cause has been espoused by the Akalis first in waiving loans and then C.M. Parkash Singh Badal personally taking up cudgels on their behalf against WTO recommendations."
---
" 'Punjab not only has the highest number of scheduled caste voters in the country but they have proved to be reliable Congress allies, even in times where S.C. voters in other parts of the country have moved away from it,' says Dr. Pramod Kumar of the Chandigarh-based Institute for Development and Communication. It is this votebank that Kanshi Ram [president of the Bahujan Samaj Party (B.S.P.)] hopes to tap."
---
"[T]he Congress is relying on the party machinery and cadre to spread the message that it was the Congress that ended terrorism in Punjab."
---
"As happens so often in state elections, mainline political parties soft-pedal issues they normally take up vigorously in Delhi. Says Pramod Kumar, 'The B.J.P. is not too keen to talk of POTO since their allies, the Akalis, were at the receiving end of state repression in the early '90s. The Congress would like to talk of economic liberalisation but has to take into account the sensitivities of its main ally, the C.P.I., which has campaigned against the WTO regime.' "
---

- Top -
U.S. Support Is Behind Pakistan's Antagonism Toward India

By SELIG HARRISON
Director of the National Security Project at the Centre for International Policy in Washington. Considered extremely influential among the think-tanks, his views on South Asia are closely followed.

Outlook, Jan. 28, 2002

"[Musharraf] attempted to finesse that issue with some beautiful words that stop short of a clear commitment to stopping cross-border terrorism. . . . [Pakistani infiltrators] can only do that in most cases if they have fire cover and logistical support from the Pakistani army."
---
"I am very sceptical, I think [Musharraf] has attempted to put up a smokescreen of action with respect to Kashmir by talking of crackdown on indigenous groups within Pakistan."
---
"[T]he key question is whether the U.S. backs off from its over-commitment to Pakistan. We have gone to bed with Pakistan since Sep. 11 to an extent that's encouraged and emboldened elements within Pakistan who wish to increase pressure on India. This is the root of the problem."
---
"[T]he idea of providing so much economic aid without strings attached, without making it conditional on the real stoppage of infiltration into the Valley was a mistake. . . . [I]f the U.S. were to back off from this embracing and lionising of Musharraf . . . Pakistan would be less likely to take chances."
---

- Top -
Kashmiri Terrorism Cannot Survive Absent Pakistani Aid

By TARIQ AHMAD BHAT

The Week, Jan. 27, 2002

"The Jammu and Kashmir Liberation Front (J.K.L.F.) is the best example of what stopping of financial and military aid by Pakistan can do. Till 1995, J.K.L.F. was a potent militant outfit whose writ ran large in the Valley. However, after Pakistan stopped aiding it, the outfit was left with no option but to declare a ceasefire. Today, J.K.L.F. is among the most moderate organisations in Kashmir with an extremely secular agenda. Something the Centre can tolerate."
---
"That the clampdown on jihadis has demoralised the militants was evident from the United Jihad Council's appeal to Musharraf to review his decisions. The U.J.C., a coalition of 18 militant organisations fighting in Kashmir, said it would continue its activities from the base camp in Pakistan occupied Kashmir."
---

- Top -
No Melting Pot in Europe

By THOMAS L. FRIEDMAN

The New York Times, Jan. 27, 2002

"Muslim immigrants are often perennial outsiders in Europe. In America, Muslims can enjoy a fairly rapid transition to citizenship, but in Europe there is no melting pot. 'Our problem in Belgium is that there is Islamophobia,' said Nordin Maloujahmoum, president of the Muslim Executive Council of Belgium. 'Some 54 percent of the population here say they don't believe non-Belgian ethnic groups could ever be real Belgians. A woman wearing a veil here finds it impossible to get a job.' . . . What radicalized the Sep. 11 terrorists was not that they suffered from a poverty of food, it was that they suffered from a poverty of dignity. Frustrated by the low standing of Muslim countries in the world, compared with Europe or the United States, and the low standing in which they were personally held where they were living, they were easy pickings for militant preachers who knew how to direct their rage."
---

- Top -
Powell Urges P.o.W. Status for Afghan Prisoners

By ROWAN SCARBOROUGH

The Washington Times, Jan. 26, 2002

"Secretary of State Colin Powell has asked President Bush to reverse the president's position on Al Qaeda and Taliban detainees and declare them prisoners of war under the Geneva Convention. A four-page internal White House memorandum obtained yesterday by The Washington Times shows that Mr. Powell made the request and that the president's National Security Council plans to meet on the matter Monday morning. 'The secretary of state has requested that you reconsider that decision,' White House Counsel Alberto Gonzales wrote yesterday in a memo to Mr. Bush. 'Specifically, he has asked that you conclude that GPW [Geneva Convention II on the Treatment of Prisoners of War] does apply to both al Qaeda and the Taliban. I understand, however, that he would agree that al Qaeda and Taliban fighters could be determined not to be prisoners of war (POWs) but only on a case-by-case basis following individual hearings before a military board.' "
---
"The memo provides a rare glimpse of a major dispute inside the Bush White House on what has become one of the most contentious issues in the war in Afghanistan. Mr. Powell wants the president to reverse his position. But Mr. Gonzales and most, if not all, members of the president's national security team are urging him not to retreat, according to the memo. Mr. Bush decided Jan. 18 that hundreds of Taliban and members of Osama bin Laden's Al Qaeda army are detainees, not prisoners of war, and thus not subject to rights in the Geneva Convention. Human rights groups and some European politicians have protested the decision and have been especially critical of the living conditions for 158 detainees at the U.S. Naval Base in Guantanamo Bay, Cuba."
---
"Administration sources last night expressed anger at Mr. Powell, whom they accused of bowing to pressure from the political left. They said that if Mr. Bush heeds his secretary of state's advice, the U.S. will have to provide detained terrorists with all sorts of amenities, including exercise rooms and canteens. The four-page Gonzales memo to Mr. Bush comes with a signed cover sheet from Condoleezza Rice, the president's national security adviser. The cover page asks Vice President Richard Cheney; Mr. Powell; Defense Secretary Donald H. Rumsfeld; Attorney General John Ashcroft; CIA Director George Tenet; and Gen. Richard Myers, Joint Chiefs Chairman, to read Mr. Gonzales' memo and have responses to her by today at 11 a.m. 'After receiving your comments, we will prepare a final memorandum for presentation to the president Saturday afternoon,' Miss Rice writes."
---
"Rear Adm. John Stufflebeem, deputy director of operations for the Joint Staff, said the total number of detainees from Afghanistan is now 460 - 302 in Afghanistan and 158 in Cuba."
---

- Top -
Allies Oppose U.S. Defiance of Geneva Convention

By ANTHONY LEWIS

The New York Times, Jan. 26, 2002

"The Bush administration has done well militarily in Afghanistan, but it has badly fumbled the question of justice for its captives. It has failed to understand the power of the human rights ideal in today's world - and America's stake in living up to that ideal. The failure has brought awkward international political consequences for the United States. The imprisonment of Taliban and Qaeda captives at Guantánamo, and their treatment there, have been questioned by some of America's closest allies. The European Union's external affairs commissioner, Chris Patten, said the perception that the captives are being mistreated - or may be sentenced to death - 'would be a way of losing international support and losing the moral high ground.' "
---
"All European countries have [given up the death penalty], and leaders from politicians to the pope deplore what they regard as the savage survival of executions here [in the U.S.]. Underneath, the prisoner issue touches a profound resentment abroad at what many see as an American tendency to lecture others about international standards while refusing to comply with those it urges. The human rights movement in the world got its main start in the United States. Thirty years ago Congress began imposing sanctions on countries that violate human rights. The United States pushed the United Nations to create the International War Crimes Tribunal for the Former Yugoslavia. Yet the Bush administration is trying to sabotage establishment of an international court for war crimes that all our allies support."
---
"The administration has also troubled some friendly governments by withdrawing from the Kyoto treaty on global warming and the Antiballistic Missile Treaty. Charles Grant, director of the Center for European Reform, a London research group, said the Guantánamo issue touches 'European concern that America doesn't believe . . . in submitting itself to rules, organizations or norms that limit its freedom of action.' European unease about the legal side of the American war on terrorism goes back before Guantánamo to President Bush's order calling for military tribunals to try non-American citizens involved in terrorism. Objections in Europe made it doubtful that we could win extradition orders for suspects arrested there. The tribunal order has turned out to be an embarrassment for the administration. It has used civilian courts for the first terrorist prosecutions, undermining its argument that they could not be trusted for such cases."
---
"[The Bush administration] has tried to justify its treatment of prisoners by arguing that they are not war prisoners but 'unlawful combatants.' 'These people are committed terrorists,' Mr. Rumsfeld said. But whether they are is the very question that a legal process must decide. The Geneva Conventions of 1949 say they must be considered prisoners of war unless a 'competent tribunal' finds otherwise. The handling of the prisoners in Camp X-Ray has given the United States a self-inflicted wound."
---

- Top -
Indian Democracy in Peril

By RAJEEV DHAVAN
Senior advocate in the Supreme Court. Has been involved in a number of cases with a bearing on the fabric of relations between Centre and State in a federal polity. He is the author of an authoritative book on the legal rationale, political purposes and ethical foundations of President's Rule in the States.

The Hindu, Jan. 25, 2002

"[O]n Jan. 23, 1999, Graham Staines and his two sons, Timothy and Philip, were murdered as they slept in their jeep. . . . Indian society is the greatest multicultural and multi-religious society that has ever graced human history. . . . India's electoral politics knows no limits. Those accused of committing ghastly communal crimes are being rewarded as politicians. . . . After the Staines' murder, the Justice Wadhwa Committee examined these events and expressed anguish, but refused to take a conclusive view on the political links between the alleged perpetrators of the murder and the various communal outfits, which are friends of the B.J.P. . . . [A] new organisation called the Dara Sena (Dara's Army) was created to protect the faith. Dara Singh himself has been socially elevated as a Dharma Rakshak (defender of the faith)."
---
"The Congress(I) pride has still not learnt the value of devising the kind of coalition strategies that have got the B.J.P. in power. But while upholding secularism, the Congress(I) is not averse to goonda politics. There are reports that it may field Jai Narayan Tewari - an alleged mafia don - in the elections."
---
"Politicians claim refuge in the law. Their effective defence is that the law permits them to nominate communal thugs and goondas as candidates for elections as long as such thugs and goondas have not been convicted of a disqualificatory crime. No doubt Section 8 of the Representation of the People Act, 1951 disqualifies those guilty of listed socio-economic crimes and offences punished with more than 2 years imprisonment. This means that a person may be accused of hundreds of murders and even chargesheeted for them, but he will not be disqualified as long as he has not been convicted of the crime. An anguished Law Commission's report on electoral reforms (1999) says that those chargesheeted by a court should also be disqualified. This solution is not perfect but may merit consideration in the face of the rising tide of the criminalisation of politics."
---
"The law may permit certain things, which though constitutionally valid are nevertheless not sound as constitutional practice. Take the case of anti-defection. Even after the Anti-defection Amendment (1985), both the law and the Constitution permit defection within limits. . . . Ministers accused of policy failures used to accept responsibility by resigning - such as Lal Bahadur Shastri in 1956 and Krishna Menon in 1962. But, now Ministers do not resign even when accused of serious crimes. . . . [G]iving seats to persons accused of serious crimes or of communal dispositions is not strictly illegal or unconstitutional, but is a wrong constitutional practice."
---

- Top -
Support Evaporating for Bulldozer Sharon

By YOEL MARCUS

The Haaretz, Jan. 26, 2002

"Indeed, after nearly a year in office, Sharon has not made headway on any issue whatsoever, much less peace and security, where he has trapped us in a cycle of bloodshed from which there is no exit. . . . Reoccupying the territories is not a practical option, and neither is assassinating Arafat, due to American opposition. . . . [Hamas chief] Sheikh Yassin on one side, and Bibi [Benjamin Netanyahu, former prime minister of Israel] on the other, are dictating the agenda. . . . In terms of power and military might, Israel's strength is waning. Israel may be a member of the Five Strongest Armies Club and the Eight Nuclear Nations Club, but it has reached the point where it has no military solution for the dispute with the Palestinians. . . . There is no conflict in the world, from Algeria to Vietnam, that has been resolved without negotiating under fire."
---

- Top -
Few Lessons Learnt From Gujarat Earthquake

EDITORIAL

The Indian Express, Jan. 25, 2002

"It is not the government machinery alone that has failed. There are countless non-governmental organisations who in their initial enthusiasm made tall promises but only to break them at the first available opportunity. . . . There are reports that corruption that allowed private builders to pay scant regard to norms in building multi-storied residential colonies still plays a similar role in the rebuilding activity the state witnesses, needless to say, with dangerous consequences."
---

- Top -
Israel Must End Its Occupation of Palestine

By ROBERT MALLEY
Director of the International Crisis Group's Middle East program. He was special assistant for Arab-Israeli Affairs under President Bill Clinton.

The New York Times, Jan. 25, 2002

"As evidenced by the increasing number of Palestinians protesting even halfhearted efforts by Yasir Arafat to detain his militants, for the Palestinian Authority to crack down on its own people while Israel maintains its aggressive military action is politically and practically implausible. . . . The intifada is the latest chapter in a conflict that opposes two peoples living on the same land and struggling over it. Any end to violence will depend on taking steps to end the conditions that helped produce it - the pervasive and persistent military occupation of the West Bank and Gaza. . . . [T]he arithmetic, to paraphrase a former Israeli security chief, is gruesome in its simplicity: kill a terrorist when political hope exists and have one terrorist less; kill a terrorist in the absence of such hope, and create 10 terrorists more."
---

- Top -
Why India Mistrusts Pakistan

By SAEED NAQVI

The Indian Express, Jan. 25, 2002

"Agra remains a puzzle. Everything seemed promising until the midnight hour when Indian insistence on cross-border terrorism in the draft turned out to be the deal breaker. I think what rankled a bit on the Indian side was Musharraf's persistence in scoring points in the media. . . . In Kathmandu, during the Saarc summit, the Pakistani delegation's urge for quick PR points came in the way once again. Sattar asked for a confidential meeting with Jaswant Singh. The prime minister saw no harm, provided it was not treated as a formal meeting. Jaswant Singh and Sattar met for an hour at the former's suite at the Soaltee on conditions of total secrecy. Barely was the meeting over than Pakistan's media managers had leaked it to their press. It was enormously embarrassing to the Indian side."
---
"So extremely adversarial have bilateral relations been since Dec. 13 in particular that there was nothing any one side could have done that would completely satisfy the other. . . . So consistently has Pakistan spurned Indian overtures that a turn-around by its leader finds us a bit frozen in our tracks."
---

- Top -
Western Nations Throw Money at Afghanistan, But Evade Involvement on the Ground

EDITORIAL

The Toronto Star, Jan. 25, 2002

"Barely a month after taking office, Hamid Karzai's new government in Afghanistan is struggling to assert itself over the warlords who dominate much of the country. Near Herat in western Afghanistan, forces loyal to Ismail Khan, an ethnic Tajik warlord, have been purchasing weapons from Iran and harassing businesspeople from the Pashtun majority. This has sparked concern that Khan is carving out a fiefdom of his own, and undermining Karzai's central government. Elsewhere outside the capital, there's been factional fighting and banditry. Understandably, United Nations officials, some Afghans and relief workers are now urging that the small British-led U.N. force in Kabul be vastly expanded, from 2,000 now to 30,000 or more, to patrol much of the countryside. Yet only a few weeks ago, Afghan leaders fiercely objected to a 'large' U.N. force, saying they want no outside interference."
---
"Led by the Americans, with 4,000 troops in Afghanistan, the international community has displaced the repressive Taliban, disrupted the Al Qaeda terror network, helped establish Karzai's multi-ethnic government in Kabul, set Afghanistan back on the path to democratic elections and pledged $4.5 billion (U.S.) in aid. That should enable the Afghans themselves to take ownership of the security situation. The government is beginning to build an army of 250,000, drawing on the country's vast reservoir of skilled fighters. If 26 million Afghans cannot police themselves, no one else can. The Soviets deployed an army of 100,000, but were unable to control more than the major cities. There's a limit to how much the outside world can do. Afghans must look to themselves to forge a new country."
---

- Top -
India Must Decentralize

EDITORIAL

The Hindustan Times, Jan. 24, 2002

"[India's home minister L.K. Advani] has categorically ruled out any return to the pre-1953 status with its provisions for designating the chief minister as prime minister, permitting the state to have a separate emblem and so on. . . . However, what can be considered, as Mr. Advani has pointed out, is an expansion of the federal arrangement in line with the concept of increasing decentralisation."
---
"It is an idea which has the support of several of the B.J.P.'s allies such as the Akali Dal and the DMK. Indeed, both have occasionally underlined their preference for a system where the Centre will be in charge of only defence, external affairs and communications. The rest will be under the jurisdiction of the states. Such a system may not be on the anvil at present, but there is little doubt that if and when a genuine devolution of powers takes place in Kashmir, the other states will not be far behind in demanding similar privileges for themselves."
---

- Top -
The End of Arafat and his Palestinian Authority Is Imminent

By PAUL ADAMS

The Globe and Mail, Jan. 24, 2002

"[T]he embryonic Palestinian state led by Yasser Arafat could soon be history. . . . This week, when for the first time Israeli forces completely temporarily occupied a Palestinian city - Tulkarem in the West Bank - the event barely created a ripple. As for the Israelis' assassination policy, in a world where President George W. Bush has declared that he wants Osama bin Laden caught 'dead or alive,' it looks far less outlandish than it once did - and the Israelis know it. . . . In the 15 months since the beginning of the current intifada (uprising), the bombs have become more technically sophisticated, and consequently more lethal. . . . [S]ecular groups associated with Mr. Arafat's Fatah movement have recently adopted the suicide tactics that were once the sole domain of Islamist groups such as Hamas and Islamic Jihad."
---
"This week, Israel's dovish Foreign Minister, Shimon Peres, met with the speaker of the Palestinian legislature, Abu Ala, as he has done several times recently. The two men, both veterans of the peace process in the 1990s, have been discussing a step-by-step plan to create a Palestinian state. But the truth is that no one on either side - even their sympathizers - takes their plan seriously."
---
"Only one man retains some autonomy of manoeuvre and that is the Israeli Prime Minister, Ariel Sharon. Even his most severe critics concede that the septuagenarian leader, who has fought in every one of Israel's many wars, is a brilliant tactician, both militarily and politically. Since his election last Feb., he has shrewdly avoided negotiations with the Palestinians, which he does not want. He has also gone a long way to cripple the Palestinian Authority, of which he never approved. However, during his long career, Mr. Sharon's strategic goals have often been murky or misdirected. When he launched an invasion of Lebanon as defence minister in 1982, supposedly to clear out the border area of Palestinian militants, most of the Israeli cabinet had no idea that he would plunge all the way to Beirut. The adventure was an unqualified disaster, bogging the Israelis down in a war of attrition that lasted nearly two decades."
---
"Whatever Mr. Sharon's intention, it now seems quite possible that the vestiges of Mr. Arafat's Palestinian Authority will soon be gone. Then Israel will have to figure out a way of governing the Palestinians, or getting them to govern themselves. No one in Israel, Palestine, or the rest of the world has given much thought to how that might work, and it is hard to imagine it happening without a great deal more blood being shed."
---

- Top -
Iran's Designs on Afghanistan

EDITORIAL

The Daily Telegraph, Jan. 24, 2002

"Afghanistan is facing a serious threat from Iran to its post-Taliban independence. . . . Teheran is seeking to bolster its influence by sending weapons, uniforms and footwear to its long-time ally, the warlord Ismail Khan [in the western town of Herat]. . . . Under the Taliban, who were supported by its regional rival, Pakistan, it lost out. The Persian-speaking Heratis came under the control of Mullah Mohammed Omar's troops in 1995. Three years later, thousands of Hazaras, members, like the Iranians, of the Shi'a branch of Islam, were massacred in Mazar-i-Sharif. A Taliban unit, which included Pakistani militants, entered the Iranian consulate in that northern town and shot dead Iranian diplomats, intelligence officers and a journalist."
---
"[A]s has been amply demonstrated, the head of state [of Iran] does not control the main lines of foreign policy; under the revolutionary institution of Velayat-e-faqih, that is the prerogative of the supreme leader, Ayatollah Ali Khamenei. It is he and his shock troops, the Revolutionary Guards, who are likely to be dictating Iran's line towards Afghanistan. That is a reversion to the modern form of the Great Game, intensified by clerical hatred of the United States and Britain. . . . The Iranians have also maintained their anti-Israeli stance, strengthening the links between their protege, Hizbollah, and Palestine Islamic Jihad, Hamas and elements of Fatah. The seizure this month by the Israelis of a ship carrying 50 tonnes of arms, destined for the Palestinians and allegedly loaded on or near the Iranian island of Qeshm, points to their involvement. Pursuing its traditional post-1979 policy, Iran has rudely rebuffed its Western suitors."
---

- Top -
Enron Is Merely One Instance of a Rotten System

By WILLIAM PFAFF

The International Herald Tribune, Jan. 24, 2002

"[A]ddressing the [Enron] scandal fails to address America's real problem, which is the domination of politics by money. Enron simply provides another demonstration of the role of corporate money in the American system. It is the system that is rotten. The American political arena has been transformed from a system in which contending opinions and interests competed more or less freely into one that guarantees corporate domination of national economic and social policy, as well as major corporate influence on foreign policy decisions. Money has been in control since the Supreme Court interpreted campaign spending and contributions to political candidates as forms of constitutionally protected free speech. (This decision, Buckley v. Valeo, occurred in 1976, and concerned spending in a congressional election.)"
---
"Those people who have contributed campaign money typically obtain value for their money, since victorious candidates want to be re-elected. . . . Outrage is invoked by the facts that the company paid no taxes in four of the five last years, and that management's penultimate act was, effectively, to loot its employees' pension fund. The only surprise is that the board of directors would have suspended the company's proclaimed code of ethics so as to permit maneuvers to keep debt off the company's published accounts and mask its true condition from investors. . . . The willingness of Arthur Andersen accountants and lawyers to cover their tracks and shred documents is not that surprising. Questions have been posed about the objectivity of the big accountancy partnerships ever since they went into the consultancy business."
---
"The existing system of unlimited political campaign spending is hated by politicians but suits corporate business. So long as pharaonic sums are required for national political campaigns, a reform majority will not be elected."
---

- Top -
Advani Hopes For a Confederal Framework Including India, Pakistan

EDITORIAL

The Indian Express, Jan. 24, 2002

"[T]here is no inherent contradiction when [India's home minister L.K. Advani] says, 'Partition was a tragedy. At the same time, Partition is also a reality.' This is confirmation, if at all confirmation is needed, that the B.J.P. which had not accepted Partition in its formative periods, has finally reconciled itself to the division of the country. However, Advani is not merely rhetorical when he asks whether the ruling establishment in Pakistan has accepted the reality of a secular, democratic and united India. It is indeed doubtful as such an acceptance will negate the very idea of Pakistan. Small wonder that in the Pakistani discourse, the fact that India has the second largest Muslim population is overlooked."
---
"[Pakistani President Pervez Musharraf's] decision to do away with the system of separate electorate for the minorities and references to Jinnah's promise that there would be no discrimination on the basis of religion was a clear admission that the redemption of Pakistan lies in secularism, however watered down it may be. . . . Advani believes that 'it is not out of place to mention my hope and desire to see the coming together of India and Pakistan in some type of confederal framework in the years to come.' He is tempted by the unification of Germany, the signs of reconciliation between the two Koreas and the European economic union. . . . On most of the indices of life, India is only a shade better than Pakistan."
---

- Top -
Punjab Is Misusing the S.Y.L. Canal Issue for Political Purposes

By MANOJ MITTA

The Indian Express, Jan. 24, 2002

"In its judgment [on the water-sharing and the Sutlej Yamuna Link (S.Y.L.) Canal] delivered last week, the Supreme Court deplored 'a lack of political will at the Central level to deal with the problem' and said 'it appears that in the controversy between the two states [Haryana and Punjab], the Union Government is feeling embarrassed to take any positive decision, which in our view is not in the interest of the nation.' . . . The dispute between the two states started from the very day on which Haryana was carved out of Punjab in 1966. Being non-riparian, Haryana was entirely dependent on Punjab for water. . . . A decade later, in Mar. 1976, the Indira Gandhi government issued a notification allotting a share of 3.5 MAF to Haryana. . . . While Haryana built its portion of the S.Y.L. Canal by Jun. 1980, Punjab only adopted dilatory tactics."
---
"Punjab and Haryana, at the instance of the Indira Gandhi government, signed an agreement on Dec. 31, 1981 [whereby] Punjab undertook to complete its portion of the S.Y.L. Canal. In return, Punjab's allotment of water was increased by 1.32 MAF. . . . Not surprisingly, the situation changed when the Akali Dal returned to power in 1985. The Punjab Legislative Assembly passed a resolution repudiating the 1981 agreement. . . . All work on the canal came to a halt in 1990 and it hasn't resumed since then even though over 90 per cent of the construction is said to have been completed. . . . [N.D.A. ally governments in both Punjab and Haryana] ensured that the Vajpayee Government was in no position to take any stand on the S.Y.L. issue, one way or the other."
---
"The court took note of the fact that Punjab has been dithering on the S.Y.L. Canal issue all these years purely because of 'vote-bank' politics. . . . The state Congress chief, Capt Amarinder Singh, has made the S.Y.L. case into an election issue seeking to pit the will of the people against the court's decree. Whatever the outcome of the elections, the S.Y.L. Canal is unlikely to be completed in a hurry."
---

- Top -
Despite Flattening Afghanistan, America Has Made No Real Progress Against Terrorism

By THOMAS L. FRIEDMAN

The New York Times, Jan. 23, 2002

"[W]hile America has won the war in Afghanistan, it has not won the hearts and minds of the Arab-Muslim world. The cultural-political-psychological chasm between us is wider than ever. . . . [One of the reasons for the chasm is] our own failure over the past two decades to really explain ourselves in Arabic and to puncture canards about U.S. policy with hard facts. The Bush team has yet to provide a dossier, in Arabic, detailing all the evidence against bin Laden. It is not too late for that, although facts alone will not be enough."
---
"There is enormous cultural resistance to believing anything good about America. Some of this is deliberately fanned by the state-run press in certain Arab countries to deflect criticism from the regime. Some is revenge for America's support for Israel, particularly at this time when the Israeli-Palestinian conflict has turned into such a human meat grinder, aired every night on Arab TV. Not acknowledging America's version of reality, or undercutting its sense of victory in Afghanistan, is a way for Arabs and Muslims to get revenge for America's support for Israel, which they feel so powerless to affect. . . . [B]in Laden touches something deep in the Arab-Muslim soul, even among those who condemn his murders. They still root for him as the one man who was not intimidated by America's overweening power, as the one man who dared to tell certain Arab rulers that they had no clothes, and as the one man who did something about it."
---

- Top -
India's B.J.P. Continues to Stoke Religious Fervor for Political Goals

EDITORIAL

The Hindu, Jan. 23, 2002

"The timing of the [Chetavani Yatra] campaign, aimed at aiding the majoritarian agenda, is certainly an effort to help the B.J.P. consolidate its voter base through the communal rhetoric once again. . . . [T]he B.J.P. is certainly not an independent outfit but a close associate of the RSS just like the VHP and the Bajrang Dal. . . . [T]he nuanced stance put out by the party's general secretary, Maya Singh, in the immediate wake of the sants taking out a procession from Ayodhya (to reach Delhi on Jan. 26) raises concerns. Ms. Singh's statement that the B.J.P. M.P.s and other elected reprsentatives are free to join the sants in the campaign is indeed a clear signal to the ranks."
---
"[T]he refrain that the campaign for the construction of a temple at the site where the Babri Masjid stood was one integral to culture is the same old stale argument that the B.J.P.'s leaders have come out with ever since they chose aggressive hindutva in place of democratic pretensions as their political strategy in the mid-1980s. . . . [T]he B.J.P.'s top brass is guilty of abdicating its responsibility. For, being the party in power at the Centre and in Uttar Pradesh, the B.J.P. needs to discourage such campaigns rather than remain a 'passive' observer."
---

- Top -
Musharraf More Like Sadat, Less Like Ataturk

By JIM HOAGLAND

The Washington Post, Jan. 23, 2002

"I asked Musharraf whether his promised moves to register religious schools and take mosques away from extremist clerics who defy him could serve as a model for other Muslim countries. He evaded the question. That is probably a more realistic response than the exaggerated U.S. hopes that events in Pakistan, a poor and deeply fractured non-Arab society, will broadly influence the Islamic world or that Musharraf, widely known as a secularist in this nation that is 98 percent Muslim, will somehow lead the way in a general reform of Islamic thought. His admirers compare Musharraf to Kemal Ataturk, who yanked Turkey from despair and launched it on the road to modernization. The Pakistani leader's situation actually resembles that of Egypt's Anwar Sadat, who responded with boldness and vision to pressures similar to those now facing Musharraf, and paid for it with his life. Musharraf is more cautious than that - more likely to zigzag than head for an obvious cliff."
---

- Top -
Musharraf Must Abandon the Savior Myth

By HUSAIN HAQQANI

The Indian Express, Jan. 23, 2002

"Anti-India hardliners in Pakistan fear that New Delhi already has plans to manipulate grass-roots alienation, for example, in Sindh, in tandem with regional and military moves. After all, something similar happened in 1971 prior to the independence of Bangladesh. . . . General Musharraf is probably the most sincere and well-intentioned military leader Pakistan has had. But the country needs a stable political framework, which is unlikely to emerge if key segments of Pakistani society continue to be excluded from the power structure through administrative maneuvers."
---
"According to the myth perpetuated over the last four decades, politicians are to blame for the erratic governance of Pakistan. The era of Field Marshal Ayub Khan is cited as the country's only period of stability. In fact, however, many of Pakistan's current political and economic problems can be traced back to the Ayub era. Ayub shifted the focus from consensus building, which was important for forging a united Pakistani nation after independence, to centralised leadership. He gave the nation the 'saviour' complex that continues to afflict Pakistan's quest for leadership ever since."
---
"Politicians in most successful countries are pragmatic consensus builders and policy makers. They run their countries, instead of pretending to save them. But Ayub Khan put Pakistan on the path of searching for saviours. Post-Ayub politicians, including Zulfikar Ali Bhutto and even Nawaz Sharif projected themselves as messiahs. The 'saviours' have all sought to re-invent governance, instead of building on the foundations that already exist. . . . General Musharraf should avoid the trap of pursuing the Ayub-Zia models and set himself realistic targets. Pakistan's reforms should come from within and should be self-sustaining. Changes aimed at securing international applause will not last. Nor will the applause."
---

- Top -
U.S. Must Either Open Guantanamo Bay to the Media or Suffer the Allegations

EDITORIAL

The Los Angeles Times, Jan. 23, 2002

"The [International] Red Cross . . . did make some recommendations to the U.S. military on [the] treatment [of Taliban and Al Qaeda prisoners]. Unfortunately the Red Cross' recommendations, as is customary, were not made public. The field will be ripe for rumor and speculation until the Pentagon opens up Guantanamo to observation. . . . [U]ntil the mysteries of their confinement are cleared up, lurid accusations of ill treatment cannot be squelched. . . . Fighters for the Taliban, the former government of Afghanistan, probably have a good claim to the right to be treated as prisoners of war. That may not be so for members of the Al Qaeda terrorist group, who were not members of a nation's army or even a militia. The Pentagon should determine who is in what category and release that information."
---
"[B]y locking out impartial observers, including reporters, [U.S. Defense Secretary Donald H. Rumsfield] bears much of the blame for any shoddy information [being disseminated by the media]. Nor does his intemperate remark that the prisoners 'are being treated better than they treated anybody else' help his cause. Surely he does not measure U.S. moral values against the Taliban's. The Pentagon has allowed reporters to view the detainees only from a great distance. It should provide a closer look. The Geneva Conventions, intended to provide for humane treatment of war prisoners, among other things, were adopted in 1864 and updated four times since. True, the conventions have often been sorely breached, and they may be tricky to apply in the unconventional wars of the 21st century. But better to open the Guantanamo prison, and the process, to full observation than to let accusation and rumor grow in the dark."
---

- Top -
Palestinians Must Abandon Right of Return

By YOEL ESTERON
Managing editor of Ha'aretz, an Israeli newspaper.

The International Herald Tribune, Jan. 23, 2002

"Most Israelis are refugees, or the children of refugees, from Poland, Germany and Russia, Morocco, Iraq, Syria and other places. I can feel for Palestinians who hold on to their title deeds to houses in Jaffa or Haifa: I have a piece of paper, too. We are all products of a chaotic postwar world in which millions of people fled from country to country looking for sanctuary. When I see children and their parents living in dire poverty in refugee camps in the West Bank and Gaza, and elsewhere in the region, I wonder why their Arab neighbors, especially those who have enjoyed immense oil riches all these years, have never come to their aid. The sad truth is that the Arab countries have abandoned them to a bitter fate in order to foment hatred of Israel."
---
"If and when the shooting stops, the 'right of return' in all its complexity is bound to be the greatest stumbling block on the road to a permanent peace. Although Israel was the one attacked in 1948, it will have to acknowledge its share in the suffering of Palestinian refugees. The establishment of a national home for the Jews caused suffering to hundreds of thousands of Palestinians, who fled or were expelled from their homes during the War of Independence. Israel's independence was their catastrophe. . . . What Israelis cannot accept, however, is the Palestinian demand for the 'right of return.' To do so would be to destroy the idea of Israel as a national home for Jews who have nowhere to return to. We are not prepared to put our trust in those who promise that if we recognize such a right, the number of actual returnees would not be so great as to overwhelm the Jewish nature of this state."
---
"Yasser Arafat refused to forgo the 'right of return' at the Camp David talks in Jul. 2000 because he feared that the refugees would never agree. . . . The alternative is to condemn the next generation to the suffering of this one. The choice is between a life spent clinging to an unattainable dream and a life of real hope."
---

- Top -
Russia Continues Its Tradition of Silencing Critics

EDITORIAL

The New York Times, Jan. 23, 2002

"In the Soviet years, Moscow curbed opposing voices in the name of safeguarding Communism. Now it appears that critical media outlets are being shut down in the name of regulating business. The latest casualty is TV-6, Russia's only independent television outlet. . . . [A] Russian court has shut down TV-6 . . . using the same law that allowed the takeover of NTV last year. The TV-6 operation was owned largely by Boris Berezovsky, a forceful and unrelenting critic of President Vladimir Putin. . . . The closing of TV-6 sends a message to other journalists at every level: criticizing the Kremlin can be bad for business, even worse for journalism. . . . Sustaining a media free to criticize those in power is essential to Russia's political, judicial and economic development."
---

- Top -
India Needs to Shun Irresponsible Posturing

EDITORIAL

The Daily Telegraph, Jan. 23, 2002

"In recent weeks, the number of terrorist attacks in Kashmir has fallen, though the real test of Gen Musharraf's measures will come when the passes reopen in May. . . . It would be tragic if the lives of millions of people were to be put at risk by a handful of Muslim fanatics whom Gen. Musharraf cannot reasonably be expected to control. . . . In the meantime, India should pay closer attention to the growth of Islamic militancy in Bangladesh. L.K . Advani, the home minister, acted irresponsibly by implying, without good evidence, that Pakistan's secret service was in cahoots with Harkat-ul-Jihad Islami, established 10 years ago in India's eastern neighbour, in executing the Calcutta attack."
---

- Top -
India Needs to Abandon Bullying Tactics and Negotiate With Maturity

By MANI SHANKAR AIYAR
One of India's most well-known commentators and outspoken critics. He was a close friend and adviser to the late Rajiv Gandhi, and is a former career diplomat in the Indian Foreign Service and a Congress Member of Parliament.

The Indian Express, Jan. 22, 2002

"Talking to Pakistan is the essence of the Simla agreement. Simla took J&K out of the multilateral mode, in which it had smouldered from 1947 to 1972, and placed it squarely in the bilateral domain. Tragically, having put issues related to J&K in the bilateral mode, Indian diplomacy has wasted three decades not discussing J&K with Pakistan. That posture of 'will not talk multilaterally-will not talk bilaterally' was maintainable (or at least proved sustainable) till Pokhran-II/Chagai in May 1998. Since then, the U.N. Security Council resolution of Jun. 1998, rapping us both on the knuckles for going nuclear, has, for the first time in 33 years, raked up the J&K question in a Security Council resolution. We have been put on notice of multilateral intervention in J&K if a bilateral process is not put in motion."
---
"If we do not get bilateral pretty soon, there is every danger of the U.N. Security Council resolution of Jun. 1998, rather than the Simla accord of 1972, determining the nature - and, therefore, the outcome - of our engagement with Pakistan. . . . Keeping the prime minister out of [discussions] is a key requirement, especially in the light of his proven naivete at Lahore (where he and his team plain forgot to write 'cross-border terrorism' into the Lahore Declaration) and then his being outmanoeuvred over cross-border terrorism at Agra."
---
"[A]s retired Pak General Durrani put it in an article in this journal last week, 'Pakistan is not Afghanistan, and India is not the United States.' We cannot bully Pakistan. . . . Our model should be the greatest Indian negotiator of them all - Mohandas Karamchand Gandhi. Our negotiators should talk to their Pakistani counterparts as Gandhi did with Morley and Smuts, Irwin and Linlithgow, Wavell and the Cabinet Mission. He worked on the British to leave without ordering the Indian Navy into the English Channel. . . . Diplomatic maturity demands that we recognise that there are Pakistani perceptions and Pakistani concerns and that we cannot expect Pakistan to mouth the Indian line any more than Pakistan can expect India to mouth the Pakistani line."
---
"A dialogue is required precisely because of our differences. . . . We do not know where the dialogue will lead and how long it will take. For if we did, there would be no need for dialogue, we could go directly to the answers. . . . [S]trong-arm negotiating tactics, bullying, bluster and posturing will lead nowhere - other than to the U.N. Security Council resolution of Jun. 1998."
---

- Top -
U.S. Must Pay Closer Attention to Prisoners' Rights

EDITORIAL

The New York Times, Jan. 22, 2002

"The handling and prosecution of Taliban and Al Qaeda prisoners at the American naval base in Guantánamo, Cuba, cannot be left to the whim of the Pentagon. There have been disturbing reports about the conditions under which some of these detainees are being held."
---
"The Geneva Convention confers prisoner of war status on those captured as part of a country's armed forces, whether or not their government was diplomatically recognized by the country holding them. Members of irregular forces can also qualify, provided they were wearing some kind of identifying insignia, operating under a clear chain of command in a unit that abided by internationally recognized rules of war. This standard could apply to soldiers fighting for the Taliban. It might even be invoked by members of Al Qaeda military brigades fighting alongside Taliban forces, although they would have a hard time proving their organization's respect for the rules of war. Prisoner of war status should not be granted to Al Qaeda's leaders or those training for terrorism at its Afghan camps."
---
"Under current Pentagon regulations, captives claiming to be prisoners of war are entitled to present their claims at a special hearing presided over by three American military officers, with no appeals permitted. A sounder approach would apply the standards of American military law, including the possibility of appeal."
---

- Top -
Continued U.S. Presence in Saudi Arabia Implies Continued Islamic Terrorism

By ROBERT FISK

The Independent, Jan. 22, 2002

"[W]hether we like it or not, many Saudis believe that American troops are occupying their country, that the very presence of U.S. soldiers in the Kingdom is a crime. King Fahd, of course, invited the Americans into Saudi Arabia in 1990, after Iraq's invasion of Kuwait. President Bush senior promised the Arabs they would leave when the threat of Iraqi occupation was over. But they are still there."
---
"Several years ago, I reported in The Independent that Crown Prince Abdullah - the effective ruler now that the King is so badly incapacitated - wanted the Americans to leave. Much jeering there was from American commentators. But now the Washington Post, no less, has reported that the Saudis want the Americans to quit and the commentators are silent. Not so U.S. Secretary of State Colin Powell. For him, the American presence in Saudi Arabia may last until the world turns into 'the kind of place we dreamed of.' American troops in Saudi are not only a deterrent to Saddam, he said at the weekend, they are a 'symbol' of American influence."
---
"Could Al Qaeda have a more potent reason for continued resistance? The 'occupation' of Saudi Arabia remains the cornerstone of Osama bin Laden's battle against the United States, the original raison d'être of his merciless struggle against America. And here is Mr. Powell proving, in effect, that Washington had ulterior motives for sending him into the Gulf. When he added that 'we shouldn't impose ourselves on the Government beyond the absolute minimum requirement that we have,' the phrase 'beyond the absolute minimum' tells it all. The United States will decide how long it stays in Saudi Arabia - not the Saudis; which is exactly what Mr. bin Laden has been saying all along. . . . [W]e are turning ourselves into the kind of deceitful, ruthless people whom Mr. bin Laden imagines us to be."
---

- Top -
China Must Address Its Jingoistic Nationalism

By NICHOLAS D. KRISTOF
Winner, jointly with wife Sheryl WuDunn, of the 1990 Pulitzer Prize for international reporting for their coverage for The New York Times of the Tiananmen Square democracy movement in China and its bloody supression.

The New York Times, Jan. 22, 2002

"Education in China has improved dramatically, along with almost every aspect of Chinese life, and some Shanghai public schools now are better than some New York City public schools. But China still teaches history as a series of guo chi, or national humiliations. And this leads many Chinese to see everything - the bombing of their embassy in Belgrade, the landing of the American spy plane in Hainan, even trade negotiations - as another guo chi."
---
"It is outrageous that the Chinese authorities continue to hold exhibitions falsely asserting that the United States used biological weapons against Chinese during the Korean War. For that matter, it is time that China stopped referring to the Korean War as 'the War to Resist America and Help Korea.' The Chinese government's continuing suggestions that we deliberately bombed its embassy, or that the spy plane's recklessness led to the crash, needlessly inflame public opinion. Paradoxically, we're also hurt by a freer Chinese press: some quasi-private Chinese tabloids have the capitalist instinct, and because of the fervor to sell papers they are the ones with the most jingoistic stories."
---
"In a China that is steadily becoming more open, jingoistic public opinion increasingly matters. One danger is that a hostile nationalism will box the government in and increase the risk of conflict with the United States over Taiwan, or with Japan over a set of disputed islands known to Tokyo as the Senkaku and to Beijing as the Diaoyu."
---

- Top -
Britain Continues Appeasement Policy with I.R.A./Sinn Fein

EDITORIAL

The Daily Telegraph, Jan. 22, 2002

"On Sunday, four million of us tuned in to be told that British troops had behaved unspeakably in Londonderry on Bloody Sunday. Then, yesterday, the man who recently admitted to having been the IRA's second in command there on that day was received by the Prime Minister in Downing Street before proceeding to the Pugin grandeur of the Palace of Westminster. . . . As a visible act of reconciliation between old enemies, it might have been very moving. Except that there was no reconciliation at work; only the appeasement by one side of the other. . . . The point of ITV's drama Bloody Sunday seemed not to be to reconstruct an accurate version of events (there was no attempt, for example, to explore the IRA's role during the march). Rather, it was to vilify the Army."
---
"[T]he decision to give IRA/Sinn Fein the use of Parliamentary offices has nothing to do with bringing them into the democratic world. The [Irish] republicans have made clear that they have no intention of acknowledging what they call 'a foreign parliament.' They will refuse, as they have since 1918, to take up their seats. . . . Labour, the Conservatives and the Liberal Democrats are not allowed to accept donations from outside the European Union. But IRA/Sinn Fein, which rely heavily on the funds they raise in North America, are to be exempt from the rule. . . . Again and again, ministers have laid down supposedly non-negotiable conditions, only to retreat when Gerry Adams quirks an eyebrow."
---
"Yet, having pocketed all these gains, IRA/Sinn Fein are no closer to adopting democratic norms. On the contrary, the lesson they have understandably drawn is that an ounce of Semtex [explosive] is worth more than ten thousand votes. A process that was meant to civilise the men of violence has instead violated our civil society. One by one, the institutions that underpin the rule of law in Britain have been traduced: the police, the judicial system, the Armed Forces and now Parliament itself."
---

- Top -
Zakaria: India Should Give the U.S. Benefit of the Doubt

By FAREED ZAKARIA
One of the premier foreign policy commentators in the United States. This Mumbai-born resident of New York is being mentioned as the country's future national security adviser. After undergraduate and graduate studies at Yale and Harvard universities, and a short stint in academia, Zakaria at 28 became the youngest managing editor of Foreign Affairs in 1993. In 2000, he moved on to the editorship of Newsweek magazine's international edition, penning a regular column for the weekly and The Washington Post.

The Indian Express, Jan. 21, 2002

"[Osama bin Laden has] gone from being a kind of hero figure in parts of the Arab world to a loser who skulks around in caves worrying whether his dialysis machine is going to work. . . . Unless you deal with the problem of political disenfranchisement in the Middle East, you will not have dealt with the problem of political extremism. . . . The sexiest part of the war on terrorism is over, now comes the much more difficult, much more important part."
---
"Twenty years ago an Indonesian Muslim did not know who the Palestinians were, that the kind of mosques he built were not technically correct by Islamic standards, whatever that means. Now he believes that Palestine is a great cause and his mosques are unnecessarily Hinduised. This is all the product of a singleminded effort to spread Wahabiism and similar doctrines of pure Islam that are very pernicious in my view. . . . The greatest danger in the Muslim world has been the idea that a mullah can define who a good Muslim is, as opposed to the simple affirmation of faith."
---
"[D]emocracy is a medicine that has to be taken in small, gradually increasing doses, otherwise it will kill the patient. I think what one wants now is liberalisation, not democratisation. If you were to move rapidly towards democratisation in a country like Egypt or Saudi Arabia, you would be confronting people with the choice between very corrupt, tyrannical regimes and the only viable alternative they have ever seen, which is political Islam. . . . [O]ne of the things that I worry about India is that people seem more communally minded than they were 30 years ago. They divide between young Hindus and Muslims, particularly in non-urban areas. One can only hope it's a phase, that you'll have a reassertion of secularism. These things don't happen naturally. Everything requires political leadership."
---
"[U]nlike the first phase of globalisation, which was really led by companies, this phase is going to have to be let by governments. . . . If you were to have tough laws that give the government some leeway, as Britain did during its experience with the IRA, I think that's some way you can strike a balance between liberty and order. . . . I think it is very important that India not look the gift horse in the mouth too much. There is a tendency to be deeply sceptical of American diplomacy. Sometimes it has been justified, this time it isn't. India should give the U.S. benefit of the doubt, which by and large this government is doing. I think India is going to be part of a coalition of key states in dealing with terrorism and political extremism. Think of it almost as the range from Russia, India, Turkey, perhaps Israel that occupy a kind of links position in this inverted crescent, if you will."
---

- Top -
Black Hawn Down Is Good Box Office, Bad History

By SCOTT PETERSON
Former East Africa correspondent of The Daily Telegraph and author of Me Against My Brother: At War in Somalia, Sudan and Rwanda; now Moscow bureau chief for the Christian Science Monitor.

The Daily Telegraph, Jan. 21, 2002

"In the fiercest firefight [during the Aug.-Oct. 3-4, 1993 raids made in search of General Mohamed Farah Aidid, whom the Americans demonised as the 'Hitler of Somalia' for his clansmen's killing of 25 Pakistani 'peacekeeping' troops] since the Vietnam War, 18 American soldiers lost their lives. Two were mutilated and dragged through the streets of the city by jubilant Somalis, and American policymakers lost their post-Cold War taste for humanitarian action. . . . [T]o this day, and despite multiple Freedom of Information Act requests, the Pentagon's Somalia after-action report has yet to be de-classified. . . . Ever since America was humiliated by Somali gunmen wearing flip-flops, the word Somalia has been virtually forbidden at the Pentagon."
---
"[W]ith a military not altogether immune from thoughts of vengeance in Somalia, public opinion will be buoyed by a film that puts a Hollywood gloss on the biggest American military misadventure since peacekeepers were sent to Lebanon in 1983. . . . Jerry Bruckheimer, the producer of Black Hawk Down, says that Somalia was at once a military victory and a political disaster. . . . [Journalist Mark Bowden's book Black Hawk Down, the basis for the film,] doesn't shy away from many uncomfortable facts, about how little American forces knew about the Somalis and their centuries-old system of clans and blood feuds. Nor does the book cover up the Americans' catastrophic intelligence problems, which led to so many bungled raids - a danger for any new American action in Somalia, as clans seek to vilify their enemies."
---
"[A]ny attempt by the film to use valiant episodes of American soldiering to portray the 'Battle of Mogadishu' as a victory is a revision of history. . . . One of the most inhospitable nations in the world, Somalia has always been dangerous. . . . When American Marines first landed on the beach at Mogadishu in Dec. 1992, it was to end a famine that had already crippled much of the country. . . . For most of the past decade, poverty-stricken Somalia has been abandoned by the rest of the world. . . . Somalia, like Afghanistan, needs a political and cash commitment, to help rebuild schools and stabilise government; to welcome Somalia back to the league of nations."
---

- Top -
U.S. Isn't Mistreating Prisoners, U.K. Has Loyalty Issues

EDITORIAL

The Daily Telegraph, Jan. 21, 2002

"Although the U.S. is understandably being careful with potentially dangerous men, there is no evidence of human rights violations. These, after all, are not prisoners of war, but terrorist suspects. . . . Perhaps [U.K. Foreign Secretary Jack] Straw would be better occupied in turning his mind to the question of why people raised in this country should feel so little loyalty to it that they are prepared to cross half the world to fight against us."
---

- Top -
Musharraf Must Rein In I.S.I.

EDITORIAL

San Francisco Chronicle, Jan. 21, 2002

"Musharraf's vision provides crucial leadership for the Muslim world, where national and religious leaders have responded to militant Islam merely with embarrassed silence, awkward excuses or bloody repression - and often all three. Much still has to be done, and the United States and India are correct to insist on further reforms. For example, Musharraf must rein in his army's notorious Inter-Services Intelligence agency, which over the past two decades has played a Machiavellian role by supporting extremism in Afghanistan, Kashmir and Pakistan alike."
---

- Top -
Pakistan Is Acting At the Behest of the U.S.

EDITORIAL

The Times of India, Jan. 21, 2002

"General Musharraf's path-breaking Jan. 12 address and the far-reaching domestic reforms he has initiated are both a direct result of American pressure. And if Pakistan relents and agrees to hand over the non-Pakistani terrorists on the Indian list, that achievement too would go to the credit of American interlocutors."
---
"Out of the Indian list of 20 most wanted terrorists, 14 of are well known Indian mafia bosses and criminals, against many of whom red corner Interpol warrants exist. They are not political asylum seekers in Pakistan. Nor has Islamabad any explanation for their continued residence and activities in Pakistan. Presumably to save their own face they have to ask for more evidence and India has obliged. All of which leaves Pakistan with little option but to comply with the Indian request. When the U.S. demanded the extradition of Pakistani citizen Mir Aimal Kansi, in connection with the killing of three CIA operatives, Pakistan acted without a murmur."
---

- Top -
Columbia Must Isolate Paramilitary

EDITORIAL

The New York Times, Jan. 21, 2002

"When President Andrés Pastrana threatened to forcibly take back the chunk of southern Colombia he had ceded to the leftist guerrillas three years ago, civilians living in the area became terrified. For as bad as life has been under the guerrillas - and it has been awful - the prospect of a Colombian military takeover meant the certain arrival of the murderous paramilitary forces [an umbrella group was recently designated a terrorist organization with global reach by the American State Department]. If Washington continues or expands aid [Plan Columbia] to the Colombian military, it must do so on the condition that the military cut its ties to the paramilitaries. . . . The leftist guerrillas are kidnappers and drug traffickers, but the paramilitaries are responsible for 80 percent of Colombia's stunning levels of political violence."
---

- Top -
Human Rights Watch Points a Finger at the U.S.

EDITORIAL

The Wall Street Journal, Jan. 21, 2002

"[J]udging from the latest survey by Human Rights Watch, the world might have been better off had the Taliban liberated Washington, D.C., instead. . . . Many of our liberal friends have been bragging that the blame-America-first left has vanished since Sep. 11. Well, it's back, and running Human Rights Watch."
---
"Congress is slammed for the 'broad and vague criteria' of the U.S.A. Patriot Act, though it passed democratically with all but one Senate vote. Attorney General John Ashcroft is slammed for detaining 1,000 suspects in 'a shroud of secrecy,' though that shroud allowed regular visitors and the right to counsel. The names weren't released publicly to shield the detainees, most of whom have been released, from needless embarrassment."
---
"And of course President Bush is slammed for creating military tribunals, where suspects will have 'no right to appeal . . . no right to confront evidence or testimony against them.' While this is simply untrue, the writers turn around and say that Mr. Bush 'smacks of hypocrisy' for opposing the creation of an International Criminal Court (ICC). This takes some nerve, since the lack of due process is the very reason Washington objects to an international court. At the ICC, a panel of judges (no jury trials) can convict, based on secret evidence, by majority vote (not a very strong 'presumption of innocence'), people accused of vague crimes like the use of 'excessive' force. Your only right of appeal is to the same court that just convicted you. And the prosecutor is 'independent,' that is, unaccountable. Military trials look a lot better by comparison."
---

- Top -
Understanding Mideast's Tribal Loyalties

By DAVID IGNATIUS

The International Herald Tribune, Jan. 21, 2002

"To understand and, when necessary, manipulate another society, you must identify its true centers of power and their linkages, loyalties and pressure points."
---
"The master player of this game was Jordan's King Hussein, and it is why he proved to be the most durable ruler in the modern history of the Middle East. It was his practice to pay small retainers to the leaders of each of the key Bedouin tribes and clans of his country. For help in funding these tribal payments, he is said to have turned to the United States. One man who keenly appreciates the tribal factor in Arab politics is the new, de facto ruler of Saudi Arabia, Crown Prince Abdullah. His power base for many years has been the National Guard, a military unit created by King Faisal in the 1960s to give greater power to Saudi Arabia's Bedouin tribes. Prince Abdullah remained rooted in this traditional power structure even as other members of the royal family, led by King Fahd and his defense minister, Prince Sultan, embraced the modernizing ethos of the United States."
---
"The new Saudi intelligence chief, Prince Nawaf, is also a man who understands the world of the tribes. It is said that during the reign of King Faisal, Prince Nawaf helped distribute the royal payments to Saudi tribal leaders. It was his appointment last Aug., in place of the pro-American Prince Turki, who had run Saudi intelligence for more than 20 years, which signaled that Prince Abdullah was really in charge. Prince Abdullah's traditional approach to power may not reassure Saudi Arabia's critics in the Pentagon, who were said last week to want to pull U.S. military forces out of the kingdom. Many Saudis seem eager for them to leave, even though that would effectively grant Osama bin Laden's main demand. . . . By one estimate, roughly three-quarters of Iraqis are members of one of the country's roughly 150 tribal clans. Among the most famous of these are the Dulaimis, the Jaburis and Saddam's own clan, the Takritis."
---

- Top -
Human Rights Watch Slams Russian Conduct in Chechnya

EDITORIAL

The Globe and Mail, Jan. 21, 2002

"The U.S.-led war on terrorism is providing useful camouflage for the suppression of core civil liberties in many of the world's trouble zones, the much-respected group Human Rights Watch contends. . . . Several times during his presidential campaign, [George W. Bush] rebuked Moscow for its ruthless conduct in Chechnya, and as recently as last Jun. the United States supported a United Nations resolution echoing the condemnation. Sep. 11 changed all that. Mr. Bush's criticism of Russian heavy-handedness evaporated into silence with the realization that many Chechen rebels are Islamist extremists, possibly with ties to Osama bin Laden's al-Qaeda network. And to be fair, Mr. Bush was not alone. Both German Chancellor Gerhard Schroeder and Italian Prime Minister Silvio Berlusconi said that after Sep. 11, Russian brutality in Chechnya needed reappraising."
---
"Among the 66 countries scrutinized, nations as diverse as Israel, Saudi Arabia, China and Zimbabwe all earned black marks for their abuse of human rights in 2001. But the worst offenders, it seems, were three key U.S. allies: Egypt, Uzbekistan and Russia. . . . Mr. Putin is pushing all the right buttons in the White House, the immediate reward being something that looks a lot like a nod and a wink. . . . U.N. High Commissioner for Refugees Ruud Lubbers [describes] Chechen President Aslan Maskhadov . . . as 'a key person' in any peace settlement. But along with a few other world leaders, it suits Mr. Putin for the term 'terrorist' to have a wide application. That creates scope to pursue a military strategy in Chechnya that can only be described as overkill."
---

- Top -
U.S. Bullish on War, Sluggish on Rebuilding

EDITORIAL

The Wall Street Journal, Jan. 20, 2002

"The speed of the victory has been as remarkable as the nature of the sudden partnership: We don't blame Afghans for Osama, and they don't blame us for bombing their country. . . . The biggest danger always was that, having won the war, we would lose the peace. . . . [G]oodwill toward the American liberators is already drifting toward confusion and disappointment."
---
"Now that the fighting has stopped, the silence is troubling. One basic problem is that with the Taliban gone, there is no one to provide basic security. The new governor of Kandahar [Gul Agha Sherzai], installed at U.S. urging, has got a huge force of uniformed armed guards around himself. But there are no visible signs of police or other governmental authority elsewhere. And what to make of the decision by 'our' man Governor Sherzai to accept the surrender of senior Taliban officials like the former minister of vice and virtue, Nooruddin Turabi, and send them on their merry way?"
---
"We appreciate that the U.S. doesn't want to be a long-term peacekeeper, but some American participation now would induce other countries to commit more of their own until local police can be reassembled. The U.S. capacity for gathering and assessing information remains as bad as it did before Sep. 11. There's no U.S. ambassador in Kabul, and the Embassy there has no phones. . . . White House aide Zalmay Khalilzad has been touring the country of his birth digging up facts, and perhaps he will return to Washington with his own wish list. What he might also tell the State Department is that these urgent Afghan needs will not be met if the U.S. defers to the United Nations. Only U.S. leadership can now break the bureaucratic timidity and bottlenecks, much as U.S. military leadership was essential to ousting the Taliban."
---

- Top -
Double Standards In U.S.-Led Antiterror War

By ERIC MARGOLIS

The Toronto Sun, Jan. 20, 2002

"The long-awaited second act of U.S. President George Bush's worldwide 'war against terrorism' opened last week with the official announcement that 650 U.S. troops would conduct 'military exercises' in the southern Philippines against the Muslim rebel movement, Abu Sayyaf. . . . This is the second time in just over 100 years U.S. troops are in action against the Moros, or Muslims of the southern Philippines. After the U.S. ousted Spain from the Philippines in 1901, and it became an American colony, the Moro sultanates of Mindanao and Sulu resisted fiercely, as they had fought the Spanish occupiers for 350 years. When the U.S. finally conquered the southern Philippines, the colonial government moved large numbers of Christian settlers into the southern Philippines in order to undermine Moro nationalism."
---
"During the regime of Ferdinand Marcos, the Philippine Army and gangs of paramilitary thugs killed an estimated 50,000 Muslims from 1969-71 - without a peep of protest from Marcos' American sponsors. Two years later, the Moro National Liberation Front was formed in response to Marcos' imposition of martial law. The MNLF, which was financed by Libya, called for an independent Muslim state - Bangsomoro. Three years of heavy fighting between the MNLF and the U.S.-armed Manila regime left over 100,000 Muslims dead; 250,000 were driven from their homes. The world again ignored this massacre."
---
"In the mid-1970s, Libya brokered a peace between Manila, the MNLF, and a breakaway group, the MILF. The MNLF leader, Nur Misuari, joined the government, and rebel forces were integrated into the national army. The Muslim regions of the southern Philippines were granted autonomy. But in 1996, a breakaway separatist faction, Abu Sayyaf, rejected the peace accords with Manila and waged a guerrilla war from the jungles of the southern islands."
---
"The troubles in the southern Philippines are not what the West terms terrorism, as President Arroyo claimed, but the result of centuries of land disputes, the denial of equal rights to the Bangsomoro Muslims and tribal disputes. But in Washington's new world view, any Muslims seeking independence - whether in Kashmir, Chechnya, Palestine, or Mindanao - are ipso facto terrorists. However, in East Timor the U.S. and its allies aided the Christian majority in seceding from Muslim Indonesia and winning independence. In short, a clear double standard. . . . Interestingly, the U.S. is ignoring the long-running insurgency in the north by HUK communist guerrillas, who are every bit as nasty as Abu Sayyaf. It seems terrorism, in Bush's terms, applies only to Muslims."
---

- Top -
India Cannot Afford to Offend Washington

By HAROON SIDDIQUI

The Toronto Star, Jan. 20, 2002

"India, which has been threatening to start one under the flag of fighting Pakistani-sponsored terrorism, cannot afford to offend Washington. . . . The Central Intelligence Agency is monitoring the Indo-Pakistani nuclear arsenals. . . . For the last decade, an indigenous anti-Indian insurgency has had Pakistan's political support openly, and military backing covertly."
---
"Domestic critics accused Vajpayee's Hindu nationalist government of jingoism in time for spring elections in four provinces, including the largest, where his ruling party is in trouble. The Hindu, a respected non-sectarian daily, editorialized that the Bharatiya Janata Party was gunning for electoral gains at the expense of the national interest by not offering evidence of Pakistani complicity in the two attacks. Khushwant Singh, a syndicated columnist and a national icon, thundered: 'Accusing Pakistan is unwarranted; so is the withdrawal of our high commissioner . . . To say that buses and trains are a conduit for terrorists is a canard.' "
---
"Musharraf has put the issue on the international agenda. India, which resists outside intervention, has unwittingly done the same by drawing America in with weeks of war talk. Vajpayee is wary of Musharraf, the mastermind of a 1999 military incursion into Kashmir. The dashing general is also better at P.R. than the aging, ailing prime minister. . . . India Today magazine said: 'This may seem almost unpatriotic to say this, but at one level, every Indian must wish his country had a leader like Musharraf.' "
---

- Top -
Islamabad's Constitution Avenue Sans Constitution

By THOMAS L. FRIEDMAN

The New York Times, Jan. 20, 2002

"Driving into Pakistan's capital, Islamabad, I am always struck by how the Parliament, presidency and Supreme Court are all on one wide boulevard: Constitution Avenue. The only thing not on Constitution Avenue is Pakistan's Constitution, which is suspended. That is the road Mr. Musharraf has to reopen because it is the only one that will lead him from an alliance with the mosques to an alliance with Main Street."
---

- Top -
U.S. Is Serving Its Own Interests In Kashmir

By HARKISHEN SINGH SURJEET
General secretary of the Communist Party of India (CPI-M).

The Indian Express, Jan. 20, 2002

"On the issue of Kashmir, they are going to cheat both Pakistan and India. In an increasingly unipolar world, the U.S. is trying its best to dominate the situation in South Asia. They have a clear design: they simply want Kashmiri independence. The reason is not to honour the spirit of Kashmiriyat and realise the aspirations of the Kashmiri people; but because Kashmir is strategically important, lying as it does in the vortex of Russia, China, Pakistan and India. All that they want is a military base in an independent Kashmir."
---
"In direct contrast to Musharraf's rhetoric of secularism, is the fundamentalist record of the B.J.P. government in this country: openly using religion for political purposes."
---
"[The trifurcation of Kashmir is a] sure recipe for disaster. It was mooted by the R.S.S. and basically argues that Ladakh for Buddhists, Kashmir Valley for Muslims and Jammu for Hindus. In effect, it is playing into the hands of the two-nation theory. I think we need to revert back to the pre-1953 position - separate Constitutional arrangement with all powers to the state except defence, foreign affairs and communications - with Kashmir enjoying more rights than other states. There could be some alterations but there is no alternative to Kashmiri autonomy."
---

- Top -
Chinese Pragmatism

EDITORIAL

The Times of India, Jan. 19, 2002

"[I]t took Chinese premier Zhu Rongji [all of 15 minutes] to clear an application by software major Infosys Technologies to open a facility in Shanghai. . . . [The results of] Chinese pragmatism . . . are all too visible: 7 per cent growth in the midst of a global recession, foreign direct investment of over $40 billion a year, foreign trade worth $500 billion a year, the world's largest telecom market with 350 million phone connections."
---
"The only area where the Chinese still lag behind India is in software development. In 2000-01, Indian software exports crossed $6 billion, China's were less than $1 billion. . . . Chinese programmers come cheaper than their Indian counterparts, so India could soon have a real fight on its hands. Some might say that the likes of Infosys are playing into Chinese hands, but it is pointless to blame domestic entrepreneurs. It is, in fact, Indian policymakers who have created a hostile business environment, which leaves companies with no choice but to go to friendlier environs, where they can be globally competitive."
---

- Top -
Indo-Pak Endgame Still Out of Sight

By PRAVEEN SWAMI

Frontline, Jan. 19, 2002

"Pakistan's demands for proof against the Lashkar and the Jaish are strange for more reasons than one. First, it has proved willing to bypass its judicial system to hand over terrorism suspects to the U.S. without any extradition procedure. Even if India cannot expect the grovelling reserved for the sole superpower, it does have reason to expect that suspects for whom Interpol red corner alerts exist will be detained and a case for their extradition presented before the courts."
---
"In important but little-understood ways, this strategy makes complete sense. Pakistan's support to and sponsorship of terrorist groups have given it a strategic edge over India, imposing significant military and political costs on the latter. As Musharraf pointed out in his intercepted conversations during the Kargil War, violence in the region had ensured rapid internationalisation of the dispute over Jammu and Kashmir. The attack on Parliament House has led a confused Indian government to seek U.S. assistance to curb Pakistan. In time, the bill shall be presented for any assistance extended by the U.S. That may come in the form of demands for India to make significant political concessions on Jammu and Kashmir to Pakistan. Most important, India's well-founded policy of rejecting third-party mediation in the Kashmir issue has been undermined significantly."
---
"Dec. 13, then, could have consequences that go far beyond the event itself. So far India has sought to put pressure on Pakistan for the extradition of suspects by means of the threat of military action. Few people, however believe that the execution of the threat is even possible, let alone desirable. For all the public bravado, Army officials privately make clear that there is little prospect of obtaining the kinds of decisive territorial gains that would compel Pakistan to accept India's political demands. Politicians also accept that in a nuclear South Asia, the risks of such a confrontation spiralling out of control are just too high. Musharraf will, for the moment, make enough concessions to keep the U.S. happy. Should he choose, however, to call India's military bluff by refusing to extradite the Dec. 13 suspects, the political and strategic establishment could find it has no further cards to play."
---

- Top -
America Continues to Ignore Russian Attrocities in Chechnya

By WILLIAM PFAFF

The International Herald Tribune, Jan. 19, 2002

"[Russian President Vladimir Putin] was, after all, elected president two years ago with the assurance that he would settle the problem of Chechen separatism. . . . The Russian journal Kommersant quotes a military spokesman who justifies 'frequent attacks on innocents' by the necessity of making 'inhabitants understand that they suffer because of the activity of bandits' and that 'if they were to help us, this would stop.' The Chechen issue has also inspired Mr. Putin to quash critical reporting [NTV and TV6] on the war. . . . He seems to be distancing himself from associates of Boris Yeltsin, the man who plucked Mr. Putin from obscurity and sponsored his ascension to the country's highest office."
---
"Washington has always tended to discount long-term interests, which in this case concern much more than human rights. The challenge posed by the current U.S. bid for power in resource-rich Central Asia, among states formerly part of the Soviet Union, makes the Putin-Bush alliance a convergence of short-term interests only. The context remains long-term rivalry."
---

- Top -
State Terrorism Is No Solution to Terrorism

By V.R. KRISHNA IYER
Former judge of the Supreme Court of India.

Frontline, Jan. 19, 2002

"[I]t is plain that the United States government and the Bank-Fund duo, facilitating the operations of the world's major corporates, have a predominant interest in keeping India and other democracies statutorily obedient, POTO-mute and incapable to offer vocal hostility. If protest, justified or not, takes on a threatening turn, it should be suppressed by labelling it 'terrorism,' the vogue word to trample down opposition."
---
"The Emergency is a bad dream, TADA is a legislative bully, now buried. POTO is of the same breed."
---

- Top -
Indo-Pak Relations and Kashmir

By V.P. SINGH
Former prime minister of India.

Frontline, Jan. 19, 2002

"[I]f you think we are at loggerheads with Pakistan because we have had three wars in the past, look at China - we have had a war but that does not mean we are continually at loggerheads. Our relations have improved. What is the difference between the two? China is not interfering in our internal matters, while Pakistan is actively doing so.
---
"[I]f you look at those whom we released (in the Rubaiya Sayeed kidnap incident), they were separatists. They were not charged with any criminal offence except making speeches and giving pamphlets. And they were very low level (members) in the separatist movements. In fact, in the Rubaiya case they did not succeed in getting the top leadership released."
---
"[T]he rhetoric in Pakistan is very high over Kashmir. They have gone up on the roof without a ladder and now they can't come down slowly."
---

- Top -
Rudderless Israel-Palestine Look to U.S. to Solve Impasse

By YOEL MARCUS

The Haaretz, Jan. 18, 2002

"One could debate whether Prime Minister Ariel Sharon is the leader he sets himself up to be or just a politician holding on for dear life. One could debate whether he has a program, let alone a measly idea, on how to achieve peace and security. But there is one thing there can be no doubt about: We are at a dead end, or, as they say in American, in 'deep shit.' Without the help of the United States, we will never get out of it. . . . Sharon enjoys broad support not because people are in awe of his leadership, but because they have lost all faith in Arafat's promises. . . . [If Arafat] deposes Sharon, he will get a government that is even more extreme - not only former prime minister Benjamin Netanyahu, but perhaps even Public Security Minister Uzi Landau, a quiet contender for the leadership of the country."
---
"With his culture of lies and unreliability, Arafat has made it impossible for us to put our fate in his hands. The portrayal of Arafat as an innocent lamb who doesn't know what is going on and has no control over anything is light years from the truth. . . . The type of arms in the cargo hold of the Karine A, the existence of the Palestinian rocket industry recently exposed by the chief of staff, the ties with Iran and aid from Hezbollah are all indicative of long-range plans. Arafat wants to create another Lebanon here, to embitter our lives until we flee the territories. But as always, his diagnosis is wrong. For us, Lebanon was a type of Vietnam, the sort of quagmire over which public opinion could be divided. But show me the person who will agree to a Vietnam at home. No one is running away from here so fast, without an agreement that guarantees peace and security. In defense of home and hearth, we are liable to do the craziest things, which could impact on the entire region."
---
"Over the last decade, there have been two historic windows of opportunity - the collapse of the Soviet Union and the Gulf War - that led to Madrid and Oslo. In the wake of Sep. 11, a third window has opened."
---

- Top -
Pakistan's Redefinition

EDITORIAL

The Hindu, Jan. 18, 2002

"Not since the days of Moeen Qureshi's transitional administration during 1993 has Pakistan really witnessed anything remotely resembling the uncommon political fervour and dynamism that Gen. Musharraf seems eager to bring to the job of refashioning the state and society at the present juncture. In comparison, the Moeen Qureshi experiment was linked to the more conventional aspects of economic and political management of the state 'system,' and the effort itself was eclipsed soon after he gave way to a duly elected Government."
---
"Two conflicting theories about Pakistan's existential choices are doing the rounds on the international stage at present. While a sceptical school of thought has it that the military-led Government in Islamabad was left with the Hobson's Choice of having to join the U.S.-led anti-terror 'campaign', the other and more benign theory flows from the Pakistan President's policy pronouncements over a period of time. . . . [H]is high-profile campaign against Islamic fundamentalism and political terrorism had begun around mid-2001 during the run-up to the Indo-Pakistan summit at Agra. Viewed in this perspective, his latest blueprint appears to underline a Pakistan-centric political resolve as distinct from a clever response to an international dismay over a recent terrorist offensive against India."
---
"If, on balance, Gen. Musharraf is already seen to have given himself a chance to emulate Kemal Ataturk by facilitating politics of tolerance, his attempt to dismantle Pakistan's existing system of a separate minority electorate deserves notice. As a logical follow-up, he should also restore democracy in Pakistan in a transparent and credible fashion and remove the praetorian shadows."
---

- Top -
Indians Regain the Right to Fly Their Flag

EDITORIAL

The Hindu, Jan. 18, 2002

"When the national flag was adopted by the Constituent Assembly in Jul. 1947, it was spoken about as a symbol which belonged to all Indians - and in equal measure. However, as the years rolled by, subsequent legislation imposed strict restrictions on the use of the Tricolour. The Flag Code, which contains a long string of archaic provisions, made the right of flying the flag that of a privileged few. . . . Restrictions on the use of the national flag were intended to prevent it becoming an object of disrespect. But over the years what such restrictions have unwittingly done is to strengthen the image of the flag as a symbol of governmental authority rather than (as it should be) a symbol of love for one's country."
---
"[T]he Delhi High Court ruling [triggered by a writ petition filed seven years ago by a New Delhi-based industrialist] that flying the Tricolour is a fundamental right and the Supreme Court subsequently recommending the setting up of a committee to examine the question of liberalising the Flag Code [has led to the] Union Cabinet's decision to amend the Flag Code. . . . The basic mistake lies in the presumption that limiting the right to fly the flag . . . is crucial in order to prevent it from being subject to disrespect or misuse. . . . [I]f an Indian cannot fly his flag in India, where else can he?"
---

- Top -
Islamic Extremism in South Asia Was Arab-Funded and U.S.-Tolerated

By SAEED NAQVI

The Indian Express, Jan. 18, 2002

"It was America's high tolerance of Islamic extremism in the '70s which over time bred the Al Qaeda cells, which struck New York and Washington on Sep. 11."
---
"To simplify the narrative for the purposes of the Bollywood movie script, the scene must open at the OPEC headquarters after the quadrupling of oil prices by the Arabs following the 1973 Yom Kippur war. . . . The Iranian revolution is a direct challenge to the Saudi monarchy for leadership of the Muslim world. The Saudis re-adjust, tone down their kingly hues, call themselves the keepers of the holy places. They then mount a counter attack by funneling large sums via Pakistan into a project of Wahabiisation of Afghanistan which, in the long run, will work as a bulwark against Iran's Shia Islam. . . . A large Muslim country cannot set up an extreme variety of Islam in a neighbouring country without setting itself up as some sort of a model, becoming an embodiment of such beliefs."
---
"Zia's Islamisation project, Nizam-e-Mustafa or government according to Sharia, [begins to take root while at the same time] Indian labour with a heavy Muslim component turns up in the Emirates, Saudi Arabia, and Iraq. Remittances which were to the tune of $8 billion begin to alter the sociology of Muslim enclaves like Calicut and Hyderabad. Flushed with cash, the Arabs begin to fund madrasas in the cause of Islam. The Sikh agitation in Punjab, Mrs. Gandhi's assassination, the widely published Meenakshipuram conversions - all combine to create a Hindu backlash."
---
"Rajiv Gandhi opens the locks of the Ayodhya temple to please the Hindus; he reverses the Shah Bano judgement to attract the Muslims. Loses control of the game. The B.J.P., from two seats in Parliament in '84, returns in '98 as the largest single party."
---

- Top -
Indigenous Peoples Everywhere Seek Differing Levels of Self-Determination

By KALPANA SHARMA
Deputy editor of The Hindu.

The Hindu, Jan. 18, 2002

"The [Indian] Prime Minister's meeting with leaders of the National Socialist Council of Nagaland (NSCN-IM) in Tokyo in Dec. momentarily brought into focus once again the unresolved situation of Nagas in India's Northeast. . . . Despite years of developmental largesse from a Centre that has believed that this was the route to 'mainstreaming' the Northeast, just the reverse seems to be happening. Far from feeling closer to the rest of India, this part of the country that is separated by a narrow land corridor and a huge legacy of historical misunderstanding feels even more distant. This became evident at a recent workshop called by the Asia Indigenous Peoples Pact (AIPP) and the International Work Group for Indigenous Affairs (IWGIA) in Sabah, Malaysia."
---
"The indigenous communities living around the North Pole, in Russia, Finland, Norway, Sweden, Greenland (which remains linked to Denmark), the United States and Canada, have had a long struggle to define themselves and their rights. In the Scandinavian countries, the Sami, or the Laplanders as they were sometimes called, have successfully negotiated varying degrees of autonomy within their national contexts. . . . The Sami in Russia, however, do not have either a Sami Parliament, or the levels of autonomy won by their brethren in Scandinavia. There are about 70,000-80,000 Sami in the four countries, the largest number being in Norway."
---
"Following stiff resistance from the native people, the U.S. Congress passed the Alaska Native Claims Settlement Act in 1970 [which] allowed the native people to claim a share of the royalty from the Alaska [oil] pipeline going over their land."
---
"[India's] Northeast has been a troubled area from the time of India's Independence with the Nagas declaring their independence a day before. The Nagas have continued to hold that they have not been given the right to decide their status because the Indian Government sent in the Army to suppress their assertion of independence. But the Naga position cannot be universalised to apply to the entire Northeast although varying degrees of the same feeling can be found in almost every one of the seven States. Nor is there any equivalence between the struggles of small, scattered indigenous communities in the Arctic, for instance, and the much larger, organised groups in the Northeast."
---
"[W]hen the Nagas were asked what they had learned from the experiences of indigenous communities in the Arctic, their representative said he was struck by the fact that these had been arrived at without bloodshed. He said this indicated that the governments these indigenous groups negotiated with were truly democratic in contrast to India, which had responded with brutal force. However, those living in Meghalaya saw it quite differently. This is one hill State that was formed without violence, through a gradual process of autonomy which began with district councils under the Sixth Schedule, then an autonomous State within Assam and finally full statehood. For the representatives from Meghalaya, the Arctic experience was a reiteration of the importance of a non-violent struggle based on negotiation instead of confrontation."
---
"[T]he Mizos [residents of the Indian state of Mizoram], who settled for full statehood after a 20-year-long bitter struggle for independence, have not forgotten the human rights violations committed on their people during the struggle. . . . [W]hile the Nagas argue for Nagalim, consisting of all the Naga-inhabited areas in the Northeast, the people from Arunachal Pradesh ask why State boundaries have to be redrawn if people are content to remain where they are. And the Manipuris have already given their strong response to the Government's desire to extend the ceasefire agreement with the NSCN (IM) to all Naga-inhabited areas, including the hill districts of Manipur."
---

- Top -
Shortsighted Leadership Is Ruining Punjab

EDITORIAL

The Indian Express, Jan. 18, 2002

"The [Congress] party knows only too well that [its promise of free electricity] is contrary to the economic reforms programme it had initiated when it was in power at the Centre and which the [N.D.A.] government has been carrying forward. It also realises that by making available electricity and irrigation water free of cost to the farmers, the Akali Dal government has done incalculable harm to the state's economy and the farming sector. After all, the [Congress] party has been campaigning that power supply under the Parkash Singh Badal dispensation had become so erratic that most farmers would have been happier paying for it if only adequate supply was ensured."
---
"[T]he present penury of the state is well known as it does not have enough funds to meet its day-to-day needs, not to speak of its developmental obligations. . . . [Abuse of free water] results in over-extraction of groundwater and the consequent depletion in the groundwater resources."
---
"Punjab's leaders show the same kind of irresponsibility in their reaction to the Supreme Court's recent order on the Sutlej-Yamuna link canal case. Statements to the effect that the order asking the Punjab government to complete the stretch of the canal in its territory would be defied and that they would rather 'let rivers of blood' flow to Haryana than water from the two rivers are unwarranted. If they feel aggrieved, they should seek a judicial review, instead of politicising the issue and muddying the waters further."
---

- Top -
No Easy Solutions to the Kashmir Impasse

By JASJIT SINGH

The Indian Express, Jan. 18, 2002

"[T]here are signs that the locus of running the terror campaign against India would shift to Jammu and Kashmir including PoK [Pakistan-occupied-Kashmir]."
---
"C. Dasgupta has rendered a great service by his painstaking research into hitherto unavailable British official documents to throw fresh light on the diplomatic-political pressure brought to bear on India to take the issue of Pakistani military aggression in 1947-48 to the U.N., and the undermining of India's military operations by the British Commanders-in-Chief who were apparently taking their orders more from the British High Commissioners rather than the political leadership of independent India."
---
"Even the U.N. Resolution on plebiscite was apparently speeded up to ensure it goes through before General Bucher would hand over to General (later Field Marshal) Carriapa as the first Indian C-in-C of the Indian Army in Jan. 1949. The rationalisation of Pakistan's importance to the West has not really changed even after the Cold War was over more than a decade ago, and Afghanistan has once again made it a 'front-line' state."
---
"Surveying the past indicates that attempts had continued throughout to get a solution to the Kashmir issue which would be favourable to Pakistan and Western interests and India was expected to make all the concessions. The infamous Sandys-Harriman proposals for partition of the Kashmir Valley in an effort to placate Pakistan (a military ally) by exploiting India's weakness soon after the Sino-Indian war in 1962 stand out as a grim reminder."
---
"Unfortunately, both India and Pakistan are left with virtually no negotiating space for arriving at a solution peacefully. . . . We have agreements with Pakistan (including the Simla Agreement) which commit both sides not to use force against each other regardless of any interpretations. . . . Without any negotiating space where either side has some leeway to give and take these talks would either remain talks for talks or might lead to pressures for concessions by India. The history of the Kashmir problem is a history of concessions by India and India alone."
---

- Top -
China's Nationalism Is Anti-U.S.

By NICHOLAS D. KRISTOF
Winner, jointly with wife Sheryl WuDunn, of the 1990 Pulitzer Prize for international reporting for their coverage for The New York Times of the Tiananmen Square democracy movement in China and its bloody supression.

The New York Times, Jan. 18, 2002

"To anyone who deeply loves China, as I do, it is devastating to see how the deaths of thousands of Americans [on Sep. 11, 2001] left many people here chortling [for example on Sina.com, a leading Chinese-language portal]."
---
"This nationalism has deep roots in China and results in part from the battering that the country suffered at foreign hands over the last 200 years. But the latest surge in nationalism is the result in particular of 'patriotic' campaigns planned by President Jiang since 1990 as a way of knitting together the country, of providing a new 'glue' for China to replace the discredited ideology of Communism."
---
"[W]hat I found heartbreaking is that this new openness and political maturity in China is accompanied by a dangerous sign of political immaturity: this booming, aggrieved, chip-on-the-shoulder nationalism among many ordinary people, much more so than even a decade ago."
---
"Think of Japan, where nationalism combined with an economic boom to help lead to the Asian half of World War II. Or of Germany, where a similar combination helped cause World War I. Or even - this is an example Americans tend not to recall - the way nationalism and new-found strength in the United States led Washington to provoke the Spanish-American War. Elsewhere in the world, we were far too late in recognizing the way movements in Iran, Saudi Arabia and Pakistan arose to preach intolerance and hatred. In China it is still early enough to reshape this nationalist tide."
---

- Top -
Jiang Zemin's Rise to Power

By FRANK CHING
Journalist and commentator based in Hong Kong.

The Globe and Mail, Jan. 18, 2002

"Jiang Zemin was widely regarded as a lightweight and a transitional figure when he became General Secretary of the Chinese Communist Party in 1989, succeeding Zhao Ziyang, who was purged in the wake of the Tiananmen Square uprising. However, he confounded his critics and, four years later, was given the additional titles of head of state and chairman of the party's Central Military Commission, a position he took over from former paramount leader, Deng Xiaoping."
---
"He has won acclaim in the way he handled China's main bilateral relationships, in particular with the United States. And, of course, he has overseen the largely uneventful return of Hong Kong and Macau to the Chinese fold."
---
"One reason for his reputation was his decision never to challenge the authority of Mr. Deng and other party elders. But, little by little, Mr. Jiang built up his support base until, in 1993, he was given the presidency, a largely ceremonial post, as well as the key position of head of the military commission. Mr. Deng had clung to the latter post even after his ostensible retirement and remained effectively in charge of the country."
---
"Later this year, Mr. Jiang is expected to step down from his position as party leader, to make way for a younger generation. And, next year, he will yield the presidency as well. But, like Mr. Deng, Mr. Jiang will not give up control of the armed forces yet. It is a reflection of the respect Mr. Jiang has gained over the years that such a move is seen as comforting to many people, in China and abroad."
---

- Top -
Canada's Legal Aid System is Worth Investment and Preservation

EDITORIAL

The Globe and Mail, Jan. 18, 2002

"Many people are appearing [in Canadian courtrooms] without a lawyer because they can't afford one, and because legal-aid programs have shrunk over the past decade."
---
"Access to the courts is a fundamental right of Canadians, protected in the Charter of Rights and Freedoms. If that access is to be meaningful, Canadians must understand the law and the workings of the courtroom, and these have become so complex that a lawyer's help is usually essential."
---
"Not only is legal aid worth preserving for the sake of equality before the law, but spending more on the necessary reforms may even, by saving the court's time, end up costing less than expected."
---

- Top -
Canada Relinquishes Its Brief Stand on Afghan Prisoners' Rights

EDITORIAL

The Globe and Mail, Jan. 18, 2002

"Last Friday, U.S. Defence Secretary Donald Rumsfeld said of the first 20 prisoners taken from Afghanistan to Cuba, 'They will be handled not as prisoners of war, because they're not, but as unlawful combatants. As I understand it, technically, unlawful combatants do not have any rights under the Geneva Convention.' In a sentence heavy with qualification, he added that the U.S. would 'for the most part treat them in a manner that is reasonably consistent with the Geneva Conventions, to the extent they are appropriate.' "
---
"Canada's principled position - that it would show a degree of respect for the international conventions that the U.S. was not prepared to show - lasted for all of one day."
---
"Mr. Rumsfeld, for one, has provided every reason to have doubts. Evidently [Canada's Defence Minister] Mr. Eggleton has found it expedient not to pursue them. The honour of Canadian foreign policy is the loser."
---

- Top -
Musharraf Deserves No Rewards

By JIM HOAGLAND

The Washington Post, Jan. 17, 2002

"The [Pakistani] army will no longer provide mortar fire to cover the infiltrators [into Indian Kashmir], who have been cut adrift by Musharraf."
---
"Musharraf deserves no rewards for having to be hauled kicking and screaming into denouncing the evil that has flourished under his nose. He has proven that he has all along had much more room to accept significant change than he has acknowledged. There were heroic flourishes in his Jan. 12 declaration. But Musharraf's role in creating the disasters that led to the need for that speech cannot be simply forgotten or forgiven, or compensated."
---

- Top -
Tackling Islamic Fundamentalism in Southeast Asia

By DANA DILLON and PAOLO PASICOLAN
Mr. Dillon is a senior policy analyst and Mr. Pasicolan a research assistant at the Heritage Foundation.

The Wall Street Journal, Jan. 17, 2002

"Jemaah Islamia [is] a group aiming to establish 'Daulah Islamiah,' a [radical Muslim] state [lead by fundamentalist clerics calling for the destruction of the West] that would include parts of Malaysia, Indonesia and the Philippines."
---
"[E]vidence is mounting that these groups are much more sinister than some governments are willing to admit."
---
"Consider the Kumpulan Militan Malaysia, the organization that oversees the Jamaah Islamiah. Their members train in Indonesia and raise money in Singapore. Or consider the Philippines-based Abu Sayyaf, which captured the international spotlight in Apr. 2000 by taking 20 Asians and Europeans hostage at a Malaysian resort. The international range and organization of these activities would appear to be beyond the means of simple, homegrown mobsters. While criminal organizations tend to try to hunker down and control their 'turf' by working out arrangements with local law enforcement authorities, terrorist organizations diversify operations into several countries to take advantage of each country's reluctance to share intelligence with others."
---
"Ramzi Yousef, architect of the first World Trade Center bombing in 1993, got logistical support from the Abu Sayyaf to test his bombs in the Philippines. . . . The Philippine president, Gloria Macapagal Arroyo, has . . . suggested the formation of a regional anti-terrorism coalition. Alas, several months later it remains just another good idea. . . . A 650-man U.S. force is to arrive in the Philippines shortly to provide local troops with military training and logistical support."
---

- Top -
U.S. Unilateralism on Afghan Prisoners Is Intolerable

By HUGO YOUNG
Hugo Young, Political Columnist, has worked for The Guardian for 15 years. Before that he was a columnist and editor on The Sunday Times, which he left shortly after it was taken over by Rupert Murdoch's News International. His books include One of Us, a biography of Margaret Thatcher (1990), and This Blessed Plot: Britain and Europe from Churchill to Blair (1998). He was named Columnist of the Year in the British Press Awards 1980, 1983 and 1985, and was honoured by Granada TV's What The Papers Say in 1985.

The Guardian, Jan. 17, 2002

"[T]he U.S. authorities haven't denied many details: the shaving of the beards, the open-air cages, the selective hooding, the less than persuasive evidence that the captives are being held as individuals with specific charges against them. When the U.S. defence secretary, Donald Rumsfeld, said he had 'not the slightest interest' in the camp's conditions, he signalled simultaneously contempt for the prisoners and bilious disdain for any critics who might dare to speak. . . . Mr. Roth [executive director of Human Rights Watch] likened the military tribunals President Bush has announced to those of a tin-pot tyrant wanting to get rid of his political enemies - which in another life Washington would be the first to condemn."
---
"Here's a considerable issue of principle, staked out by a president in seeming defiance of international conventions, which the big U.S. papers would normally be full of. Instead, it succumbs to the fog of loyalty that has choked the oxygen out of controversy in the citadels of the U.S. media ever since Sep. 11. . . . Having failed to catch Osama bin Laden, the U.S. is evidently adopting the alternative of netting any number of Taliban and Al-Qaeda and sticking them with collective responsibility for the monstrous mass murder at the Pentagon and World Trade Centre. The issue is not whether this is true, but in what forum, what context and what conditions the truth will be determined."
---
"Not only the Guardian finds the overriding of the Geneva Convention deplorable, but the rightwing press is also weighing in. The Mail ran a column of regretful outrage by Stephen Glover, a rock-ribbed pro-American. Yesterday's Telegraph laid into Washington for endangering the distinction 'between civilised society and the apocalyptic savagery of those who would destroy it.' "
---
"For some time the hardest break-point looked like being Iraq. It still may be. The justifiable desire to see the back of Saddam Hussein remains very strong in Washington, but has for the moment been overtaken by the even more justifiable perception that this carries many, perhaps futile, hazards. However, even if it re-emerged as an American priority, it no longer looks certain to tear apart the European wing of the coalition. There's a decent chance that, if the U.N. set out once again to get weapons inspectors into Baghdad, and was once again rebuffed, few E.U. members would push heavy opposition to what America wanted."
---
"The likely outgrowths from Guantanamo are more toxic. Secret hearings in military tribunals, of E.U. citizens who might face execution, will offend every European instinct. If that's what happens, even short of the execution factor, America can expect its own long drawn-out vengeance on Al-Qaeda to be matched by a European public opinion increasingly roused against it. For, contrary to the myth of Anglo-America's unique respect for individual liberties, the continental ethic of human rights is even stronger. In response to Sep., not one E.U. country passed such draconian laws as Britain. If Mr. Blair defends the U.S. as humane and proper, come what may, he finally risks losing a lot of more important friends."
---

- Top -
Sierra Leone Moves to Prosecute Its War-Criminals

EDITORIAL

The Globe and Mail, Jan. 17, 2002

"[We] applaud the agreement signed yesterday by [Sierra Leone's] government and the United Nations to create a special war-crimes tribunal, along the lines of the courts set up for Rwanda and the former Yugoslavia."
---
"After civil war erupted in 1991, Sierra Leone became a byword for atrocities and mass murder. Among a population of five million, an estimated 200,000 were killed and tens of thousands of others raped or maimed, chiefly by the rebel Revolutionary United Front. With the insurgency all but over, and a large U.N. peacekeeping force in place, President Ahmad Tejan Kabbah says he wants his country to begin healing its ghastly wounds."
---
"Unlike the U.N. tribunals for the former Yugoslavia and Rwanda, which are located in The Hague and Tanzania respectively, this one will be based in the country where the abuses took place, and will be presided over by a mix of local and international judges. Its terms of reference emphasize the need to prosecute those who held positions of responsibility, not the thousands of child soldiers swept up in the anarchy. Most significant, perhaps, this war-crimes tribunal was not imposed on Sierra Leone from outside, but rather requested by it."
---
"Imprisoned rebel leader Foday Sankoh and his associates seem sure to be prosecuted, but already suspicion has surfaced that there will be less willingness to charge and convict suspects who fought on the government side."
---

- Top -
Bush Administration Should Respect Geneva Convention

EDITORIAL

The Washington Post, Jan. 17, 2002

"[G]iven the demonstrated inclination of Al Qaeda detainees to launch suicide attacks against their captors, the hoods and shackles look more like reasonable security measures than punitive actions; and the cell accommodations are said to be a stopgap while more permanent housing is constructed."
---
"[T]he military has yet to say whom it is holding and from which nations, or how the prisoners will be processed and handled. More troubling, Secretary of Defense Donald Rumsfeld has said that while the United States 'for the most part' is treating the prisoners 'in a manner that is reasonably consistent with the Geneva Convention,' it need not do so, because the detainees are 'unlawful combatants' who 'do not have any rights under the Geneva Convention.' That is not the case. The Geneva Convention and other international treaties ratified by the United States give the detainees specific rights, rights that the Bush administration should respect."
---
"Until their status is determined [via hearings before a tribunal consisting of a three-member panel of military officers], the United States is bound by international law to treat the prisoners as PoWs . . . If some were unlawful combatants, the United States is obligated to show why on a case-by-case basis. Even those deemed unlawful have certain rights; for example, the Convention on Torture requires that prisoners not be deported to nations where they could be abused. Before returning detainees to such countries as China, Uzbekistan or Saudi Arabia, the United States is obligated to obtain guarantees about their treatment."
---

- Top -
Solutions to the Kashmir Impasse

EDITORIAL

The New York Times, Jan. 17, 2002

"Kashmir is a jewel that has been fought over for many centuries. India holds onto it, and Pakistan covets it, for reasons of self- definition as well as sentiment. Since independence, Pakistan has seen itself as a haven for Muslims, and has resented that Muslim-dominated Kashmir was awarded to India after the British left because of a last-minute decision by its Hindu maharajah. India, by contrast, is a polyglot, secular society threatened by the idea of losing a piece of its territory because of religious differences. India's large Muslim population is as opposed to losing Kashmir as is its Hindu majority."
---
"India is a democracy and Pakistan is a military dictatorship, but neither country's government could survive a decision to concede Kashmir to the other. There may, however, be a way to bridge that gap based on recommendations of a group of diplomats and scholars known as the Kashmir Study Group. It has suggested schemes for permanent partition of the region along current lines - part of Kashmir is already in Pakistan - or a self-governing area that maintains Indian sovereignty and some kind of relationship with Pakistan."
---

- Top -
Unilaterally Implementable Three-Part Peace Plan for Kashmir

By AMITABH MATTOO
Professor of Disarmament Studies and Director, National Security Programme, Jawaharlal Nehru University (JNU), New Delhi.

The Hindu, Jan. 17, 2002

"It remains to be seen whether Gen. Musharraf is really as attached to the ideas and policies of Kemal Ataturk as he claims to be, and if he truly has the capacity to deliver his country from the mess brought about by his predecessors. India has to carefully watch and decide whether Gen. Musharraf continues to be the erstwhile commando, driven by expediency and tactics, or is he - in his new avatar - a Mikhail Gorbachev-like leader who, even while being a product of the established order, has realised that the system is so rotten that unless he radically changes policies, internally and externally, his country will slowly slip into nothingness."
---
"Part one of the peace plan would demand unilateral gestures of goodwill by the Government and the people of the rest of India towards the people of Jammu and Kashmir. . . . [T]he most important gestures will be to significantly reduce the presence of the Army, the paramilitary and other security forces. The maintenance of law and order must again become the responsibility of the local police, and all special operation agencies and vigilante groups, wherever they exist, must be disbanded. . . . [T]he biggest private sector companies must be encouraged to invest in the State. . .[L]arge corporations should be persuaded to employ men and women from the State. . .[A] central task force must be set up, with the explicit purpose of strengthening the State's infrastructure. . .[A] special relief, rehabilitation and reconciliation commission needs to be formed."
---
"Part two of the peace plan is probably the most vital as this would involve ensuring that Kashmiris secure peace with dignity. Elections to the Assembly, which will be held within the next nine months, offer a historic opportunity to restore the faith of the ordinary Kashmiri in Indian democracy, justice and fair play, and to demonstrate to the world New Delhi's capacity for conflict management and problem solving. . . . Ensuring popular participation, especially from those alienated by the past record [can be achieved] if a unilateral promise is given, without prior negotiations (which have proved to be so frustrating) with Kashmiri leaders, that post-elections the quantum of autonomy necessary to fulfil Kashmiri aspirations will be negotiated with the elected representatives within a definite period of time and the agreement arrived at will be guaranteed for the future."
---
"[A] nationwide information campaign on Centre-State relations and decentralisation must be initiated to ensure that there is a widespread realisation that autonomy, in essence, is about empowering people, making people feel that they belong, and about increasing the accountability of public institutions and services. Separatism grows when people feel disconnected from the structures of power and the process of policy formulation; in contrast, devolution ensures popular participation in the polity."
---
"[P]art three of the plan for peace would include a signal to Pakistan that there would be a sustained dialogue on Kashmir [building upon Prime Minister Atal Behari Vajpayee's declaration in his 'musings' from Kumarakom in Jan. 2001:] 'In our search for a lasting solution to the Kashmir problem, both in its external and internal dimensions, we shall not traverse solely on the beaten track of the past.' "
---

- Top -
Evolving Sino-Indian Relations

EDITORIAL

The Hindu, Jan. 17, 2002

"The tone of the current U.S.-led global discourse on anti-terror issues has already raised much hype about Beijing's presumably inevitable concerns regarding Pakistan as a possible source of China's troubles in its Xinjiang province."
---
"On a different plane, the U.S.-orchestrated international 'campaign' against globalised terror has now brought America's strategic footprint close to China itself in a way that was inconceivable hardly a few months ago."
---
"The irritants in the Sino-Indian relationship are far from being eradicated. A positive sign is the reaffirmation by both countries to stay engaged as regards the relevant issues. A specialised bilateral group is still seized of the pre-solution phase of clarifying and confirming the Line of Actual Control along the disputed border regions. Also of interest to China is India's continuing hospitality to the Dalai Lama and the Karmapa. In a clear message of diplomatic maturity, India and China have now decided to strengthen economic ties even while grappling with some knotty political questions. Mr. Zhu's economic diplomacy is obviously geared to China's requirements as a new member of the World Trade Organisation, and India's dynamic software sector is an obvious focal point."
---

- Top -
India Must Resolve Kashmir

By KULDIP NAYAR
Has been many things in his life - reporter, editor, detainee during the Emergency, high commissioner to Great Britain, peacenik, Rajya Sabha member.

The Hindu, Jan. 17, 2002

"Our problems in Kashmir began with the arrest of the late Sheikh Abdullah in 1952. It was New Delhi, not Islamabad, which made a hash of the situation after that. We decided at New Delhi who would rule at Srinagar and how long. We laid down conditions for that. People in the State did not matter, our prejudices and preferences did."
---
"Had the elections even in 1987 been fair, we would not have probably seen the extent of terrorism as it has developed since. The Kashmiri activists themselves committed the big mistake of getting Pakistan's armed and financial assistance. This gave a bad name even to the indigenous, political movement. Some Kashmiri leaders admit this now."
---
"We have not bothered to know what has propelled the Kashmir society from being a model of secularism (Kashmiriyat) to deranged fanaticism. . . . New Delhi's understanding, faulty as it has been, was to send more forces and to devise more measures for suppression. No wonder, there were instances of violation of people's rights. The rest of the country accepted what was done in Kashmir as part of steps to keep the State under control, although it cost us dearly in terms of democratic values."
---
"There is no other way than holding talks with all sections of the people and political formations in Kashmir to know their mind. . . . It is apparent that there are certain forces in the State and at the Centre which are out to sabotage any effort at conciliation. These forces will have to be identified and eliminated. . . . Except for the elections in 1977, practically no other poll in the State has been absolutely free of rigging. The Government should offer to appoint eminent people from all over the country as observers in the next election in the State."
---

- Top -
The Brinkmanship Game

By EDWARD N. LUTTWAK

The Los Angeles Times, Jan. 17, 2002

"During the Cold War [brinkmanship - deliberately going to the brink to make some strategic gain without actually going to war] was a standard diplomatic tactic used by both the United States and the Soviet Union. It happened over Berlin several times, over Cuba in 1962 and over the Middle East in 1973."
---
"One reason why Pakistan's well-funded Inter-Services Intelligence, or I.S.I., started sponsoring armed Islamic militants in 1989 was to displace the original Kashmir independence movement with one seeking to join Pakistan. As an army general, Pakistani President Pervez Musharraf was a leading proponent of sending Islamic militants to fight in Kashmir--not because he favored Islamic terrorism but as a way of outmaneuvering both India's military superiority and the nuclear checkmate."
---
"[E]ven before the present crisis, the Pakistani government was unhappy with the Jaish and the Lashkar, because their leaders were talking of an independent Islamic state in Kashmir and because their super-extremism frightened even the I.S.I."
---
"Indians are demanding that Pakistan also cut off all the other fighting organizations including Hezb-ul-Moujahedeen, which is the armed wing of the Jamaat-i-Islami, the most important Islamic party in Pakistan."
---
"[T]he best evidence that India is engaged in brinkmanship rather than actually preparing for war is that little is being done to keep preparations secret. It also is significant that Lal Krishna Advani, India's minister of home affairs, was in Washington last week, and that Defense Minister George Fernandes was there this week. If the Indians were planning a war, both certainly would have remained home."
---
"If [Musharraf] were to be overthrown by coup d'etat or eliminated by assassination, the world could be faced with a nuclear crisis."
---

- Top -
Friendless India

By P.V. INDIRESAN
Former director of Indian Institute of Technology (I.I.T.) at Chennai (Madras).

The Hindu, Jan. 17, 2002

"Apart from extraordinary episodes such as Kargil, international cricket matches are probably the only occasions when India unites. Even the Dec. 13 attack on Parliament did not, at any rate among politicians, rouse as much national unity as the time Indian players were penalised en masse in South Africa."
---
"Even after conceding that international interests are driven more by self-interest than by friendship, it is important for us to do some introspection and consider why we have quarrels with all our neighbours, why we have so few friends and why we annoy as many as we do. It cannot be that the whole world is wrong. There must be something that we ourselves are doing wrong."
---
"For a start, we are a poor country. There is a popular saying in Kannada, 'sari sari badukidaray pari pari nenkaru' (the better you prosper the more affectionate your relatives). We are too poor (indeed, we have only recently graduated to the class of lower middle income countries) to attract many friends."
---
"Although we are poor, we conduct ourselves as though we are very important people. Although our politics is among the dirtiest and the most corrupt in the world, we take our stand on moral grounds. A Gandhi could do so because he led by example. Moral claims cause much annoyance and even disgust when not backed by explicit ethical conduct. When our politicians try to imitate Gandhi, they appear downright vulgar. In any case, in this harsh world (including India) the law for the rich is different from that for the poor."
---
"Let us be clear, when it comes to the crunch, we have few friends. That is so because we are poor and we are dirty too - dirty the way we run our politics and dirty the way we run our diplomatic relations, dirty even the way we keep our streets."
---
"Pakistan's case is like that of a man who pleaded clemency on the grounds of being an orphan - after killing both parents. The wonder of it is that Pakistan gets away with such a plea. Many qualities have been attributed to Gen. Musharraf. One that has not been appreciated is his humility, and that of most of his countrymen, in their dealings with Americans. I doubt very much whether in a similar situation our leaders and our people would have conducted themselves in such a manner as to elicit sympathy the way they have."
---
"China gets away with Tiananmen Square. It can sell missiles and nuclear technology to Pakistan with impunity. Now it has sold F-7 aircraft to Pakistan just at the time when India is in a state of bitter conflict with that country. For our goodwill, China cares not a bit. It can do so because it is powerful, and conducts itself like a powerful country."
---
"We pride ourselves on our democracy, expect that our much-tattered brand of democracy will cover a multitude of sins. It is time we disillusion ourselves. When it comes to the crunch, few care for our democracy, they prefer the likes of Pakistan and China. The former is humble, the latter is powerful; we are neither. . . . Politics being the art of the possible, our Government should consider carefully whether it is feasible to reject world opinion and take on Pakistan, particularly a Pakistan backed covertly, if not overtly, by the Chinese."
---
" 'If you have to lick someone, lick him good the first time, so you don't have to lick him a second time,' goes an American adage. We could have licked Pakistan good in 1947; we didn't. With less probability, we could have tried in 1965. We didn't. . . . Chairman Mao used to advise that one should not attack except with ten to one superiority. He was a great military strategist; his opinion should be treated with respect. . . . We had better not be like Abhimanyu who knew how to get into a battle but not how to get out of it."
---
"In a recent interview, Kushabhau Thakre, B.J.P. leader, is reported to have confessed that he could not avoid giving the party ticket for the coming Uttar Pradesh elections to criminal elements. If we cannot resist pressure from our own criminals, how can we tackle the might of Pakistan?"
---

- Top -
Unwelcome Interference From U.S. Congressmen

EDITORIAL

The Indian Express, Jan. 17, 2002

"First Lieberman killed whatever fizz there was in General Pervez Musharraf's televised speech by telling the media way in advance that not only would it reduce tension between India and Pakistan, but that it would begin a whole new chapter in the Kashmir 'dispute.' It is anybody's guess what mental workouts Musharraf ran through upon hearing this, wondering how his countrymen and women would react to the implication that Americans besides the boss at Foggy Bottom had cleared his address."
---
"And now, along comes Daschle with an entirely novel suggestion to open a new chapter in Indo-Pak ties. Kashmir is now an international issue, he says, probably to garner some locus standi to be speaking on it at all. In the pursuit of amity, he adds, Indians, Pakistanis and Kashmiris should talk. Sovereign countries, federal units - it's the same difference to the senator. It is a small mercy, we suppose, that he did not include Americans and make it a quadrilateral gathering."
---
"Before nudging Musharraf and Vajpayee away from the brink, [U.S. Secretary of State Colin L. Powell] should perhaps tackle his avowedly bipartisan Congressmen. This region can do very well without their clumsy, ill-informed efforts at peacemaking, thank you."
---

- Top -
Future of Indo-Afghan Relations

By MAHENDRA VED

The Times of India, Jan. 17, 2002

"The announcement that the giant Buddha statues at Bamiyan, destroyed last Mar. by the Taliban, would be rebuilt, reflects Afghanistan's desire to restore its past even as it prepares for the future. With an imminent visit by interim prime minister Hamid Karzai, who calls India his 'second home,' on the cards, New Delhi must review its Afghanistan policy."
---
"[B]y all credible accounts, almost the entire Taliban leadership has taken shelter in Pakistan. Pakistan's current crackdown on jehadi outfits is but a temporary phase. . . . There is no basic change in Pakistan's policy, notwithstanding the pats on the back General Musharraf is receiving from a world community alarmed at the prospects of a nuclear war in South Asia."
---
"The changed scenario in the region is marked by what appears to be a prolonged presence of the U.S. and its western allies. The resolution of the West Asian conflict is now seen through the prism of peace in Central and South Asia. There is an increasingly strong presence in Central Asia in the shape of the OECD [Organisation for Economic Co-operation and Development] and through numerous bilateral pacts."
---
"[U.S.] presence [in and around Afghanistan] drives a clear wedge between Iran, whom the U.S. does not trust, and China. The U.S. seems poised to seek military bases in Central Asia, particularly in Uzbekistan and Tajikistan, through which it would want to thwart any ambitions Russia might nurse in what still remains its backyard. . . . By the time the U.N.-blessed International Security Assistance Force (ISAF) withdraws from Kabul, a large number of N.G.O.s and relief organisations will have taken up positions."
---
"Moving Caspian Sea's gas and oil to the south may now become a reality. It seems the economic route to Afghanistan has already been charted from its north. . . . India too should take the northern route. . . . India enjoys a better rapport with Central Asia and Iran than with Pakistan."
---
"[W]ith the presence in the new [Afghan] government of its troika - defence minister Fahim Khan, interior minister Younis Qanooni and foreign minister Abdullah - it is logical that in times to come, the minorities will assert themselves."
---
"Like Hamid Karzai did two decades ago, a large number of Afghan students can study in India on scholarships."
---

- Top -
Untrustworthy Musharraf

By T.V.R. SHENOY
Edited The Week for many years before he decided to go freelance. Brings an insider's view to the columns he writes for Rediff and Mid-Day, among other publications. In recent years, he has acquired the reputation of being one of the B.J.P.'s spin doctors.

The Indian Express, Jan. 17, 2002

"We of the media, print or electronic, are wordsmiths. Words are the tools of our trade, and so, perhaps, we occasionally grant them an importance which they do not deserve."
---
"In a speech lasting over an hour, General Musharraf's references to India were remarkably cursory."
---
"While the Pakistani dictator finally forced himself to accept that the attack on Parliament was a 'terrorist' act, he promises to continue the policies which made it respectable, even a vote-winner, in Pakistan."
---
"The same stale lies about state terrorism in Jammu and Kashmir. The same bluster and bravado about Pakistan's right to retaliate. An absolute refusal to hand over the men wanted by India. And if you take the strict interpretation of the word 'asylum' in international law, then yes, General Musharraf is right - Pakistan has not given 'asylum' to anyone. All it has done is to house them, feed them, and protect them - anything and everything but grant them 'asylum!' "
---
"The same sense of being too clever by half is apparent when you hear Pakistan saying that there are no longer any Indian criminals in that country. This again is probably the literal truth; by many accounts the Dawood Ibrahims and the Tiger Memons were told to move out of the country a day before the general's speech."
---
"As with every other leader of Pakistan, civilian or soldier, his policy stands on two legs. First, do not defy the United States - because it is the source of money and arms. Second, be as aggressive as is possible to India - because that hostility is the rationale for Pakistan's existence. General Musharraf's problem is that these two policies are, currently, contradicting each other."
---
"Prime Minister Nawaz Sharif went out of his way to pick Musharraf as Chief of Staff of the Pakistan Army. His reward was a coup followed by exile. I recall General Musharraf appearing on the BBC to laud the Taliban, an organisation which the Pakistan Army had solicitously nursed. It took just 24 hours for the general to stab his child in the back. If that is how this man treats his friends, why should India hope for any better treatment?"
---
"[T]he United States - which has blocked sale of the Falcon aircraft to India even as China restocks Pakistan's armoury - is ill-placed to play the arbitrator."
---
"Ease off the pressure, and General Musharraf will slide back into his old habits, promising much and doing nothing."
---

- Top -
Army Chief S. Padmanabhan Should Leave Policy to Politicians and Focus on Getting the Army Ready

By MAJOR GENERAL (RETIRED) HIMMAT SINGH GILL

The Indian Express, Jan. 17, 2002

"Attacks on military outposts in broad daylight were unheard of a decade back and scores of armymen being blown up for nothing while laying mines (even before the war has begun) do not give a very rosy picture of the state of training in the Army."
---

- Top -
De-escalation of Pakistan's Covert War Must Precede De-escalation of India's Overt War Preparation

EDITORIAL

The Indian Express, Jan. 17, 2002

"The reality is that Pakistan has been waging a war through terrorism against India, first in Punjab's crucial border districts which are strategically and tactically critical to the defence of Jammu and Kashmir, and then overlapping it with direct terrorism in J&K since Jul. 1988."
---
"India mobilised its defence forces on the borders not due to the risk of a military war or to attack Pakistan but because of the escalation in terrorism that had been perpetuated against the centre of gravity of democratic institutions which was escalated on Oct. 1 [against the J&K State Assembly] and, even more daringly, on Dec. 13 against Parliament House."
---
"Focus on mere de-escalation of the military mobilisation would only be a distraction and would undermine the war against terrorism."
---
"Elections are due in J&K and we cannot afford to have these adversely affected by terrorism. Current deployment on the borders could serve a critical purpose: to contain infiltration of terrorists from across the borders, especially those belonging to Al Qaeda which have been dispersed by U.S. military action. The U.S. felt that nine battalions of the Pakistan army on its border with Afghanistan were useful in containing the flight of Al Qaeda and Taliban forces from Afghanistan. Surely the military forces of Pakistan and India should be seen as an asset in ensuring that terrorists do not infiltrate into India."
---

- Top -
Indo-Pak Nuclearization Forfeited Bilateralism On Kashmir

EDITORIAL

The Minneapolis-St. Paul Star Tribune, Jan. 17, 2002

"[In talks with Pakistan,] India needs to give Musharraf something in return for his courageous attacks on Pakistani radicalism. That 'something' is flexibility on Kashmir. . . . The violence and terrorism won't stop simply because Pakistan stops being its sponsor - as it must. Most of those Musharraf calls 'freedom fighters' are Kashmiri, not Pakistan or Muslims from other places. They fight India because India treats them horribly."
---
"[As Amnesty International and other human-rights groups have documented,] India has an abysmal human-rights record in Kashmir. More than 7,000 people have been killed while in custody, and 3,000 have disappeared. Indian jails hold more than 2,500 Kashmiri political prisoners. Indian military and police personnel regularly beat, bully, torture and kill Kashmiris, yet face no penalties. Those human-rights transgressions are the source of the anger that fuels Kashmiri rebellion. So long as the transgressions continue, so will the rebellion, with or without Pakistani assistance."
---
"That's the point Powell needs to drive home in New Delhi: It's Indian behavior, not Pakistani, that is the root cause of problems in Kashmir. In Islamabad, Powell said the solution to the Kashmir problem must take into account the desires of the Kashmiri people, and he's right. If India would clean up its human-rights act, the people of Kashmir most likely would prefer some form of autonomy within India, rather than either independence or joining Pakistan. India has a lot to offer Kashmir, but it is difficult for the Kashmiri people to appreciate that fact while they are being so brutalized. India won't like to hear all of this, but it must. When New Delhi and Islamabad went nuclear, they forfeited the luxury of treating Kashmir as a private fight. Now it is a fight in which the entire world has a stake. Pakistan seems to recognize that. Now it's India's turn."
---

- Top -
U.S. Flouts International Law Regarding PoWs

By PAUL KNOX

The Globe and Mail, Jan. 16, 2002

"Maybe what this is really all about is good old-fashioned deterrence. Sure, buddy, the path may lead to paradise - but don't forget the tollgate at Uncle Sam's Roadhouse."
---
"There's been a lot of talk . . . about Washington's newfound vocation for multilateralism. Most of it is just wind. The 'coalition' against terrorism is basically a superpower and a few add-ons. Both before and after Sep. 11, Mr. Bush has been consistently uncomfortable with any global consensus that requires actual compromise. It was one thing to abrogate the Cold War-era Anti-Ballistic Missile Treaty. In Jul., U.S. negotiators forced a radical weakening of an action plan to combat the global trade in small arms - something you'd think anyone opposed to Islamist terrorism would have been in favour of. Then they walked away from a verification scheme to enforce the 1972 treaty on biological warfare. They said international inspection of U.S. laboratories might jeopardize commercial drug research and expose secret bio-defence plans. The story of U.S. reticence goes on: the International Criminal Court, the Kyoto climate-change accord, the treaty banning antipersonnel land mines."
---
"America will eventually tire of its militarized global hunt for terrorists. It will get distracted by other things, and, in one form or another, it will stand down. But threats to security will remain, and the establishment of the global rule of law, with mechanisms to enforce it, will start to look good again. When that happens, it will be better to have made whatever progress is possible than to have given up."
---

- Top -
Operation West End Good For Indian Democracy

By IAN BURUMA

The Guardian, Jan. 16, 2002

"They approached the then president of the ruling Bharatiya Janata Party (B.J.P.), Bangaru Laxman, as representatives of a fictitious arms company called West End. Laxman was offered a 'new year party gift' in exchange for putting an arms deal their way. It was not a large sum: about £1,500-worth in dollars or rupees. Laxman, a practical man, chose U.S. dollars. To further smooth their pretended enterprise, the 'men from West End' entertained Indian army officers and defence ministry officials who took to the Royal Stag whisky and the girls provided with gusto. These sponsored parties, as well as Laxman counting out his cash, were recorded on camera. The material, hotter than any Hindi gangster picture, was distributed last Mar. to television stations all over India. Laxman had to resign, and so did George Fernandes, the defence minister."
---
"In an atmosphere of increased official intimidation of religious minorities and political opponents, Tehelka plays a vital role. Its exposure of high-government corruption was something most newspaper and magazine editors would almost certainly avoid. But the website's future is tenuous. Investigative journalism is an expensive business. Tehelka is trying to solve its financial crisis in a way that is as unorthodox as its journalistic techniques. The public has been asked to contribute to a Tehelka investigative fund. The money will then be converted to shares. The response so far, according to Tejpal, has been 'overwhelming.' That, for all its ills, is the great thing about India. Despite thuggery in high places, its battered democracy still lurches on, thanks to the many brave Indians prepared to defend it."
---

- Top -
Israeli Occupation of Palestine Must End

By MARWAN BARGHOUTI
General secretary of Fatah on the West Bank and an elected member of the Palestinian Legislative Council.

The Washington Post, Jan. 16, 2002

"[A] lull in the violence is exactly what Israeli Prime Minister Ariel Sharon cannot afford. He was elected in a time of crisis and knows that his rule is sustainable only in a time of crisis. For his own political survival, he will do whatever it takes, and look for any excuse, to stoke the flames of unrest and avoid a return to peace negotiations."
---
"The only way for Israelis to have security is, quite simply, to end the 35-year-old Israeli occupation of Palestinian territory. Israelis must abandon the myth that it is possible to have peace and occupation at the same time, that peaceful coexistence is possible between slave and master. The lack of Israeli security is born of the lack of Palestinian freedom. Israel will have security only after the end of occupation, not before."
---
"Palestinians have recognized Israel on 78 percent of historic Palestine. It is Israel that refuses to acknowledge Palestine's right to exist on the remaining 22 percent of land occupied in 1967. And yet it is the Palestinians who are accused of not compromising and of missing opportunities. Frankly, we are tired of always taking the blame for Israeli intransigence when all we are seeking is the implementation of international law."
---
"[T]he United States has the audacity to veto a U.N. plan for an international protection force."
---
"[W]hile I, and the Fatah movement to which I belong, strongly oppose attacks and the targeting of civilians inside Israel, our future neighbor, I reserve the right to protect myself, to resist the Israeli occupation of my country and to fight for my freedom. If Palestinians are expected to negotiate under occupation, then Israel must be expected to negotiate as we resist that occupation. I am not a terrorist, but neither am I a pacifist."
---
"For six years I languished as a political prisoner in an Israeli jail, where I was tortured, where I hung blindfolded as an Israeli beat my genitals with a stick. But since 1994, when I believed Israel was serious about ending its occupation, I have been a tireless advocate of a peace based on fairness and equality. I led delegations of Palestinians in meetings with Israeli parliamentarians to promote mutual understanding and cooperation. I still seek peaceful coexistence between the equal and independent countries of Israel and Palestine based on full withdrawal from Palestinian territories occupied in 1967 and a just resolution to the plight of Palestinian refugees pursuant to U.N. resolutions. I do not seek to destroy Israel but only to end its occupation of my country."
---

- Top -
Indian Version of Sikh Slayings in Chattisinghpora Is Not Credible

By KHUSHWANT SINGH

Tehelka.com, Jan. 16, 2002

"I did not apportion blame on any one . . . I said that the Indian version was not credible. The fact that within 48 hours of the dastardly act Indian authorities claimed to have killed all the men who did the killing was suspect. Also the killings preceded President Clinton's visit to India. Who would be interested in giving Pakistan a bad name at that point of time?"
---

- Top -
A Solution for Kashmir

By KHUSHWANT SINGH

Tehelka.com, Jan. 16, 2002

"Kashmiri Muslims are unhappy with India and at least passively support terrorists coming across the border. Discrimination against Muslims is a post Sangh Parivar phenomenon. Before the rise of the B.J.P. despite communal violence the government did its best to be even handed. Muslims have [primarily themselves to blame] for being backward and therefore marginalized. Their literacy levels are the lowest in the country. Surely leaders of the community need to do something about this wretched state of affairs."
---
"I have spelt out my views on Kashmir many times. Briefly . . . divide the state into three; Ladakh and Jammu to stay in India, the valley to be given full autonomy guaranteed by India and Pakistan with rehabilitation of Pandits and Sikhs who had to flee - all under U.N. supervision. Although there are not many takers of my solution now, I think this is what will ultimately happen within a few years."
---

- Top -
America's Successful Antiterror War in Afghanistan

By THOMAS L. FRIEDMAN

The New York Times, Jan. 16, 2002

"The reason the Afghan war went so smoothly for the U.S. was because the geopolitical roosters - Iran, Pakistan, Uzbekistan and Russia - either overtly or tacitly cooperated with us to destroy the Taliban and Osama bin Laden, which was in each of their interests. And the local roosters - the key Tajik, Pashtun, Hazara and Uzbek warlords - did the same."
---
"Sure, some will take potshots at us, but even those warlords who might think of challenging a U.S.-led peacekeeping force admit that they were wowed by the incredible power America displayed here. For all the talk about the vaunted Afghan fighters, this was a war between the Jetsons and the Flintstones - and the Jetsons won and the Flintstones know it."
---
"The Taliban and Osama bin Laden lost the war because they mistakenly thought the Americans were the Russians, and could be defeated as easily. The Americans could lose the peace by also mistakenly thinking that they're the Russians - just another superpower that will automatically be resisted if it stays behind, so it better not even try."
---

- Top -
Eurosceptic Berlusconi

EDITORIAL

The National Post, Jan. 16, 2002

"[Silvio Berlusconi, the Italian Prime Minister] is correct to question Europe's integration campaign, which, in many respects, has for years been and continues to be, stealthy and coercive rather than open and democratic."
---

- Top -
Failures That Led to Sep. 11

By FAREED ZAKARIA
Editor of Newsweek International and a columnist for Newsweek.

The Washington Post, Jan. 15, 2002

"Although CIA Director George Tenet had earlier defined Osama bin Laden and his network as 'the most immediate and serious threat' to the United States, the U.S. government was caught utterly unprepared for a coordinated attack on obvious targets. Even worse, much of Al Qaeda's planning was done not in deepest Afghanistan and Sudan but in places such as Paris, Hamburg and Boston."
---
"After Pearl Harbor, the United States responded and defeated its enemies, but it also began a process of completely rethinking its military, intelligence and diplomatic institutions in light of the changed world. Nothing like this is happening in Washington."
---
"Thomas Powers in the current New York Review of Books, [argues] that the CIA must be overhauled, beginning with the departure of its director. . . . Sens. John McCain and Joseph Lieberman have led the calls for congressional hearings on the subject [but none of this has had much effect probably because] Sep. 11 happened not because of intelligence failures but, even worse, because of policy failures. The former can easily be blamed on others."
---
"[The CIA] is a lumbering giant ill-equipped for the world in which it is operating. It is a hierarchical organization, structured to confront another hierarchichal organization - such as the Soviet Union - not the shadowy, decentralized enemies of today. . . . The CIA has been drawing mediocre recruits for more than a decade."
---
"But all that said, the reality is that within the United States government, the CIA was the only organization that took the threat from Osama bin Laden seriously. . . . The Republicans were critical of the Clinton administration, mostly for not being tougher on China or Cuba or Iran or Iraq, or all of them. Their chief strategic push was to have the United States gear up for a confrontation with China, a cause they have quietly shelved for the time being."
---
"Flow charts aside, the central flaw with the CIA is that it doesn't take risks. Once associated with Wild Bill Donovan and spymasters like Allen Dulles, it is now a cautious and conservative bureaucracy. This, too, is a product of political failure. . . . There are many fixes to make, but the biggest one lies not in Langley, Va., but on Pennsylvania Avenue."
---

- Top -
Musharraf's Ramblings

By SONIA TRIKHA

The Indian Express, Jan. 15, 2002

"What kind of a speech goes on for 62 minutes? To my mind, one that has a whole lot to say but can't find the subject. That he spoke for less than two minutes about the region that runs in the blood of every Pakistani - a physical impossibility but probably true at some karmic level - proves that."
---
"If a Pakistani general is giving over an hour long speech and not discussing Kashmir he's probably lost his speech and he's ad-libbing about the world situation at large."
---

- Top -
Indo-Pak Tensions

EDITORIAL

Milwaukee Journal Sentinel, Jan. 15, 2002

"[Musharraf has taken] several courageous steps that ought to have satisfied any reasonable person in India."
---
"Given [the] historical facts, there are real limits to what Musharraf, or any Pakistani leader, can do on the Kashmir issue without inviting a mutiny within the army, for which Kashmir is something of a holy cause."
---
"Both Pakistan and India are run by experienced and level-headed men, neither of whom is so divorced from reality as to want a war, especially nuclear war. The danger is a conflict that erupts not because of a conscious decision, but as the consequence of a missed communication or some other blunder in the midst of the volatile environment that exists there. Both sides are culpable in contributing to this atmosphere - Pakistan by its relatively slow reaction to the Dec. terrorist attack and India by its huge military buildup and its stubborn refusal to reward Musharraf's courageous gestures, however belated, with reciprocal steps of its own. . . . The United States also needs to name a special envoy to monitor this crisis and engage both sides on a regular basis."
---

- Top -
U.S. Refusal to Accord P.o.W. Status to Afghan Prisoners

EDITORIAL

Dawn, Jan. 15, 2002

"In [U.S. Defence Secretary Donald Rumsfeld's] imperious way of thinking, those captured in Afghanistan are already guilty . . . are lesser human beings, perhaps even animals, and consequently are not fit to be treated according to the laws, conventions and norms that are applicable in such cases."
---
"One wonders if Irish or Basque terrorists would ever be treated this way. In fact, the due process of law was not withheld even from Nazi war criminals or villains like Slobodan Milosevic whose trial is currently underway at The Hague before an international civilian court. Perhaps, the Al Qaeda accused have their faith and skin colour working against them."
---

- Top -
Musharraf's Landmark Speech Decrying the Use of Terrorism for the Kashmiri Cause

EDITORIAL

The Washington Post, Jan. 15, 2002

"Arab governments that say they back the U.S. war on terrorism, and are themselves targets of groups such as Osama bin Laden's Al Qaeda, have done little to counter extremist versions of Islam - much less offer a competing vision of tolerance and modernization. Like the extremists, these regimes might be threatened by what Mr. Musharraf seems to have in mind: education that includes science and math as well as religion, and girls as well as boys; jihad against 'illiteracy, poverty, backwardness and hunger,' rather than Israel or the West; and a governing system based on political and economic freedom, rather than military rule or Islamic law."
---
"The war on terrorism will never be won unless the political program articulated by Mr. Musharraf is successful in Pakistan and elsewhere in the Islamic world. . . . It won't be easy; there will be strong opposition from the militants in Pakistan, and maybe from parts of Mr. Musharraf's own army, which has trained and supported them in the past. Mr. Musharraf himself took power through a military coup, and has yet to prove he is serious about elections."
---

- Top -
The U.S. Antiterror War Is Setting a Poor Example for Other Nations

By JAMES CARROLL

The Boston Globe, Jan. 15, 2002

"[U.S. Secretary of State Colin L.] Powell faces a major obstacle as he tries to defuse the most dangerous confrontation since the end of the Cold War. Powell's problem? The harsh and reckless new rules India is playing by, alas, were written in Washington. In fact, the threat-heavy script being read by India's Prime Minister Atal Behari Vajpayee eerily echoes the script from which George W. Bush has been reading for months. . . . Musharraf has been presented with a version of Bush's 'us-or-them' ultimatum."
---
"In this column, I have repeatedly invited readers to contemplate the shape of a world in which America's hyper-martial response to terrorism became the new template for the exercise of power. It is no longer a hypothetical prospect."
---
"The American mode of 'dead-or-alive,' robustly adopted since Oct. by Israel's Ariel Sharon, has already led to a disastrous breakdown in the Middle East and promises nothing but further catastrophe."
---
"Because a unilateral war formed the core of America's response to Sep. 11, the single greatest moral shift to have occurred among nations in the 20th century has been undercut - the fragile, but precious idea of institutionalized international mutuality. Nations owe each other minimal levels of cooperation, respect, and even deference. Admittedly, this idea was already battered, especially by America's post-Cold War contempt for the United Nations."
---

- Top -
Musharraf's Landmark Speech Decrying the Use of Terrorism for the Kashmiri Cause

By HUSAIN HAQQANI
Served as an adviser to prime ministers Nawaz Sharif and Benazir Bhutto and as Pakistan's ambassador to Sri Lanka.

The Indian Express, Jan. 15, 2002

"President Pervez Musharraf's address to the nation last Saturday officially marked the end of the mosque-military alliance forged by Pakistan's previous military ruler, General Zia ul Haq. General Zia's military regime had increased the influence of Islamic ideologues to legitimise its rule in the name of Islamisation. General Musharraf hopes to reduce that influence while securing international legitimacy on the grounds of eliminating Islamic militancy."
---
"[I]t appears to be a pattern with General Musharraf that his definitive actions are often reactive. His decision to take over the reins of power was a reaction to Nawaz Sharif's action to remove him from the office of Chief of Army Staff. Withdrawal of support from the Taliban resulted from U.S. demands in the aftermath of the Sep. 11 terrorist attacks in New York and Washington. And now, action against militant Islamic groups is a response to demands by the international community."
---
"[H]is hesitation to act without sufficient pressure creates doubts about the credibility of his actions."
---
"General Musharraf . . . needs to guard against extending his crackdown to legitimate Islamic political groups. While Islamic militias must surely be disarmed, traditional religious political parties must continue to be allowed to play their role in Pakistani society. Repression of all Islamic groups could create an ugly situation within the country. Egypt and Algeria, which repressed Islamic political sentiment, also ended up giving birth to the hardest of hardline militant Islamists, including a large number of recruits for the Al Qaeda."
---
"Pakistan's Islamists have never been able to do well in electoral politics. Their strength in recent years was the direct result of covert sate patronage and the decision by successive rulers to assign them a role in their regional strategy. If the Islamic parties are forced to face elections soon, their limited support will be exposed and they will be relegated to the margins of political life, as they were in the past. But extended repression, without making a distinction between militants and Islamic activists, will create an underground movement."
---
"The rise of extremism in Pakistan is the result of attempts to force political solutions on the nation from the top. An uninterrupted political process allows extremes to be subsumed and marginalised."
---
"General Musharraf made no reference to General Zia or to his predecessors in the military who allowed Pakistan to degenerate into semi-anarchy in pursuit of strategic objectives of dubious value. If General Musharraf wants his new moves to be seen in the context of revitalising the Pakistani state, he must allow a review of the military's worldview that led to the strategic decisions he now wants to reverse."
---
"Islam is an integral part of Pakistan's ethos. It became the focus of violence and militancy mainly because Pakistan's intelligence services used it to control the political process within the country and around the region. If the militarist-militant alliance is to be broken, democracy and constitutional rule will have to be restored. Accepting the basic premises of pluralist politics will probably diminish the role of the military in the country's decision-making. This unintended consequence of Pakistan's transition from General Zia's scheme to General Musharraf's espoused vision may not necessarily be known to the country's current military ruler."
---

- Top -
U.S. Flouts International Law Regarding PoWs

By THOMAS WALKOM

The Toronto Star, Jan. 15, 2002

"By treating Sep. 11 as war, Bush was able to call into play the right of self-defence mandated by the United Nations."
---
"Both New York City and the Pentagon are legitimate wartime targets - the former economic, the latter military."
---
"[The U.S.] refers to [Afghan PoWs] as 'unlawful combatants' not entitled to the protection of the 1949 Geneva Convention, which the U.S. signed and which sets out rules for treating enemy soldiers."
---
"[I]t sets a dangerous precedent for all soldiers who face capture in the so-called war on terrorism, including Canada's."
---
"The 1949 Geneva Convention specifies that any belligerents captured in the course of war - be they regular soldiers, militia members or volunteers 'operating in or outside their territory even if this territory is occupied' - must be accorded prisoner of war status."
---
"The convention exempts only those, such as spies and saboteurs, who do not clearly identify themselves as belligerents. But clearly it was meant to apply to the Taliban and Al Qaeda fighters captured after vicious battles in Afghanistan, fighters who made no secret of who they were, what they were supporting and who they thought their enemies were."
---
"[C]aptors are forbidden from inflicting 'outrages upon personal dignity' or 'inhumane and degrading treatment.' Prisoners of war are not required to give their captors information beyond name, rank and serial number. Under the convention, they must 'be quartered under conditions as favourable as those for forces of the detaining power who are billeted in the same area.' "
---
"[The U.S.] assumes that those selected for Guantanamo are connected to the Sep. 11 attacks. Maybe some are (although the world would have a better idea if the U.S., in line with the Geneva Convention, specified just who it was holding)."
---

- Top -
Kashmir in Light of Musharraf's Landmark Speech Decrying the Use of Terrorism for the Kashmiri Cause

EDITORIAL

The Indian Express, Jan. 15, 2002

"Obduracy and a tunnel vision can never move mountains, and mountains must indeed move if a solution is to be found to an issue that has blighted the subcontinent for half a century and more and set it back severely in terms of development and human welfare."
---
"Prime Minister Vajpayee is not unaware of the urgency of the task of ushering in real democracy in J&K. Not only did he promise free and fair elections in his Red Fort address, he returned to that theme in his New Year musings."
---
"This implies looking at measures that will improve the quality of life for the people of the state in significant ways and resuming the rather disjointed and half-hearted project of talking to the representatives of the Kashmiri people. Those who present themselves as the leaders of the local people must also discard the mental straitjackets that they have long sported and explore every avenue that would eventually lead to reconciliation and progress."
---

- Top -
Recent Visit to Bangladesh

By KULDIP NAYAR

The Indian Express, Jan. 15, 2002

"I found [Bangladesh Prime Minister] Khaleda [Zia] less anti-India than in the days when she was prime minister earlier. Most of her observations at that time would be laced with her anti-India bias. She assured me a year ago, when she was in the wilderness that she would not indulge in anti-India rhetoric if she returned to power. That probably explains why she did not make India an issue in the last election, which despite rigging, went convincingly in her favour. . . . [Khaleda] has an imperious flourish in the way she talks or postures herself on domestic issues. Her predecessor Sheikh Hasina [leader of the Awami League] continued to retain the common touch during her tenure as prime minister even though she became impatient and somewhat authoritarian in the latter half of her office."
---
"[T]here was a law, enacted by the Hasina government, to punish those who pulled down [her husband Sheikh Mujib-ur Rahman's] pictures from government offices or public places. There may be an amendment to the law so that the photos of Mujib and Khaleda's husband, Zia-ur Rahman, can be displayed together. . . . [S]he has ordered the removal of Mujib's picture from Bangladesh currency notes. . . . Khaleda has also stopped official holidays on Mujib's birthday and the day on which he was assassinated [since] the Hasina government had cancelled the holiday on Sep. 7 . . . the day when her husband took over the charge of Bangladesh after a mutiny by army jawans. Khaleda had no convincing defence when I asked her about the killing and looting of Hindus in the wake of the Bangladesh Nationalist Party's (BNP) victory. . . . The Awami League has already held an inquiry and has found the BNP and its ruling allies, the Jamaat-e-Islami and other extremists, 'responsible for the killings and lootings.' "
---
"Incidentally, one of the two Jamaat ministers is in charge of the social welfare ministry, which is supposed to look after the Hindu community as well. Asked how she reconciled herself to the pro-Taliban stand by the extremist parties when Bangladesh was part of the coalition against terrorism, she said the parties were free to have their own policies. . . . It was, indeed, comical that the BNP's extremist partners denounced America day in and day out and yet supported as part of the government Khaleda's pronouncements against Al Qaeda and Osama bin Laden."
---

- Top -
Musharraf's Landmark Speech Decrying the Use of Terrorism for the Kashmiri Cause

By SAEED NAQVI

The Indian Express, Jan. 15, 2002

"The air campaign is entering its 100th day, the longest since the Gulf and the Kosovo wars. Meanwhile, permanent bases are coming up. I have seen them at Kuliab and Dushanbe in Tajikistan, Manas in Kyrgizistan, Khanabad in Uzbekistan and eight others, including some in Pakistan."
---
"The build-up [of the Indian army on the Indo-Pak border] is in response to the strength of public opinion [in India] that took some of us by surprise."
---
"The international community will not tolerate terrorism in support of political causes - even political causes whose strength and logic cannot be disputed and which must be settled."
---

- Top -
Chinese Prime Minister Zhu Rongji's Visit to India

EDITORIAL

The Hindustan Times, Jan. 15, 2002

"If the mood today is different, the reason is the realisation that the present-day China is also a different entity from the Maoist version, which still seems to bother many Indians. For all the reservations which China may harbour about Indians continuing to play host to the Dalai Lama as well as a large body of Tibetans to whom India is now virtually a second home, Beijing's focus at the moment is almost wholly on economic development."
---
"The preoccupation with the economy, therefore, has made China abandon virtually all of its earlier combative ideological baggage. Pakistan remains the odd imponderable in its worldview, as does Taiwan. With respect to these, Beijing is still pursuing some of its old policies, though with much less fervour than before."
---

- Top -
India's Caste System

EDITORIAL

The Hindustan Times, Jan. 15, 2002

"The irony is that more than 54 years after Independence and after much lofty rhetoric on social justice by the entire political spectrum, when it comes to the Dalits and tribals of India, the directive principles of the Constitution are honoured neither in letter nor in spirit."
---
"There are several progressive recommendations in the [Bhopal] declaration [by Madhya Pradesh Chief Minister Digvijay Singh], including land rights for Dalits, redistribution of surplus land for the landless, the right of landless Dalit labourers to wages, gender parity, space in the market economy and punitive measures against those who commit atrocities on Dalits. If accepted by the states, it will virtually amount to a silent revolution, the impact of which will be felt by the entire political establishment."
---

- Top -
Tackling Malnutrition and Literacy in India

EDITORIAL

The Tribune, Jan. 15, 2002

"[The Planning Commission's Working Group on Elementary Education for the Tenth Five-Year Plan has issued a directive supporting the Supreme Court ruling that] the Centre, state governments and Union Territories must provide mid-day meal (cooked meals instead of dry ration as they are doing at present) to school children for at least 200 days. Notwithstanding the Supreme Court's ruling and the Planning Commission's directive, it is doubtful whether the mid-day meal scheme - either cooked meal or dry ration - would achieve the twin goals of improving child nutrition and school attendance."
---
"The Planning Commission's directive is impracticable for various reasons. One, it may not be easy for the school authorities to supply cooked food. Two, who will take care of logistics: coordinating the delivery of dry ration, constructing kitchen sheds, arranging for utensils to cook and serve lunch, maintaining a steady flow of wood for fuel and looking for cooks? And three, who will monitor the scheme?"
---

- Top -
Multimillion-Dollar Illegal Alcohol Trade in Saudi Arabia

By MICHAEL SNIDER

Maclean's, Jan. 14, 2002

"Maclean's has learned through interviews with top diplomats, bootleggers and a former Saudi police officer that most of the country's illicit liquor trade is actually largely run by corrupt princes of the Saudi royal family."
---
" 'Saudi Arabia is the biggest family business in the world,' says a veteran Western diplomat who worked in Riyadh. 'The princes run it all.' "
---

- Top -
Human Rights Abuses During the Second Chechen War (Since Late 1999)

By ANNA POLITKOVSKAYA
A journalist working for the Moscow newspaper Novaya Gazeta and author of the new book A Dirty War.

Maclean's, Jan. 14, 2002

"In the first Chechen war [1994-1996], national and foreign journalists were writing about these issues. With the second war, the opposite has occurred. The foreign press aren't allowed in and most Russian media support the official government point of view. They are afraid to report anything else for fear of the future of their newspapers."
---
"The government threatens to close Novaya Gazeta all the time. My life has been threatened and I've been kidnapped, and physically abused. The government accuses me of lying. But I am happy when it does. I tell the government to start legal procedures against me - then the courts will have to decide what is the truth. The government doesn't want that to happen, so it backs off."
---
"The worst that can happen to Chechnya has already happened."
---
"What has happened with Afghanistan is what is happening in Chechnya. Bombing the whole region without any thought to the people who live there is a strange way of trying to catch terrorists. Two-and-a-half years since the beginning of the war, the terrorists leaders are still free."
---
"Of course Russia's support of U.S. intervention in Afghanistan is to bolster support of its own war in Chechnya. It is one way President Vladimir Putin can avoid foreign criticism for the things happening there."
---
"Chechens want the war stopped. They are similar to Afghans: the civilian population is against the fundamentalists."
---

- Top -
Musharraf's Landmark Speech Decrying the Use of Terrorism for the Kashmiri Cause

EDITORIAL

The Hindu, Jan. 14, 2002

"The political courage exuded by the Pakistan President, Pervez Musharraf, in addressing India's concerns raises the visions of a truly promising turn in the crisis-ridden bilateral relationship."
---
"[G]iven the overall peace-evocative thrust of Gen. Musharraf's speech, India will be well advised to reciprocate his gesture by ordering an immediate de-escalation of the military mobilisation near the border with Pakistan. For India, a diplomatic re-engagement with Pakistan ought to be a meaningful priority of the highest order in this unusually positive situation of near-epochal importance."
---
"Of far-reaching scope in this context are the reforms that he has announced so as to rescue the Pakistani society from the practitioners of a false theology of terrorism itself. A stable and modernising Pakistan will be in India's best interests as well. Gen. Musharraf's efforts towards this end are, therefore, as important as a brave new vision of peace that India and Pakistan might be able to project."
---

- Top -
Build-up of Troops on Both Sides of the 1,800 Mile Indo-Pak Border

By JOSHUA HAMMER

Newsweek, Jan. 14, 2002

"Taking a cue from George W. Bush's uncompromising war on terror, New Delhi is demanding that the Pakistani president, Gen. Pervez Musharraf, cease once and for all his nation's support for 'cross-border terror' groups that have helped Pakistan wage a fight over the disputed province of Kashmir against its much larger neighbor."
---
" 'This is just like the Israelis upping the ante,' says Shireen Mazari, director general of the Institute for Strategic Studies in Islamabad, 'The [Indians] want to change the parameters of the Kashmir issue.' "
---
"The Bush administration fears India will overplay its hand by continuing to make public demands that it knows will be rejected. 'We have to hope the Indians don't respond in a ham-handed manner. They can be ham-handed,' says a senior U.S. official."
---
"[W]hen Vajpayee demanded that Pakistan hand over 20 alleged terrorists, Musharraf refused, insisting that they would be prosecuted in Pakistani courts."
---
"India charged that Lashkar-e-Taiba threatened, in an e-mail to the country's interior minister, to blow up the Taj Mahal."
---
"In 1989 secular Kashmiri groups launched a violent independence struggle. Pakistan later backed them, hoping to exploit the movement to achieve its own goal of controlling Kashmir. Indeed, the anti-India 'jihad' for Kashmir has been the greatest unifying force in Pakistani politics in recent years."
---

- Top -
Musharraf's Landmark Speech Decrying the Use of Terrorism for the Kashmiri Cause

EDITORIAL

The Times of India, Jan. 14, 2002

"The speech is a milestone in that it marks the first major U-turn since Zia-ul-Haq, and contains the blueprint for a modern, vibrant and confident Pakistan."
---
"For the first time, the general did not equate terrorism with freedom struggle."
---
"For the first time too he acknowledged that Kashmir cannot be the basis for terrorism."
---
"If Kashmir is what he wants to talk about, let us talk Kashmir, instead of whining about it not being a core issue. As for international intervention, it is already a reality."
---

- Top -
Denial of P.o.W. Status to the Afghan Detainees Being Held by the U.S. at Guantanamo Bay, Cuba

By JONATHAN TURLEY
A professor of law at George Washington University.

The Los Angeles Times, Jan. 14, 2002

"Despite international objections, the U.S. has refused to establish the status of these prisoners. The most obvious status is that of prisoners of war, given the administration's insistence that this is a 'war' even without a formal declaration of war from Congress. The administration, however, is reluctant to declare the prisoners to be PoWs, which would trigger international rules, including the Geneva Convention. Most significant, the U.S. would have to release PoWs at the end of the conflict, except for those men accused of war crimes."
---
"The argument used to deny these prisoners the formal status of PoWs is as compelling as an 'Osama unplugged' diatribe. According to the rules of war, a captive is not a prisoner of war unless he meets certain criteria, including wearing a uniform and insignia. Various experts have argued that the Taliban and Al Qaeda prisoners were not wearing uniforms and therefore are not entitled to be considered PoWs. Obviously, many of the international rules have been written by Western military powers, who would not be caught dead in a war without all of the trappings of rank."
---
"Yet many wars are fought by armies that are both impoverished and improvised. Many of our allies in the Northern Alliance were dressed the same as these prisoners and included many Taliban fighters who simply switched sides without changing into something more presentable. Other under-dressed warriors in Afghanistan include American operatives. We would not tolerate arguments that our fighters and allies were not soldiers entitled to international protections if taken prisoner."
---
"For now, the administration has chosen to call its prisoners 'detainees' and created a special military tribunal to try and punish them outside of our legal system. Certainly, these prisoners must be held until their identities and possible war crimes are established. Yet, most of them are obviously not leaders but rank-and-file soldiers. They are fanatics but they were captured in classic combatant roles. We will need to resolve not just their status but our right to hold them in the coming weeks."
---
"[W]e, as citizens, have a right to dictate the conditions for any punishment that is carried out in our name. We have failed if Camp X-Ray merely proves that when it comes to inconvenient prisoners, 'out of sight is out of mind.' "
---

- Top -
Musharraf's Landmark Speech Decrying the Use of Terrorism for the Kashmiri Cause

EDITORIAL

Dawn, Jan. 14, 2002

"President Musharraf has finally taken decisions that most people inside and outside Pakistan thought had long been overdue. Even though both friends and foes had expected him to act with firmness to check lawlessness in Pakistan under religious cover, even his most ardent admirers had not expected him to act so swiftly and decisively."
---

- Top -
Musharraf's Landmark Speech Decrying the Use of Terrorism for the Kashmiri Cause

EDITORIAL

The Hindustan Times, Jan. 14, 2002

"The old doubts have remained even after Pervez Musharraf's latest exercise in semantics. The basis of suspicion is the simple fact that the general has not changed his tune on his own. He has been forced to do so. Evidently, anyone who has been compelled to take a step cannot but be half-hearted about it."
---
"It has taken not a genuine change of heart but intense diplomatic pressure from the U.S. and the international community for General Musharraf now to pose as a wronged innocent. But even after all the humiliating U-turns, he is still trying to retain what he can of the debris of his Kashmir policy. He cannot repeat Kargil, of course, which was his personal foray into adventurism."
---
"[S]everal months have to pass before India can feel assured that General Musharraf is true to his words."
---

- Top -
V.H.P. Leader Acharya Giriraj Kishore Suggests Dara Singh Should Contest Elections

EDITORIAL

The Hindustan Times, Jan. 14, 2002

"The suggestion is a travesty of good sense, of the spirit of democracy, of every canon of cleaning up public life, and of any idea of justice or ethics. Dara Singh's [accused of the murder of christian evangelist Graham staines] foremost qualification is that he had evaded arrest for a long time presumably with the help of people in the saffron camp, till the long arm of the law caught up with him."
---
"Not content with falsely comparing Dara Singh and Phoolan Devi, Acharya Kishore seeks to buttress his outlandish argument by suggesting that there can be no bar on Dara Singh appearing as an election candidate since so many crooks were already legislators! How extraordinary that a man who can offer arguments such as these, especially at a time when the country is so exercised about ejecting criminals from public life, should be a hot shot in an organisation that purports to spread the light of Hinduism in the world."
---

- Top -
Irony of Simultaneous Internal and External Threats to the Taj Mahal

EDITORIAL

The Hindustan Times, Jan. 14, 2002

"The [Lashkar-e-Tayyeba] has allegedly threatened to blow up the Taj Mahal since it is one of the most visible symbols of India."
---
"On Oct. 14, B.J.Y.M. [Bharatiya Janata Yuva Morcha] activists (the youthful brigade of the Sangh parivar) had stormed India's best-known landmark shouting slogans that seemed to be directed against the same monument. Except that during that incident, the Taj was no longer a symbol of India but a 'Muslim' monument."
---
"After all, there is a stalwart in the Hindutva camp, P.N. Oak, who has long argued that the Taj is actually a Hindu temple."
---
"It is not paranoia alone that makes many believe that the Taj is perhaps more in danger from anti-Muslim elements in India than from anti-Indians across the border. Polls in UP, one must remember, will not only be about governance and development. Scribbling 'Jai Sri Ram' [Long Live Lord Ram] on the Taj walls and splashing about in a tank within the compound may not amount to a terrorist threat. But with a very long political leash around their necks, Hindu fanatics are capable of doing what Pakistani fanatics can only dream about."
---

- Top -
U.S.-Russia Nuclear Arms Reduction

EDITORIAL

The Globe and Mail, Jan. 14, 2002

"President George W. Bush announced the historic cuts last year, after a summit meeting in Texas with President Vladimir Putin . . . reducing roughly 6,000 warheads to 2,000 or so . . . and Moscow swiftly reciprocated by pledging cuts of roughly the same proportions."
---
"[A]ssistant U.S. secretary of defence J.D. Crouch at a Pentagon briefing last Thursday [confirmed] that an unspecified number of the 4,000 warheads would be mothballed (presumably in secret locations) rather than destroyed."
---
"Considering the stakes in the Bush administration's deceitful posturing, it was remarkable how little media attention last week's Pentagon announcement drew."
---
"The logistical hazards of placing warheads in storage - a tempting target for terrorists - may be the least of the problem. By pursuing arms cuts that are essentially a façade, Washington is bolstering hawkish military strategists in Russia keen to retain the largest possible nuclear deterrent, and seriously undermining global security."
---
"[B]ehind all the rhetoric about peace and security, the world's only superpower still regards nuclear weapons as a cornerstone of its national security, even as it abandons the 1972 Anti-Ballistic Missile Treaty on grounds the treaty is obsolete."
---

- Top -
Future of U.S.-Led Antiterror War

By JOHN IBBITSON
Queen's Park columnist for The Globe and Mail and author of Promised Land: Inside the Mike Harris Revolution.

The Globe and Mail, Jan. 14, 2002

"Any move on Iraq would anger Muslims everywhere and alienate America's closest allies, including Canada. An attack on North Korea would send China ballistic, perhaps literally."
---
"As analysts such as Robert Kaplan and Thomas Homer-Dixon have observed, the very concept of the nation-state is disintegrating in portions of the Third World. Desperate people - their country's natural resources depleted, their water and soil tainted - struggle against each other for whatever pickings are left. National governments, themselves vulnerable to coups and civil wars, often control only their own capitals and one or two larger towns, if that. In the midst of such anarchy, terrorism, both homegrown and imported, thrives."
---
"The Indonesian government, while more cohesive, is a classic example of a dysfunctional regime that, having failed to win the respect and trust of its peoples, battles with insurgents in remote regions."
---
"If America truly intends to seek out terrorist enclaves within Third World dysfunctional states, then it must take on the challenge of making those states functional, of providing financial and political guidance to improve their governance and quality of life. And that would require a level of intervention, and risk, beyond anything Mr. Bush has publicly contemplated."
---
"While the hysterics will scream 'neocolonialism,' such intervention would be truly blessed."
---

- Top -
Musharraf's Landmark Speech Decrying the Use of Terrorism for the Kashmiri Cause

EDITORIAL

The Indian Express, Jan. 14, 2002

"Despite the conspicuous absence of any reference to 'freedom fighters,' Musharraf has given few instances of the concrete action his regime would undertake to stop cross-border terrorism. Long after they rechristened themselves, he has banned Lashkar-e-Toiba and Jaish-e-Mohammed, a few more from among their ranks have been rounded up. Other than that, there is little evidence yet to suggest that a dip in terrorist violence is imminent. Musharraf still speaks of 'moral, diplomatic and political support' to Kashmir, Pakistan's traditional euphemism for material support to Kashmiri terrorists. He still demands evidence to implicate the much implicated criminals India wants brought to justice. And he still calls for third-party mediation, something he himself deemed unnecessary after the Agra summit. That's a pity. He has worked up a certain momentum towards a bilateral thaw, it is his responsibility to undertake action now to prove his sincerity."
---
"Still, Musharraf's words could mark a bold, new beginning. The range and depth of socio-political changes he envisages for Pakistan - the end of the Kalashnikov culture, the depoliticisation of the mosques, the abandonment of dreams of a theocratic state - are noble. Questions remain whether can he carry through these changes by military edict alone."
---

- Top -
Use of Nuclear Weapons by India

EDITORIAL

The Indian Express, Jan. 14, 2002

"Responding to the fairly loose chatter about nuclear war that followed Army Chief S. Padmanabhan's interaction with the media on Friday, [India's Defence Minister] George Fernandes, after he had reiterated that the country's nuclear doctrine is very categoric that India shall not be the first to use nuclear weapons, observed that their deployment 'is far too serious a matter that it should be bandied about in a cavalier manner.' "
---
"[A]s the former navy chief, Sushil Kumar, explained in a recent interview to this newspaper, nuclear weapons are not meant to be used, especially when both the nuclear powers are neighbours. Nukes are not weapons of war and exist essentially to deter the enemy from contemplating a nuclear strike."
---
"U.S.-based Indian physicist M.V. Ramana's study [Dec. issue of Scientific American] on what would happen if either Mumbai or Karachi were to be hit by a 15-kiloton nuclear weapon, such as the one that had flattened out Hiroshima so many decades ago [states that] between 150,000 and 800,000 people in each city would die quickly from the blast, burns and radiation, with thousands of others dying over the days or even years that follow . . . given the missile flight time of three to five minutes between the two countries, early warning systems will be completely ineffectual."
---

- Top -
United Nations Security Council Resolution 1373

By PAUL CELLUCCI
The U.S. ambassador to Canada.

The National Post, Jan. 14, 2002

"United Nations Security Council Resolution 1373, passed on Sep. 28, requires all nations to adopt and implement wide-ranging anti-terrorism measures, especially those suppressing financing to terrorist groups and improving international co-operation hindering the free movement of terrorist operatives."
---

- Top -
Chinese Prime Minister Chu Jung-chi Zhu Rongji's Upcoming Visit to India

By V.V. PARANJPE
A former ambassador.

The Hindustan Times, Jan. 14, 2002

"Chu Jung-chi is known for his great ability and skill in the management of the Chinese economy through the difficult period of economic reforms."
---
"Five decades ago, when both our countries 'stood up,' India was more advanced compared to China, politically and industrially. India had a better industrial base, a better transport system, including railways and roads, and politically, Gandhi and Nehru had given India a high status in international affairs. China was then an isolated and emerging power with its society and economy badly disrupted by foreign occupation and war."
---
"China has risen from the ashes like a phoenix, and has become a tower of strength - politically, economically and militarily. Two Chinese leaders contributed to it: Mao and Teng. Mao made China strong. Teng made China rich."
---
"Indians have been commonly led to believe (wrongly) that India was wronged by China by making territorial claims on India and refusing to negotiate a proper settlement. The facts are that China was keen on a negotiated settlement of the border through some kind of a compromise. There did not exist any border treaty between India and China. India unilaterally tried to impose a British idea of the northern boundary line (which they themselves were wary of pressing on the Chinese) which no country would reasonably be expected to accept. When the border trouble arose, we merely sent strong notes to the Chinese but did not send any officer to discuss and settle the issue. It was China which was greatly concerned over the border skirmishes and sent to India not an officer, not a minister, but the prime minister himself to discuss the issue at the very top level and settle it."
---
"Nehru unfortunately rebuffed China's well-meaning effort because he was ill-advised, ill-informed and made miscalculations. India continued its vituperous verbal attacks against China even after Chou's return to Peking and brought on itself the 1962 attack for which India was not at all prepared. Even then the Chinese army did not cross the McMahon Line (which we claimed) and the Chinese armies were pulled back to the north of it."
---
"In 1964 and 1972, Chou and Mao themselves tried to plead with India for friendly relations. India remained unresponsive and relations were frozen."
---
"Teng Hsiao-ping succeeded Mao in 1977. During Atal Bihari Vajpayee's visit to Peking in 1979, he again tried to suggest a compromise solution of the border, but a badly-advised Vajpayee refused to even hear it."
---
"China's tilt towards Pakistan was largely because India had remained unresponsive, unfriendly and cold. The border question and Sino-Pak relations were both a result of India's mishandled foreign policy."
---
"We seem to be more poetic than political and enjoy deluding ourselves in the fog of outdated ideas and encrusted policies. We seem to be putting all our eggs in the American basket and forgetting other countries which are closer and more meaningful for us. China has built close relations with America economically, but remains politically independent."
---

- Top -
India's Decision to Plant Landmines on the Indo-Pak Border

EDITORIAL

The National Post, Jan. 14, 2002

"India has . . . reportedly made plans to lay millions of mines along the 3,000-kilometre border. This last suggestion has provoked horror among land mine opponents. Sue Wixley, the London-based spokeswoman for the International Campaign to Ban Landmines, is, in her words, 'horrified.' "
---
"Every year, tens of thousands of innocent civilians are killed and maimed by mines left over from forgotten and shifting conflicts. Yet it still requires a strangely skewed perspective to be upset by the laying of mines, for if there is a full-scale military conflict between India and Pakistan, many tens of thousands, perhaps even hundreds of thousands, would be killed. One of the ways in which such a conflict might be averted is the laying of a stout defence that would deter attack. Whatever else may be said about land mines, they are static, and therefore defensive, weapons. Their role is to discourage attack, so their deployment arguably reduces the chance of war. Certainly, they have helped keep the peace on the Korean peninsula, where a small U.S. force protected by a thick band of land mines has managed to protect South Korea from North Korean attack. Land mines are like getting old - unpleasant, but better than the alternative."
---
"In 1997, more than 100 countries signed the Ottawa Treaty, which declared land mines illegal. Like so many multilateral treaties signed during the world's holiday from reality between the fall of Soviet communism and last Sep.'s emergence of Islamist terrorism as the new global menace, the Ottawa Treaty is a facile piece of work; Canada and other signatories - the list does not include the United States, India and Pakistan - have no dangerous borders to defend."
---
"There is a moral but probably hopeless argument for banning land mines where borders shift frequently, and today's no man's land may be tomorrow's football field. But land mines still have a place in guarding well-demarcated borders between mutually hostile nations. The greatest risk of humanitarian catastrophe in South Asia lies not in the deployment of mines but in the spectre of the all-out war that land mines discourage."
---

- Top -
Israeli-Palestinain Impasse

By NEILL LOCHERY
Director of the Centre for Israeli Studies at University College in London.

The National Post, Jan. 14, 2002

"There are two schools of thought about Yasser Arafat's involvement in the Karine-A affair. The first is that it was a straightforward gunrunning effort by Mr. Arafat to help prepare the Palestinian Authority for a forthcoming military confrontation with Israel, as Charles Krauthammer argued on these pages Saturday. The second is that it was an attempt by Mr. Arafat to manufacture a near replica of the 1948 Altelena ship episode in Israel. At that time, the provisional government, led by David Ben-Gurion, ordered the ship to be scuppered off the coast of Tel Aviv because it was carrying arms for members of the rival Jewish Revisionist fighters. The story goes that Mr. Arafat was to give orders for similar action to be taken against Karine-A, claiming the arms were intended for the radical Islamic groups, thus gaining him considerable international brownie points."
---
"What is needed is an effort to strengthen the parties themselves. On the Palestinian side, the Bush administration must cast Mr. Arafat aside and seek new stronger, long-term Palestinian partners. Current U.S. indecision, however, reflects the Arabic proverb: 'Do not rejoice over him who goes, before you see him who comes.' In Israel, the United States should stop playing Ariel Sharon, the Prime Minister, off against Shimon Peres, the more dovish Foreign Minister, and instead help strengthen the broad-based government of national unity."
---
"On Thursday, Benjamin Netanyahu, the former prime minister and re-crowned king-of-the-right in Israel, launched his election campaign from the prison cell of convicted spy Jonathan Pollard (though not due until 2003, elections could be held as early as this spring). Pollard was sentenced in 1985 to life imprisonment for passing U.S. secrets to Israel. By meeting with Mr. Pollard, whose case is a major rallying call for the right, Mr. Netanyahu confirmed his intent to run in the next Israeli election with a strong right-wing platform. The former Likud leader stated he regards the PA a terrorist entity and that he would move immediately to dismantle its infrastructure."
---
"Love him or loathe him, Mr. Netanyahu has clearly taken the kind of decision the Bush administration, and international community, needs to undertake about Mr. Arafat. Those of us who prefer to see the back of Mr. Arafat hope this decision will come soon. Look to the future Palestinian leadership and move to strengthen it. This strategy will bear the greatest fruit in the long term."
---

- Top -
Musharraf's Landmark Speech Decrying the Use of Terrorism for the Kashmiri Cause

By K.C. SUDARSHAN
R.S.S. Chief.

The Hindustan Times, Jan. 14, 2002

"[Musharraf's speech] smacked of hatred [toward India]."
---

- Top -
Build-up of Troops on Both Sides of the 1,800 Mile Indo-Pak Border

By R. PRASANNAN

The Week, Jan. 13, 2002

"The fact is that in the last one and half decades, the Pakistani conventional doctrine has not been aimed at a total military victory over Indian forces. Rather, an assessment of its orbat (order of battle) reveals that it would strive to punch as many holes into the Indian line-up in the first 48 hours by which time it hopes there would be international pressure for a ceasefire. India, slower to mobilise because of its strategic depth, would have the advantage only if the war lasts longer than 48 hours. It is this advantage that Pakistani diplomats would strive to deny India."
---
"The Indian preparation this time, however, was aimed at denying Pakistan this advantage of the first 48 hours. The Indian mobilisation was not only larger than the one in 1971, but also quicker."
---
"Another military factor that put the fear of the bullet into Pakistani minds was the brisk naval movement. Apparently, Pakistan had banked on the presence of the large U.S.-led western fleet in the Arabian Sea to act as a deterrent on India. But as more Indian naval ships from the Bay of Bengal steamed into the Arabian Sea, it became clear to the Pakistani admirals that the Indian fleet could blockade their sea lines. 'Pakistan's biggest weakness against India is in the waters. They know that we can cut their oil supplies and they work with just about a fortnight's reserve,' said an Indian Navy officer."
---
"Having ruled out a no-first-use declaration unlike India, Islamabad had made it clear that it could strike first, even against a conventional attack from India."
---
"There were reports that most of Pakistan's nuclear assets were being guarded (a euphemism for 'controlled') by U.S. Marines against a possible attack from disgruntled jihadis."
---
"The Hizbul [Mujahideen], with which the home ministry had even initiated talks though aborted later, had been handled often with kid gloves earlier in a bid to isolate the rabid jihadis like Lashkar and Jaish. That the distinction was no longer valid became clear when top Hizbul commanders like Nazir Ahmed and his bodyguard fell to Indian Army bullets."
---
"[Maulana Masood Azhar's] mild demeanour belies his oratorical skills. When he was released in the swap of passengers and militants after an Indian Airlines plane was hijacked to Kandahar in 1999, he went to Karachi and in a fiery speech taunted the home minister: 'Advani, we shall wrest Kashmir away from you! Advani, you talk about demolishing 3,000 mosques, but you will not be able to demolish even three mosques. You have not seen our real people, Advani!.' "
---

- Top -
Nation Rebuilding in Afghanistan

By THOMAS L. FRIEDMAN

The New York Times, Jan. 13, 2002

" 'When some ministers come to see me they have to take a taxi,' said Lakhdar Brahimi, the senior U.N. envoy here."
---
"Maybe the Muslim world, which was so worried about Afghan civilians when America was bombing here, could send some cash."
---
"[I]f the Bush team thinks our allies are going to send peacekeeping troops here in any numbers for any length of time without U.S. leadership and participation, they're crazy. And if they think that Afghanistan is going to pull itself together without the aid of such a force . . . they're equally mistaken."
---
"The U.S. won the war in Afghanistan by remote control, with air power, pilotless drones, local tribal fighters and a few U.S. Special Forces. The Bush team now seems to hope that it can win the peace in Afghanistan by remote control as well. It's not going to happen. The Pentagon's reluctance to put troops on the ground here to go cave by cave has already resulted in the vanishing of bin Laden and most of his key aides. A reluctance to create some kind of multinational security force here could end up costing us the peace."
---

- Top -
Western Involvement in Helping to De-escalate Indo-Pak Sabre Rattling

By M.J. AKBAR

Dawn, Jan. 13, 2002

"[Tony Blair's] first message to Delhi was sent from aboard his aircraft through the traditional means when you want a denial option open for later, the media. Pakistan's view on Kashmir deserved consideration, but there could be no space permitted for the abatement of terrorism as a weapon in any dispute, irrespective of the merits of the dispute."
---
"The Agra Summit failed over one clause, a common commitment against 'cross-border terrorism' irrespective of the merits of any dispute or claim."
---
"It is now inevitable that this discussion table will have more than two sides, whether the third side is kept visible or not."
---
"Paradoxically, the power that raised the status of India and Pakistan, nuclear arms, has also made it impossible for the two of them to keep their war a bilateral matter. A nuclear confrontation cannot, by its very nature, remain a bilateral concern."
---

- Top -
Indo-Pak Relations

By AYAZ AMIR

Dawn, Jan. 13, 2002

"In seeking peace with India let us be guided by the example of Mandela. But in resisting aggression let us be guided by the spirit of Hamas."
---

- Top -
Musharraf's Landmark Speech Decrying the Use of Terrorism for the Kashmiri Cause

By JASJIT SINGH
Editorial advisor on defence and strategic affairs.

The Indian Express, Jan. 13, 2002

"General Musharraf has condemned terrorism and religious extremism in the strongest terms we have heard from a Pakistan head of state and government so far."
---
"But he contradicts himself talking about the need to discard historical baggage while insisting on U.N. resolutions which perhaps he has not fully grasped. He used strong language in terms of India's 'state terrorism' with 'occupation forces' in Kashmir. This approach is a travesty of facts and history and could hardly be conducive to a meaningful peaceful dialogue that he seeks."
---
"The reality is that Pakistan has no locus standi in Kashmir and was to have vacated the territory of the state of J-K under the U.N. Resolution that it accepted but did not implement."
---

- Top -
Gen. Musharraf's Stewardship of Pakistan

By NAJAM SETHI

The Friday Times, Jan. 13, 2002

"Fortunately, all accounts so far suggest that General Musharraf intends to keep his word and elections will be held before the year is out. What is less clear is how democratic, free and fair these will be in the prevailing circumstances and who will be allowed or banned from participating in them and how power will be shared between the army and the politicians."
---
"It is clear that General Musharraf means to sit in the driving seat. The constitution is to be amended for this purpose. We shall see a super presidential National Security Council lording it over the prime minister and his cabinet."
---

- Top -
Indo-Pak Nuclear Brinkmanship

By C. RAJA MOHAN
Strategic Affairs Editor of The Hindu.

The Hindu, Jan. 13, 2002

"Every war, or the threat of it, is an opportunity for adversarial nations to rethink the premises that govern their bilateral relations."
---
"[I]f Pakistan follows up with actions on the ground to curb terrorist activity on its soil, India must be ready to launch a serious political process that will explore an early and final solution to the Kashmir dispute."
---
"There is a deep suspicion within Pakistan that if it puts the gun - pointed at India's head - down, New Delhi will have little incentive to negotiate purposefully on Kashmir. This view does have some sympathy within the international community, despite the current pressures on Pakistan to stop cross-border terrorism."
---
"In 1987 [the large-scale 'Brass Tacks' military exercises by the Indian Army that appeared to spin out of control towards a military confrontation with Pakistan], 1990, and 1999 there was indeed international diplomatic intervention to cool the tensions between the two sides. But this time, as the prospects of a nuclear war loom large, the engagement of the international community has been one of the most intensive the subcontinent has ever seen."
---
"Pakistan's quest for strategic depth in Afghanistan has ended in an unexpected problem on two fronts. The U.S. military is operating on Pakistan's Western borders and India has mobilised a massive military force on its Eastern."
---
"If Gen. Musharraf does put the gun down, India needs to recast its own approach to Kashmir - by easing the military pressure within the State, renewing the offer of a dialogue with the indigenous militant groups who are ready to give up violence, and initiating a genuine peace process with Pakistan."
---
"The Prime Minister, Atal Behari Vajpayee, has proclaimed his desire to 'get off the beaten track' in exploring a solution to the Kashmir dispute. If Gen. Musharraf heads in the right direction, Mr. Vajpayee must make good his own words.' "
---

- Top -
Indo-Pak Impasse on Kashmir and the Reception Received by his Latest Book The Man Who Divided India

By RAFIQ ZAKARIA
Islamic scholar and former Congress M.P.

The Hindustan Times, Jan. 13, 2002

"In undivided India [Muslims] were in power in five out of the eleven provinces; being one-third of the population they were a decisive factor at the Centre."
---
"Poor Biharis, who opted for Pakistan, are still rotting in Dhaka. Their undisputed leader, Altaf Husain, has publicly declared, 'Partition was the biggest disaster in human history.' "
---
"My book has been on the bestsellers' list and the first edition has already sold out. It has had a wonderful response. Justice V.R. Krishna Iyer, one of our greatest jurists, wrote in The Hindu: 'Salutations to you Zakaria, for your extremely necessary and luminously instructive exposition of the man who divided India.' MJ Akbar, editor-in-chief, Asian Age has described it as 'superb, absolutely brilliant and thoroughly objective.' Goolam E. Vahanvati, Advocate General of Maharashtra, has said, 'It had to be said. It remained to be said for a long time. It took Dr. Rafiq Zakaria to say that Partition has been the worst thing to happen to the subcontinent . . . for Indian Muslims.' "
---
"Jinnah himself had proudly claimed that he was the sole creator of Pakistan. No other Muslim leader had ever demanded it; not even Iqbal."
---
"No other country in the world except India was divided on the basis of religion; nations came into existence after they were liberated from colonial rule. The only other exception is Israel."
---
"Kashmir is an offshoot of the same divisive 'two-nation theory'. It has nothing to do with the right of self-determination of its people. If it is tempered with, it will not only destabilise our secular republic of which it is the cornerstone, but may provoke a bloody backlash against 140 million Muslims who are more than the Muslims in Pakistan. America and the rest of the Muslim world should take serious note of it."
---

- Top -
Tamil-Sinhalese Impasse in Sri Lanka

By NIRUPAMA SUBRAMANIAN

The Hindu, Jan. 13, 2002

"Following its Dec. 5 election victory, the United National Front (U.N.F.) Government has been quick on announcements with regard to the peace process."
---
"From Tuesday, essential supplies and civilians will be permitted to move with few restrictions across the lines that separate L.T.T.E.-held areas from those under the Government in the north, thus meeting a long-standing pre-condition set by the Tigers for talks."
---
"Rapid progress though all this indicates, it may not be to the advantage of either side to begin discussing a political solution immediately or even in the foreseeable future. The Government has nothing to offer, while for the L.T.T.E., the mere fact of discussing a political solution would mean a commitment on its part to an alternative that is less than Eelam. That is a commitment the L.T.T.E. is not ready to make."
---
"In the Sri Lankan capital, the buzzword now is an 'interim solution' rather than a final settlement. The People's Alliance Government is seen as having made a strategic mistake by putting all its cards on the table, setting out its proposals for devolution in a one-shot package as the final solution to the conflict. It split the Sinhalese and once it was rejected by the L.T.T.E., there was no meeting ground between the two sides, and the only option left was to go to war. Though there are no contours yet to this proposed interim solution, Mr. Wickremesinghe talked of an 'interim administration' for northeast Sri Lanka during his election campaign. More and more influential voices are now being heard in favour of giving the L.T.T.E. a prominent role in running such an administration."
---
"An interim solution would not necessitate any final commitments by either the Government or the L.T.T.E., and could continue indefinitely, its proponents argue, especially as it would give the Tigers de facto control of the Jaffna peninsula. Opposition to this from the Sinhala majority is not expected to be unmanageable, if done before Mr. Wickremesinghe's honeymoon with the voters ends. The U.N.F. could even claim a mandate for it as large numbers voted for the party knowing this might happen."
---
"The scenario unfolding now is in keeping with Mr. Wickremesinghe's image as a politician who might be better at conflict management rather than conflict resolution."
---

- Top -
Musharraf's Landmark Speech Decrying the Use of Terrorism for the Kashmiri Cause

By PERVEZ MUSHARRAF

Outlook, Jan. 13, 2002

"In my first speech [since assuming office] on Oct. 17, 1999, I had said and I quote; 'Islam teaches tolerance, not hatred; universal brotherhood, not enmity; peace, and not violence. I have a great respect for the Ulema and expect them to come forward and present Islam in its true light. I urge them to curb elements which are exploiting religion for vested interests and bringing a bad name to our faith.' "
---
"[O]n Feb. 15, 2001, we promulgated the Anti-Weaponisation Ordinance."
---
"To my knowledge, only Maulana Abdul Sattar Edhi, God bless him, and some foreign N.G.O.s and the U.N. organisations were providing the Afghans with food and medicines. These extremists did nothing except contributing to bloodshed in Afghanistan."
---
"Sects and different schools of thought in Islam have existed since long. There is nothing wrong with intellectual differences flowing from freedom of thought as long as such differences remain confined to intellectual debates."
---
"Quaid-e-Azam declared that Pakistan belonged to followers of all religions; that every one would be treated equally. However, what to speak of other religions, Muslims have started killing each other."
---
"These schools [Madrasas or Madaris or religious schools] are excellent welfare set-ups where the poor get free board and lodge. In my opinion, no N.G.O. can match their welfare aspects. Many of the madaris are imparting excellent education. In addition to religious teachings, other subjects such as science education and computer training are also being imparted there."
---
"[T]he Prophet (Peace Be Upon Him) had told prisoners of war in the Battle of Badar that they would be set free if each of them imparted education to ten Muslims."
---
"Real change can be brought about through personal example, exemplary character and superior intellect. It can be brought about by haqooq-ul-ibad (obligation toward fellow beings)."
---
"In Islam, jehad is not confined to armed struggles only. Have we ever thought of waging jehad against illiteracy, poverty, backwardness and hunger? This is the larger jehad. Pakistan, in my opinion, needs to wage jehad against these evils."
---
"[W]e must remember that only the government of the day and not every individual can proclaim armed jehad. The extremist minority must realise that Pakistan is not responsible for waging armed jehad in the world. . . . We do not need to interfere and concern ourselves with others. There is no need to interfere in other countries."
---
"Kashmir runs in our blood. No Pakistani can afford to sever links with Kashmir. The entire Pakistan and the world knows this. We will continue to extend our moral, political and diplomatic support to Kashmiris. We will never budge an inch from our principled stand on Kashmir."
---
"The Kashmir problem needs to be resolved by dialogue and peaceful means in accordance with the wishes of the Kashmiri people and the United Nations resolutions. We have to find the solution of this dispute. No organization will be allowed to indulge in terrorism in the name of Kashmir. We condemn the terrorist acts of Sep. 11, Oct. 1 and Dec. 13. Anyone found involved in any terrorist act would be dealt with sternly. Strict action will be taken against any Pakistani individual, group or organization found involved in terrorism within or outside the country. Our behaviour must always be in accordance with international norms."
---
"[The U.S.] must play an active role in solving the Kashmir dispute for the sake of lasting peace and harmony in the region. We should be under no illusion that the legitimate demand of the people of Kashmir can ever be suppressed without their just resolution. Kashmiris also expect that you ask India to bring an end to state terrorism and human rights violations. Let human rights organizations, Amnesty International, the international media and U.N. peacekeepers be allowed to monitor activities of the Indian occupation forces."
---
"It is for the government to take a position on international issues. Individuals, organizations and political parties should restrict their activities to expression of their views."
---
"[I] announce banning of both Sipah-e-Sahaba and TJP [Tehrik-e-Jafria]. In addition to these, TNSM (Tehrik-e-Nifaz-e-Shariat Mohammadi) being responsible for misleading thousands of simple poor people into Afghanistan also stands banned. . . . The Government has also decided to put the Sunni Tehreek under observation. No organization is allowed to form Lashkar, Sipah or Jaish. The Government has banned Jaish-e-Mohammad and Lashkar-e-Taiba. Any organization or individual would face strict punitive measures if found inciting the people to violence in internal or external contexts."
---
"On madaris, a detailed policy will be issued through a new Madrasa Ordinance. . . . All madaris will be registered by Mar. 23, 2002 and no new madrasa will be opened without permission of the Government. . . . If any madrasa (religious school) is found indulging in extremism, subversion, militant activity or possessing any types of weapons, it will be closed."
---
"There is no question of handing over any Pakistani. This will never be done. If we are given evidence against those people, we will take action against them in Pakistan under our own laws. As far as non-Pakistanis are concerned, we have not given asylum to anyone. Anyone falling under this category will be proceeded against whenever one is found."
---

- Top -
Is India a Soft State in Its Response to Terrorism?

By VIR SANGHVI
Founding editor of Bombay magazine, former editor of Imprint, editor of Sunday, and anchor of several television programs.

The Hindustan Times, Jan. 13, 2002

"[W]e lack the stomach to take tough decisions in the fight against terror. More specifically, we always cave in when confronted with a hostage situation."
---
"Right from the early days of the VP Singh government when we released militants in return for the abducted Rubaiya Sayeed, our position has always been: give the terrorists what they want."
---
"The Rubaiya episode involved . . . the kidnapping of the Home Minister's daughter. It was the early days of the Kashmir militancy and many people within the government reckoned that she was in no real danger, at least partly because Mufti Mohammad Sayeed, her father, was a well-known Kashmiri politician and opinion in the Valley would have turned against any group that harmed her. Elsewhere too, public feeling was strongly against a deal."
---
"Advani suggests that it was also a mistake for the government to have given in to terrorists, 10 years later, when IC 814 was hijacked to Kandahar. The passengers on that flight were only freed after the government agreed to release three militants, among them, Maulana Masood Azhar, who promptly went to Pakistan and founded the Jaish-e-Mohammed."
---
"In any democracy, the government must always act for the greater good. Inevitably this means that there will be individuals and minorities who will lose out because their interests do not coincide with those of the majority."
---
"[N]o strong country has ever caved in as easily and as often as India. The Israelis refuse to deal with terrorists. The United States has refused to even negotiate with kidnappers when its Ambassadors have been taken hostage. The Ambassadors have subsequently been murdered by their kidnappers. But the U.S. has refused to change its policy."
---
"Till about a decade ago, such was our misunderstanding of secularism that any demand [Vande Matram, Jesus Christ Superstar, Satanic Verses, Deepa Mehta's Water, Mohabbatein, Vedic Aryans ate beef, Shivaji engaged in looting] made by noisy buffoons on the fringes of any minority community would immediately be conceded, no matter what principles had to be sacrificed or the greater good that had to be forgotten."
---
"[A] state cannot be tough on security matters if it is soft on domestic issues."
---

- Top -
Deporting Terrorists From Canada

EDITORIAL
Served as an adviser to prime ministers Nawaz Sharif and Benazir Bhutto and as Pakistan's ambassador to Sri Lanka.

The Toronto Star, Jan. 13, 2002

"The Canadian government may have the right to deport refugees it considers dangerous, but it shouldn't if they face the risk of being tortured back in their homelands. That's the gist of a subtle, and welcome, ruling by the Supreme Court last Friday."
---
"In a 9-0 decision the high court upheld Canada's current deportation law as valid, even though it 'leaves open the possibility of deportation to torture.' However, the court cautioned that such deportations can only rarely be justified. 'Canadian law and international norms reject deportation to torture,' the court found. Canada 'should generally decline to deport refugees where on evidence there is a substantial risk of torture.' To do otherwise 'would unconstitutionally violate the Charter's section 7 guarantee of life, liberty and security of the person.' "
---
"And in rare cases where national security is gravely threatened, deportation is still a lawful option, even if it puts the deportee at risk. The courts must adopt a 'deferential approach' to the government's view in such cases, the justices found. Canada may be saddled with a few more undesirables as a result of the Suresh ruling. But those who threaten our security can be jailed under tough new anti-terror laws. That should be protection enough. A society that feels compelled to 'defend' itself by routinely turning problems over to torturers, needs to ask what it is defending."
---

- Top -
L.T.T.E.'s Request for a Temporary Base in Chennai to Hold Peace Talks

EDITORIAL

The Indian Express, Jan. 12, 2002

"The militant organisation is so self-righteous that it overlooks the fact that it is the prime accused in the case pertaining to the assassination of former Prime Minister Rajiv Gandhi."
---
"Besides, its chief, Veluppillai Pirabakaran, is a 'proclaimed offender' and is wanted by the Indian police. It is also in the dock for many terrorist strikes in India and for inflicting heavy damages on the Indian Army while it was on a peacekeeping mission in Sri Lanka in the eighties."
---
"The L.T.T.E.'s [Liberation Tigers of Tamil Eelam] ideologue and interlocutor, London-based Anton Balasingham's chronic illness is the proximate cause of the strange request."
---
"Tamil Nadu Chief Minister O. Panneerselvam is worried that if the L.T.T.E. is allowed a foothold in the state, it will lead to situations which are out of the state's control and which have a bearing on national security. Given the fact that there are some political parties which are sympathetic to the L.T.T.E. cause, it will not be difficult for it to exploit the language links between the people of Tamil Nadu and the ethnic minority in Sri Lanka to subserve its own vested interests."
---
"That it still resorts to terrorist methods is borne out by its recent attack on the Colombo international airport in which 12 military and civilian aircraft were destroyed."
---
"[I]t was with great difficulty and at great cost that the L.T.T.E.'s presence in Tamil Nadu was ended. Let it not stage a comeback under the garb of the peace process."
---

- Top -
Vajpayee's Drivel

By ATAL BEHARI VAJPAYEE
Quoted by Khushwant Singh who was "appalled" at the "drivel."

The Tribune, Jan. 12, 2002

"Goriya, Manali mat jaiyyo / Jaiyo to trishul lay kay jaiyo / Manali mein milengey Khalistani."
---

- Top -
U.S. President George W. Bush's Use of Slur to Refer to Pakistanis

By HEATHER MALLICK

The Globe and Mail, Jan. 12, 2002

"This is an entirely different level of 'mangleton' than his previous gaffes, like referring to the 'Grecians' or the 'Kosovians.' "
---
"I look at his face and see millions of Americans who have just been told it's all right to use the word 'Paki' as long as you mean well."
---
"It's shameful to be a racist, and it's hideous to be a victim of racism. But there's one person whose feelings are rarely considered: The person who witnesses racial cruelty. A horrible hot wash of shame started at my head and ran down my body. I felt dizzy."
---
"[P]eople who refer to 'ugly Jews' or 'Pakis' are hateful. I detach from you, I really do."
---

- Top -
Deporting Terrorists From Canada

EDITORIAL

The Globe and Mail, Jan. 12, 2002

"Does it shock the Canadian conscience to deport a suspected terrorist to face torture? That was the difficult question addressed yesterday by the Supreme Court of Canada. Two men, one a trained assassin from Iran and the other a fundraiser for the Tamil Tigers in Sri Lanka, had claimed they would probably be tortured if returned to their homelands."
---
"It is . . . more critical than ever that the ideals in the 1982 Charter of Rights and Freedoms be weighed against the need for self-protection, suspicion and a hard-eyed determination to combat terrorism."
---
"Only last year, the same court said unanimously that extraditing a murder suspect to face the death penalty most definitely does shock the conscience, in all but exceptional cases."
---
"[The court] again held, unanimously, that only in 'exceptional circumstances' should people be deported where there is substantial risk of torture. But it wisely left the Immigration Minister broad discretion to define those circumstances."
---
"Manickavasagam Suresh, the Tamil Tiger, is not directly implicated in violent acts."
---
"In the case of Mansour Ahani, an Iranian assassin trained to jump from a moving vehicle and shoot a foe in the head or heart, the court said the onus was on him to show he would be tortured - and his evidence was flimsy."
---

- Top -
Deporting Terrorists From Canada

EDITORIAL

The National Post, Jan. 12, 2002

"The main proposition embraced by the Supreme Court of Canada in the case of Suresh v. Canada - that the government's obligation to protect refugees from inhumane treatment abroad limits its mandate to protect Canadians from terrorism - is not unreasonable."
---
"The nine justices unanimously ruled the federal Minister of Immigration possesses the constitutional authority to deport suspected terrorists, even if the terrorist in question faces possible torture in his homeland. Yet the justices repeated the trick they pulled in Burns [U.S. v. Burns]: They circumscribed the government's authority so thoroughly that the power to expel criminals was made to exist in theory, only. In practice, the justices said, principles of domestic and international law present a 'virtually categoric' prohibition against deporting anyone who might be tortured at the other end of his flight. 'Barring extraordinary circumstances,' they wrote, 'the Minister should generally decline to deport refugees where . . . there is a substantial risk of torture.' "
---
"Since there is credible anecdotal evidence that agents of that country's [Sri Lanka's] government have used torture against Tamil Tiger captives, he will likely prevail in his argument and be permitted to remain in Canada."
---
"[T]he funds Mr. Suresh helped raise for the Tigers and may raise in the future have fuelled a terrorist war that has killed 40,000 civilians."
---
"[I]t is inevitable that torture may sometimes occur in nations whose commitment to human rights has been understandably vitiated by regular encounters with suicide bombers."
---

- Top -
Speculating on the Contents of Gen. Pervez Musharraf's Upcoming Address to the Nation

By SHEKHAR GUPTA

The Indian Express, Jan. 12, 2002

"Musharraf loves his job, his voice, the camera and, above all, he believes he has all the answers. Even at the breakfast meeting at Agra he made interesting points that marked a departure from the ossified Pakistani position on Kashmir ('there can be many solutions,' 'let us rule out solutions that national consensus in the two countries won't accept'), though they were unfortunately lost in the din of his bluster over the 'freedom struggle' in Kashmir."
---
"[H]e has the ability to go beyond the old policy formulations that are not merely etched but calligraphed in stone."
---
"Unless he has lost too much of that control and cockiness that are his hallmark, the general is likely to say a few interesting things again. He could talk of how terrorism has actually harmed the cause of the 'freedom struggle' in Kashmir and given Pakistan a bad name."
---
"For a man who has tempted fate often, and successfully so far, this will be a risk worth taking. He was lucky on Oct. 9, 1999, when his plane landed at Karachi instead of Hyderabad (Sind), where Nawaz Sharif would have promptly arrested him. He took a genuine risk in dumping the Taliban and got away with it."
---
"That it still resorts to terrorist methods is borne out by its recent attack on the Colombo international airport in which 12 military and civilian aircraft were destroyed."
---
"[I]t was with great difficulty and at great cost that the L.T.T.E.'s presence in Tamil Nadu was ended. Let it not stage a comeback under the garb of the peace process."
---

- Top -
P.L.O. Chairman Yasser Arafat

By ION MIHAI PACEPA
Highest ranking intelligence officer ever to have defected from the former Soviet bloc and author of Red Horizons (1987), a memoir.

The Wall Street Journal, Jan. 12, 2002

"Yasser Arafat remains the same bloody terrorist I knew so well during my years at the top of Romania's foreign intelligence service."
---
"Arafat has made a political career by pretending that he has not been involved in his own terrorist acts. But evidence against him grows by the day."
---

- Top -
Romila Thapar

By KHUSHWANT SINGH
Served as an adviser to prime ministers Nawaz Sharif and Benazir Bhutto and as Pakistan's ambassador to Sri Lanka.

The Hindustan Times, Jan. 12, 2002

"[Romila Thapar] is the only Indian historian contributor to the Encyclopaedia Britannica, rightly regarded as the most authentic bank of knowledge on any subject."
---

- Top -
Dangers Posed by North Korea

By NICHOLAS D. KRISTOF
Winner, jointly with wife Sheryl WuDunn, of the 1990 Pulitzer Prize for international reporting for their coverage for The New York Times of the Tiananmen Square democracy movement in China and its bloody supression.

The New York Times, Jan. 11, 2002

"[North Korea] is not only the wackiest country around (a few years ago, it appointed its dead dictator as its perpetual president) but also potentially the most threatening. North Korea has the globe's third-largest army, 5,000 tons of sarin nerve gas and (the spooks believe) a secret reserve of the smallpox virus."
---
"[North Korea's leader,] Kim Jong Il, planned and oversaw kidnappings of foreigners and a 1987 airplane bombing that killed 115 people. North Korea finances its budget partly by peddling drugs, selling weapons to terrorists in places like the Philippines, and counterfeiting American $100 bills."
---
"For decades our policy toward the North has been similar to our policy toward Cuba - with equally unhappy results: propping up a nationalistic dictator by giving him a foreign scapegoat for his own failed economic policies."
---
"To muddy the picture, the Bush administration's hard-liners need the threat of North Korean missiles to sell their beloved missile shield."
---
"In dealing with North Korea, we can learn something from the South Korean president and Nobel Peace Prize laureate, Kim Dae Jung."
---
"It is a wretched country at a potential turning point, just as China was at the time of the Nixon visit in 1972."
---

- Top -
Pursuing Osama bin Laden

By REUEL MARC GERECHT
A resident fellow at The American Enterprise Institute and a correspondent for The Atlantic Monthly.

The New York Times, Jan. 11, 2002

"[W]e [The U.S.-led antiterror coalition] must not temper our resolve to get [Osama bin Laden] with the usual concern about the sovereignty of any foreign state where he may be."
---
"[I]t is by no means clear that daring terrorist operations - the embassy bombings in Africa, the attack against the American destroyer Cole in Yemen, and Sep. 11 - were Afghanistan-dependent in their essentials."
---

- Top -
Zimbabwean President Robert Mugabe's Increasing Despotism

EDITORIAL

The Globe and Mail, Jan. 11, 2002

"Defying the country's constitution, Mr. Mugabe's ruling ZANU-PF party rammed through emergency state legislation whose transparent purpose, ahead of the national elections in Mar., is to bolster the party's sagging fortunes by stifling dissent wherever it surfaces."
---
"Police have been granted sweeping powers to search and imprison opposition activists for such sins as the act of criticizing Mr. Mugabe."
---
"Independent election monitors, along with most foreign media, will be barred from observing the Mar. 9-10 vote. All Zimbabwean voters living abroad have been disenfranchised and only a government-appointed commission will be allowed to conduct voter-education programs."
---
"After yesterday's vote, members of the opposition Movement for Democratic Change (MDC) knelt on the floor of Zimbabwe's Parliament and prayed."
---
"As for the military, its staunchly pro-Mugabe leadership warned sternly on Wednesday that it would not 'tolerate' an opposition victory in the election. But this is par for the course. The erosion of human rights in Zimbabwe has been gathering momentum for more than two years, particularly the violent displacement of the country's fast-shrinking minority of white farmers."
---
"Despite the intimidating climate, it is not impossible that the MDC and its brave leader Morgan Tsvangirai - recently branded 'a traitor' by Mr. Mugabe - will win the election. Large numbers of Zimbabwe's 12 million people are heartily sick of their tinpot dictator, who has brought the country's economy to its knees, killed and tortured his opponents and presided over an HIV-AIDS crisis afflicting an incredible one in four adults."
---
"Zimbabwe needs to be told that barring the immediate restoration of core political freedoms, it will be suspended from the Commonwealth. This would be a drastic step taken only twice before (South Africa and Nigeria were both ejected)."
---

- Top -
The Kashmir Impasse

By STEPHEN PHILIP COHEN
A senior fellow at the Brookings Institution.

The Los Angeles Times, Jan. 11, 2002

"[India and Pakistan] are obsessed with a regional blame game, each holding the other accountable for past, present and future bad deeds and each refusing to accept responsibility for its own misguided policies."
---
"[I]f President Pervez Musharraf were to abandon Pakistan's claim on Kashmir, he quickly would be overthrown."
---
"Pakistanis do not want to become 'West Bangladesh,' a militarily weak state subordinate to a hegemonic India."
---
"New Delhi has misgoverned Kashmir for more than 40 years, which led to a massive popular uprising in the 1980s. Further, some Indian politicians now talk of finishing Pakistan off once and for all--despite the risk of nuclear war--on the grounds that Pakistan is a 'theocracy' and that Islamic Pakistan is bent on undercutting secular India."
---
"[P]revious India-Pakistan wars have been the result of gross miscalculation of political and military balances and that such a miscalculation this time could lead to a nuclear exchange."
---
"No U.S. administration has addressed the broader India-Pakistan problem, including Kashmir, since John F. Kennedy tried to broker a dialogue in 1962-63."
---

- Top -
Iraq

EDITORIAL

The Los Angeles Times, Jan. 10, 2002

"Many members of the coalition that Washington successfully assembled for the fight against Afghanistan have warned they will not sign on for an attack on Iraq."
---
"Congress allocated $97 million to the Iraqi National Congress under the 1998 Iraqi Liberation Act, but the group has failed to use most of the money because of management problems; it has failed to send trainees to the Pentagon for months."
---

- Top -
Blowback

EDITORIAL

The Sacramento Bee, Jan. 10, 2002

"In providing money and arms to Afghans fighting the Soviet occupiers of their country during the 1980s, the United States inadvertently helped to create a terrorist movement that ferociously attacked America last Sep. Intelligence professionals call this 'blowback.' Now, with President Bush's vow to attack both terrorists and anyone who supports them, a new, more subtle form of blowback is unfolding."
---
"A growing number of countries are using the president's litmus test as justification for branding adversaries - other countries, extremist groups, even domestic political opponents - as terrorists, and treating them accordingly. In some cases, their actions are arguably defensible; in others, they amount to blatant opportunism dressed up as fighting terrorism."
---
"Examples of blowback abound: the increasingly harsh line being taken by Israel against the Palestinian Authority; India's determination to force Pakistan to make all the concessions to end their dangerous confrontation over Kashmir; Russia's prosecution of its war against rebellious Chechnya in a manner that human rights groups say is as brutal as ever. In each case, U.S. policy has accommodated itself to actions it previously objected to."
---
"[A]lthough the U.S. stance in the India-Pakistan standoff appears to be an exception - in this case Washington is leaning hardest on Pakistan, a key ally in the antiterrorist war - its acquiescence in India's attempt to deflect criticism of its policy on Kashmir by painting itself as a terror victim fits the pattern."
---
"Zimbabwe's President Robert Mugabe, facing a re-election challenge, has branded as terrorists virtually everyone opposing his regime's sometimes murderous land confiscation policies - political rivals, foreign governments, both domestic and foreign journalists. Similar steps have been taken in Cuba, Uzbekistan, Guatemala and Syria, the common thread being to redefine a range of offenses as terrorism and to impose harsher penalties against those whose only real offense may be to oppose harsh laws already in place."
---

- Top -
Robert Vadra Says His Father and Brother Aren't Authorized to Promise Jobs on His Behalf

EDITORIAL
Robert Vadra is Priyanka Gandhi's husband.

The Indian Express, Jan. 10, 2002

"This country has rightly prided itself on its democratic credentials. Ironically, however, the almost feudal, family-centric system of power sharing has remained largely intact. The Nehru-Gandhi family - often referred to as The Dynasty - has itself been a recipient of such a charge."
---
"Imagine then, just for a moment, how different Indian politics would have been had Indira Gandhi summoned the resolve to issue a public notice disassociating herself from the agenda of her impetuous son, Sanjay Gandhi, who had rendered the wielding of extra-constitutional authority into a fine art. Or, to take some notable contemporary examples, would not the people of Punjab have been grateful if their chief minister had not so assiduously promoted his son but allowed the democratic impulse within his party to throw up alternative leaders? Would Tamil Nadu politics have been different if Jayalalithaa had not succumbed to the temptation of celebrating her foster son's marriage in that outrageously extravagant fashion or if Karunanidhi had desisted from promoting Stalin in the unequivocal fashion he did?"
---

- Top -
Iran's Evil Intentions

By WILLIAM SAFIRE

The New York Times, Jan. 10, 2002

"Iran's Hashemi Rafsanjani reminded us recently of the glorious day 'when the Islamic world acquires atomic weapons.' He acknowledged that in a nuclear exchange the nations of Islam would suffer damage, but only one great nuclear blast 'would destroy Israel completely.' "
---

- Top -
Zimbabwean President's Increasingly Autocratic Handling of Responsibilities

EDITORIAL
Served as an adviser to prime ministers Nawaz Sharif and Benazir Bhutto and as Pakistan's ambassador to Sri Lanka.

The Toronto Star, Jan. 10, 2002

"Comrade Robert Mugabe is making himself Zimbabwe's dictator, in order to remain its president. That's the thrust of sweeping powers parliament has been ordered to give him before the Mar. 9-10 presidential election."
---
"His Orwellian Access to Information act ensures a tame press by banning foreign journalists and allowing Zimbabwean journalists to work only if Mugabe's hand-picked officials agree."
---
"Yesterday defence chief Vitalis Zvinavashe announced that he'll support only those who 'pursue Zimbabwean values, traditions and beliefs.' That was taken as a naked endorsement of Mugabe, who has just doubled the army's wages."
---
"Mugabe's party narrowly won the last parliamentary election, but only after 30 opposition supporters were murdered."
---
"These abusive measures crown an ugly campaign to cow Morgan Tsvangirai and other opposition figures into silence through harassment, intimidation and murder. And to drive white farmers from their lands."
---
"First elected in 1980, he has evolved into a corrupt autocrat, stirring racial tensions, threatening the judiciary and ruining the economy."
---

- Top -
Spirit of Domination in Islam and Christianity

By WILLIAM JOHNSON

The Globe and Mail, Jan. 10, 2002

"[T]he Koran, Sura 9, verse 29 (translation by Abdullah Yusuf Ali): 'Fight those who believe not in God nor the Last Day, nor hold that forbidden which hath been forbidden by God and His Apostle. Nor acknowledge the Religion of Truth, (even if they are) of the People of the Book, until they pay the jizyah with willing submission, and feel themselves subdued.' "
---
"The Encyclopedia Britannica . . . : 'Jews and Christians were assigned a special status as communities possessing scriptures and called the 'People of the Book' and, therefore, were allowed religious autonomy. They were, however, required to pay a per capita tax called jizyah, as opposed to pagans, who were required to either accept Islam or die. The same status of the 'People of the Book' was later extended to Zoroastrians and Hindus, but many 'People of the Book' joined Islam in order to escape the disability of the jizyah.' "
---
"[The Shorter Encyclopedia of Islam:] 'All others, classed roughly as dahris, or materialists, and as idolaters, must be killed or enslaved. But, practically, this distinction has fallen to the ground, and Muslim states have found themselves compelled to tolerate other than 'People of Scripture.' ' "
---
"The states within the cultural sphere of Christendom generally also practised domination and discrimination based on religion. But, since the French Revolution, they've tended to separate church from state and institute democratic equality before the law. The trend in many Muslim societies since decolonization has been toward revivalism, applying the Koran and Islamic law to the governance of state and society."
---

- Top -
Retired I.P.S. and Army Officers Being Appointed as India's State Governors With Increasing Frequency

EDITORIAL
In reference to the recent appointment of two former Indian Police Service (I.P.S.) officers, P.S. Ramamohan Rao and Shyamal Dutta, as governors of Tamil Nadu and Nagaland respectively.

The Indian Express, Jan. 10, 2002

"Nobody knows for what reasons these two officers have been appointed apart from, perhaps, their proximity to those in power."
---
"On a rough estimate, one-third of the governors are today such retired officers and they serve in states like Tripura, Manipur, Assam, Jammu and Kashmir, Punjab, Arunachal Pradesh and Chattisgarh. If, in the past, the rationale for appointing retired police officers as governors in the Northeastern states was their experience in tackling insurgency, no such explanations are being proffered when they are sent to states like Tamil Nadu."
---
"Needless to say, this practice does not bode well for democracy."
---
"It is a misconception that retired intelligence and police chiefs are better suited for gubernatorial jobs in the Northeast. The failure of one of them to prevent the worst-ever violence that Manipur witnessed, in which the State Assembly was burnt down last year, underlines the fact that just because a person had once happened to don the uniform does not make him a good governor."
---
"What is expected of a good governor are a clear understanding of the constitutional system of governance and an ability to rise above political affiliations and take decisions in the best interests of the state."
---

- Top -
The Israeli-Palestinian Impasse

By EDWARD SAID
University professor of English and comparative literature at Columbia University.

Al-Ahram, Jan. 10, 2002

"What surprises me is that, except for a small number of Israelis (most recently David Grossman), no one comes out and says openly that Palestinians are being persecuted by Israel as its natives."
---
"Ever the resourceful tactician, Arafat has countered by delegating Dr Sari Nusseibeh, a Jerusalem notable, president of Al-Quds University, and Fatah stalwart, to make trial balloon speeches suggesting that if Israel were to be just a little nicer, the Palestinians might give up their right of return."
---
"Arafat is still undefeated so far as his relentless eagerness to stay in power is concerned."
---
"[N]egotiating an improvement in the occupation is tantamount to prolonging it. Peace can only come after the occupation ends."
---
"Having for a year wrung their collective hands and complained about the absence of a Palestinian peace movement (since when does a militarily occupied people have responsibility for a peace movement?), the alleged peaceniks who can actually influence Israel's military have a clear political duty to organise against the occupation right now, unconditionally and without unseemly demands on the already laden Palestinians."
---
"Several hundred Israeli reservists have refused military duty in the occupied territories, and a whole spectrum of journalists, activists, academics and writers (including Amira Hass, Gideon Levy, David Grossman, Ilan Pappe, Dani Rabinowitz, and Uri Avnery) have kept up a steady attack on the criminal futility of Sharon's campaign against the Palestinian people."
---

- Top -
Indo-Pak Sabre-Rattling

EDITORIAL

The Far Eastern Economic Review, Jan. 10, 2002

"[W]hile India rightly feels it has been seriously provoked, it is altogether another issue whether the provocateur was official Pakistan. The murkiness of that possibility . . . argues for calls of prudence from members of India's democratic institution, rather than the blind jingoism we see and hear."
---
"It would be foolish for the Pakistan government to provoke India in such a manner, an act with little profit and much downside."
---
"The next move . . . belongs to India. If it persists in its current stance, it must give evidence of official Pakistani complicity in the attack."
---
"That there was perhaps no knowledge or connivance by Islamabad is a conclusion hard to dismiss."
---
"[F]or its part, India can ease up on its rule in Kashmir."
---

- Top -
Seizure of a Shipload of Weapons by Israeli Commandos Apparently En Route to the Palestianian Gaza Strip

EDITORIAL

The Globe and Mail, Jan. 9, 2002

"Mr. Arafat insists he and his senior colleagues had no prior knowledge of the vessel and its cargo - 50 tonnes of long-range rockets, anti-tank missiles, mines and small arms, mostly of Iranian origin. But if he is lying, it would scarcely be for the first time."
---
"A widespread Palestinian view is that there is something deeply suspicious about the hugely publicized interception, and that the Israeli government may have orchestrated events to further undermine what credibility Mr. Arafat retains as a partner for peace. Particularly odd was the speed with which the ship's relaxed-looking Palestinian captain was trotted out by his Israeli captors to tell selected television crews that his orders came from a weapons agent with ties to the Palestinian Authority's upper echelons."
---

- Top -
Indo-Pak Sabre-Rattling

By MANSOOR IJAZ
Member of the Council on Foreign Relations.

The Los Angeles Times, Jan. 9, 2002

"Shock therapy now seems the required antidote to resolve South Asia's nuclear brinkmanship."
---
"The confrontation is fueled by Pakistan's religious zealots, who seek to create an Islamic utopia there, and by India's Hindu nationalists, who seek to control Kashmir's Muslims."
---
"To buttress his 'wag-the-dog' electoral arguments, Vajpayee has demanded moral equivalency between Al Qaeda's terrorists, who seek to dismantle the Western way of life, and Kashmir's Arab-dominated militants, whose primary agenda is harassing India into relinquishing control over its only Muslim majority state. All the while, New Delhi continues to ignore calls by the United Nations and others to hold elections that would give Kashmiris the right of self-determination."
---
"Musharraf should follow the example of Philippine President Gloria Macapagal Arroyo and invite U.S. Special Forces and counter-terrorism commandos into Pakistan to help root out foreign terrorist cells that have decimated Pakistan's moral authority in Kashmir."
---
"In an unprecedented admission of Islamabad's official complicity in Kashmir's guerrilla war, Musharraf last week ordered an end to Pakistani intelligence support for non-indigenous militants operating in Kashmir."
---

- Top -
U.S. Arrests of Abdul Salam Zaeef, Former Taliban Ambassador to Pakistan

EDITORIAL

The Hindustan Times, Jan. 8, 2002

"No matter what clues he [Zaeef] might be constrained to offer, the bitter truth is that the key to the remaining mysteries concerning the international jehad and its unholy perpetrators lies with Islamabad."
---
"It is no secret that the entire top leadership of the Taliban - its top ministers and the members of the Kandahar and the Kabul shuras - fled the bombing and secretly entered Pakistan. Western media reports suggest that this could hardly have been achieved without the complicity of the I.S.I. and the Pakistani army manning the Durand Line. It is, therefore, still an open question whether the Taliban and Al Qaeda leadership structure have been dismantled. Reports also suggest that the former jehadi bosses are being sheltered in safe houses at the behest of influential circles in Pakistan."
---

- Top -
Pakistan

EDITORIAL

The Los Angeles Times, Jan. 8, 2002

"After Sep. 11, Musharraf shook up the army and intelligence corps and moved to reduce the influence of Islamic extremists. But he must move carefully. The murder last month of the brother of the Pakistani official in charge of cracking down on extremists demonstrated the danger faced by Musharraf and his supporters."
---

- Top -
Iran's Anti-Israel Demeanor

By YOSSI KLEIN HALEVI
Israel correspondent for the New Republic and a senior writer for The Jerusalem Report.

The Los Angeles Times, Jan. 8, 2002

"On Dec. 14, Hashemi Rafsanjani, former Iranian president and currently chairman of the government's powerful guidance council, told a Tehran University audience that the vast Muslim world could easily survive nuclear war, while tiny Israel would be destroyed."
---
"Sooner or later, [late Israeli Prime Minister Yitzak] Rabin believed, Israel would be forced to destroy Iran's nuclear capability, just as Israel destroyed Iraq's nuclear reactor in 1981."
---
"The message of modern holy war first emanated from Iran; indeed, the war against the U.S. that culminated on Sep. 11 began with the seizure of the American Embassy in Tehran in 1979."
---

- Top -
Is Islam Really at the Root of Terrorism?

By NICHOLAS D. KRISTOF
Winner, jointly with wife Sheryl WuDunn, of the 1990 Pulitzer Prize for international reporting for their coverage for The New York Times of the Tiananmen Square democracy movement in China and its bloody supression.

The New York Times, Jan. 8, 2002

"The kind of defiant and violent antagonism to the West that we now associate with Islamists was for centuries linked instead to places like Japan, Korea and China."
---
"Richard Cocks, a 17th-century English visitor to Japan, described the country as 'the most puissant tyranny the world has ever known.' "
---
"[N]one of this was really about religion. . . . Rather, it was about social conservatives trying to protect their way of life from a Western onslaught."
---
"Unfortunately, antagonism to Western-style change leaves countries lagging further and further behind."
---
"Eventually, Asia did transform itself, of course, beginning in Japan in 1868 with the Meiji reforms, which ended feudal rule and led to widespread Japanese modernization."
---
"The Islamic world today is ripe for its own Meiji period, and it should find the experience of Asia reassuring. The lesson of the Far East is that it is possible for a troubled civilization to regain its footing only by integrating sweeping change into its society, and that this embrace of modernity does no dishonor to a national heritage."
---

- Top -
The Kashmir Deadlock

By GAIL OMVEDT
Ph.D. and professor of sociology at the University of Pune.

The Hindu, Jan. 8, 2002

"When will the [Indian] Government admit that some of the most important roots of terrorism in Kashmir ('cross-border' or not) lie in its own actions? Consider the course of events since Independence. The gradual suppression of democratic rights and autonomy and the jailing of Sheikh Abdullah by Nehru himself - a Kashmiri pandit, we might remember. The falsifying of election results under subsequent regimes. Then, when an armed insurgency occurred in 1991-92 under what was then a secular force - the Jammu Kashmir Liberation Front - its total crushing and the suppression of any information about the fact that the J.K.L.F. did not describe itself as 'Muslim' and aspired to speak for all Kashmiris and the people of Jammu as well. It was in other words not even 'Islamic' not to speak of 'fundamentalist.' It was a 'liberation front' like all the others we used to know in the 1970s and 1980s."
---
"the ultimate solution would probably require a new rapport between India and Pakistan, a decentralisation of power (a 'refederalisation,' as one recent writer put it) in both countries, and recognition of a differentiated autonomy for the different parts of 'Jammu and Kashmir.' In fact, this sort of proposal was put forward in 1990 itself by Syed Shahabuddin and O.K. Vijayan, and responded to by Mohammad Haroon Ahmed in a Pakistani journal."
---

- Top -
Indo-Pak Relations

EDITORIAL

The Hindustan Times, Jan. 8, 2002

"Since General Musharraf himself referred to a historical evidence of the Prophet aligning with the enemy at a time of trouble to explain his alliance with the U.S., there is every reason to doubt the sincerity of his steps."
---
"After all, Islamabad has invested far too much in this form of 'proxy war' to abandon it in a hurry. Besides, General Musharraf has publicly placed so much emphasis on Kashmir while trashing as 'cosmetic' any efforts at cricket or bus diplomacy that it will be extremely difficult for him to forsake the tactic of terrorism which Pakistan has employed with much gusto till now."
---

- Top -
The Israeli-Palestinian Impasse

By CHINMAYA R. GHAREKHAN
Former U.N. special representative for the Middle East.

The Hindustan Times, Jan. 8, 2002

"It is a sad fact that it has taken a Saddam Hussein or an Osama [bin Laden] for the international community, which in this case is synonymous with the U.S., to hear the wake-up call."
---
"Ariel Sharon's greatest achievement since even before coming to power - his visit to the Temple Mount, which started the present intifada took place a good three months before the elections in which he defeated his predecessor Ehud Barak - has been to manoeuvre Yasser Arafat into such a corner that George W. Bush refuses even to speak to him, let alone invite him to the White House like his predecessor used to."
---
"It's true that the Hamas and Islamic Jihad are terrorist organisations with the avowed objective of destroying the State of Israel. They need to be dealt with ruthlessly."
---
"However, hitting the Palestinian Authority, weakening its institutions and targeting Arafat personally and reoccupying areas which have been under Palestinian control for over half a dozen years is absolutely the wrong way to fight terrorism; it is guaranteed to further radicalise the Palestinian society and swell the ranks of potential suicide bombers. The Palestinian society will not tolerate the occupation of their land by Israel which has gone on for more than 34 years."
---
"It is important to remember that the vast majority of the Palestinian people are talking of only the post-1967 territories and not the 1948 borders. Even Sheikh Ahmad Yassin, the spiritual leader of Hamas, in a conversation with me in Gaza, was realistic enough to admit that the best that could be hoped for was Israel's withdrawal from the territories it occupied in 1967. International legality, in the form of Security Council Resolution 242, which sanctifies the 'land for peace' formula, which Israel has accepted and which forms the basis of the Oslo accords, supports the Palestinian's legitimate demands."
---
"It is true that Arafat should have done more to curb the terrorist organisations operating from areas under the Palestinian Authority, but it is not the case that Arafat can effectively control them. The policies of the Israeli government, and not just under Sharon, have contributed to the ever increasing popularity of the extremist sentiments among the Palestinian people."
---
"[A]s a respected Israeli journalist, highly knowledgeable about Palestinian affairs, has warned in a recent article, the alternative to Arafat is likely to be Hamas."
---
"Israel's methods of dealing with terrorists, such as the raid on Entebbe [the rescue of 105 Israeli/Jewish hostages of the Jun. 27, 1976 hijacking of an Air France plane to Entebbe, Uganda], have won admiration of the international community."
---
"There is also the vital question of stopping all settlement construction as called for by the Mitchell report."
---

- Top -
Indo-Pak War Mongering

EDITORIAL

The Times of India, Jan. 7, 2002

"Those Western powers who routinely describe the subcontinent as the most dangerous place on earth, should note the irony of their statement in the light of the Kathmandu [South-Asian Association for Regional Cooperation (SAARC)] summit. In the not-so-recent past, Washington and other European nations freely used the boycott strategy to settle scores with cold war adversaries."
---

- Top -
The Israeli-Palestinian Impasse

By MAHMOUD AL-ZAHAR
Spokesperson for Palestine's Islamic Resistance Movement, better known as Hamas.

The New Yorker, Jan. 7, 2002

"[T]he final goal of Islamic peoples everywhere . . . is to establish an Islamic state in Palestine, in Egypt, in Lebanon, in Saudi Arabia - everywhere under a single caliphate."
---
"We will not tolerate a non-Islamic state on Islamic lands. We cannot allow that. Anwar Sadat was assassinated because he refused to implement Islamic law - Sharia - as Egypt's constitution."
---
"We are calling for the purification of the world."
---
"[My rationale for killing Israeli children is] that no one in Israel who reaches eighteen can bypass the Army, unless he is crippled, and he will serve at least two or three years as a soldier in the occupation. One-third will remain soldiers and the rest will be in the reserves."
---

- Top -
Targeting Somalia as Part of the U.S.-Led Antiterror War

By LAWRENCE J. KORB
Director of studies at the Council on Foreign Relations, served as assistant secretary of Defense in the Reagan administration.

The Los Angeles Times, Jan. 7, 2002

"For Americans, the thought of sending U.S. military people into Somalia no doubt will conjure up horrible images of Mogadishu on Oct. 3, 1993. On that day, 18 U.S. Rangers were killed, 75 more were wounded and dead Americans were dragged through the streets during an unsuccessful attempt to capture Somalian warlord Gen. Mohammed Farah Aidid [killed by a rival faction in the summer of 1996]."
---
"[T]here is evidence that Osama bin Laden supported groups that aided Aidid in 1993, and that Somalia was the launching pad for the bombings of the U.S. embassies in Kenya and Tanzania in 1998. Al Qaeda claimed credit for the Oct. 3, 1993, killings of the U.S. Rangers."
---
"Ethiopia, the strongest U.S. ally in the region and a strong supporter of U.S. involvement, has a historical fear of a strong Somalia and actively supports and controls the warlords in the south of Somalia."
---

- Top -
America's Intolerance

By MARK SINGER

The New Yorker, Jan. 7, 2002

"Considerable scholarship has been devoted to the history of the Ku Klux Klan in Indiana, especially to the nineteen-twenties, when the Klan there was more active than in any other state. In some towns, between forty and fifty per cent of the native-born white men paid the Klan's ten-dollar membership fee; statewide, the figure averaged almost thirty per cent."
---

- Top -
The Israeli-Palestinian Impasse

By DAVID REMNICK
Editor of The New Yorker and author of the Pulitzer Prize winning book Lenin's Tomb.

The New Yorker, Jan. 7, 2002

"Gaza is by far the poorest and most desperate of the Palestinian territories."
---
"Compared to Gaza, the West Bank city of Ramallah is suburban Connecticut. Hamas, like despair itself, is a growth industry in Gaza."
---
"Ever since the Sheikh [Ahmed Yassin] founded Hamas, during the first intifada uprising in Gaza, fourteen years ago, the group has steadily gained popularity. Much of this has to do with an ever-increasing fury at the Israeli occupation, but it has also become an article of faith among Palestinians that the Palestinian Authority, under Yasir Arafat, has siphoned off many millions of dollars in foreign aid. Although Arafat remains the symbol of Palestinian resistance, the P.A. as a whole is seen as aloof, compromising, and corrupt, and so Hamas, which calls for an Islamic Palestine, portrays itself as devout, absolutist, pure."
---
"Sharon has always hated Arafat; as a soldier, he tried to kill him many times."
---
"Beginning, perhaps, with the assassination of [Prime Minister Yitzhak] Rabin [who, along with Yasser Arafat and Shimon Peres, sealed the Oslo peace accords on the White House lawns], in 1995, by a right-wing Israeli extremist, violence, division, and uncertainty seem to have corroded the national spirit. The economy, which had been booming, is in sharp decline."
---
"In May, 1994, at a mosque in Johannesburg, [Arafat] gave a speech in which he hinted to his audience that Oslo should be regarded as merely tactical, that it was like the truce of Hudaibiya, in the seventh century, when the Muslims made a pact with the Quraysh tribe but then broke the peace to seize Mecca."
---
"The key Palestinian demand that Barak did not satisfy was the 'right of return' to all Palestinian refugees since 1948."
---
"[A]fter Ariel Sharon took his notoriously provocative stroll on the Temple Mount near the al-Aqsa mosque, the second intifada began."
---
"Unlike Barak, who tried to slice the Gordian knot all at once, Peres felt that neither side was capable of anything more than a slow accumulation of trust."
---

- Top -
The Israeli-Palestinian Impasse

By YOSSI BEILIN
A key player during the Israel-Palestine Olso talks.

The New Yorker, Jan. 7, 2002

"Everyone knows who [Prime Minister Ariel] Sharon is. This is somebody who has opposed every peace process, including with Egypt and Jordan. He refuses to shake Arafat's hand. He was forced out as Defense Minister by the government in 1983 after the massacres at Sabra and Shatila [when Israeli forces stood by as their allies the Christian Phalangists stormed into two camps and killed hundreds of Palestinians]."
---

- Top -
The Israeli-Palestinian Impasse

By SHIMON PERES
Israeli foreign minister.

The New Yorker, Jan. 7, 2002

"I have lost elections, but never a campaign."
---
"I was a hawk, but when we could make peace I was a dove."
---
"[Prime Minister Ariel] Sharon says you shouldn't negotiate under fire. I doubt the wisdom of that, because Hamas is the one deciding that we shouldn't negotiate. They send one suicide bomber, and that's it."
---

- Top -
Indo-Pak War Mongering

EDITORIAL

The Economist, Jan. 7, 2002

"[India and Pakistan] have yet to find a face-saving way of ending this latest confrontation over Kashmir."
---
"The corollary of India's view of Kashmiri terrorism is that it believes it has as much right as America had after Sep. 11 to go to war to protect its citizens."
---
"Kashmir, however, is an issue far closer to most Pakistani hearts than the Taliban ever were."
---
"In Kathmandu [SAARC Summit], he said it was important to distinguish between terrorism on the one hand and 'acts of legitimate resistance and freedom struggles' on the other. Pakistan points out that United Nations resolutions, ignored by India, call for a plebiscite in Kashmir, and that Indian rule there is maintained by a massive security force with a poor human-rights record."
---
"General Musharraf needs to do enough to satisfy Indian public opinion that he is serious in trying to tackle the violence - which may be beyond his control - while proving to his own people that there is an alternative way to pursue Kashmir's self-determination. And India needs to resolve the intractable problem of how to incorporate Pakistan into a dialogue with Kashmiris without implying that India's sovereignty over the state is up for negotiation."
---

- Top -
U.S.-Led Antiterror War

By JACKSON DIEHL

The Washington Post, Jan. 7, 2002

"[T]here is a real difference between Musharraf and Arafat - one that suggests a useful standard for judging other governments in the Muslim world. Yes, Musharraf has nuclear weapons, and with U.S. military forces and possibly Osama bin Laden now based on his soil, the Bush administration needs him far more than it needs Arafat. But Musharraf also has done something that almost no other Muslim leader, much less Arafat, has done: attack not just the terrorists but their ideology of militant Islam, along with those who preach it. In doing so, he has made his break with the extremists irrevocable and not just tactical; even more important, he has opened the political and cultural battle that must be fought in the Muslim world if terrorism is really to be eradicated."
---
"In a speech last month delivered to Palestinians but intended to satisfy the United States, Arafat said the terrorists' behavior was unacceptable - because they had flouted his authority and undermined his position. Musharraf, in contrast, delivered a speech in Jun., three months before the Sep. 11 attacks, telling his country's senior clergy that the extremists were unacceptable because their intolerant interpretations of Islam were the cause of most of the Muslim world's problems."
---

- Top -
George W. Bush Jr.'s Use of Racial Slur

By KENDALL CLARK and BIJAN PARSIA

MonkeyFist.com, Jan. 7, 2002

[Bush said:] "I don't believe the situation is defused yet, but I do believe there is a way to do so, and we are working hard to convince both the Indians and the Pakis [of British origin] there's a way to deal with their problems without going to war."
---
"[William] Safire [a columnist for The New York Times] clearly and, to the point, recently made it abundantly clear, for whomever in Bush's administration was listening, that 'Paki' is unacceptable."
---
"In diplomacy and politics, as under the law, ignorance is not an absolute defense. Sometimes it's no defense at all."
---
"The only relevant question is whether Bush should have known that 'Paki' is a racist slur, and, further, whether, having known it, such knowledge would have prevented him from using it."
---
"[T]he lack of an immediate correction from Bush tends to weigh against it having been a pure slip."
---
"What is truly objectionable, however, is that decent people, having made such mistakes, apologize and offer to make amends, to remedy harms caused, to do, in short, what, if anything, may be done to reassert and reaffirm publicly the dignity and worth of those who have been wronged."
---
"The lack of any mode of redress speaks louder than apologists and defenders of Bush's use of the term realize."
---

- Top -
The Kashmir Impasse

EDITORIAL

The Hindustan Times, Jan. 7, 2002

"[T]he distinction the Pakistani dictator continues to make between terrorists and 'freedom fighters' exposes his real intention."
---
"His hope evidently is that the old saying about one man's terrorist being another's freedom fighter will explain the violence perpetrated by the insurgents in Kashmir and help Pakistan to continue its support for them. The linkage of the events in Kashmir with what is happening in Palestine is another of General Musharraf's favourite themes."
---
"It is a matter of political experience that the votaries of violence invariably undermine their own cause."
---
"Terrorism, therefore, has no place in a legitimate freedom struggle, something which the L.T.T.E., too, may be beginning to realise. Besides, the unrest in Kashmir can by no stretch of imagination be called a fight for freedom simply because the essential condition for such action, viz. the denial of freedom, is absent in a state where elections are held at regular intervals."
---
"Kashmiris can not only preside over their own destiny through their popular representatives, including the chief minister, but can also become ministers at the Centre, and perhaps even a prime minister one day. This isn't an opportunity which is available to Palestinians where Israel is concerned. The comparisons which General Musharraf is in the habit of drawing in this respect are, therefore, absurd. No less fatuous is his harking back to the Security Council resolutions on Kashmir, whose irrelevance has been underlined by U.N. Secretary General Kofi Annan. It has to be remembered that the Pakistan to which the resolution refers is no longer in existence. It disappeared in 1971."
---

- Top -
A Perspective on Kashmir

By CHANDRASHEKHAR DASGUPTA
Former Indian ambassador to China and Belgium quoting his new book War and Diplomacy in Kashmir 1947-48 just published by Sage.

The Indian Express, Jan. 7, 2002

"In 1947, when Pakistani tribesmen invaded Kashmir, Britain decided to adopt a pro-Pakistan tilt - not because of any merit in the case but strictly in pursuit of British global interests in the belief that this was essential for her Middle Eastern policy. Unfortunately for India, the British minister in charge of executing this policy, Philip J Noel-Baker, had few scruples in exceeding his instructions [from Prime Minister Clement Richard Atlee]."
---
"[Noel-Baker] deliberately misrepresented India's position to his own government."
---
"Noel-Baker misled his government on the U.S. position too."
---

- Top -
India's Repromulgation of P.O.T.O.

EDITORIAL

The Times of India, Jan. 7, 2002

"The repromulgation of the Prevention of Terrorism Ordinance [POTO] after Parliament failed to ratify it in its last session is an abuse of democracy."
---
"Ordinances were conceived as temporary measures needed either to plug a legal hole or to enable a certain activity at a time when Parliament may not be in session. Once having promulgated an ordinance, governments are duty-bound to have them ratified on the floor of the House at the earliest opportunity."
---
"No doubt the Dec. 13 terrorist attack on Parliament helped the government proclaim a phony consensus and repromulgate POTO in the name of avoiding 'contentious issues.' "
---
"But the fact remains that the draconian law should have been allowed the undignified death it deserved - and perhaps even been buried in one of those $2500 aluminium coffins this government bought but has been unable to put to good use."
---
"At the best of times, flabbiness in law is a terrible thing. When it comes with one year of incarceration before bail can be granted, sloppy drafting is downright intolerable."
---
"Indeed, it is hard to escape the conclusion that its numerous flaws have quite deliberately been crafted into POTO precisely in order to allow the government maximum leeway to target ordinary citizens in the name of 'fighting terrorism.' "
---
"We have argued this before and we argue it again. Terrorism is fought by intelligent policing and proper investigative procedures, not by sweeping laws."
---

- Top -
Opportunity Lost by India to Settle on Kashmir With Pakistan

By ARVIND KALA

The Indian Express, Jan. 7, 2002

"India's biggest defence and foreign policy blunder was committed by Mrs. Indira Gandhi after the 1971 Bangladesh war. India had around 93,000 West Pakistani prisoners of war and we should have used them to settle the unresolved Kashmir dispute, by making their release conditional on Islamabad recognising the Line of Control as an international border. Instead of doing this, Mrs. Gandhi returned the prisoners without seeking the slightest concessions on Kashmir."
---
"[Pakistan] was discredited in the world's eyes because it had first crushed democracy in its eastern half by jailing a popularly elected leader, Sheikh Mujibur Rahman. Then it had massacred 500,000 to a million of its own East Bengalis in the biggest genocidal war after World War II and turned another ten million of them into refugees. Pakistan's actions had aroused such horror that when Indian troops intervened to save the East Bengalis, England's prestigious New Statesman hailed the intervention as 'the most just war of the 20th century.' "
---
"Look at U.S. toughness in Afghanistan. It's not heeding Afghan requests to stop bombing its eastern half which contains remnants of the Al Qaeda network. Nor will the U.S. hand over to Kabul some 250 Al Qaeda fighters captured by American troops in Kandahar. Whether Kabul likes it or not, the U.S. will take these prisoners to its own soil."
---

- Top -
Operation West-End: Videotaped Story of Senior Politicians Accepting Kickbacks to Arrange Favourable Hearings for Middlemen in Arms Deals

By TARUN J. TEJPAL
Editor-in-chief of Tehelka.

The Indian Express, Jan. 7, 2002

"Many people have called it naivete. If it is, then let me say it proved to be valuable naivete; without it there would have been no Operation West-End, and its many distressing revelations."
---
"So we do not for a moment regret our inexperience in pursuing or breaking the story. What we have begun to deeply regret is our inexperience in accepting the terms of reference of the Venkataswami Commission."
---
"In [A G] Noorani's own words: 'Never in the half century of the Commission of Inquiry Act, 1952, was the body ever asked to probe into the credentials of those who had made the charges. The focus was on the message, never the messenger.' "
---
"[Shankar Sharma and Devina Mehra of First Global] have had their lives torn apart by an irate, draconian government."
---
"This is what a venal government does to young talented people who deliver on the great Indian dream. And solely because they invested in a portal called Tehelka.com. Though they own only 14.50 per cent of it, and have never had a word to do with its running."
---
"For a democracy the signals are dangerous and sinister: don't even bother criticising a government or exposing its corruptions, unless you are a truly wealthy media organisation, with deep pockets and deeper resolve."
---
"The incredible travesty is that while those whom Tehelka vividly exposed remain untouched - and actually actively defended by a government elected on the promise of 'cleanness' - Tehelka is being relentlessly harassed for exposing corruption."
---

- Top -
American Diplomatic Efforts to Defuse Indo-Pak Tensions

By DAVID E. SANGER

The New York Times, Jan. 7, 2002

"President Bush and his foreign policy team . . . have tried to reframe the conflict as a battle over terrorism, not territory."
---
"The Indians . . . [are] outraged at Mr. Bush's characterization of the two main terrorist groups operating in Kashmir as 'stateless,' which they [see] as a crude pander to Mr. Musharraf."
---

- Top -
The Kashmir Impasse

By PHILIP BOWRING

The International Herald Tribune, Jan. 7, 2002

"For India, the inclusion of a predominantly Muslim state within the borders of a plural nation is a living symbol of the country's secular status."
---
"India has shown determination and ruthlessness in dealing with an insurgency that is backed by Pakistan but also has significant local support."
---
"Pakistan is too weak ever to wrest Kashmir away by military means, and for India a conquest of the Pakistan-controlled portion would be more problem than it was worth."
---
"So the prospect is for no war but no peace for the Kashmir valley, whatever Pakistan now does to rein in the militants. For India, its oppressive counterinsurgency policies will remain a serious blot on its liberal and democratic traditions."
---
"But is there not a way out in Kashmiri independence? Politically this would be very difficult for a democratic India to accept. Kashmir has become such a symbol of national unity. There are genuine fears that independence for Kashmir would be a first step in the breakup of the Indian union into various ethnic and linguistic entities."
---
"But there is a precedent - Bangladesh. India played the key role in the breakaway of the former East Pakistan to form Bangladesh. Its primary motive was to weaken Pakistan, but at the time there were fears that India's sponsorship of a new state based on ethnic identity would have dangers for India's own unity."
---
"In fact, Bangladesh has proved quite a successful state, raising itself up from dependence on food aid, outperforming Pakistan in economic growth, in literacy and in social development, and creating few problems with neighbors or internationally."
---
"Pakistan has more to fear than India from an independent Kashmir. Like the secession of Bangladesh, it would strike at the root of Pakistan's raison d'être as inheritor of the Muslim parts of British India and as a state in which Islam was supposed to override ethnic, linguistic and geographic differences."
---

- Top -
The Israeli-Palestinian Impasse

By DAVID K. SHIPLER
Winner of the 1987 Pulitzer Prize for his book Arab and Jew: Wounded Spirits in a Promised Land.

The New York Times, Jan. 7, 2002

"Against nonviolent resistance, Israel's right-wing governments would have had trouble seizing land and constructing Jewish settlements all over the West Bank and Gaza Strip."
---
"Neither side has figured out how to win by giving the other what it needs."
---
"It's hard to get a clear view from the wrong end of a gun, so most Palestinians have been unable to see the conscience that runs strongly just beneath the surface of Israel's brutality. Palestinian leaders have never understood the power of shame, which Martin Luther King Jr. used as leverage against white America."
---
"[The Palestinian leadership has] waged a self-defeating brand of psychological warfare by pushing two of Israel's buttons. The first is the mythical fantasy still taught to children in Palestinian refugee camps that they have the right of return to their grandparents' pre-1948 villages inside Israel - that Israel is really Palestine. The second is the argument that no Jewish temple ever stood in Jerusalem and that the city properly belongs under exclusive Muslim sovereignty."
---
"Both points are felt by Israeli Jews as searing rejections of their belonging, their history, their right to exist - the very right formally granted by Mr. Arafat in his 1993 Rose Garden handshake with Prime Minister Yitzhak Rabin."
---
"Nor has Israel allowed the Palestinians what they need: power, dignity and a sense of momentum toward statehood. . . . They gave Mr. Arafat's Palestinian Authority an archipelago of disconnected enclaves separated by checkpoints of soldiers bent on reminding Palestinians who's in charge. The tactic is described by Danny Rubinstein, a veteran Israeli journalist, in three words: 'Humiliation, humiliation, humiliation.' "
---

- Top -
Aftermath of the Terrorist Attack on India's Parliament on Dec. 13, 2001

By ERIC S. MARGOLIS
Syndicated foreign affairs columnist and contributing foreign editor of The Toronto Sun.

The Toronto Sun, Jan. 6, 2002

"The Bush administration, unaware of the dangers facing it, had inadvertently stumbled into the 55-year old Kashmir dispute between three nuclear powers - India, Pakistan, and China - just as it was getting drawn ever deeper into Afghanistan's murky tribal politics."
---
"If the U.S. could attack Afghanistan because the elusive bin Laden was presumed hiding there, then India, according to President Bush's own self-proclaimed rules of international retribution, had just as much right to attack Pakistan. The Indians, of course, were absolutely correct. But the U.S. is now urging restraint on India, a virtue it failed to show in Afghanistan."
---
"China is growing increasingly alarmed by what now looks like a permanent presence of U.S. forces in Afghanistan, and the threat of an Indian attack against its most important ally, Pakistan."
---
"Last week, in an embarrassing new low for Pakistan's image, Musharraf, who stoutly denied in the past that his nation gave anything more than 'moral support' to Kashmiri insurgents, lamely announced his intelligence service would cut off arms and financing to 'foreign' mujahedeen in Kashmir."
---
"Pakistan finds itself alone, facing the Russians to the north in Afghanistan, fire-breathing India to the east and ever-hostile Iran to the west."
---
"The two worst public jobs in the world today appear to be the presidencies of Pakistan and Argentina."
---

- Top -
Burma Going Nuclear

EDITORIAL

The Washington Post, Jan. 6, 2002

"[Burma, aka Myanmar] has purchased a 10-megawatt 'research reactor' from Russia."
---
"[I]s there nothing the Russian Atomic Ministry won't stoop to?"
---
"Leader of those engagers and arms suppliers, not surprisingly, is China. The Burmese junta's corruption and its history of massacring peaceful pro-democracy students must be comforting to Chinese President Jiang Zemin, who recently toured Burma. He said the nation 'must be allowed to choose its own development path suited to its own conditions' - the usual words of dictators who do not allow their own people to choose anything."
---
"The regime is so fearful of its own people that it recently banned a Norwegian postal stamp honoring Aung San Suu Kyi, the rightful leader of Burma who remains under house arrest a decade after winning the Nobel Peace Prize."
---

- Top -
Indo-Pak Relations

By CHANDRA SHEKHAR
Former prime minister of India in an interview with Kumkum Chadha.

The Hindustan Times, Jan. 6, 2002

"Musharraf took a risk by aligning himself with the U.S. and annoying the Taliban. People had then written his political epitaph. Despite that, he displayed courage and stood his ground."
---
"[The release of Masood Azhar after the plane hijack to Kandahar] was an unwise move on the part of our Foreign Minister [Jaswant Singh] and also very humiliating for the country. Worse still, after setting him free, you are demanding his transfer back to India [subsequent ot the terrorist attack on India's parliament on Dec. 13, 2001]."
---
"[The nuclear tests conducted by India at Pokhran (Rajasthan) in May 1998 were] a populist exercise. After Pokharan, it was clear that we were strengthening Pakistan. When it comes to a conventional war, India is thrice as strong as Pakistan. Once both the countries go nuclear, they are at par. Today, the issue is not who is stronger but who will strike first: India or Pakistan."
---
"For four years we did not attend SAARC meetings on the grounds that we should not share a platform with a military dictator. The Government chose to ignore the fact that we attended SAARC meets when there were military dictators in Bangladesh or in Pakistan. But here was a principled Government for whom a military dictator was an untouchable. Then, overnight, the same Government was not only willing to talk to him and invite him to India [Agra summit] but they also made India the first nation to recognise Musharraf as President of Pakistan, even while the Pakistan Supreme Court had yet to deliver a verdict on the issue."
---
"[E]veryone knows [the sabre-rattling] is being done with an eye on the UP elections."
---
"Kashmir is not a matter of territory for us but one of principle. In 1947, the Kashmiri people decided to remain with secular India and not go with communal Pakistan. But we have failed to project this sufficiently and convincingly."
---
"[A]ny alternative to Musharraf at present will be worse for India. In Pakistan, there are two forces at work: One is Musharraf and the other are the extremist fundamentalists."
---
"So much was said before Kathmandu that it took away our capacity to influence Musharraf or anyone in Pakistan. Daily statements are unnecessary. The Government should learn to keep quiet sometimes."
---
"The mistake the Government made was that it did not consult the Opposition on POTO. The Opposition went wrong because it went public and damned the Government. The ensuing hue and cry inadvertently encouraged people against whom the provisions are to be implemented."
---
"The only strong point [the N.D.A.-B.J.P. government] has is that the people of this country are weak. It thrives on this weakness, cashing in on slogans of religion and caste."
---

- Top -
Pakistan Wants Evenhandedness From the U.S.

By ZUBEIDA MUSTAFA
Assistant editor of Dawn, Pakistan's largest English-language newspaper.

The Washington Post, Jan. 6, 2002

"[P]ower carries responsibility - and has an immense propensity to corrupt. Can the United States honestly claim to be behaving like a responsible superpower in this unipolar world? It doesn't look like it from here."
---
"Pakistanis have long felt uncomfortable with America's swings between disengagement bordering on isolationism and active military intervention, as in Afghanistan. We want neither."
---
"If . . . the United States seeks to manipulate the situation to promote its own narrow interests, as it has done in the past, then it can achieve nothing [in terms of resolving Indo-Pakistani issues]."
---
"While Washington works to promote peace, we expect it to address the issue of global poverty as well. With increased globalization has come an appalling growth of deprivation and inequality in Pakistan. The prescriptions of the aid-giving agencies have left more than one-third of the population below the poverty line. More will soon go under. America's response has been to focus on loans, which make a supplicant out of Pakistan as its dependence on foreign funds grows. The solution really lies in trade and investment. Let America work toward opening up its markets for our goods. Trade will bring prosperity. And prosperity will bring stability. Wouldn't that be the best insurance against terrorism, which is item number one on America's own agenda?"
---

- Top -
Jinnah

By SYEDA SAIYIDAIN HAMEED
On Rafiq Zakaria's latest book The Man Who Divided India.

The Hindustan Times, Jan. 6, 2002

"A redoubtable scholar of Islam with several works to his credit, Rafiq Zakaria's books are usually a connoisseur's delight. That is more the reason for the disappointment one feels after reading his latest work."
---
"As most of us interested in post-colonial history know, there is no dearth of literature on these two issues, and if they are raked up again it must be in the light of some startling new evidence. Zakaria has not produced any new information. K.K. Aziz and Ayesha Jalal, both world-renowned Pakistani historians, along with Jinnah's biographer, Stanley Wolpert, have subjected both contentions to rigorous scholarship. That Jinnah was not a devout Muslim is an accepted fact. The inexplicable part is that all the leaders of Islamic parties had opposed Pakistan's creation. They were all ranged against Jinnah on the opposite side. Who could have been a truer Muslim leader than Maulana Abul Kalam Azad? And yet, the name of Islam did not bring him political converts. The entire thesis that Pakistan came into being on the slogan of Islam alone is highly suspect with historians."
---
"One questions the need of long quotations from people like Altaf Husain, the leader of the MQM, who is not known as an opponent of Pakistan or the creation of Pakistan."
---
"One work which takes this entire historic sweep into account is Bimal Prasad's three-volume study, Pathways to India's Partition."
---

- Top -
Muslim Perceptions of the U.S.-Led Antiterror War

By MAMOUN FANDY
Professor of politics at the Near East-South Asia Center for Strategic Studies at the National Defense University.

The Los Angeles Times, Jan. 6, 2002

"The U.S. reliance on airpower and high-tech warfare in the Gulf War and in Kosovo resulted in few American combat casualties and a far greater loss of life on the ground, particularly in Iraq. In Afghanistan, Muslim killed Muslim on the ground, and U.S. airpower killed Muslims from above. Again, U.S. casualties have been minimal, while estimates of Muslims killed aren't publicized for political reasons."
---
"Respected and mainstream newspapers such as Egypt's Al Ahram or Saudi Arabia's Asharq al Awsat are littered with opinion articles fearful of a clash of civilizations between the Christian West and the Muslim East."
---
"The key to U.S. victory in Afghanistan was the cooperation of Afghans who detested the Taliban. We need to make new friends in Iraq who loathe Hussein--the U.S.-backed Iraqi opposition was wiped out by Hussein in 1996--and win the support of Arab and Muslim public opinion worldwide."
---
"America needs the intellectual equivalent of the Northern Alliance, an army of Muslim intellectuals, to fight the war for the hearts and minds of Muslims."
---

- Top -
Arab-Muslim World Won't Do Enough to Exterminate bin Ladenism

By THOMAS L. FRIEDMAN

The New York Times, Jan. 6, 2002

"[T]he biggest reason [why it's hard to counter bin Laden] is this: Give bin Laden his due; he is an authentic person, who gave up a life of riches in Saudi Arabia to go live in a cave and fight the Soviets and Americans. To counter his authentic message of hate, you need an authentic messenger of progress, tolerance and modernism."
---
"It was Israel that executed Nazi leader Adolf Eichmann. But it was modern Germany that executed Nazism, by writing one of the world's most democratic constitutions and living up to it."
---
"Saudi Arabia's Crown Prince Abdullah told a meeting of gulf leaders last week: 'Catastrophes are in fact opportunities that make it incumbent upon us to conduct self-scrutiny, review our attitudes and repair errors. . . . The real and deadly risk is to face crises with hands folded and blame others instead of confronting the crises and taking responsibility for our role.' "
---

- Top -
Indo-Pak Sabre-Rattling

EDITORIAL

Dawn, Jan. 6, 2002

"The world knows that it is India, and not Pakistan, that is bent on playing a dangerous game of brinkmanship."
---
"India has cunningly and opportunistically used the war against terror in Afghanistan as a cover to launch what it terms as its own anti-terrorist campaign."
---
"The Americans must make India realize that General Musharraf's job of dealing with religious extremists, a campaign that has earned him accolades from the U.S., has been made more difficult because of the massing of the Indian army on the borders."
---
"Clearly, no Pakistani leader would like to be seen acting under pressure from India."
---

- Top -
Indo-Pak Sabre-Rattling

By KUNWAR IDRIS
Was district magistrate and collector of Karachi in the late 1960s and early 1970s. He served for Prime Minister Benazir Bhutto as chief secretary of Sindh. His political career-limiting-move was his refusal to follow Benazir's husband Asif's orders. He is now working in the private sector.

Dawn, Jan. 6, 2002

"It seems the leaders of the two countries, whether elected or self-appointed, relish a state of war to escape their responsibility towards their people."
---
"While the blame for the three wars the two countries fought in the past might be shared, the current hysteria is whipped entirely by India because this time round it is better placed both in the power and economic equation to wage a war."
---
"The Indian economy is one of the fastest growing in the world - or at least was till the hijacked planes and recession hit America. Pakistan's economy, on the other hand, is fumbling and its growth is barely keeping pace with the growing population."
---
"[T]he world refuses to take note of the rebellion in Kashmir and the Indian atrocities to quell it, and the denial of basic rights to the people of the Valley which has compelled their compatriots on this side of the line of control, and indeed from the world over, to sneak in to fight alongside them."
---
"Like all armed freedom struggles, the insurgency in Kashmir has its 'collateral' damage."
---
"The world also fails to appreciate that if there is terrorism in Kashmir today it is born of an unrepresentative brutal rule there as it was in Afghanistan under the Taliban militia and in Bosnia or Kosovo under Solobodan Milosevic; and also that no amount of 'cross-border terrorism' can keep alive a freedom struggle for 12 years in which seventy thousand people fall victims to an occupation army of half a million."
---
"For Pakistan to answer the charge of terrorism while the world overlooks India's ruthless repression in Kashmir only because its parliament has come under a suicidal attack signifies a tremendous failure of Pakistan's diplomacy. For that the blame must be taken by the authors of the Afghan policy where Pakistan recognized and militarily helped a terrorist regime for five years and backed down only when the terrorists strike in America and the ultimatum that followed left it with no other alternative."
---
"[T]he fighting and grieving people of Kashmir need a respite from 12 years of unceasing brutality and economic deprivation."
---
"The odds are also now stacked against them by the American-led war on terrorism and the suspicion cast on their legitimate struggle by that insane attack on the parliament building engineered, maybe, by their misguided supporters or saboteurs or, more likely, by other regional insurgent groups that abound in India."
---

- Top -
The Kashmir Impasse

EDITORIAL

The Nation, Jan. 6, 2002

"India has refused to resolve the issue through the U.N. It does not agree to a third-party mediation. Now despite several offers made by Pakistan, it is not ready to settle the core issue through bilateral talks. It demands that Islamabad first rein in its intelligence agencies which, according to it, are behind the terrorists. Pakistan has similar complaints against RAW. Terrorism takes toll of hundreds of Pakistanis every year. During the last 15 years many high profile figures have fallen victim, Interior Minister Moeenuddin Haider's brother being the latest example."
---

- Top -
Indo-Pak Sabre-Rattling Subsequent to the Terrorist Attack on India's Parliament on Dec. 13, 2001

By ANTHONY SPAETH (New Delhi)

Time, Jan. 6, 2002

"Vulnerable Pakistan moved troops and hardware from its border with Afghanistan, where they were supposed to be stopping fleeing Al Qaeda and Taliban fighters, to its Indian border, although it did so without publicity."
---
"[India's] government has vehemently protested Pakistan's active support of armed insurgents - which is well known, even if Islamabad has denied it. In the past, the world paid little attention; it seemed to be a Hatfield and McCoy situation. The U.S. war on terrorism changed that."
---
"At 11:40 [on Dec. 13, 2001], one of the Toontown-type sedans used by Indian bigwigs got through the Parliament gates in New Delhi because it had an official-looking light on top and a home ministry decal on the windshield."
---
"The suicide mission wasn't terribly sophisticated. The windshield decal that gave the terrorists access to the compound was anything but official. It read, in fractured English: 'No body allows to stop this car. India is very bad country and we hate india we want to destroy india . . . brother bush he is also a very bad person he will be next target.' Once the carnage was over, the government recovered the terrorists' cell phones, with records of recent calls to Kashmir and Pakistan."
---
"New Delhi announced it was fully satisfied that Pakistan was behind the plot, though evidence was scant. In Islamabad the expected hot denials had an unmistakable timbre of truth."
---
"But it hardly mattered what Musharraf said. India already realized that the attack on Parliament, though similar to suicidal assaults of the past in more remote reaches, could alter the goalposts of its conflict with Pakistan - thanks to Sep. 11."
---
"For 12 years India has been trying to put down an independence insurgency in the part of Kashmir it holds. Its official line is that the insurgency is fueled by Pakistan, not by the Kashmiri people - that it is a proxy war. The world has disregarded that argument, knowing India was stubbornly ignoring its own problems with the mostly Muslim Kashmiris, who have revived a call for a plebiscite that the U.N. promised them in 1949 to determine whether they would be part of India or part of Pakistan."
---
"One thing [Pakistan] never denied was that militants were based on its soil, many in Pakistan-controlled Kashmir. That's a dangerous claim in the post-Sep. 11 world. It means you are harboring terrorists, just as the Taliban harbored Al Qaeda."
---
"[An Indo-Pak war could include] abrogation of a 41-year-old treaty that would deny Pakistan vital waters from rivers that originate in India."
---
" 'If he didn't give the appearance of responding to Indian concerns, he might have a war on his hands, and it would be a war he'd lose,' notes Robert Hathaway, director of the Asia program at the Woodrow Wilson Center, a Washington think tank."
---
"Three weeks ago, the brother of Pakistan Interior Minister Moinuddin Haider was gunned down in the port city of Karachi because, police believe, Haider was outspoken against fanatical religious groups."
---
"Commanders of the insurgency insist that despite Pakistan's crackdown, they can continue sending infiltrators across the loc, which has many secret passages."
---
"Pakistan's main moral purpose for decades has been to stand up to India, and Kashmir has been its principal platform."
---

- Top -
Vanquished Taliban and Al Qaeda Might Appear Elsewhere (i.e. Kashmir) Since They Haven't Been Killed or Captured

By M.J. AKBAR
Editor-in-chief of The Asian Age.

The Asian Age, Jan. 6, 2002

"For sheer callousness, whether towards men or women, it would be hard to find a parallel to the Taliban."
---
"The Pakistan government apparently sent aircraft to try and pick up as many Pakistanis in the Taliban forces as it could."
---
"The Afghan tradition does not end a war with slaughter, otherwise over the last thousand years there would be no Afghans left. Once a side accepts defeat, and a victor takes charge, the human tendency is to let bygones be bygones."
---

- Top -
Indo-Pak Sabre-Rattling Initiated by India in Response to the Terrorist Attack on Its Parliament on Dec. 13, 2001

By PRAVEEN SWAMI (Srinagar)

Frontline, Jan. 5, 2002

"Army build-up subverts the very political objective Indian officials say they are committed to."
---
"Actual events through the Jammu sector also affirm the belief that no proper thought has gone into the build-up. As things stand, tens of thousands of troops are committed to doing little other than exchanging fire that is visually spectacular but tactically pointless. 'Most of the time,' says one officer posted at a forward position near Samba, 'we're just firing into the fog.' "
---
"The Bharatiya Janata Party's policy on Jammu and Kashmir has long been built on the basis of concerns in Lucknow, not Lahore. Consider, for example, Union Home Minister L.K. Advani's energetic promotion of the Prevention of Terrorism Ordinance (POTO). The Ordinance provides for severe legal penalties for individuals who support terrorist organisations or harbour and finance their members. Even as the Advani roadshow has been under way, the Prime Minister's Office top gun Brajesh Mishra and former Research and Analysis Wing (RAW) chief A.S. Dulat have been holding covert dialogue with the key functionaries of the All Parties Hurriyat Conference (APHC), which seeks to secure its entry into mainstream politics. All executive committee members of the APHC publicly support terrorist organisations that are active in Jammu and Kashmir."
---
"If Indian policy is farcical, Pakistan's claim about action against terrorist groups is even worse. Measures such as the freezing of the bank accounts of the Lashkar-e-Toiba and the Jaish-e-Mohammad are on the face of it ridiculous. The Lashkar-e-Toiba has no bank accounts, since its finances are directly controlled by its parent body, the Markaz Dawa wal'Irshad. The Markaz's assets have not been frozen."
---
"[F]ascist rhetoric still litters the Markaz's web site and its publications, notably Voice of Islam. It takes little to imagine how U.S. President George Bush, fulsome in his praise of Pakistani action against terrorist groups, would have reacted if similar rhetoric directed against his country had been delivered in Baghdad or Havana."
---
"A few hundred arrests, mainly of foot soldiers uninvolved in terrorist activity, have indeed taken place. But the forward camps of terrorist organisations such as the Lashkar-e-Toiba, the Jaish-e-Mohammad, the Harkat-ul-Mujahideen and the Al Badr continue to be in place, often right next to Pakistan Army facilities on the LoC. And there is evidence that the highest levels of the Army continue to be directly involved in the activities of these fascist groups. The Jaish-e-Mohammad, for example, is believed to have changed its operation name to the Tehreeq-ul-Furqan after an Oct. 10 meeting presided over by the Chief o